Astoria on the Cheap: Your Frugal Guide to Affordable Living
By Elora Weil Posted: September 10, 2023
New York City is one of the most expensive cities in the world. Give Me Astoria has a roundup of delicious food and fun activities that range from free to $10, in our complete article of "Astoria on the Cheap: Your Frugal Guide to Affordable Living. " These eight-budget friendly tasty treats and fun outings are ideal for stretching your dollar. Explore with us and uncover the essence of Astoria's affordable food, drink and entertainment.
Off the Hook Raw Bar & Grill – $1 Happy Hour Oysters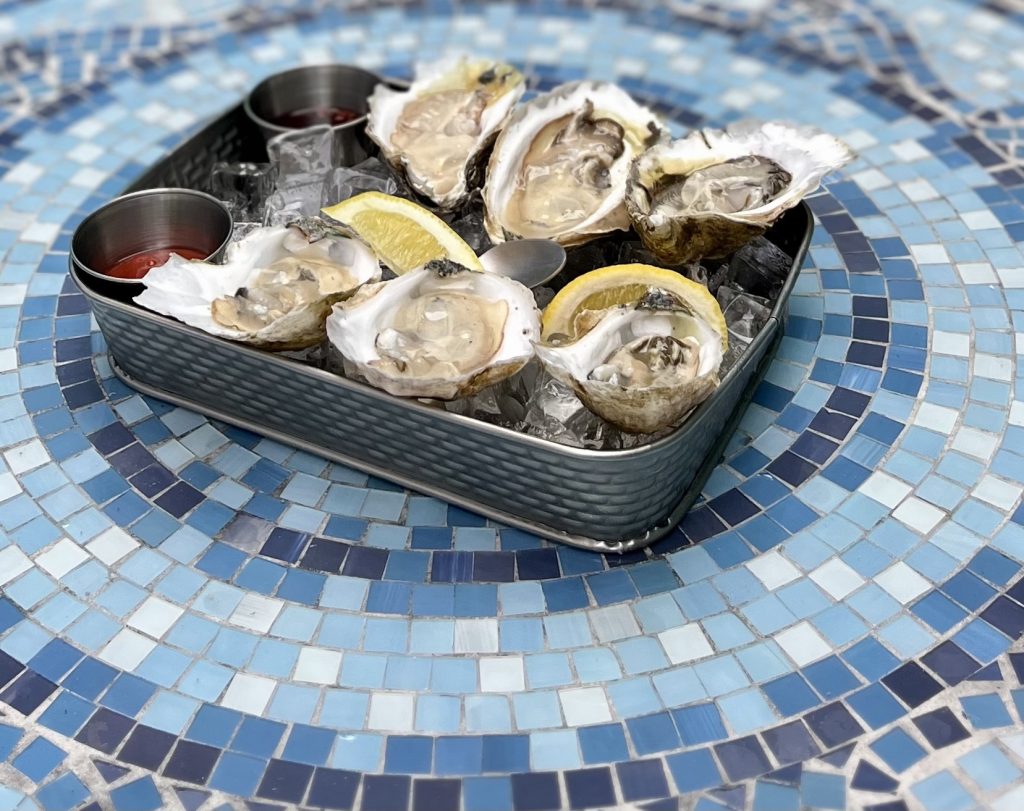 According to foodies and seafood lovers alike, the best time to indulge in oysters is during the months that contain the letter 'r.' Fortunately, September officially ushers in the prime oyster-eating season. If you're on the lookout for a cozy spot to sit back and enjoy some oysters, look no further than Off the Hook Raw Bar & Grill.
Their happy hour menu boasts $1 house oysters, available Monday through Friday from 4 PM to 6 PM and on Saturdays and Sundays from 1 PM to 3 PM. As you take your seat, you'll immediately notice the courtyard's atmosphere, reminiscent of a picturesque coastal village. This unique ambiance sets them apart from the ordinary dining experience in Astoria. .
28-08 34th Street / (718) 721-2112 / @offthehookrawbar
---
Ralph's Famous of Astoria – $5 Water Ice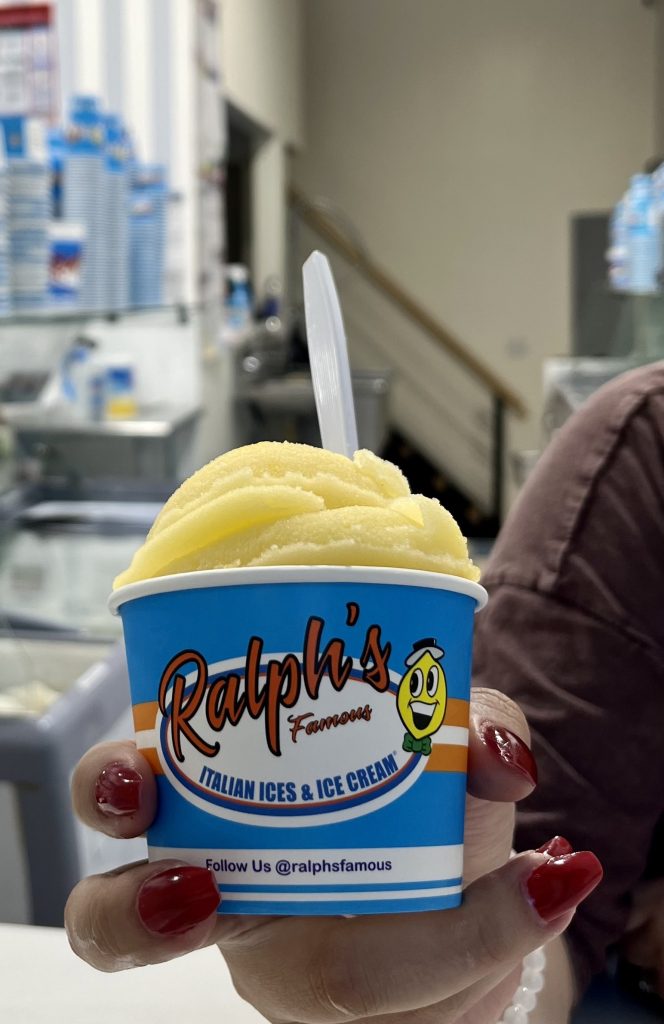 With lots of flavors to choose from, Ralph's Famous of Astoria is a great go to for a refreshing Italian ice.  Their water ices are only $5 for a small cup, and it is just the right amount to satisfy your sweet tooth.  The water ices come in unique fruity flavors like blood orange, passion fruit, honeydew, and cantaloupe.  This is a perfect outing to bring your pup on as Ralph's offers pup cups! Order at the window and take your ice over to Athens Square to savor this sweet treat in a free outdoor public space.

30-02 30th Street / (917) 396-1100 / www.ralphsices.com
---
Sek'end Sun – $10 Burger + Beer on Tuesdays
The most bang for your buck deal on this list is the Sek'end Sun burger and beer combo for $10.  This deal is offered every Tuesday.  You get an amazing burger, topped with cheese, fried onions, tomato, lettuce, and their special sauce, with a choice of fries or salad on the side, and a pint of beer.  The serving size is generous, and the atmosphere is top notch. Sek'end Sun is located off the Broadway N/W subway stop and offers a chic cocktail bar atmosphere with laid-back vibes. Expect good food, great drinks, and a killer playlist.  In addition to their bar and dining area, there is lovely outdoor garden seating perfect to enjoy on a crisp fall day.

32-11 Broadway / (917) 745-0745 / www.sekendsun.com
---
Break Bar and Billiards – Free Pool Happy Hour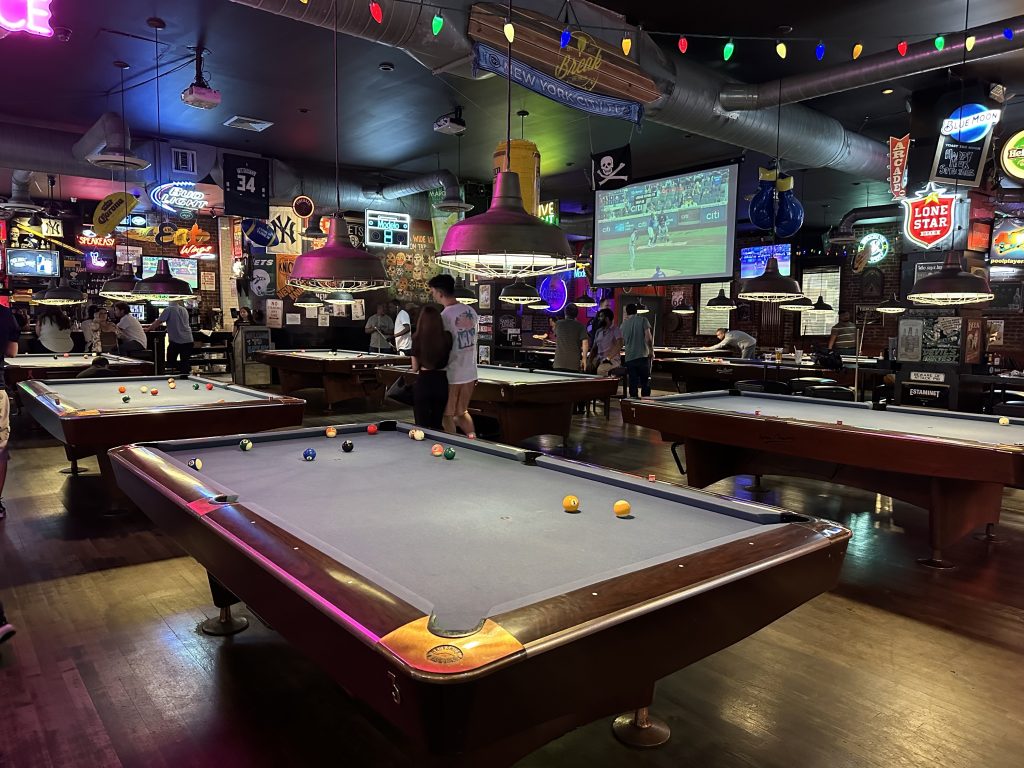 Across the street from Sek'end Sun is Break Bar and Billiards.  Located above the Broadway Green Bay Organic Market, Break Bar is a huge pool hall and sports bar.  Perfect for watching any sporting event, there are TVs everywhere, and games galore. Besides, pool tables Break Bar has pinball, ping pong, connect four, and Jenga.  Happy hours are Monday through Thursday 4:00 – 8:00 PM, Fridays 12:00 – 7:00 PM, and Saturday/Sunday 12:00 PM – 5:00 PM.  With the purchase of a happy hour beverage pool is free, be sure to get there early though, there is often a wait for pool tables.

32-04 Broadway / (718) 777-5400 / https://break-ny.com
---
Bareburger 31st Ave – Happy Hour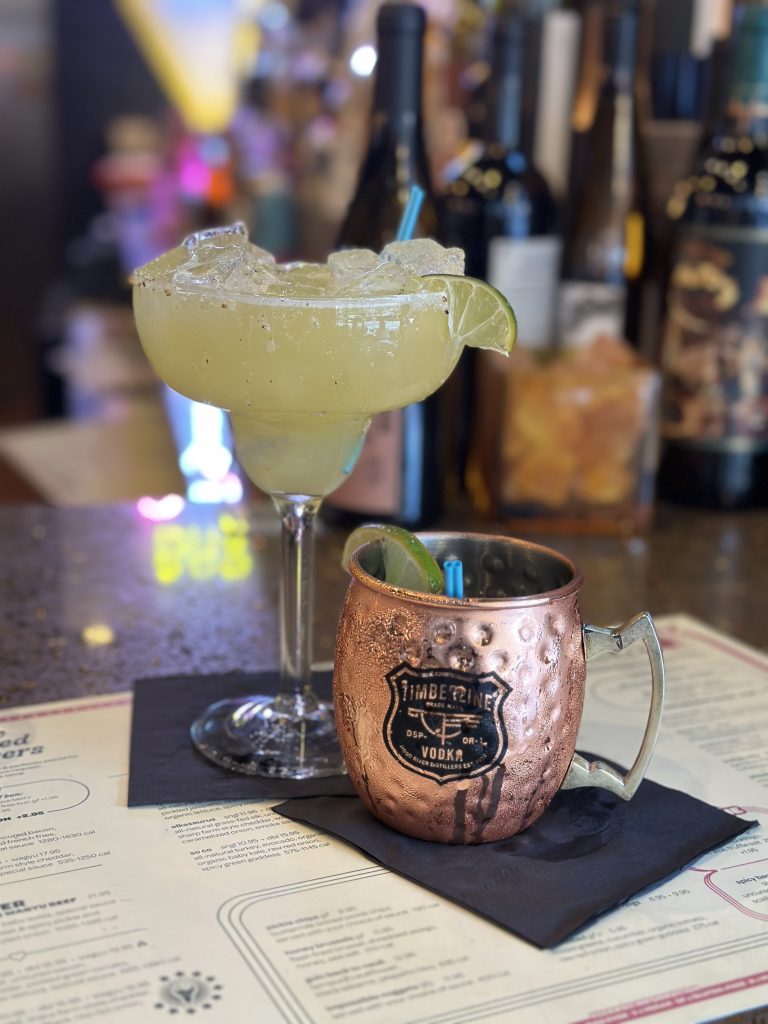 Bareburger on 31st Ave has one of the best happy hour deals in all of NYC.  Everyday from 12-7 PM stop by and enjoy a $3 Miller High Life, a $6 mule, a $9 margarita, or if you'd prefer wine, wine bottles are 50% off. Their mule is excellent, and their margarita hits the spot and comes in a festive margarita glass. Enjoy your cheap drinks in their backyard area or in their seating area on 34th St.  Come during the weekend and you can enjoy events and activities hosted by Open Streets on 31st Ave .

33-21 31st Avenue / (718) 777-7011 / https://bareburger.com
---
Bowl 360 Astoria – Early Bird Bowling Special $10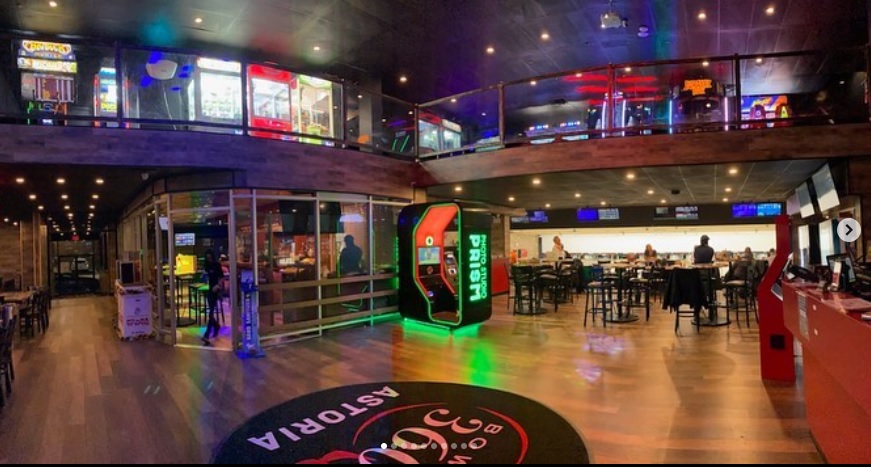 Calling all bowlers! Bowling in NYC can get pricey. If you are looking for a classic bowling alley, check out Bowl 360 Astoria. This bowling alley is slightly off the beaten path, tucked away on 49th St. between 20th Ave and 19th Ave. With 28 lanes of bowling, laser light shows, a sports bar, video games arcade, and casual dining, Bowl 360 Astoria has it all.
Come with the family, or come with a big group of friends, a good time is a guarantee. Their early bird special is unbeatable.  Seven days a week from 10 AM – 1PM bowling is $10 per person for two hours of unlimited bowling, and shoe rentals are included in the price! They often offer great deals on holidays too, so be sure to follow them on Instagram to learn more.

19-45 49th Street / (718) 274-1910 / https://bowl360astoria.nyc
---
Pig Beach Queens – $1 Wings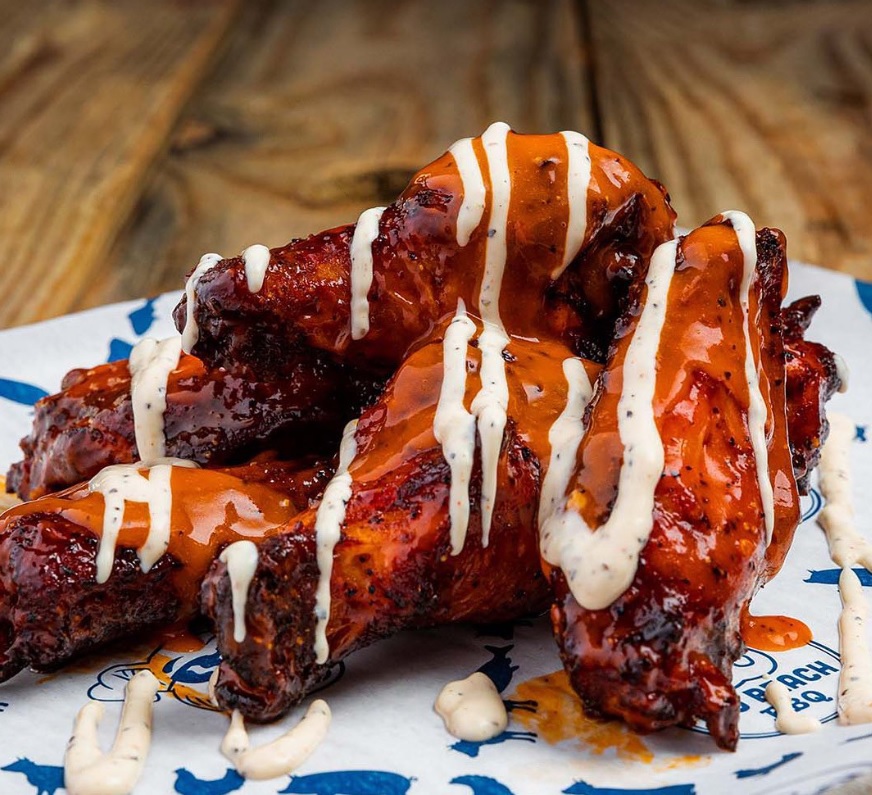 Pig Beach Queens is the ultimate location for sporting events and BBQ. No matter where you sit, inside or out, a TV is always in view. The giant screen in the outdoor area is incredible and the atmosphere during a big game cannot be beat. Upon entering is the large bar and the cafeteria style BBQ.
Grab a tray and order as much BBQ as your heart desires. Ideal for big groups, getting a bunch of different meats and sides to share is the way to go. The food is reasonably priced, but if you're looking for cheap eats come by on a Saturday for their $1 wing special. Their wings are excellent and be sure to try their signature sauces.

35-37 36th Street / (718) 362-6111 / www.pigbeachnyc.com
---
Queens Night Market – Free entry, all food capped at $6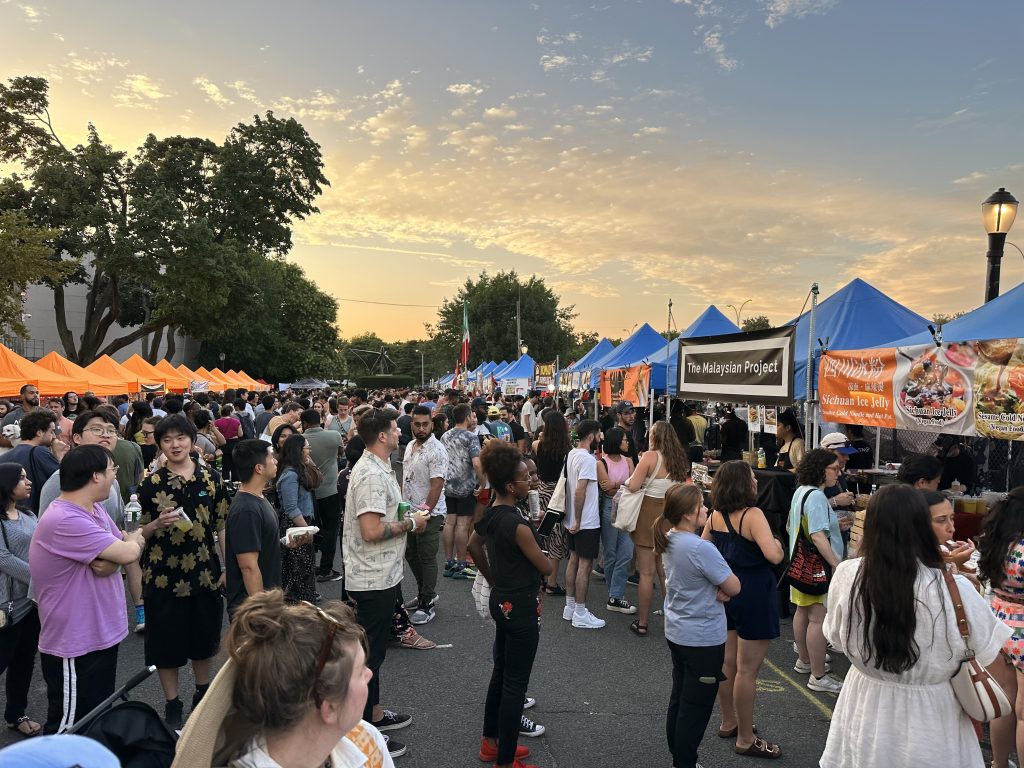 Located behind the New York Hall of Science, The Queens Night Market is an unbelievable open-air food and drink market that highlights all the incredibly diverse food and culture that NYC has to offer. This activity involves both cheat eats and thrills! There are over 100 independent vendors serving out of this world food and the prices typically range from $5 to $6.
The market is open from April to October, from 5 PM to midnight. The best way to get there is by train as the parking lot fills up quickly. Come with a group of friends, sample lots of different food, bring a blanket or some chairs and post up on the grass near the DJ booth where there are live musical performances too. Queens Night Market is one of the things that makes Queens so great. It is a unique experience and one you can only find here in Queens!
47-01 111th Street / https://queensnightmarket.com
---
RECOMMENDED READ: Best Dive Bars