8 Best Dive Bars in Astoria and Long Island City: Watering Holes That Welcome All
By Jenna Gaudino Posted: September 12, 2022
Christmas lights, phone numbers scrawled in Sharpie on the bathroom stall, a jukebox that only accepts quarters, and the smell of popcorn. These are a few things that make a dive bar good – the sort of neighborhood watering hole where you won't feel judged for wearing jeans with a noticeable mustard stain or if your drug store eyeliner is slowly flaking off. It's the type of spot where strangers can become friends – at least for a few drinks – and you can introduce yourself to that guy from down the block that you always see with his golden retriever. They create a sense of community and add character to the neighborhood.
Below, we've rounded up a list of the best dive bars to visit in Astoria and Long Island City. You're sure to run into familiar faces and have a few laughs.
---
1. Judy and Punch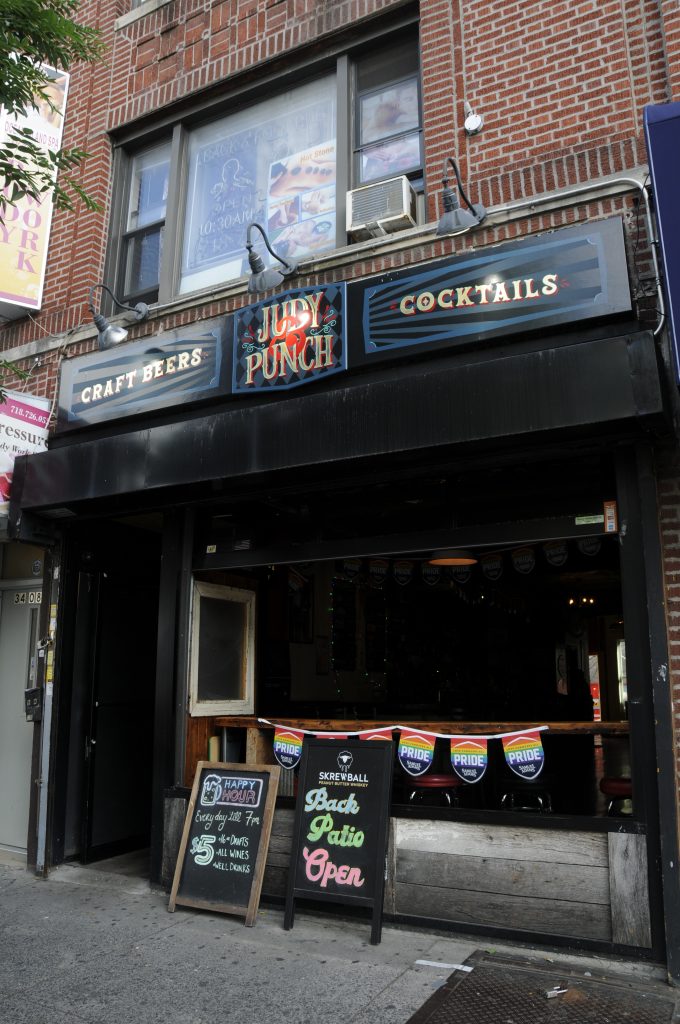 Judy and Punch, named after the traditional puppet show featuring Mr. Punch and his wife Judy, is a quirky, circus-themed bar with reasonably priced cocktails, an extensive list of rotating craft beers and free popcorn. Inside, the bar is decorated with a collection of curiosities.
You'll find a masked warthog's head mounted on one wall, an inflatable flamingo that sits on a shelf behind the bar and a rubber chicken that hangs next to the beer list. Somehow, all of these objects make for a charming environment. One of the best things about Judy and Punch is the sidewalk-facing garage door.
It's great for people-watching and, when it's open, lets in a nice summer breeze. Some other cool characteristics include the vintage bathtub filled with ice behind the bar that doubles as a cooler for cans of beer, and the cartoon clown faces painted above the garage door. One of the bar's signature cocktails is called Giggle Juice, made with Tito's vodka, St. Germaine elderflower, pear purée, pineapple, and lemon. Judy and Punch is a cool spot for someone looking for a dive bar with a young vibe. Their happy hour deal offers $5 well drinks, wine, and 16-ounce draft beers from 4-7 p.m. on weekdays and from 2-7 p.m. on Saturdays and Sundays.
34-08 30th Ave / 718.626.3100 / 4/5 Yelp stars / @judyandpunchnyc
---
2. Dominies Astoria
Dominies Astoria is located directly across the street from Judy and Punch. The first thing you'll notice when walking in is the Barney purple-colored walls scattered with Tim Burtonesque style paintings and red and blue lights that almost give off a club-like ambiance.
Many of the paintings at Dominies were done by local artists and the bar is always open to installing new art done by local artists. Tucked in the corner by the entrance is a beautiful, vintage jukebox that only accepts quarters and offers an eclectic selection of music, from ABBA to Smashing Pumpkins, Blondie and Giftshop, the latter of whose lead singer, Meghan Taylor, is actually a bartender at Dominies. Like many bars, Dominies has great happy hour deals: $5 well drinks and craft beers, a shot and a beer for $8 and $6 sangrias, margaritas and rum punches every day from 4-7 p.m. But unlike other bars, Dominies offers a late night happy hour, Monday through Wednesday from midnight to 2 a.m. with the same deals.
According to several patrons, the bar also has excellent pizzas with nearly a dozen different toppings. If you're into jazz, the Trample Man Band performs live every Sunday night at 9 p.m. If you live closer to Long Island City, you're in luck, because Dominies has a second location on Vernon Boulevard. Dominies is a great spot for anyone who likes art, great pizza, cheap drinks and live music.
34-07 30th Ave / 4/5 Yelp stars / @dominiesastoria
---
3. Kelly's Bar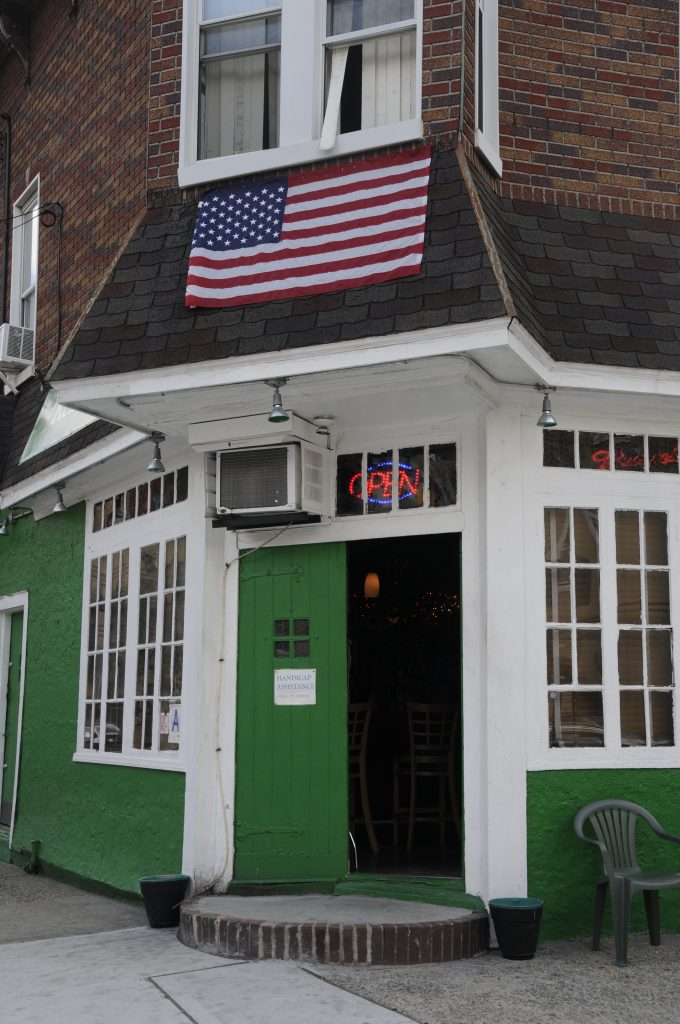 Kelly's Bar is an old-school Irish pub-style dive bar. You'll know you've found it when you spot the striking green exterior, American flag, neon Budweiser sign and white-paned windows on the corner of Crescent Street and 31st Avenue. Kelly's is a time capsule of all things Irish and booze. When you walk through the door, you'll feel like you've stepped onto the set of The Irishman. The sort of bar you could picture Jimmy Hoffa and William Bufalino frequenting.
They've got all of the classic features that come to mind when you think of a true dive bar: a pool table, a dart board, and a jukebox. They even have a vintage telephone booth in the back that's fully functional. One thing to keep in mind: Kelly's is cash-only.
Because of the bar's unassuming, old-timey reputation, movie and TV show directors have selected it as a location for various bar scenes. Two notable shows filmed there were Showtime medical drama Nurse Jackie, and the Amazon series Dead Ringers, a remake of David Cronenberg's 1988 cult-classic film of the same name. Scenes from The Brawler, a film about a boxing match between Chuck Wepner and Muhammad Ali, were also filmed at Kelly's. What's interesting about the bar is that its liquor license is the oldest in Astoria. If you're looking for a real, old fashioned dive bar, you've got to go to Kelly's.
31-04 Crescent St / 718.278.9734 / 4/5 Yelp stars
---
4. The Wolfhound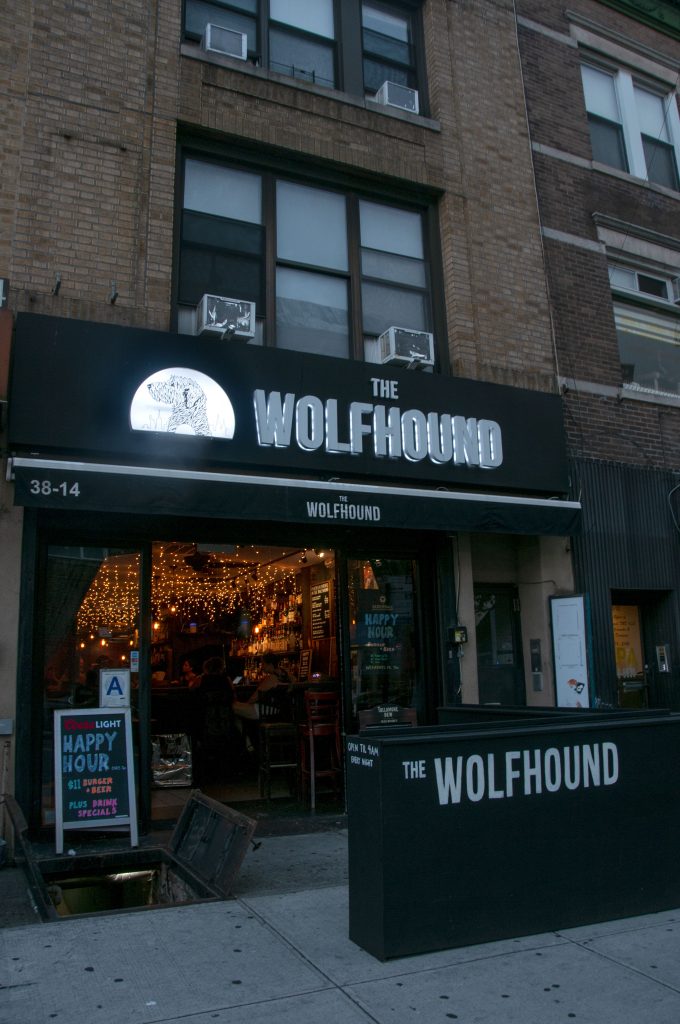 The Wolfhound is easily recognized by its black and white exterior and logo of a shaggy dog. Inside, you'll first notice the twinkly, white Christmas lights that hang from the ceiling, like stars. One of the best things about The Wolfhound is the wide variety of events it puts on, including karaoke, trivia, live music and a quarterly emo night, when a DJ plays only emo music.
There's a few things that make The Wolfhound a little different from the other dive bars on this list. For one, they're a part of an Astoria-based darts league. So, if you visit The Wolfhound on any given night, you will probably find crowds around the dartboard. And two, the bar buys more Guinness than any bar in Astoria. So, if you're into playing darts and drinking Guinness, The Wolfhound is your bar. Karaoke is every first Friday of the month and there's live music every Friday and Saturday.
The bar also hosts a trivia night every Tuesday night from 8-11 p.m. If you're a bit tipsy and getting hungry, The Wolfhound has an impressive selection of bar food, including Brussels sprouts, fish and chips, chicken wings, tacos, nachos and burgers. You can get a double cheeseburger and a beer for $11 between 4-7 p.m. on weeknights. Between all the events they put on and their extensive food and drinks menu, The Wolfhound definitely deserves to be on this list.
38-14 30th Ave / 4.5/5 Yelp stars / @thewolfhound
---
5. Diamond Dogs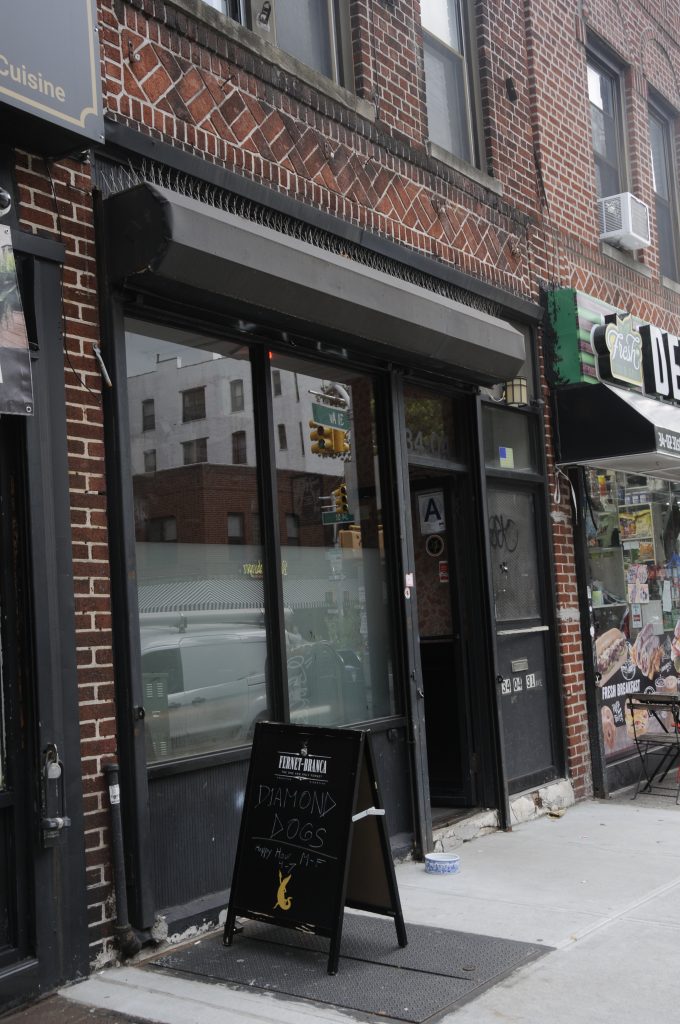 Diamond Dogs is more of an upscale dive bar, but still unpretentious like the other bars on this list. The pink and white floral wallpaper and crown molding gives the bar a pretty, clean and simple aesthetic. Although every bar on this list could be considered a great date spot, Diamond Dogs is probably the best on this list for a first date. At night, the bartenders put little candles on each of the tables, creating a cozy ambiance. The bar also has lots of creative cocktails.
The bartenders are very knowledgeable about uncommon or unusual cocktails , like the paper plane cocktail with Amaro Nonino Quintessentia, Aperol, bourbon and a splash of fresh lemon juice. Like the name suggests, the bar is welcoming of dogs and has a great backyard for them with lots of white picnic tables covered by umbrellas and twinkly yellowish lights that line the white picket fence.
One of the best fixtures in the bar is a sign on the bathroom door that reads, "Please don't do coke in the bathroom." That's about as unpretentious as it gets.
34-04 31st Ave / 929.522.0061 / 4/5 Yelp stars / @diamonddogsnyc
---
6. The Local Bar Astoria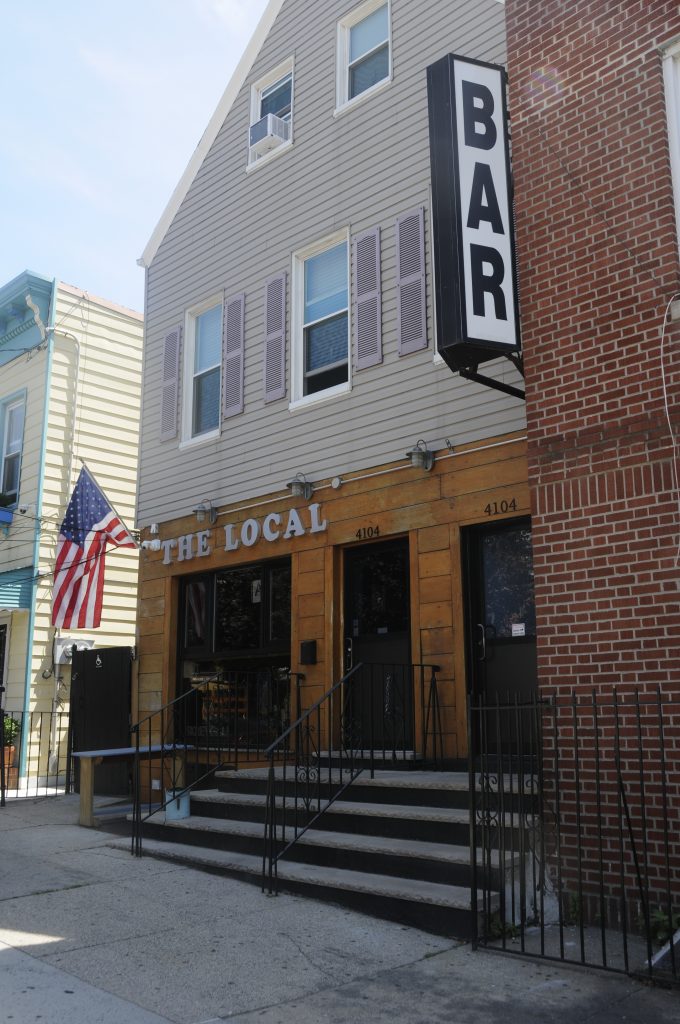 With twenty taps, The Local provides a huge selection of local, craft beers. If you're someone who likes to try different styles, the bar offers a great beer flight deal. Four glasses (about 6-ounces each) for $8. During a time when the price of everything is rising, The Local has made a point of keeping their drink prices the same.
You can count on The Local to have some of the cheapest drinks in town. Although the bar offers an impressive selection of beer, you can also order just about any cocktail you can think of. Aside from the cheap drinks, The Local also hosts a variety of events like trivia, open jam, karaoke and darts tournaments. There's trivia at 9 p.m. on Tuesdays, darts tournaments at 8 p.m. on Wednesdays, open jam (where you can play casually with your band) from 8-11 p.m. on Thursdays, and karaoke from 11 p.m. to 3 a.m. on Fridays.
The Local is a great place to try out new songs in front of a crowd. Musicians of any kind are always welcome. The bar has also got a really nice outdoor space both in front and out back. The backyard has lots of wooden tables with bright red chairs, benches and ivy plants that bring some life to the space. Make sure you look out for their fundraising events, in collaboration with the Astoria music collective, throughout the month. Contributions will go towards Planned Parenthood.
41-04 31st Ave / 917.832.6797 / 4.5/5 Yelp stars / @thelocalbarastoria
---
7. The Gutter LIC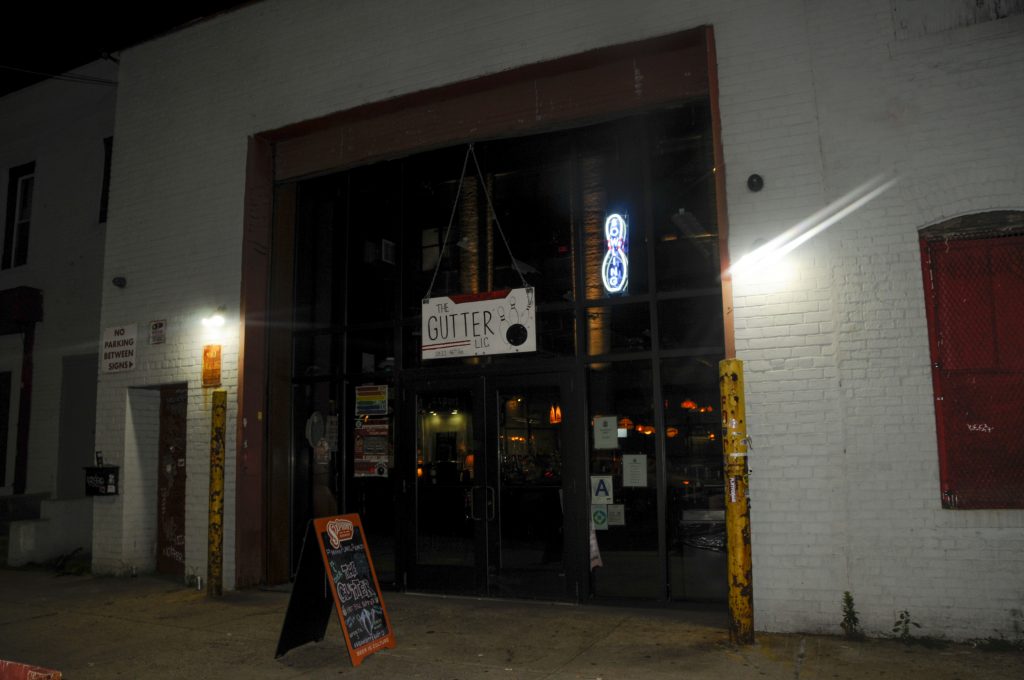 In terms of space, The Gutter is the biggest bar on the list. And like the name suggests, it has bowling. As you walk in, you'll first notice the big American flag on the wall to the right, red leather booths and the long, dark wooden bar.
The Gutter is a good spot for big groups of friends and celebrations. Towards the back, there are more tables tucked away and shelves with lots of different board games that you can play. To bowl, it costs $8 per person, per game, or $25 for 30 minutes with up to six people. Socks are $2, and shoes are $3. Another great thing about The Gutter is its location.
It's located in a busy area between two popular breweries, Fifth Hammer (next door) and Rockaway (one block away). It's also one block from Culture Lab, which hosts lots of free concerts all summer long, and LIC bar, another cool dive bar in LIC. It's fun to bounce around between all of the bars, especially during the summer when it's nice outside. If you're looking for a big bar with board games and bowling, you definitely need to check out The Gutter.
10-22 46th Ave / 929.328.0409 / 4.5/5 Yelp stars / @thegutterlic
---
8. LIC Bar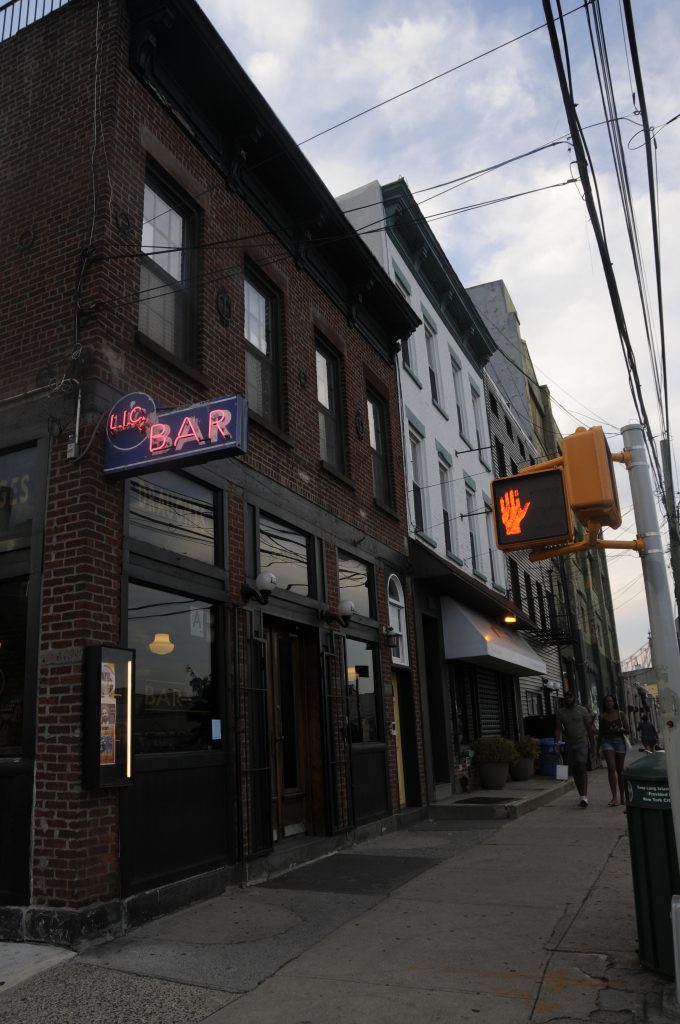 LIC Bar opened in 1929 and still has some of the original barstools, mirrors and woodworking. Looking around, you can't help but admire its quaintness, from the wooden detailing behind the bar to the vintage cash register and slightly tarnished mirrors.
At LIC Bar, everyone fits in, young or old, sports fan or music lover. Whether you're looking for somewhere to watch a game, listen to live music, hold a wedding reception, or to have a drink after a long day at work, LIC Bar is great for all sorts of occasions. It's known for being somewhat of a hub for musicians. A bunch of local and renowned musicians perform at the bar frequently and they're always open to booking new or established bands.
Before they got big, Flor de Toloache, an all-female mariachi band, played there, as well as some of Billy Joel's drummers and a few of David Bowie's horn players. They have live music every Saturday night from 11 p.m. – 1 a.m., Sunday afternoons from 5-8 p.m. and Wednesday nights from 8-11 p.m. The bar is fully equipped with an elevated stage and sound equipment.
The bar also has a huge outdoor space with lots of seating and hanging twinkly lights. Iconic TV shows like Sex and the City, The Sopranos and Manifest, have been filmed there. Ed Helms, from The Hangover and The Office, even paid a visit to the bar a few years ago. (He was the best man at a wedding held at the bar.)
45-58 Vernon Blvd / 718.786.5400 / 4.5/5 Yelp stars / @lic_bar