Pick of the Month: Cafe Turkiye
By James Delgenio Posted: May 31, 2023
One of the newest additions to the neighborhood might be one of the best and most unique restaurants in town. Whether it's a tantalizing mezze (appetizer), a succulent lamb kebab entrée, or a sweet pastry, Cafe Turkiye has perfected every aspect of a delicious meal.
Living in Astoria for over ten years has given me the opportunity to try dishes from all over the world. I go out of my way to sample a wide variety of food, looking for that next taste sensation. Despite this, I had never eaten Turkish cuisine until I happened upon Cafe Turkiye. I recently sat down with Ibo Onerli, one half of the husband-and-wife team that runs Cafe Turkiye, to learn more about this extraordinary establishment. Onerli's infectious enthusiasm and killer cuisine have made Cafe Turkiye my new favorite restaurant. Onerli, for his part, seemed right at home, "I love Astoria," he told me almost immediately. "It's people from all around the world, different cultures living together."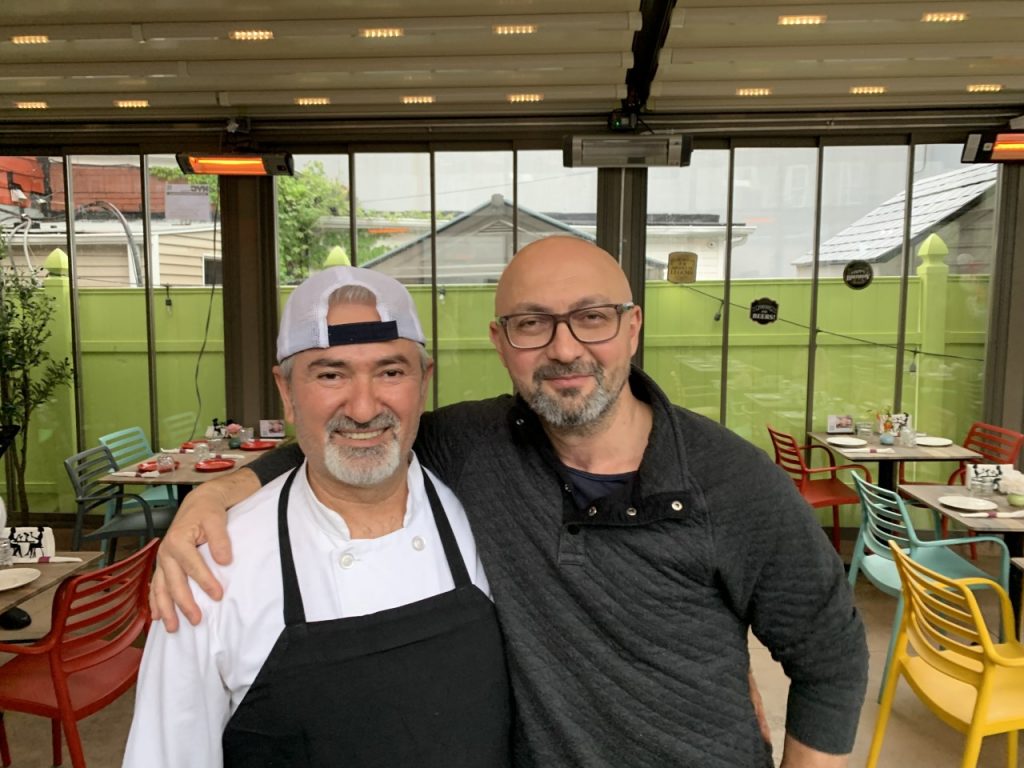 Start your meal by ordering the mezze sample platter. Served with homemade bread for dipping, this vegetarian appetizer is ideal for a group and features babaghanoush, hummus, patlican soslu (fried eggplant), ezme (pomegranate molasses, peppers, tomato, spices, and walnuts), kisir (parsley, tomatoes, onions, bulgur, olive oil, and lemon juice), and haydari (yogurt, garlic, and walnut).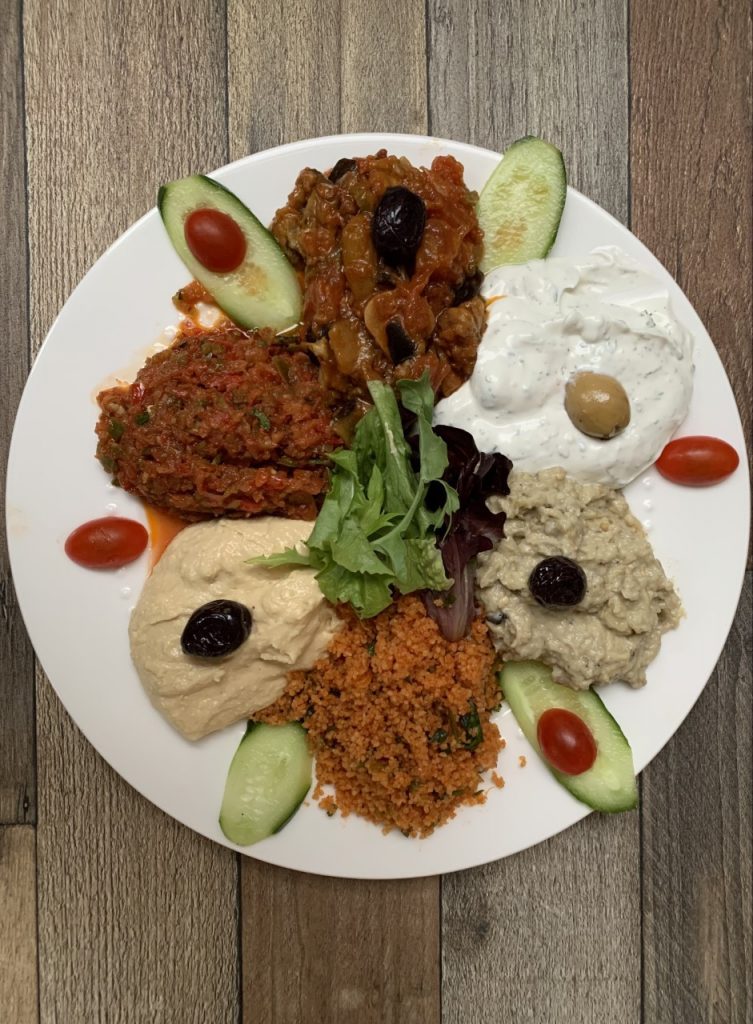 For an entrée, I strongly recommend the chicken or lamb Adana, a traditional kebab named after the city in Turkey. Also, try out the köfte, or Turkish meatballs. Or, if you're particularly hungry, you can't go wrong with an order of the mixed grill, a combination of chicken Adana, chicken kebab, köfte, lamb kebab, rice, and salad.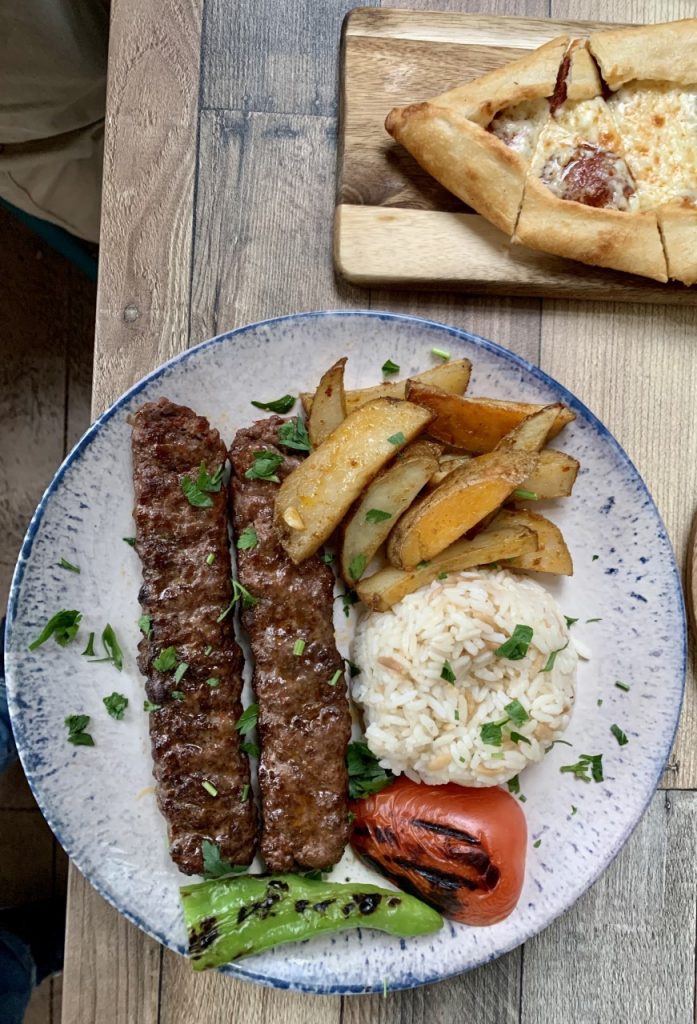 Definitely do not skip dessert. In fact, you can order any of Cafe Turkiye's sweet offerings at the counter. My favorite, kazandibi, a caramelized milk pudding that tastes like a cross between crème brulee and bread pudding, pairs perfectly with a Turkish tea. Onerli's favorite, the kemal pasa, are bite-sized pastries dipped in syrup, "I sit down and eat six or seven at a time," Onerli confessed to me with a smile. And Cafe Turkiye also serves outstanding macarons. "I know they're not Turkish," he told me, "I just like making them."

Cafe Turkiye's interior is mostly hidden from street view and is surprisingly large. Even though it was pouring rain on the day that I visited, the back patio was comfortable and warm with strategically positioned heat lamps. Equipped to handle private events for around 50 people, the back room was being decorated for a private party that I found myself desperately wanting to attend.
Onerli, who hails from Istanbul, is a second-generation restaurant owner. "All the time [my wife and I] wanted to eat something like this. We had to go all the way to Brooklyn. My father had a restaurant many years ago in Turkey, so it was my dream. And it happened when I was here, in America. So who knew?" The combination of the right location, owners, and menu has produced a real winner that is sure to become a neighborhood staple.
37-05 Broadway / Phone: 718.777.0200 / website: cafe-turkiye.com / Yelp 4.5