World Artisan Market celebrates its inaugural event
By ET Rodriguez Posted: May 23, 2023
The first-ever Spring Fling was rained out, but these restaurants are year-round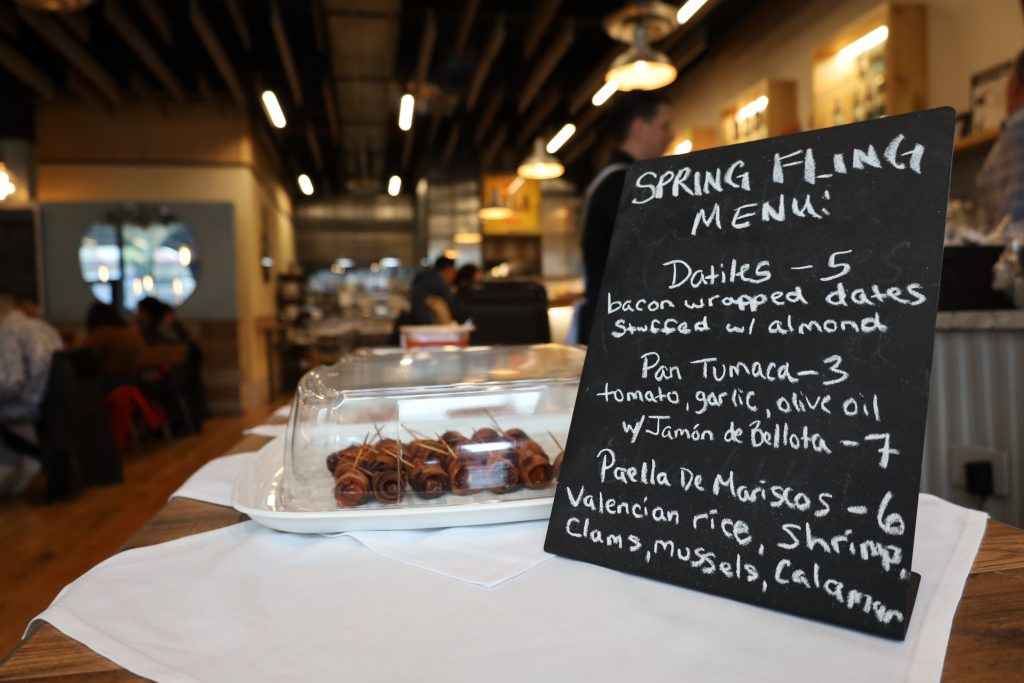 It was the first day of spring, but given the torrential rain and unseasonably cold temperatures, it sure didn't feel like it. And while the weather may have dampened the day, it did not damper the mood of the World Artisan Market (WAM) restaurateurs as they celebrated their inaugural Spring Fling event.
"It's a collection of authentic New York City cuisines," said Steve Lyoshir, owner, managing operator and mastermind of WAM. "Growing up in Queens, the block was like a food festival all summer long — WAM is meant to represent that community feel and diversity," Lysohir added. The borough is one of the most diverse counties in the country with an ethnic melting pot of more than 100 ethnicities and backgrounds.
The 16,000-square-foot space with 17-foot exposed ceilings houses distinct restaurants in each of its individual brick-and-mortars. From Colombian to Italian to New York Vegan – the owners of the eateries were prepped with giant umbrellas and portable ovens to offer street foods from each of their diverse backgrounds in celebration of the vernal equinox, but mother nature had other plans and instead, the festivities were relegated indoors.
Each venue had live music from local performers and offered something special for guests – like the complimentary hearts of palm ceviche offered to diners at Urban Vegan Roots. It eats like a hearty guacamole and is a no-brainer as a share item. "It's delicious," said Esther Wlodarski, who had ventured out to Urban Vegan Roots for the first time with her friend Anju Duvey. Both are Queens natives who enjoy the food diversity the borough has to offer. "There's a little bit of everything," said Duvey.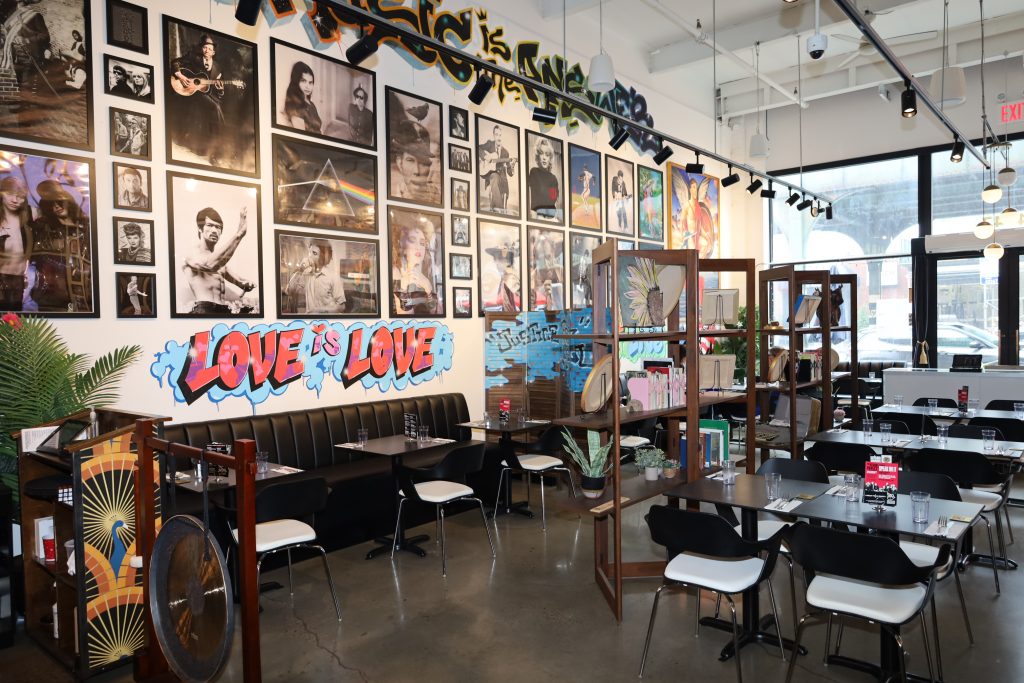 Walking into Urban Vegan Roots is like walking into a bedroom of nostalgia. "I never had my own room," said Dave Tianga, owner and founder of Urban Vegan Roots and Kitchen on Carmine Street in Manhattan. Raised by his single mother for the early years of his life, Tianga had to share a room with his cousins growing up in Jackson Heights. "If I'm going to own a restaurant, I want it to look like my home." he said of the intricately curated joint. Shelves hold plants, books and a smiling Buddha. The walls are covered in framed posters ranging from Nikola Tesla to Marilyn Monroe to Chuck Berry – the aesthetic is an inundation of pop culture. And the work by legendary local artist, Kool Sphere, an OG on the graffiti scene, puts the Queens cherry on top.
The vegan concept was incepted into Tianga when he started working at an organic smoothie shop to the stars in the late 90's to the early 2000s. The menu at both Urban Vegan locations plays on familiar dishes, like the mac-and-cheese made with a cashew substitute that provides a taste and mouth-feel so similar, you don't miss the cheese. The Korean BBQ wings are made from seitan, but I bet your kid can't tell it's not chicken. "She wouldn't be able to tell – she would say 'I want chicken on my pizza', " said Grace Hernandez of her then four-year-old daughter Jody, who has recently learned the difference and now distinguishes the two as "vegan chicken" and "chicken-chicken." Hernandez was the DJ spinning dance hits on that gloomy Saturday afternoon in May and has been playing at Urban Vegan Roots since October 2022. "I don't really play anything after the year 2000," she said as she filled the room with sounds of disco, '80s freestyle and '90s R&B.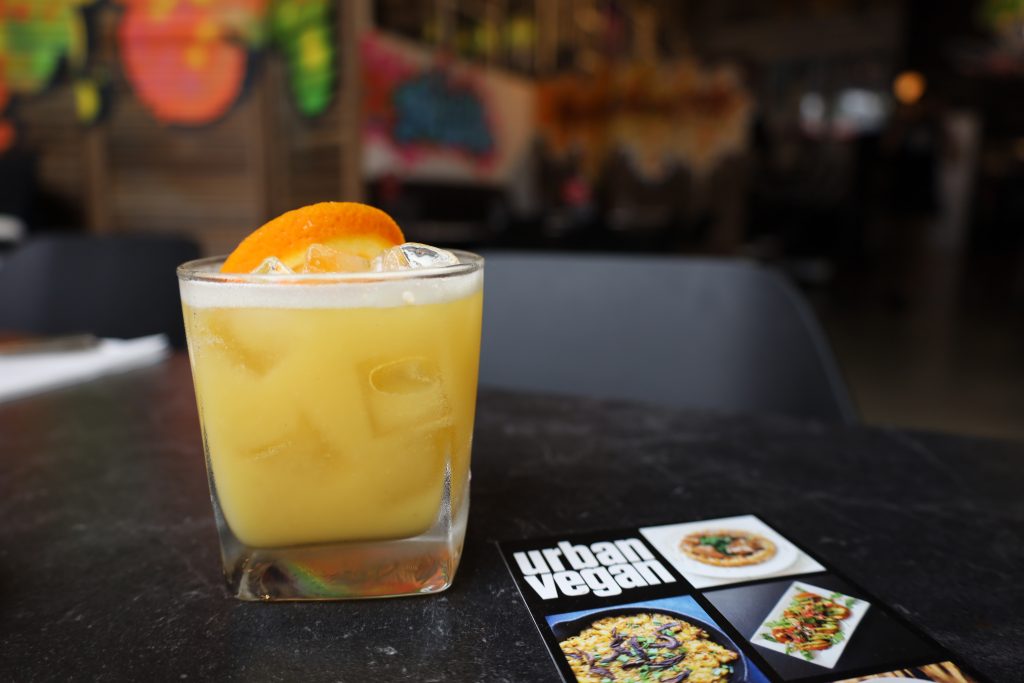 With mocktails like the Orange Juice Jones — a luscious mix of orange and pineapple juices punched by a cinnamon simple syrup and sea moss for added texture – this spot is a must for those looking for something fun and different. "Just try it," said Tianga who runs the restaurant with his wife Tara Oles, a lovely woman too humble for her efforts.
On the south end of WAM sits another Jackson Heights native, Arepa Lady. Started in the 1980s by Maria Cano with a grill and a supermarket shopping cart, Arepa Lady was much like the thousands upon thousands of food vendors In NYC today – immigrants looking to make a living and in the process, create some generational success. Such is the case with Alejandro Osorio, present owner of Arepa Lady, son of Cano. Osorio runs the restaurant with his wife, Nelly Klinger; chef, manager and "Basically everything. She's the boss," he said.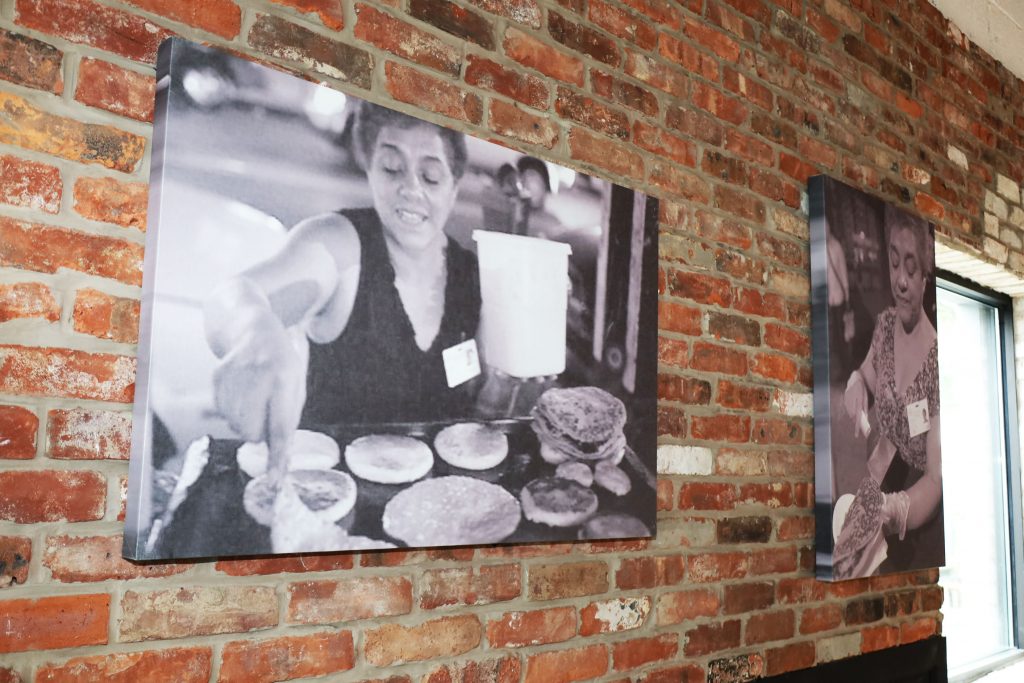 As a teenager, Osorio accompanied his mother selling her sweet corn cakes with cheese at the wee hours of the night to avoid police. "I remember one time they took the whole thing," said Osorio of his mother's food cart. Although everything was made using scraps and ingenuity, the most expensive thing to replace was the grill, which at the time ran Cano about $1,000, according to Osorio. The current permitting system for food vendors in NYC has been backlogged for decades due to imposed caps which were increased last year, but still not enough to go around. Nevertheless, Arepa Lady now has a roof, walls and a full bar with approximately a dozen seats.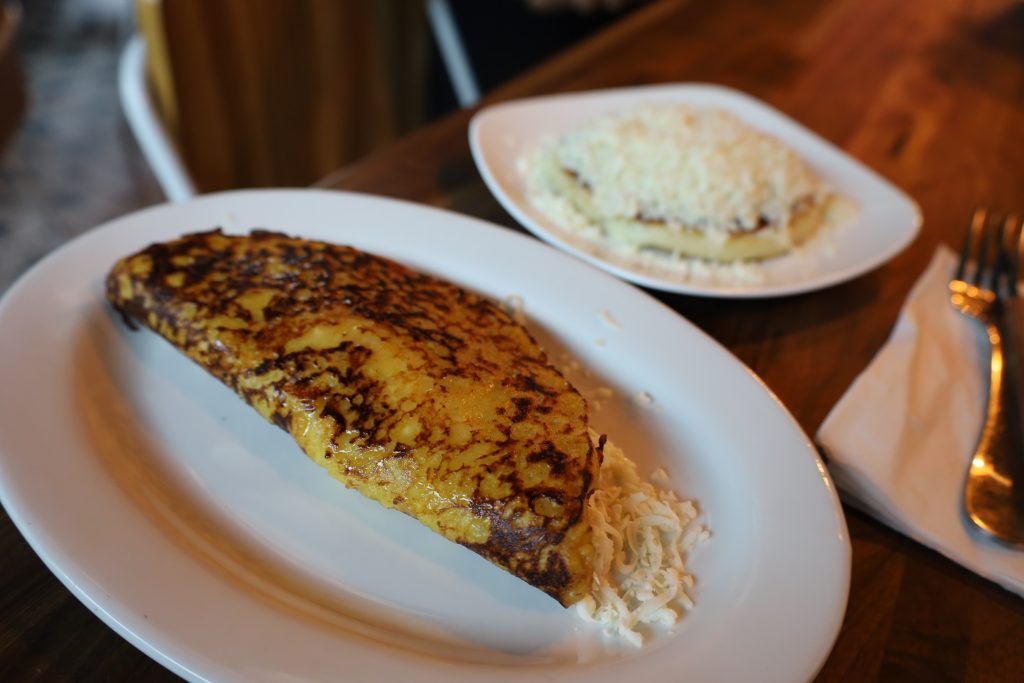 The Colombian restaurant serves up several dishes, but the arepas are where it's at. There are the traditional cornmeal arepas topped with mozzarella and heightened by an optional drizzle of condensed milk that accentuates the natural sweetness of the corn. Then there's the choclo, made from off-the-cob ground corn resulting in a sweet, earthy flavor with a deep and vibrant yellow color. It is filled with a mix of mozzarella and Colombian queso blanco and fills the belly with happy comfort.
And nothing says comfort like a big bowl of pasta or some pizza, which can be found at Sotto la Luna, Italian for "under the moon," at the northwest corner of 31st Street and 35th Avenue. Sotto la Luna was the first one to sign a lease at WAM and opened its doors in December 2021.
Although the World Artisan Market didn't celebrate its official opening until August 2022, the concept has been in the works for years. "We started accepting leases in 2019, but the pandemic erased a substantial amount of progress made," said Steve Lyoshir, managing operator and visionary behind WAM.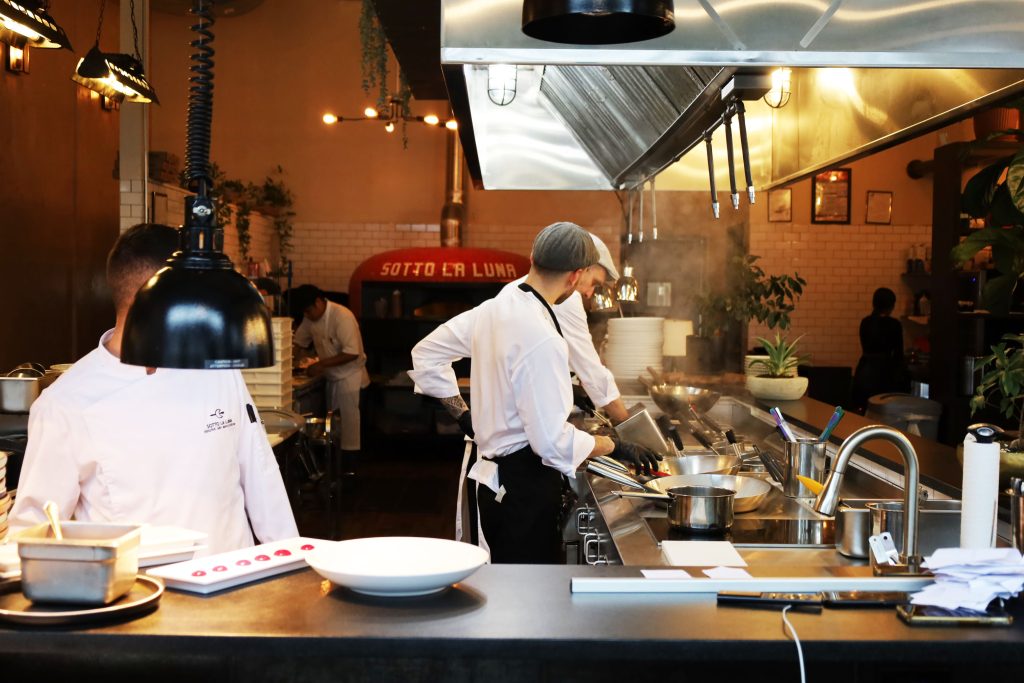 Sotto la Luna is an airy Italian restaurant that works hard to stay authentic to Italian cuisine. The restaurant is owned and operated by five Italian partners – pizza maker and baker, Agostino Cangiano from Naples; Chef Marco Coccia from Rome; two sisters Gina and Francesca Mastrovito, are from Puglia and Valerio Marchi, who runs other restaurants in Queens, is from Milan.
"You won't find any chicken on the menu here," said Cangiano who mentions that chicken is more of an American thing. What you will find is Chef Marco's' dream kitchen — an open concept he designed himself and his menu does not disappoint. The potato gnocchi are like small pillows of goodness that ooze tomato and cheese once punctured and sit atop a sauce of yellow cherry tomatoes with small decorative pools of basil on the plate. The ravioli were little pockets of slow-cooked wine-braised beef, garnished with black truffle and a luscious butter sauce. Then the show-stopper – the tableside preparation of the cacio e peppe, made inside a wheel of pecorino cheese. With the exception of some staple dishes, items are subject to change.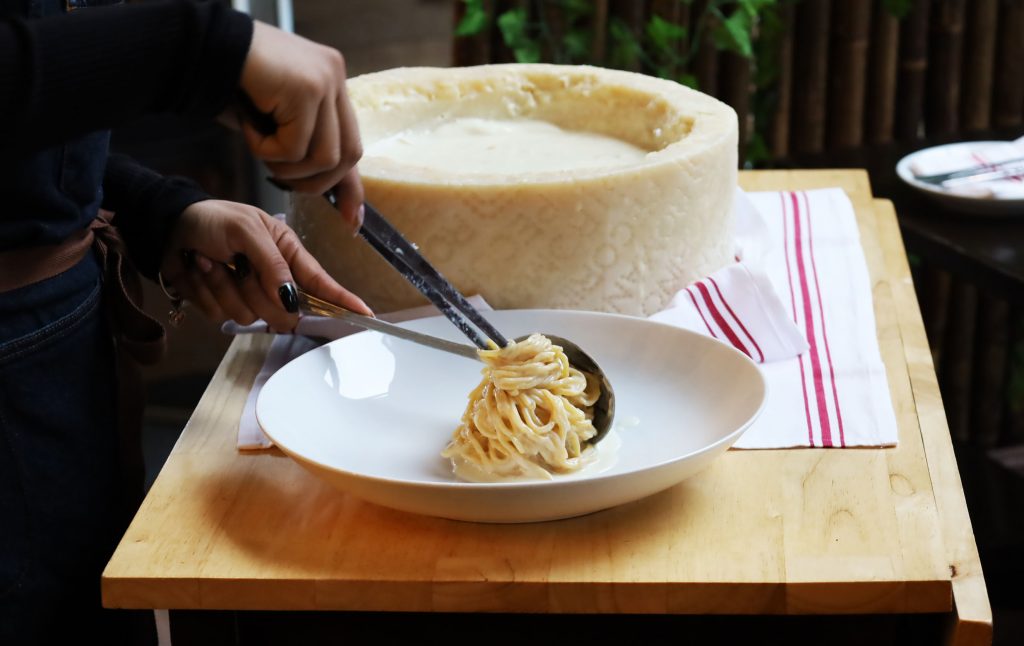 Whether it's a fancy date night with pasta, dessert and a bottle of wine or just a couple of friends looking to have some pizza and beers, Sotto la Luna accommodates the hungry. Much like husband-and-wife, Michael and Shala Janetta, who were enjoying a couple of Peronis and a pizza Napoletana after wrapping up their brunch shift at their restaurant next door – Sala.
Sala means living room in Spanish and that's exactly how owner Michael Janetta wants diners to feel in the space. "Walk into a friendly casual room like you're in Spain where you feel like you belong," he said.
Janetta's grandparents were Italian-American restauranteurs from Pennsylvania and he grew up with a passion for food. He went to Spain for college and fell in love with the tapas culture. After living in Spain for some years, Janetta moved to NYC to become an actor and got wrapped up in the restaurant industry as most aspiring stars in the Big Apple do. Then in 1999, along with other partners, he opened Sala on the Bowery. The success of that location birthed Sala 19 on 19th street in Manhattan which bustled in the Chelsea neighborhood until COVID-19 came and wiped them out. Now, they are coming up on their one-year anniversary at Sala Astoria at WAM.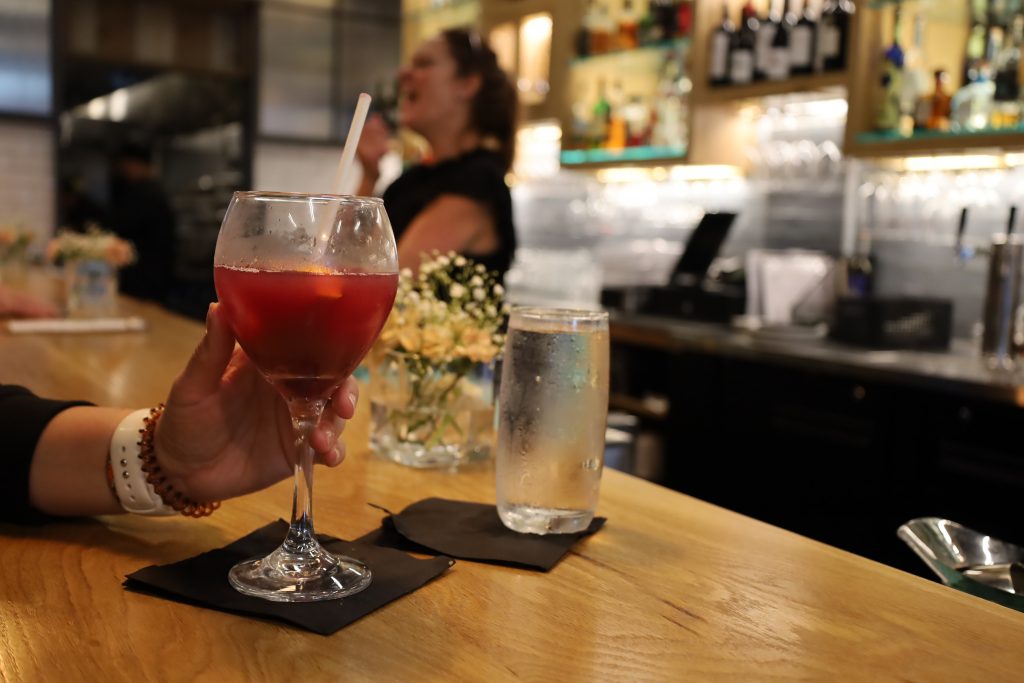 The restaurant serves traditional Spanish dishes like potato croquettes, pan con tomate which is toasted bread rubbed with garlic and then smeared with a fresh cold tomato puree. The slices of room-temperature Iberico ham are melt-in-your-mouth delicious and Janetta takes credit for being the first restaurant to introduce fried dates stuffed with Marcona almonds wrapped in bacon to NYC. In a city still lacking in tapas restaurants – he may be right. "We really try to stick to traditional Spanish dishes done the right way," he said.
Janetta continues to travel to Spain every year to stay on top of recipes and techniques along with his general manager, David Segovia from Madrid, who helps to ensure that the restaurant stays true to its vision.
They also have a small shop selling menu ingredients such as oils, vinegars, pastas and meats and cheeses.
Finally, if you're looking for something sugary, head over to Elevenses where owner Georgia Koutsoupakis is as sweet as her pastries. She opened her bakery because she was tired of the abusive culture of the kitchens she had worked in; a culture which has made verbal, physical and sexual abuse all too accepted as is reflected in T.V. shows like Gordon Ramsay's, "Hell's Kitchen," Hulu's "Bear" and the #MeToo movement which exposed the "rape room" at the now closed Spotted Pig.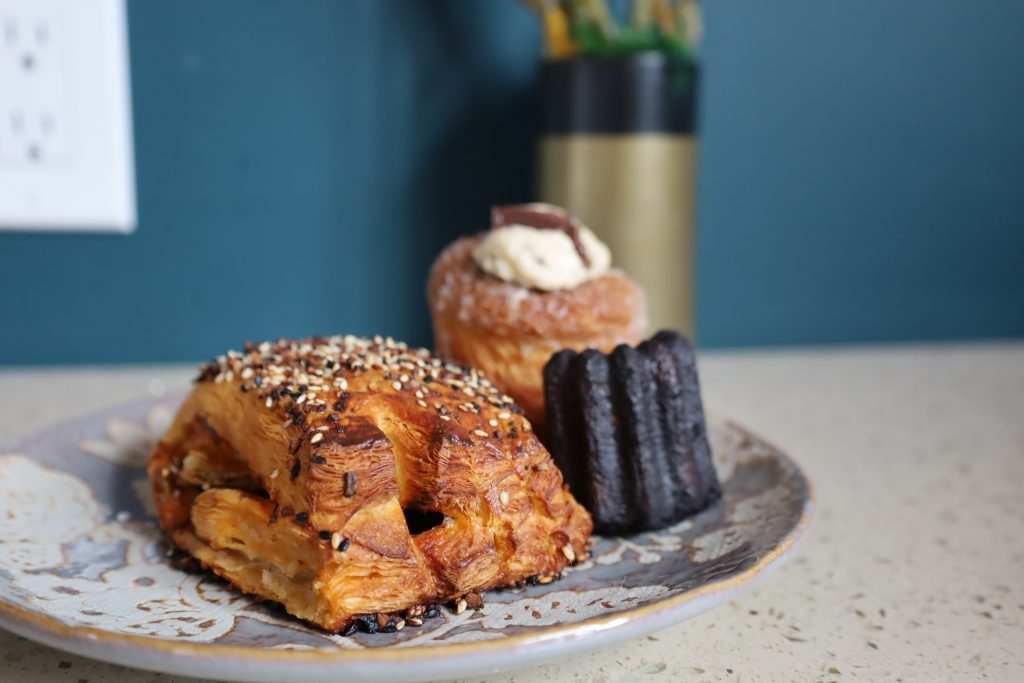 Koutsoupakis is soft-spoken and mild-mannered and is a die-hard J.R.R. Tolkien and "Lord of The Rings" fan. In fact, the name of the cafe, Elevenses, is a nod to the books – a British word meaning a mid-day snack with tea, popularized by the "Lord of the Rings" hobbits. Even the savory croissant on the menu is shaped like a hobbit's foot. But despite its shape, the dough is both flaky and doughy and filled with a layering of ground beef, sliced potato, whole sage leaf, and an espresso and lavender-rubbed cheddar. This handheld meal will give any bacon-egg-and-cheese a run for its money.
The motif of Tolkien continues with fresh plants throughout, wizard posters and drawn pictures of little squirrels holding staffs and wearing caps. "There's an underlying theme that Tolkien keeps emphasizing in his stuff and it's the love of nature and the love of people and community rather than the love of money and industry," said Koutsoupakis. "Friendship means a lot to me," she added and she tries to give back in what ways she can.
The café hosts movie nights that are projected onto the wall, holiday parties, and is looking forward to its upcoming trivia event. Koutsoupakis also starts her employees at $18/hour and gives them a $.25 raise every four months; more than Starbuck's starting rate of $17/hour. "It's not much, but it adds up," she said sweetly.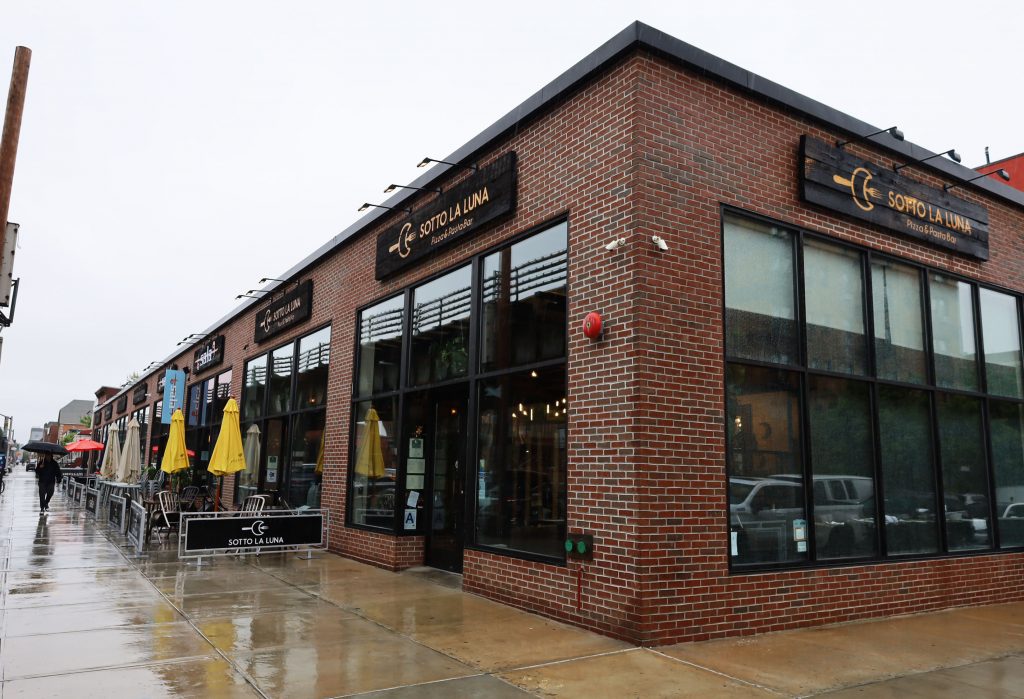 To take a note from Tolkien, the overall theme of WAM is community. The owners are just some kids from Queens looking to uplift the space they call home and those that are not from Queens are working because they "have a propensity to be nice to people," said Janneta. They all work six to seven days a week to achieve the same dream. Janetta from Sala and Cangiano from Sotto la Luna are restaurant neighbors and talk all the time to coordinate their outdoor seating and can be seen eating at each other's spots. Osorio at Arepa Lady is working to keep his mother's decades-old legacy alive. Koutsoupakis wants everyone to get along and Urban Vegan Roots strives for that true no-nonsense New York vibe, "no matter what you are, if you're authentic, we f**k with you," said Tianga.
"WAM Is not only great cuisines from around the world, but [also] celebrates the performing
arts," said Lysohir. Given the proximity of the Kaufman Astoria Arts district, the Frank Sinatra
School of Music and the Museum of the Moving Image, WAM hoped to fit right in. "This little
artsy nook of Astoria/Long Island City is creative and growing exponentially. We love that about
this location," Lysohir added.
UPCOMING
Potlux, which was a ghost kitchen at WAM during the pandemic is slated to reopen in a week
with brand new indoor seating. Whereas people would pick up their meals and go, they can
now sit and enjoy. The Asian eatery houses four venues: Hot Pot House, Jiang Nan, Hiro Ramen
and Friendship BBQ. Mr. Everything is hoping to have its grand opening mid-June and will serve
American cuisine and great lounge vibes, according to Lysohir.