The best cocktails in Astoria
By Elora Weil Posted: July 10, 2023
The ultimate best cocktail list! You'll never have to ask yourself where to go to grab a drink ever again. Give Me Astoria has your back with a list of the 21 best cocktails (in no particular order) and where to get them in Astoria. Maybe you like whiskey…perhaps you prefer tequila…or perchance vodka is your cocktail go to. There is truly something for everyone on this list, even those of us who don't even drink alcohol! We've got classic cocktails, classics with a twist, exciting new cocktails, and out of this world mocktails, so grab a straw and let's start drinking out way through this list!
Tantra / Mi Corazon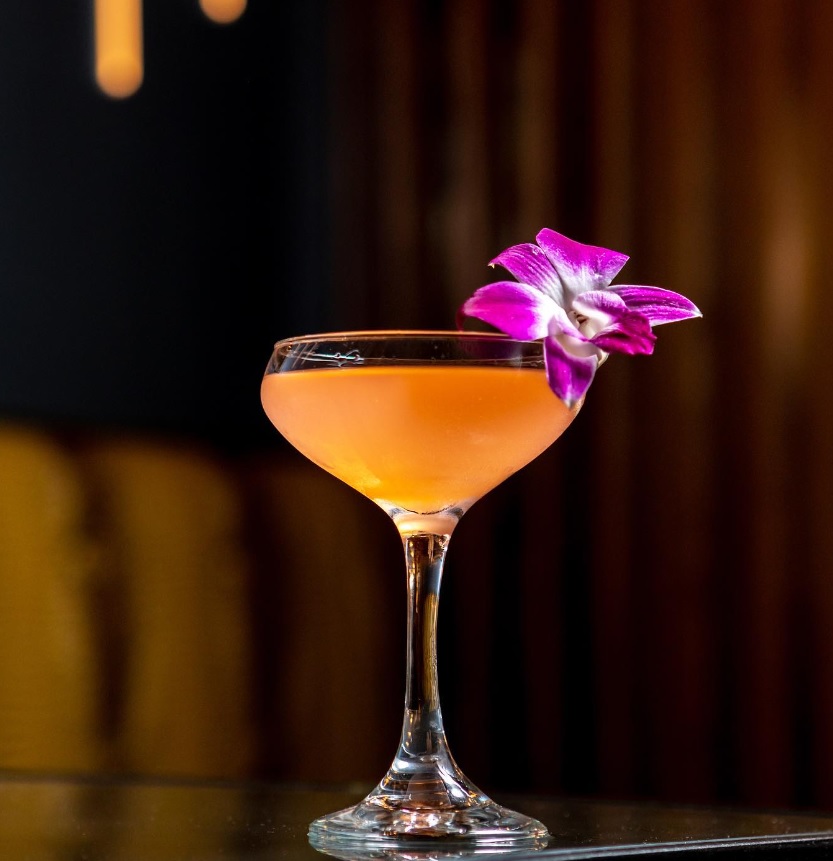 Tantra, a hot nightclub, has called Astoria home for over 15 years. The lounge features music and entertainment including live performances and DJ's. The perfect spot for guests can dance and drink mouthwatering cocktails. If you love tequila, but are not in the mood for a margarita, try the "Mi Corazon." Made with tequila, blood orange, champagne, lemon, and strawberry infused syrup.
The bubbles from the champagne and the sweetness from the strawberry infused syrup really balance out the acidity from the blood orange and the lemon, and blend beautifully with the tequila. The cocktail is garnished with an orchid making this a truly stunning cocktail.
35-50 31st St. / (718) 937-4574 / www.tantraloungenyc.com
---
Sala Astoria / Malaga Nights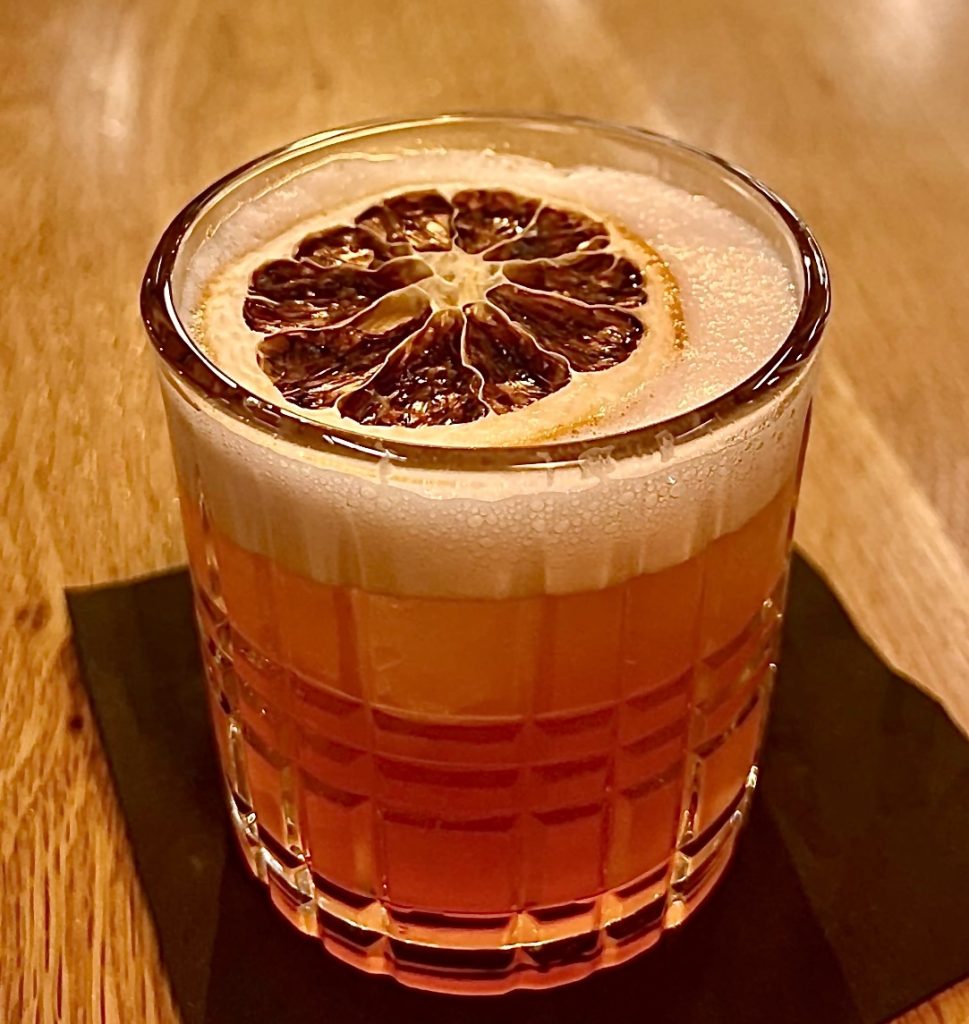 Sala Astoria offers amazing and authentic Spanish food and culture. Be sure to check out their mouthwatering menu along with their calendar for live flamenco shows. Established in 1999 in Manhattan, Sala's original location was on the Bowery, then 19th Street in Chelsea in 2004.
Now they call Astoria home, and we are so lucky to have them here! One of their new specialty cocktails is the "Malaga Nights." Made with Flor De Cana 5-year rum, pineapple juice, Patxaran and Bonanto aperitivo liquor, this cocktail is rich with flavor and will transport you to an evening in Barcelona! Sala Astoria's happy hour is weekdays 5-7pm weekends 11:30-4pm. Happy Mondays are 5pm to close and features $12 cocktails. And if you're not in the mood for a cocktail stop by on a Wednesday when select Spanish wines and sangria are half priced.
34-39 31st St. / 929-556-3037 / www.salarestaurants.com
---
Ruta Oaxaca / Sexy Oaxaca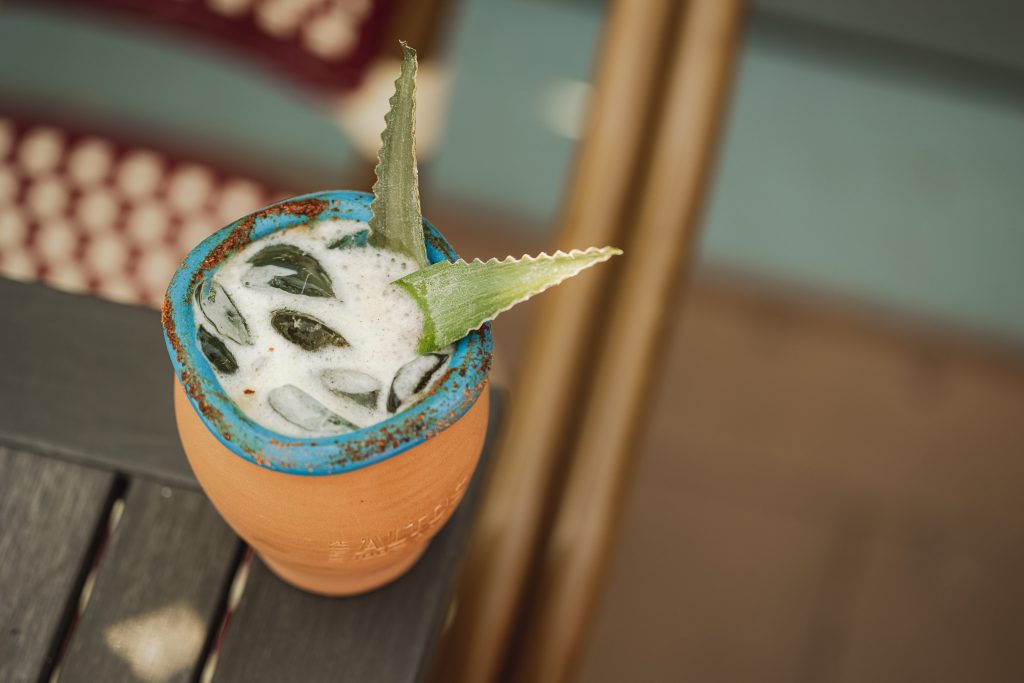 Ruta Oaxaca serves over 65 artisanal and ancestral mezcals, and over 110 different types of tequila brands in their colorful and chic location. When you go to Ruta Oaxaca, order their signature cocktail, the "Sexy Oaxaca," which is made with Dos Hombres Mezcal, Cointreau, pineapple/mint, agave and lemon.
Ruta Oaxaca even makes their own blend of worm salt for the rim that along with the sweetness of the grilled pineapple really takes this drink to the next level! Ruta Oaxaca also offers a killer happy hour deal: At the bar and outdoor dining Monday through Friday from 4-7pm all cocktails are $10 and Saturday and Sunday from 12-4pm cocktails are two for one.
35-03 Broadway / (929) 349-1228 / www.rutaoaxacamex.com
---
Drinkology / De Tijel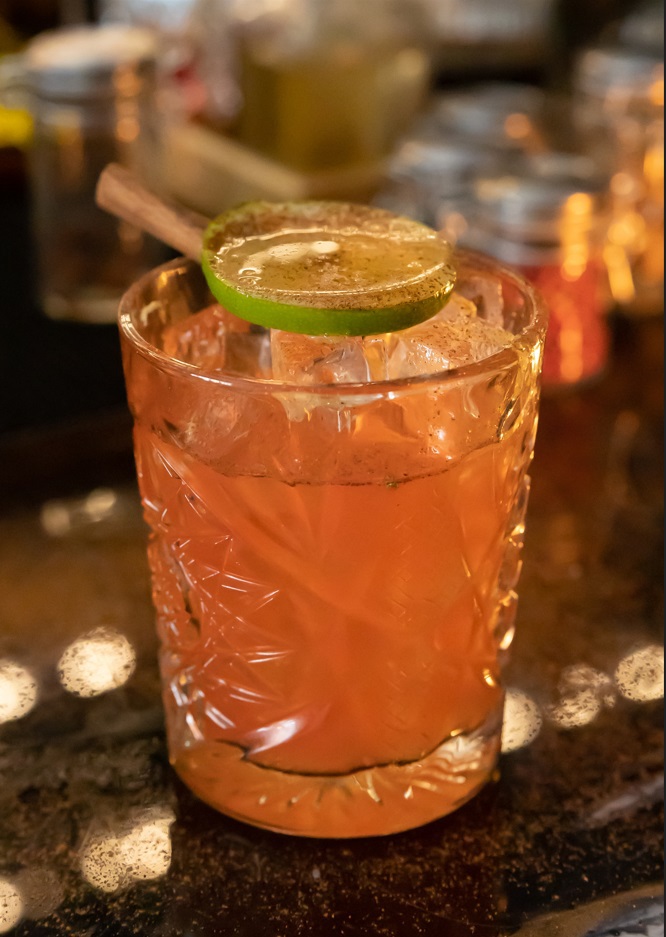 Drinkology is an upscale cocktail bar and restaurant that is a must visit spot in Astoria. The atmosphere is incredible, once you walk through the doors you will feel like you've entered a whole new world, a world that perfectly blends time and space. They offer classic cocktails of the old world and the abstract art of the modern day.
One of their most popular specialty cocktails is the "De Tijel." Made with bourbon whiskey, star anise, cloves, lemon juice, passion fruit puree, pomegranate juice, and smoked cinnamon, this cocktail will have you visiting Drinkology every night! The star anise and cloves compliment the bourbon so well and give this drink a comforting aroma, while the passion fruit and pomegranate add the right amount of sweetness to balance out the bourbon. If you love bourbon this one is for you!
4304 34th Ave. / (917) 396-4144 / https://www.drinkologynyc.com
---
Psari Seafood / Passion Fruit Cocktail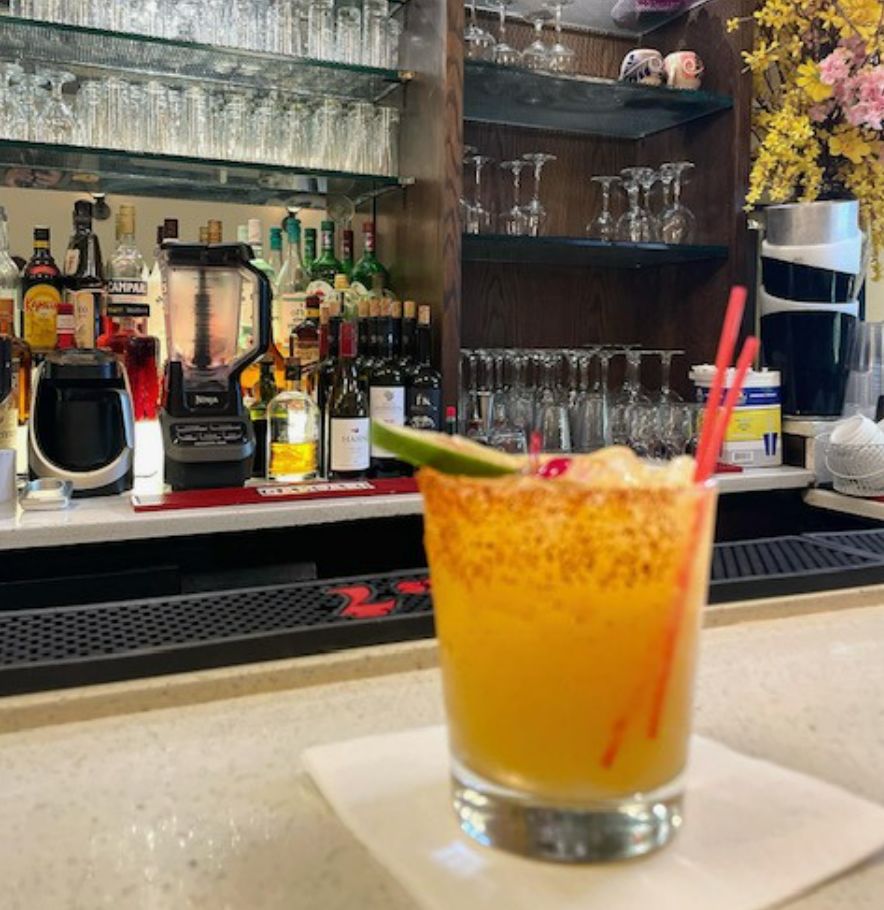 "Psari" is Greek for "fish" so it is fitting that Psari Seafood specializes in fresh and delicious seafood with a Greek twist. One of their most popular specialty cocktails is the "Passion Fruit Cocktail." Made with silver tequila, triple sec, lime juice, and passion fruit juice, this fruity cocktail is addictive. The passion fruit juice makes this sweeter than your traditional margarita and goes well with the acidity from the lime juice.
The best part of this drink is the Tajin rim, which adds the salty, limey, slightly spicy kick that makes this one of the best cocktails in Astoria. Be sure to come by and check it out and stop by Psari Monday through Friday from 11:00am to 4:00pm for their lunch specials!
32-10 36th Ave / (718) 786-6015 / www.psari-restaurant.com
---
Victory Garden / Victory Mojito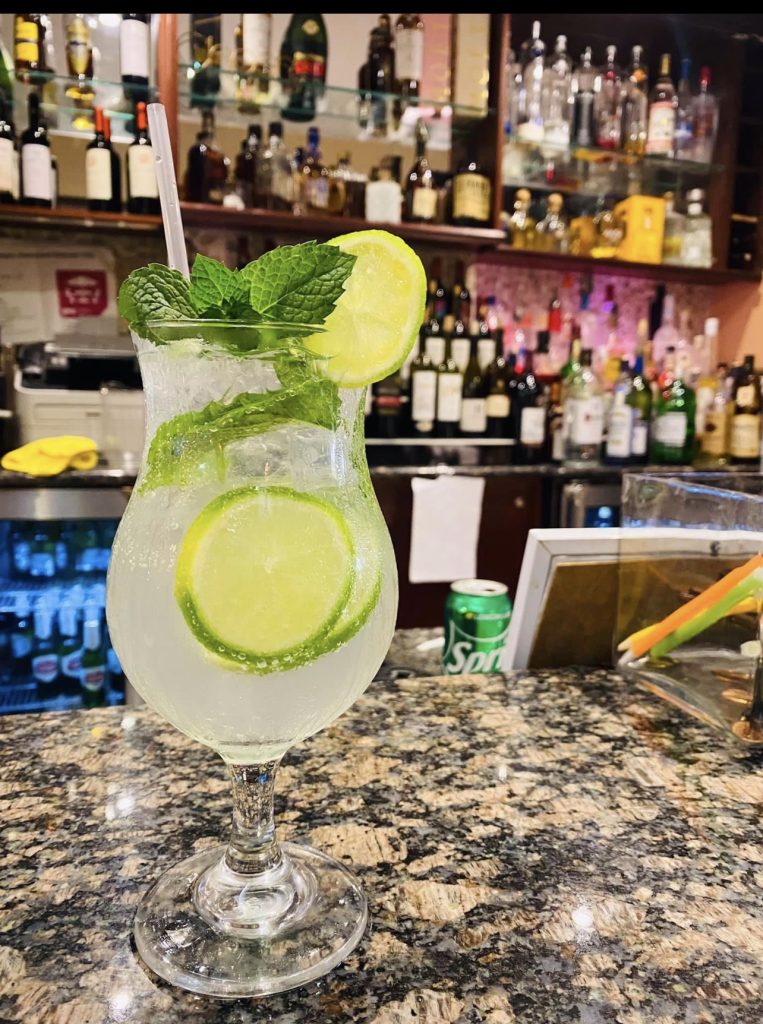 If you are a mojito lover you cannot go wrong with Victory Garden's "Victory Mojito." This classic Mojito is made with light rum, orange liqueur, lime juice, fresh mint leaves, and lemon lime soda. The organic fresh mint really sets this mojito apart as it is grown their own garden! Be sure to stop by Victory Garden to sip on the "Victory Mojito" in their European-style outdoor garden for an authentic Mediterranean dining experience. Happy hour is every Thursday from 2pm-2am. And, if you are looking for the perfect Astoria location to host your next private event, Victory Garden has you covered! The garden is available for all types of events: Weddings, Bridal Showers, Baby Showers and much more!
21-69 Steinway St. / (917) 373-7055 / www.victorysweetshop.com/garden-cafe
---
Bohemian Beer Garden / Passion Margarita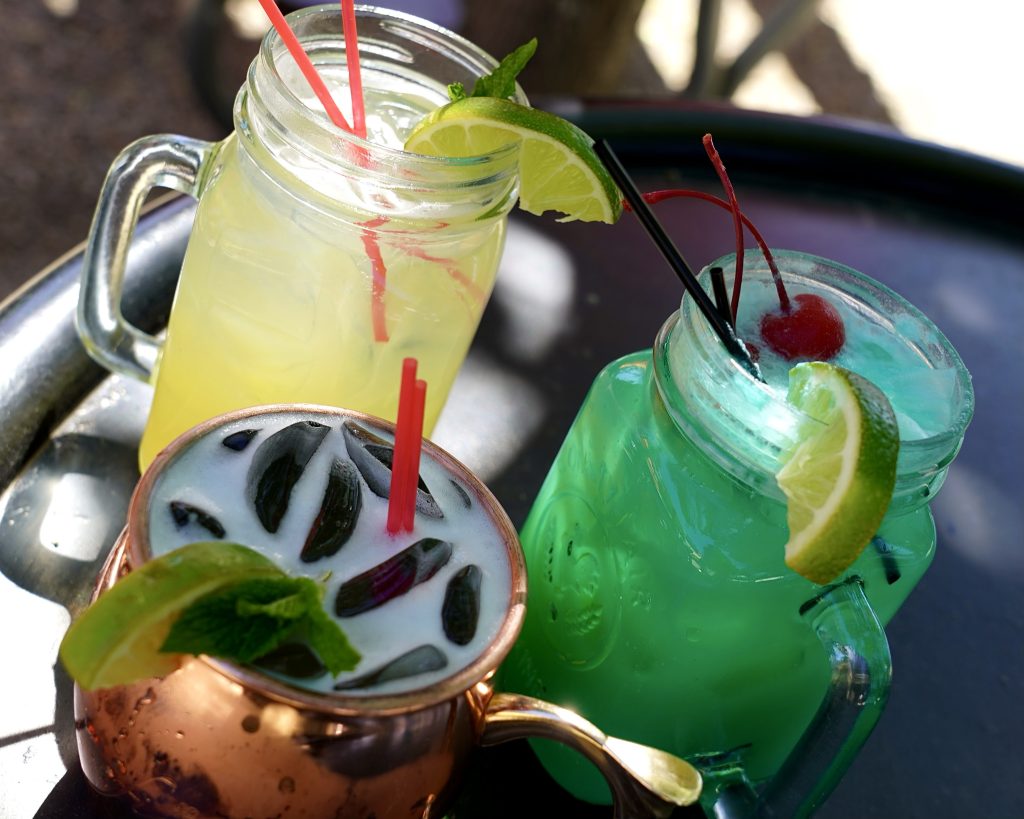 Bohemian Beer Garden & The Prague Room is an Astoria staple. Since they are a beer garden, of course, they have an extensive selection of draft beers from around the world, but they also have some really amazing cocktails. Their "Passion Margarita" is a spin on the classic margarita. This scrumptious cocktail is made with Altos blue agave tequila, passion fruit puree, Cointreau, lime, and mint. Be sure to check out their calendar for super fun events, like live music Thursdays through Sunday, movie nights, and their famous Silent Discos.
29-19 24th Ave. / (718) 274-4925 / www.bohemianhall.com
---
Lagano / Spring Scent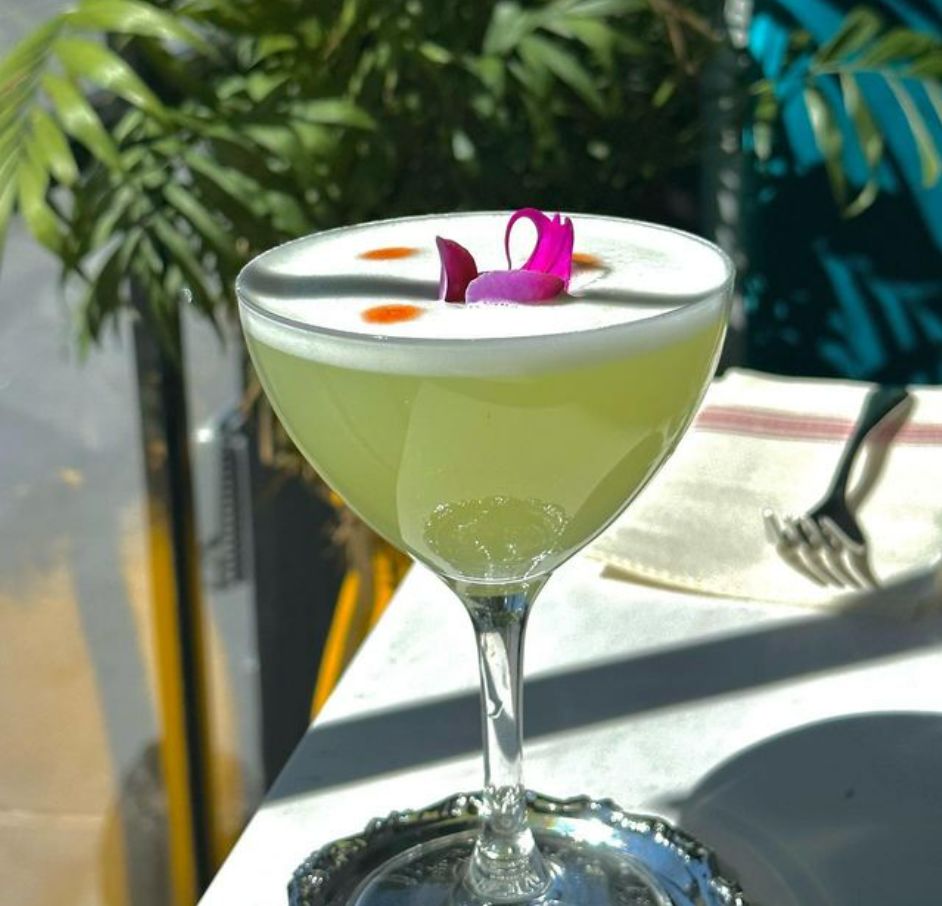 A newer hot spot in Astoria, Lagano opened its doors in 2022 and quickly became an Astoria staple. The décor is stunning and the garden in the back is beyond beautiful, you won't want to leave. Their menu offers more than two dozen tapas that all pair excellently with their amazing cocktail selections. If you are a gin lover, get the "Spring Scent." This cocktail is aesthetically gorgeous, garnished with a pretty flower petal, it is almost a shame to drink.
Made with London dry gin, cucumber juice, mint, and blossom water, sipping on this in the Lagano's garden will have you thinking you're on vacation in the Mediterranean! Their weekday lunch special is buy two tapas get one free, and late night happy hour is Monday through Thursday from 5-9pm (bar only).
36-03 Ditmars Blvd. / (347) 808-8802 / www.laganonyc.com
---
Ovelia / The Grexican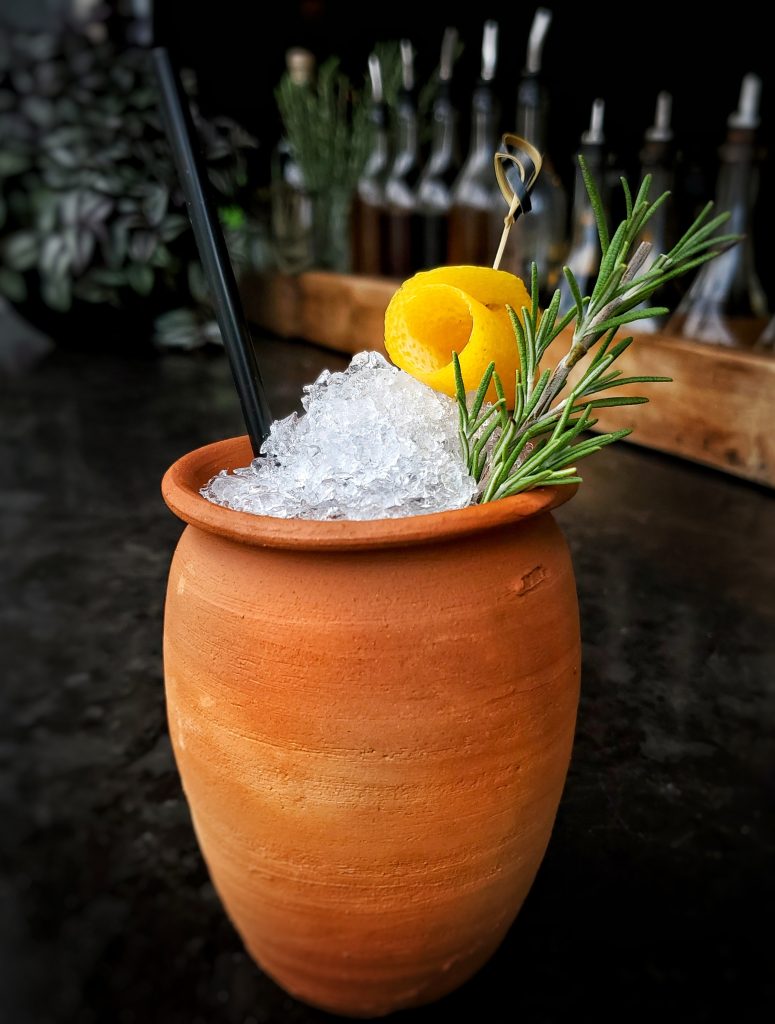 A 30th Ave. staple, Ovelia is the real deal, authentic Greek chic experience. This gorgeous restaurant offers modern and traditional Greek fare in a prime Astoria location, right on the corner of 30th Avenue and 34th Street. "The Grexican" is one of their most popular signature cocktails.
This drink combines Greek almond syrup with mezcal for a truly fresh and unique cocktail experience. Made with El Silencio Mezcal, almond soumada, fresh lime juice, orange peel, and rosemary. The smokey flavor from the mezcal is balanced beautifully with the sweetness of the almond syrup, and the acidity of the lime and orange mixed with the aroma of the rosemary makes this cocktail extraordinary. Be sure to stop by and hit their happy hour Tuesday through Friday from 5-8pm and Saturday 11-4pm.
34-01 30th Ave. / (718) 721-7217 / www.ovelianyc.com
---
Piu Bella / Flaming Hibiscus Margarita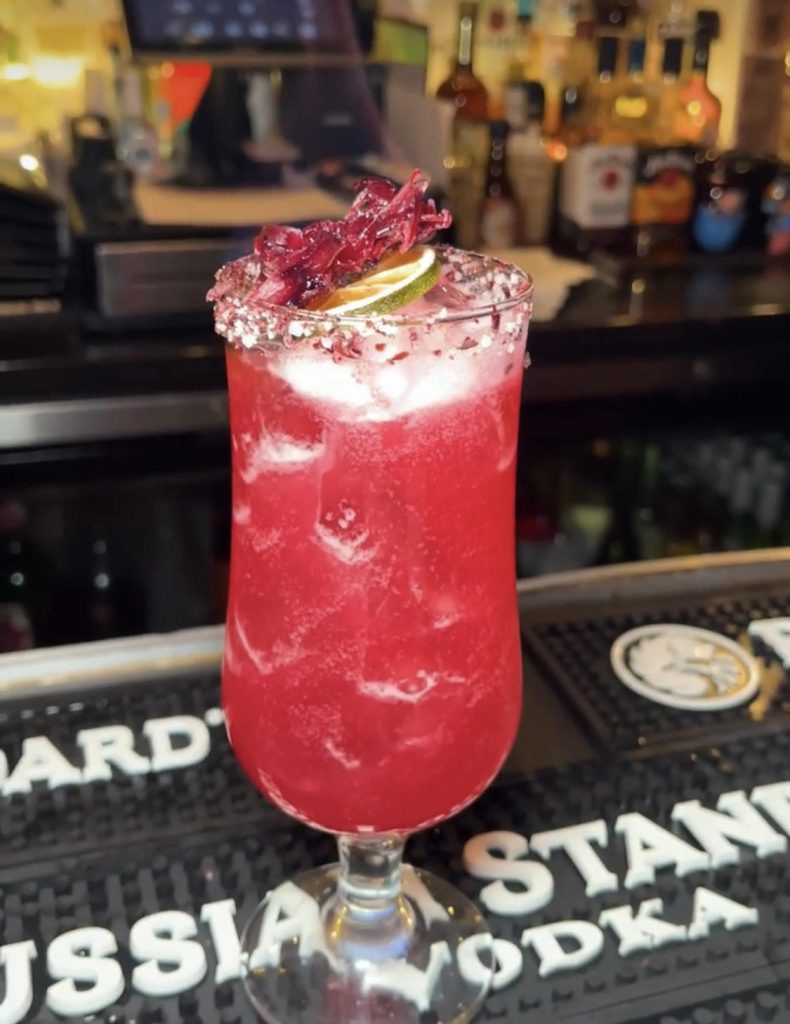 Why travel all the way to Italy for quality pizza made in a wood-burning oven when Piu Bella is right here in Astoria? Piu Bella makes their pizza dough in-house daily with the highest quality ingredients, and good news, they cater! In addition to offering authentic Italian cuisine, Piu Bella has some showstopper specialty cocktails on their menu.
The most popular is the "Flaming Hibiscus Margarita." Made with hibiscus syrup, triple sec, tequila, and fresh lime juice, this cocktail is sure to impress. The hibiscus syrup gives the drink a floral and tropical taste that will have you thinking you did travel to the Mediterranean. And of course, the "Flaming Hibiscus Margarita," got its name because, yes, the garnish is in fact lit on fire, making the presentation of this drink a real crowd pleaser.
79-16 21st Ave. / (718)-721-6500 / www.piubellapizza.com
---
The Last Word / The Singed Tulip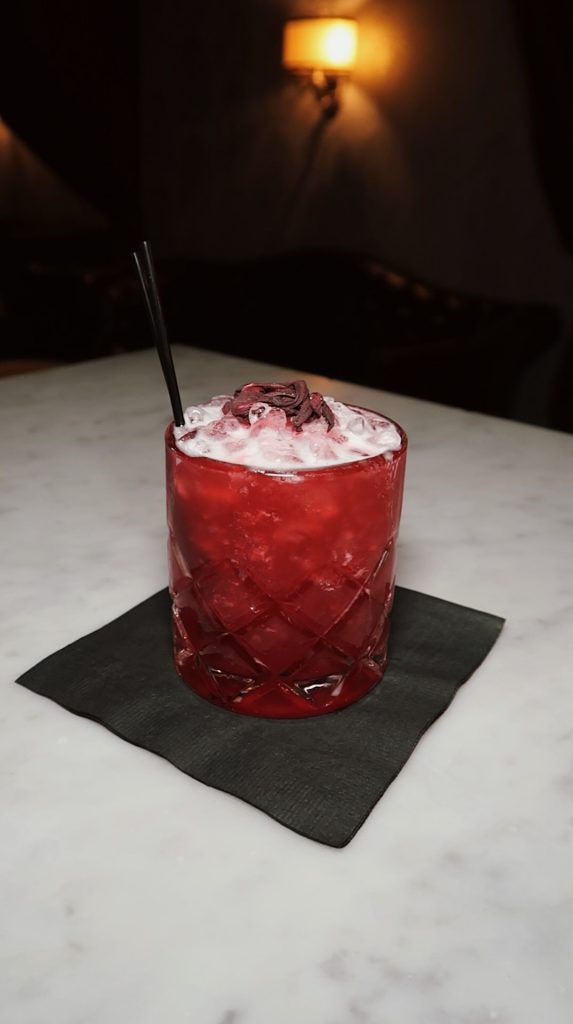 The Last Word has called Astoria home since the Summer of 2016. This is a quintessential cocktail bar that offers speak-easy vibes and quality ingredients. The Last Word menu features tasty bites, including their famous empanadas and fresh oysters. The best cocktail on their new spring/summer menu is the "Singed Tulip." Made with Behnez Mezcal, hibiscus tea, lemon and cinnamon, this cocktail gets its sophisticated taste from the floral notes in the hibiscus tea, which is then balanced nicely with the acidity of the lemon and the kick of spice from the cinnamon. The perfect spot for a night out on the town, The Last Word is open until 2am on the weekends, their happy hour features "Margarita Madness" on Tuesdays and Thursdays from 6-8pm and plan a visit on a Sunday at 7pm to listen to some live Jazz.
31-30 Ditmars Blvd. / (718) 440 – 3378 / www.tlwcocktailbar.com
---
Château Le Woof / Cappelletti Orange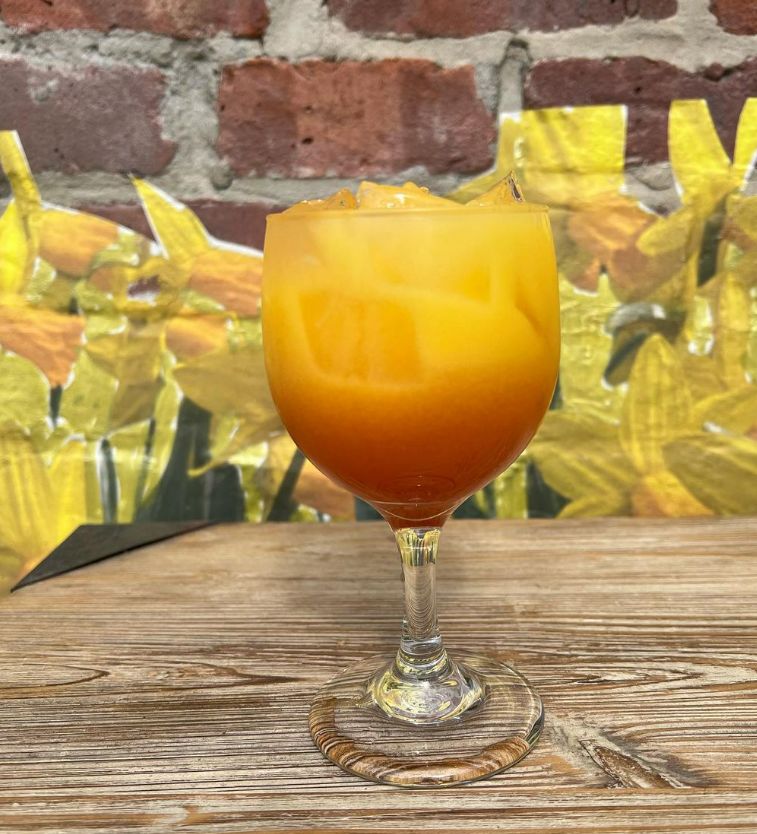 If you are looking for a welcoming environment for you and your four-legged friend to sit back and enjoy a cocktail look no further than Château Le Woof. Female-founded in Queens back in 2015, this isn't your typical dog café. Château Le Woof is a quality café that also happens to allow dogs inside. With a separate play area for the pups to scamper about off leash, the space is always full of positive vibes and friendly dog lovers.
They've launched a new summer menu and the "Parisian Sunrise" is one of their new specialty cocktails. Inspired by what the French drink during the day — a glass of orange juice with a shot of Campari on top — Château Le Woof swapped out the Campari with Cappelletti Aperitivo, an Italian red bitter liqueur. This is the perfect brunch cocktail! So get together with some fellow dog parents and take your pups for a stroll in Socrates Sculpture Park, cross the street where the pups can play and dog moms and dads can enjoy a "Parisian Sunrise" with some delicious brunch at Château Le Woof!
31-01 Vernon Blvd. / (718) 626-9663 / www.chateaulewoof.com
---
Mosaic / Just Chai Me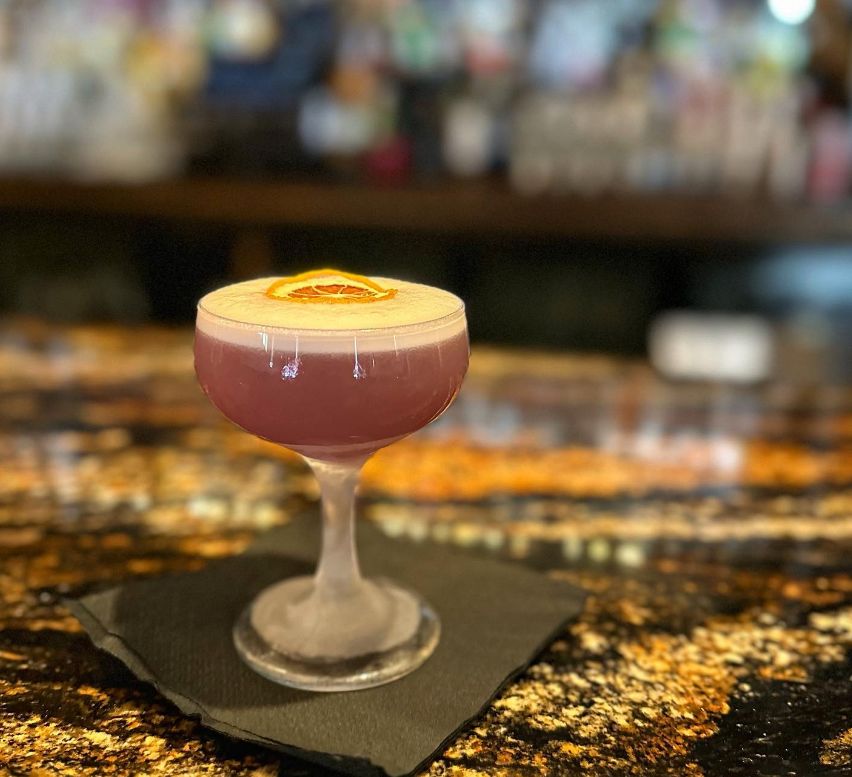 Mosaic is an elevated bar, but what makes it so unique is that despite its chic aesthetic, it still feels like a welcoming neighborhood bar. Mosaic offers craft beer, wine, and an extensive list of signature cocktails. One of their best is the "Just Chai Me." Made with Elysian Fields Lavender Gin, Breckenridge Gin, lemon, honey, vanilla chai simple syrup, and aquafaba. The "Just Chai Me" is an experience for your tastebuds. The Elysian Fields lavender gin, which is locally sourced from Better Man Distilling in Patchogue Long Island, gives it a light and floral taste, and its lovely purple hue. The vanilla chai simple syrup, along with the honey, provides a sweet aftertaste that balances the gins beautifully. And if you are a whiskey boy or gal be sure to stop by on "Whiskey Wednesday," where you can enjoy $2 off select whiskeys!
24-19 24th Ave. / (718) 728-0708 / www.mosaicastoria.com
---
Bar Dalia / Healing Touch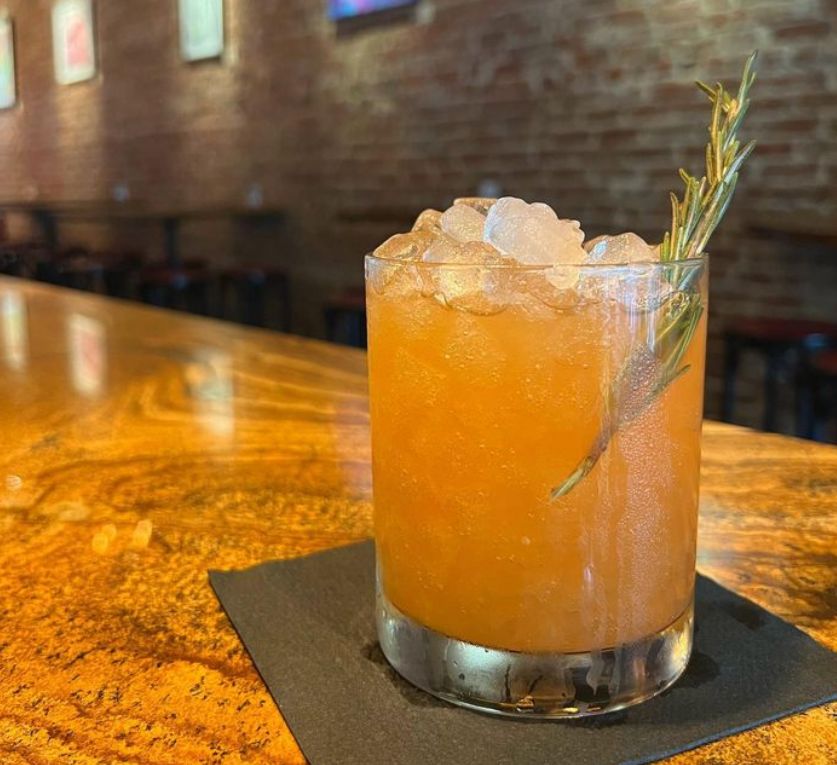 Mosaic's sister bar, Bar Dalia is a 31st Avenue gem. This intimate Latin inspired tapas bar offers cozy intimate vibes, and some of the best cocktails in Astoria. With a gorgeous interior that is prefect for a date night, and a spacious enclosed backyard that is great for larger groups. Their best cocktail has got credentials as it happens to be the Queens Cup Winning Cocktail of 2023.
The "Healing Touch is made with Ten to One dark & white rum, Smith & Cross Jamaican rum, Velvet Falernum, allspice dram, lime, orgeat, rosemary sage simple, and Angostura bitters. The combination of all these quality ingredients is sure to wow even the pickiest cocktail aficionado. Quite possibly the most interesting cocktail on our list, the "Healing Touch" is a must! Happy hour at Bar Dalia is Monday through Friday till 7pm.
33-17 31st Ave. / (347) 507-1218 / www.bardalia.nyc
---
Ditty Bar / Head Hancho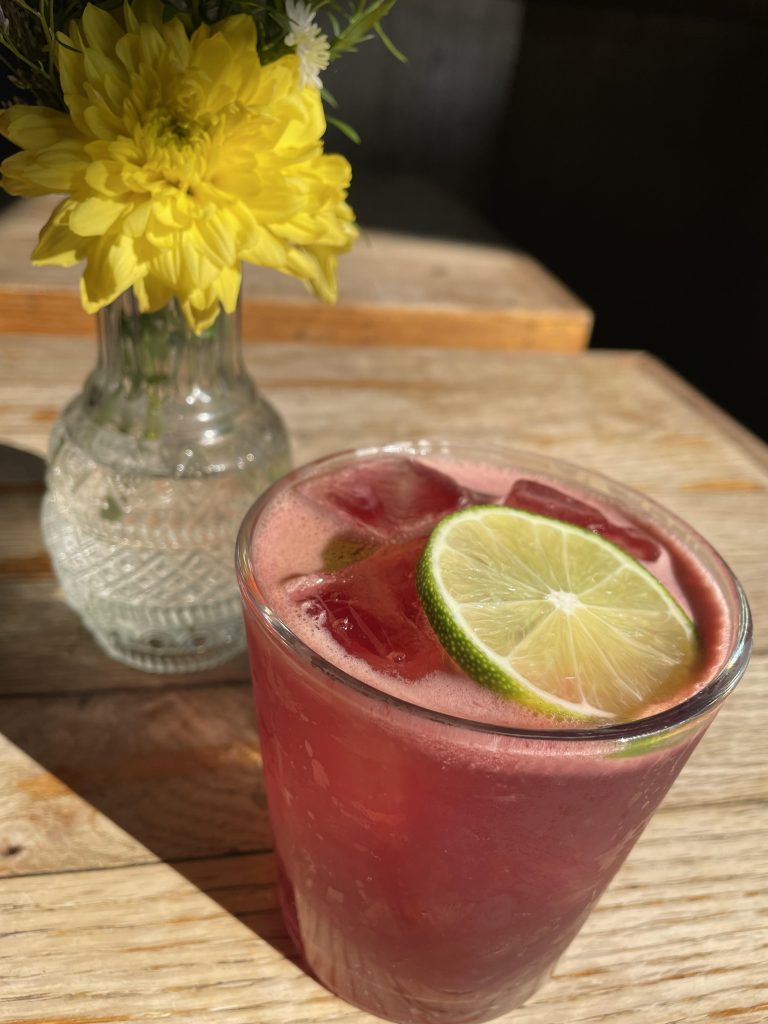 A classic Astoria bar, The Ditty is a welcoming cocktail bar by day and a spirited late-night spot where you can party until they close at 4am. The Ditty has fantastic old school bar vibes and provides an amazing selection of board games to enjoy while you munch on some of their delicious food and sip on their tasty drinks. Their signature cocktail the "Head Hancho" is incredible!
Made with silver tequila, mezcal, lime, and the kicker that really makes this one special is their homemade chili hibiscus syrup! This cocktail has just the right amount of spice from the smoky mezcal and the chili, and the floral notes of hibiscus balances it out perfectly! The Ditty offers a great happy hour special Monday through Friday 4-7pm and reverse happy hour Monday's 12-4am. Be sure to stop by on Tuesday at 8:30pm for movie nights!
35-03 Ditmars Blvd / (347) 617-1747 / www.thedittybar.com
---
Tootles and French / New York Sour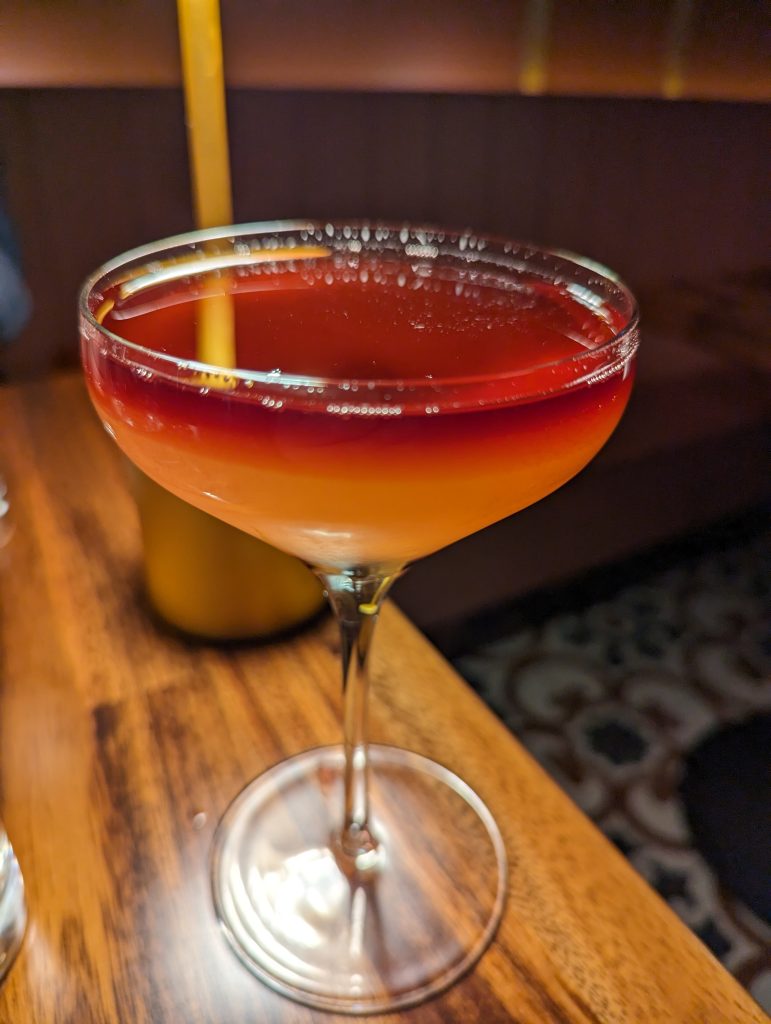 A modern wine bar and café, Tootles and French is in the heart of Astoria. If you are a wine lover this is the spot for you! Tootles and French offers 20 wines by the glass and over 100 by the bottle! Their menu also features sangrias and wine-infused cocktails, along with charcuterie boards, paninis, and small plates, that all pair excellently with wine. Their most popular cocktail is the "New York Sour." It is a modern take on the old-school classic cocktail. Made with fresh squeezed juice, house-made white wine syrup, and topped with one of their 20 rotating wines by the glass. Get your phone out because this cocktail is aesthetically appealing and made for Instagram. But even though "phone drinks first," you won't want to take too long because the "New York Sour" is delicious.
36-15 Ditmars Blvd / (347) 642-3012 / www.tootlesandfrench.com
---
The Infamous / Crush on You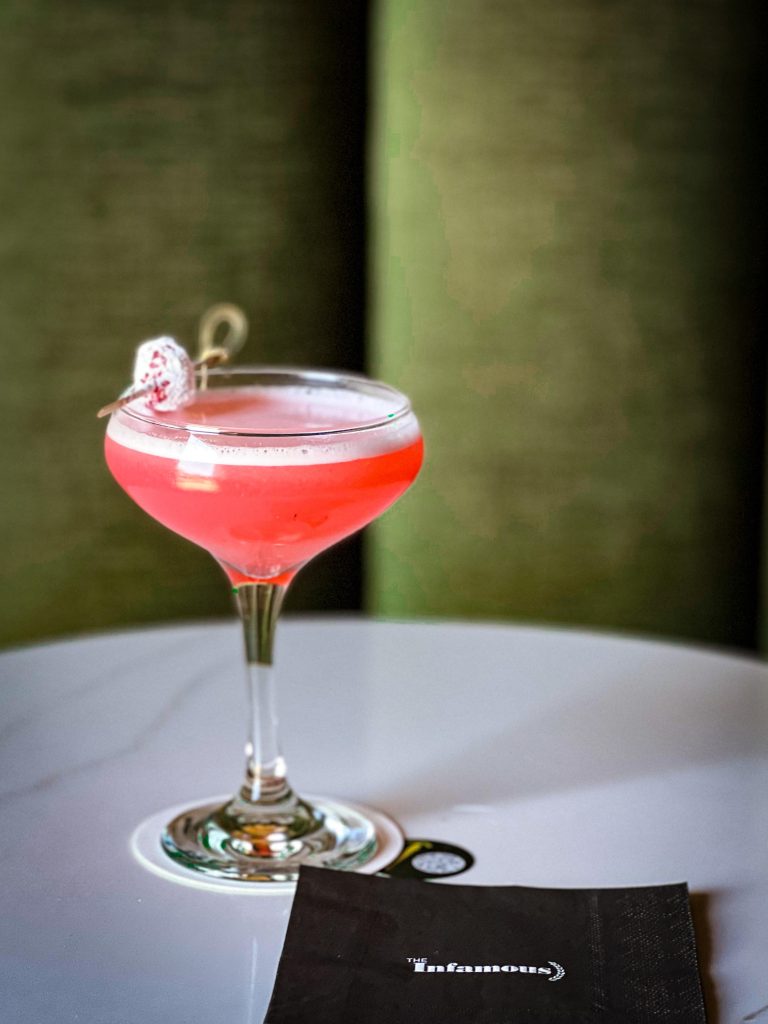 The Infamous is one of the coolest speakeasies in NYC. Brimming with hip hop vibes, The Infamous can be found in the back of the sneaker store, Extra Butter. Their specialty cocktail list has a plethora of options so there is something for everyone. It's very hard to pick just one cocktail, but we'd have to go with the "Crush on You." Made with lemon, honey, elderflower, dry vermouth, raspberries, absinthe, and gin, it has a very distinguished taste.
The first sip is very refreshing and then you get hit with the lovely herbal hints from the lemon, honey, and elderflower. Visit their website for more info about The Infamous and the amazing cocktails they have to offer.
22-01 Jackson Ave. / (347) 266-7473 / www.infamousbar.com
---
Sanfords / Prickly Pear Whiskarita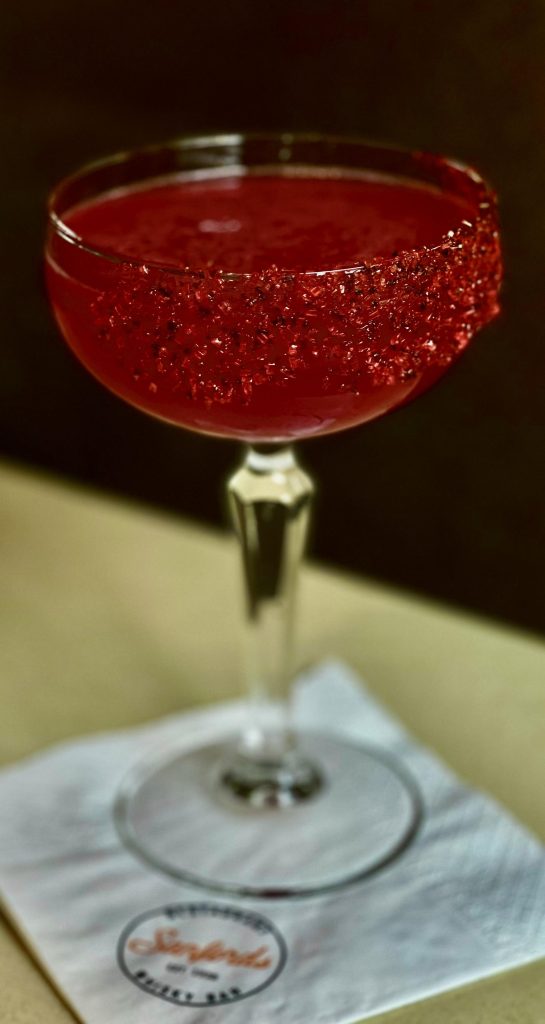 Sanfords is an Astoria landmark, established in 1938, there is no better place to get quality American food and drink. Home to Queens' largest whiskey bar, with 700 whiskies/brown spirits, they are in the Whisky Advocate's top 40 whiskey bars in America! So, it is fitting that their best cocktail is their new whiskey-based take on a margarita.
The "Prickly Pear Whiskarita," is made with 291 Fresh Colorado White Whiskey, prickly pear fruit purée, Pomp & Whimsy gin liqueur, organic agave, and fresh lemon juice. This cocktail's watermelonesque vibe and taste is utterly thirst quenching. Served with a black lava Hawaiian sea salt and sugar rime, this cocktail truly is a work of art.
30-13 Broadway / (718) 932-9569 / www.sanfordsnyc.com
---
Mocktails:
The Bonnie / Strawberry Mule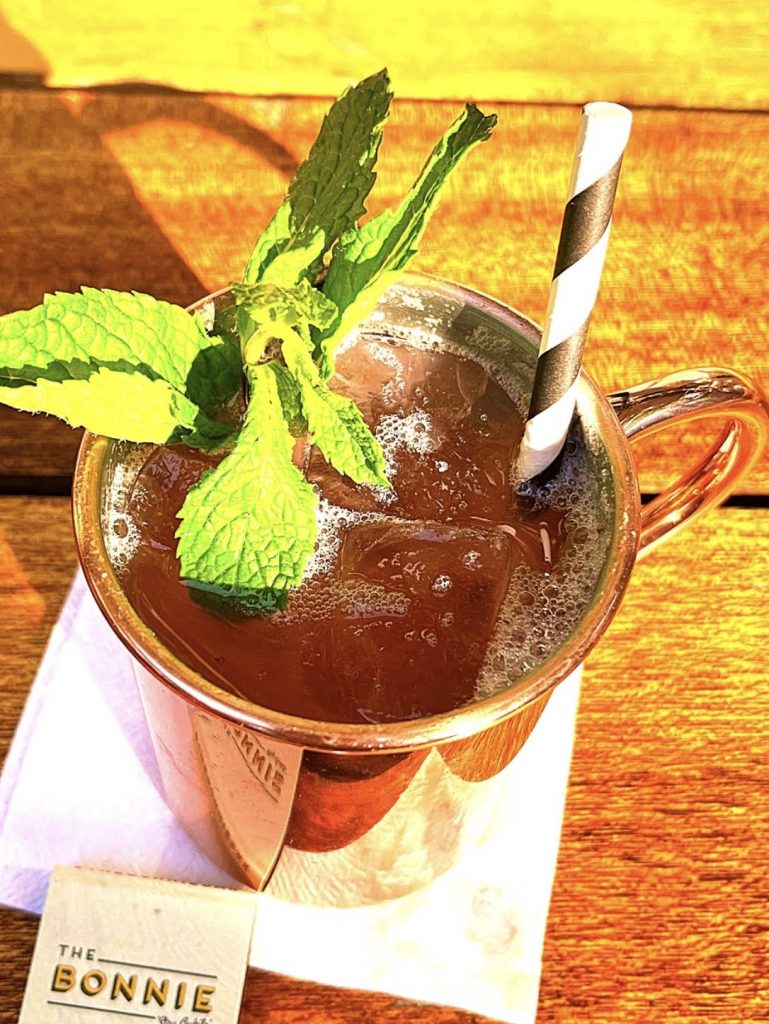 Quite possibly the hottest spot in Astoria, The Bonnie's brick walls, and delectable menu options have the masses filling up their booths quickly so be sure to make a reservation. Their large garden in the back is open May through November and has a retractable roof to keep the cold/rain out.
Surrounded by trees and adorable little floral arrangements on each table, The Bonnie is the perfect spot to bring friends to for brunch (or any meal), it is sure to impress out of towners! And for those who are looking for a mocktail their "Strawberry Mule" is incredible. Made with strawberry puree, rose water, ginger beer, and mint, this mocktail might be even better than a classic Moscow mule. Happy hour at The Bonnie is Monday through Thursday 4-7pm and Friday 12-7pm.
29-12 23rd Ave / (718) 274-2105 / www.thebonnie.com
---
Sweet Afton / Mellow My Man
Sweet Afton has called Astoria home since 2009. Though Sweet Afton has become a destination it is still a staple for locals. They've managed to maintain neighborly and welcoming vibes and have struck the perfect balance of trendy yet cozy. A best seller on their "Virgin Libations" list is the "Mellow My Man."
Made with pineapple, toasted cinnamon, honey, lemon, and ginger beer. The ginger beer gives this mocktail a nice kick and the toasted cinnamon provides a slightly spicy aftertaste. And as a fun bonus, the "Mellow My Man" is garnished with a tasty piece of candied ginger. Sweet Afton happy hour is Monday through Thursday 4pm-7pm and Friday 3pm-7pm.
30-09 34th St. / (718) 777-2570 / www.sweetaftonbar.com
---
The Highwater / Rose of Sharon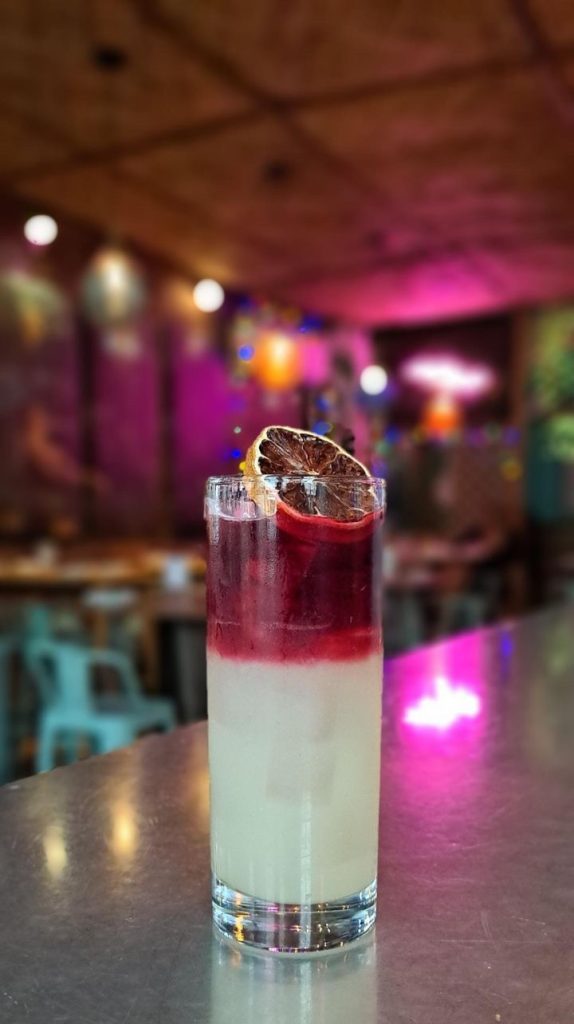 Head over to The Highwater for the colorful cocktails and tiki bar vibes! A local favorite corner spot that promises a good time, and great drinks. However, if you are "staying on dry land tonight," as they say on their menu, The Highwater has you covered with excellent mocktails. "Rose of Sharon" is made with hibiscus tea topped house made orgeat and lemonade combo.
It is served in a tall glass and garnished with a dehydrated lemon. Insanely delicious you won't even care that there isn't any booze in this refreshing drink, you'll be drunk on good times at The Highwater. Be sure to check out their great happy hour deals from 4-7pm.34-20 Broadway / (917) 745-0407 / www.thehighwaternyc.com