Burnt out? There's a way out.
By ET Rodriguez Posted: May 15, 2023
A new mural breathes hope into the weary
On the wall of the train underpass at 33rd Street and 23rd Avenue, a vibrantly colored mural with abstracted human figures and themes of academia stands about 9 feet tall and 21 feet wide — it tells passersby, "You're never too young to experience burnout."
"Academic burnout that is a bummer — How do you tell that depressing story without being depressing? Lively colors and bright imagery," said famous graffiti artist, muralist and painter, Lady Pink who has been on the graffiti scene since the 1970s.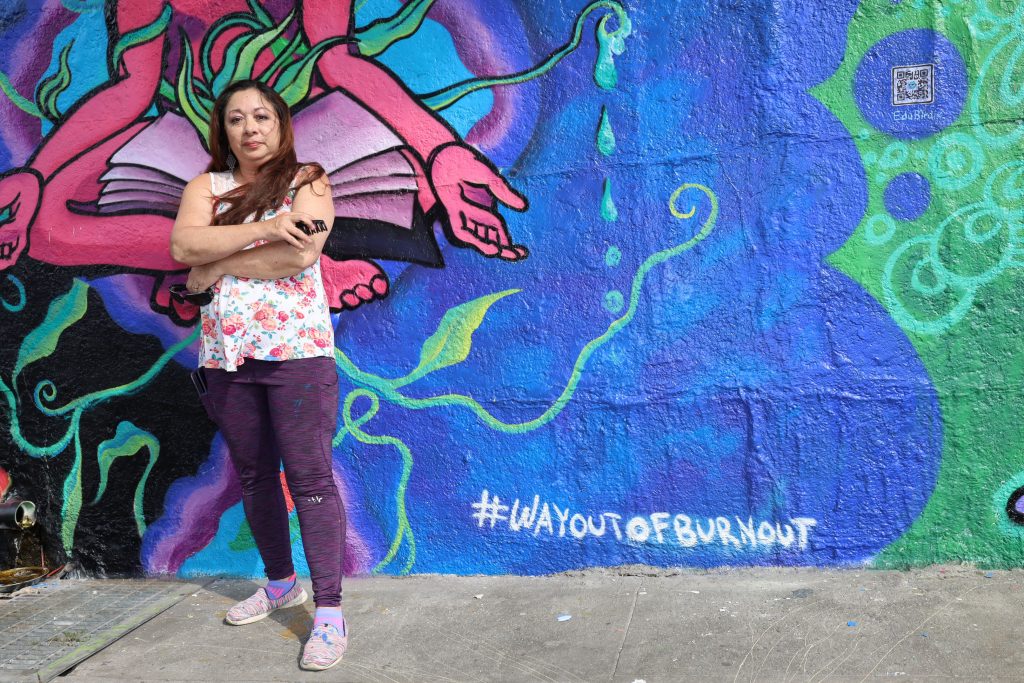 As part of National Mental Health Awareness Month, the mural painted on Friday, May 12 was the last of four commissioned by EduBirdie – an academic platform founded in 2015 that matches students with professional writers to assist with written assignments. The others are in Brooklyn, Poughkeepsie and Kingston, NY.
"We involve students and opinion leaders to share their stories about academic burnout under a hashtag (#wayoutofburnout)," said a spokesperson for EduBirdie. "But it's not only about struggles and issues, it's about finding a way out."
After coming across the American Psychological Association's 2020 report on how 18-23-year-olds suffer higher levels of stress than any other demographic, the team at EduBirdie conducted their own survey. Out of 5,274 college students in the U.S., they found that 89% felt overwhelmed and 9% admitted to self-inflicted harm due to severe exhaustion.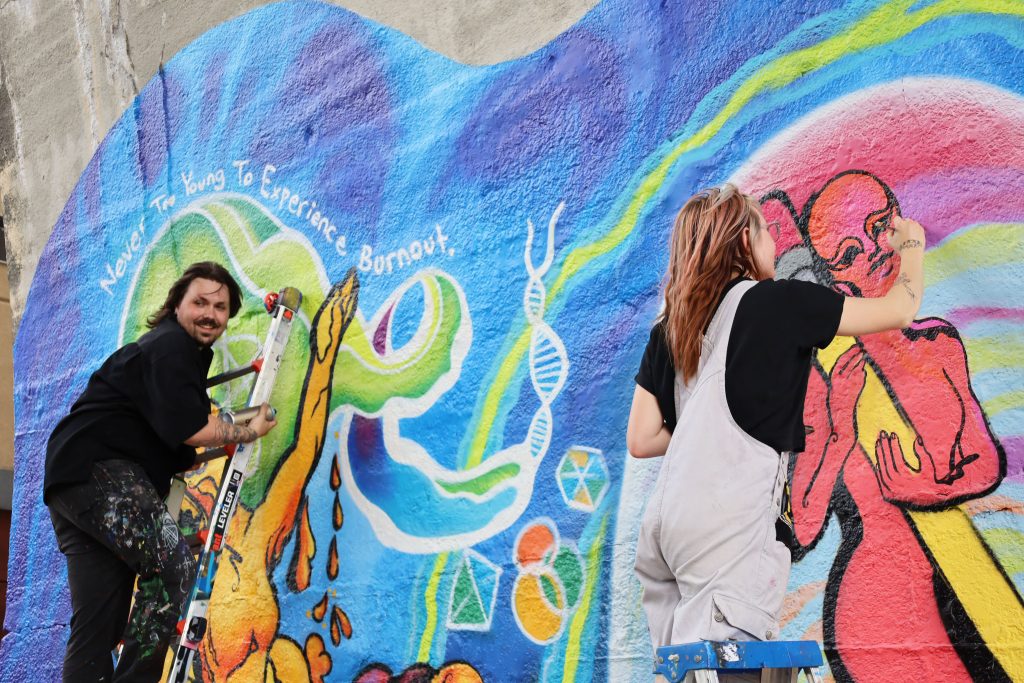 "The reason students are facing academic burnout is because they are not utilizing or lacking the tools needed to manage the demands surrounding what is required of them to achieve their educational goals," said Matthew Brown, associate director of student engagement and programs for the Craig Newmark Graduate School of Journalism.
Designed and painted by Pink, along with her assistants, Chloe Moss and Matt O, the #wayoutofburnout mural illustrates the evolution of one character going through the motions of lassitude, desperation and finding ways to cope. On the left, the figure seems to be eaten up by quicksand with its arm outstretched, reaching for help. In another scene, there is a tiny person inside of their torso as a means of introspection and self-awareness. The same figure is then holding a giant pencil and drawing a circle around itself, setting a literal boundary. The figure then joins hands with others as a sign of solidarity and sending the message, you are not alone, and finally, a state of nirvana as it sits legs crossed with a book in its lap as a plant emerges from the binding, literal growth.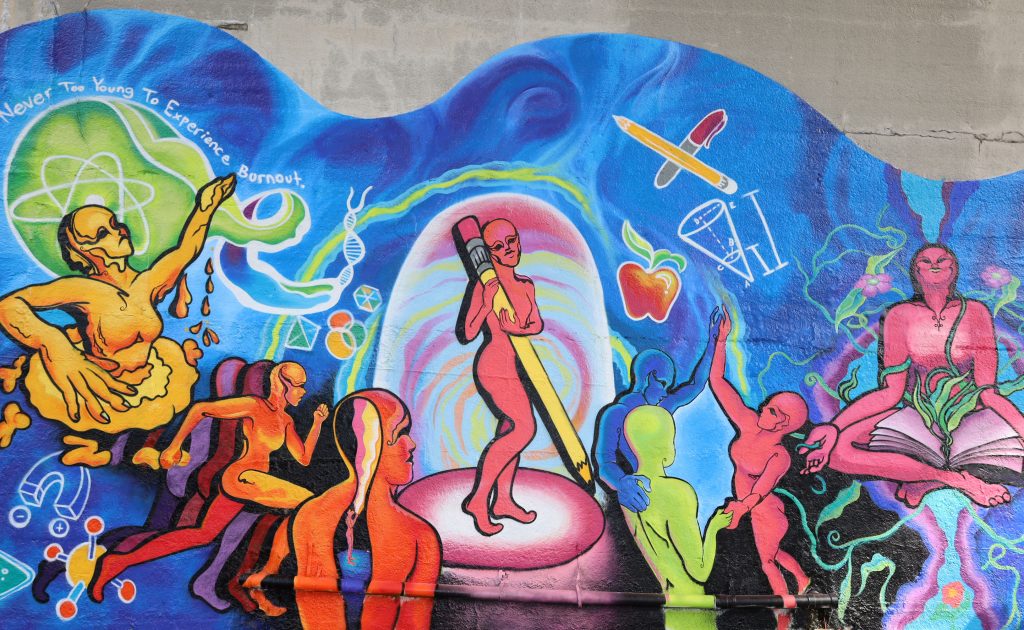 "I was thinking about my own experiences because I know burnout all too well – I worked my a** off," said Moss, who graduated from the Maryland Institute College of Art in May 2022 and has been working with Lady Pink ever since. Moss has found that a personal practice of meditation and physical activity helped to combat the stressors of school as expressed through the running figure in the mural. And Dr. Jan Mohlman, clinical psychologist and professor of psychology at William Paterson University agrees with that sentiment. In addition to taking breaks when necessary, eating healthy foods and lowering feelings of anger, cynicism and demoralization, "exercise is also a reliable antidote to burnout," she said.
Pink believes that the murals not only bring joy and vim to the areas they inhabit, but they also help deter vandalism and encourage others to partake in the beautification efforts of their own community. "It's good to take care of the neighborhood," said Pink.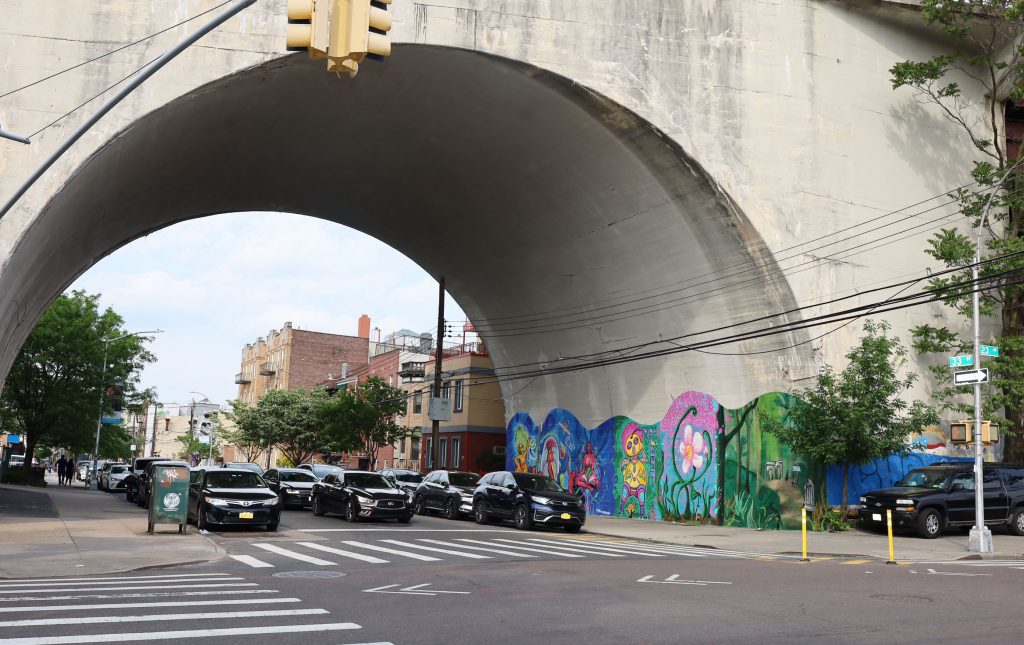 She has several murals around the world, but holds a soft spot for Astoria, where she has murals that are over 20 years old and where she called home since 1979 before moving out of the city 10 years ago. She will be back in town for the Welling Court Mural Festival at 11-59 Welling Ct. on Saturday, June 10th where she has participated for several years and will be painting a fresh mural.