Where to Get the Best Pizza in Astoria for National Pizza Month
By Merissa Principe Posted: October 20, 2021
It's National Pizza Month! Meaning we had to make a list of all the best pizza places in our local Queen's area. While many of you voted Bellucci's as your favorite pizza restaurant in our Instagram stories a few weeks ago, we sadly had to take them off our list due to their recent closing. With that being said, there are still plenty of perfect pies out there to try. While good pizza will forever be synonymous with New York, here in Queens—we do it the best.
sLICe Astoria Pizzeria
Who's ready for a pizza party? At sLICe Astoria, they are serving up some of the best slices of pizza in the area! In fact, they were the winners of our pizza competition back in March of this past year. At this restaurant, you'll find classic pizza menu items set among a clean and contemporary restaurant with a great backyard patio. Bellissimo!
37-08 30th Ave | 718.606.9258 | @sliceastoria
Krave It
If you love cheese, then you'll love it Krave It! In addition to some of the cheesiest pizzas in NYC, Krave It also serves sandwiches, including a pesto grilled cheese pizza. While calorie counting may be frowned upon here, you'll definitely be satisfied with any one of their unique and delicious creations!
36-18 30th Ave | 646.927.2999 | @krave_it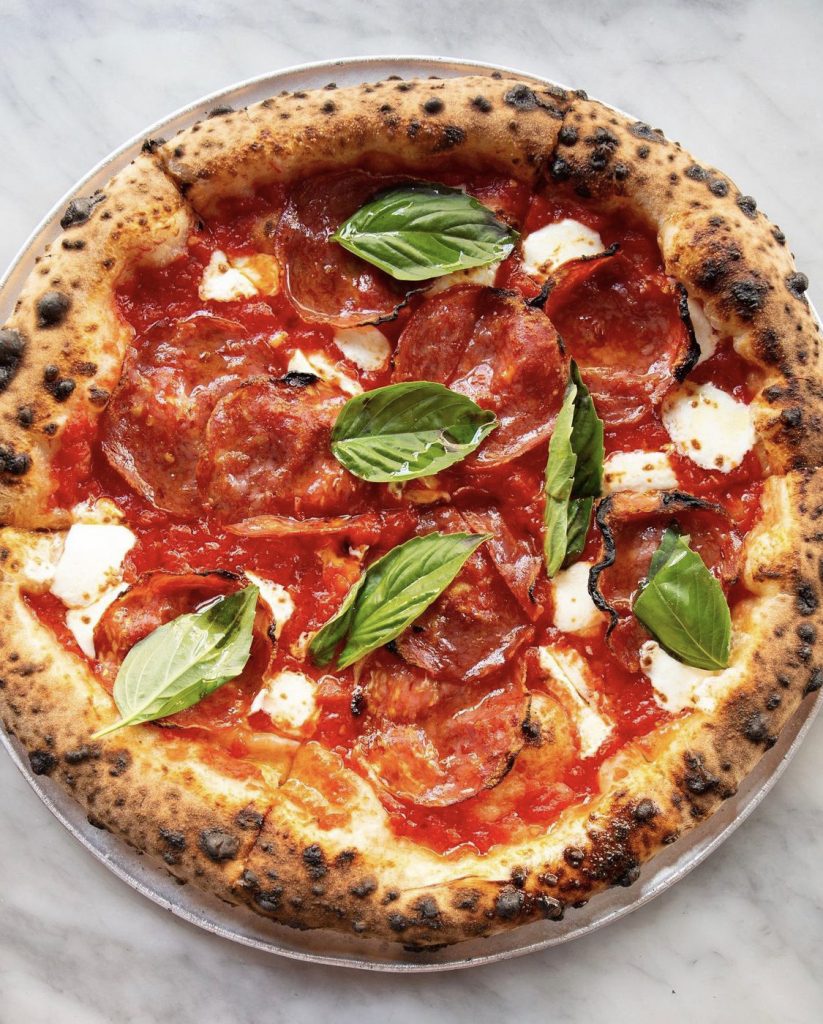 Milkflower
If we had to describe Milkflower in just a few words, we'd say it's a hip, rustic choice for gourmet wood-fired pizzas, small Italian plates, salads, and craft beers. Each pizza is a 6 slice personal pie that's perfect for sharing with a friend or a special someone on date night. The ambiance, trendy decor, and outdoor patio make this restaurant more than just a grab-and-go slice kind of place, meaning it's perfect for lunch or grabbing a few pies and IPA's with friends after work.
34-12 31st Ave. | 718-204-1300 | @milkflowernyc
Piu Bella Pizza
For an outstanding array of Italian cuisine, be sure to check out Piu Bella for some of the best pasta dishes, pizza, and extra cheesy calzones in Astoria. The wood oven personal pizzas come in a variety of flavors, including a show-stopping Frutta di Mare pizza featuring mussels, clams, and calamari. And while the dishes may be classic, the decor is modern, clean, and ultra-trendy complete with a neon-sign flower wall that's perfect for Insta-worthy pics. Say cheese!
79-16 21st Ave. | 718.721.6500 | @piu_bella_pizza
Nonnas 1977
In 1977 on the Lower East Side, a pizzeria had a radical idea to sell Italian-style squares. The recipe was created by Momma Leone and fed the huge immigrant community throughout NYC. After multiple owners and a greedy landlord, the owner Leon moved back to the place in NY where he grew up, Astoria Queens, bringing Nonnas LES back to life with the recipes and NY style of 1977. The hand-pulled mozzarella and freshly baked dough make this pizza a home-run in our eyes.
41-02 Astoria Blvd S | 718.406.9779 | @nonnas1977pizzeria
Astoria Pizza Factory
Filippo Rappa is a third-generation pizza maker who's continuing his family legacy right here in Astoria, Queens. In addition to delicious pizza, this restaurant features an extensive menu of Italian American classics with everything from pasta to hot wings. Not to mention, they make some mean mozzarella sticks. For nights where you need a little bit of something different to order for everyone, the Astoria Pizza Factory has you covered—and fed.
1946 37th St | 718.726.9112 | @astoriapizzafactory
Macoletta
Macoletta offers authentic Italian food dishes in a casual, relaxed, yet stylish atmosphere. At this pizza restaurant, they take pride in their authentic Italian recipes with locally sourced ingredients and daily hand-made pizza and pasta dough from scratch. Although, the brick-oven personal pizzas and fresh handmade pasta are just the tip of the iceberg when it comes to this establishment. In addition to great food, Macoletta's also has an impressive list of cocktails and wines by the glass. Date night just got a little more interesting—cheers!
2815 24th Avenue | 718.777.4992 | @macolettany
Retro Pizza Cafe
As the name implies, the Retro Pizza Cafe is the perfect place for grabbing a classic slice of good old-fashioned NY pizza. While this establishment may be a no-frills kind of pizzeria, the retro decor and old-timey posters make this pizza place ideal for a quick lunch or dinner. Not to mention affordable, with a regular slice coming in at $2.50. Your stomach and your wallet will thank us later.
4102 Broadway | 347.612.4460 | @retro_pizza_cafe