Welcome To The Delicious World Of Japan
By Jason D Antos Posted: June 28, 2021
The Asian community of Queens is perhaps the largest in the United States. Long Island City, Astoria and neighboring Flushing feature a hundreds of businesses of various kinds owned by people of Chinese, Japanese, and Korean background just to name a few. In this article we will focus on Japanese food and the amazing variety of dishes offered right here in Astoria. There are numerous Japanese establishments around town and here are some of our favorites. 
 Aji sushia storia  
This somewhat upscale Japanese eatery showcases sushi, sake and Asian-fusion selection in a striking yet elegant setting will go easy on your stomach and not too hard on your wallet. They are open seven days Monday through Saturday 11:15 a.m. until 10 p.m. and Sunday 1:00 until 10 p.m. Aji is extensive and features an amazing appetizer menu featuring soft shell crab, coconut shrimp, gyoza and shumai. The menu also features a full fried rice section including vegetable, chicken, seafood, beef, shrimp, or Thai pineapple shrimp. There are the basic rolls like avocado roll and spicy tuna and specialty rolls including their famous tiger roll which contains crabmeat, mango and avocado topped with eel and avocado on the outside. Visit the website to order online!  
36-06 Ditmars Blvd | 718-777-8889 
Mochiron
Mochiron on 30th Avenue is the very first izakaya restaurant to open in Astoria. An izakaya is a type of informal Japanese bar that serves alcoholic drinks and snacks. It's kind of a Japanese version of an Irish pub or Spanish tapas bar. Come in and enjoy Japanese food unlike anything you've tried before. How about a strawberry sake mojito or a Sapporo only $5 during happy hour? Pork buns and cream croquettes are a house specialty as well ramen with beef, or the bbq chicken karaage. One of the most popular dishes here is the Takoyaki Plate served with battered octopus balls with bonito flakes and ginger pickles. Spicy Katsuo Ramen served in chicken broth with slice of porks, egg, bamboo shoot, scallion and garlic paste, chili oil (or chili pepper) and sweet bean sauce and bonito fish flavor. 
34-18 30th Ave. | 347.808.9089 | @mochiron_izakaya 
Kumo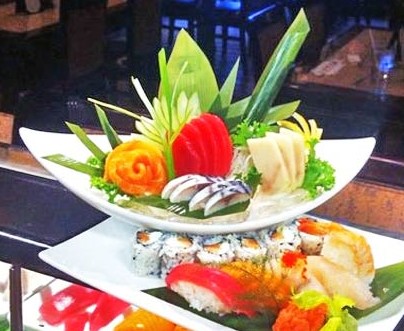 Kumo WebsiteKumo is a little bit different from our other two offerings in that it is a more traditional low key type of Japanese sushi place featuring classic sushi and sashimi offerings but with some specialty rolls which are sure to excite even the most seasoned sushi aficionado. The Dancer Roll comes with spicy tuna and avocado and is topped with avocado and eel. The Summer Star roll is soy paper wrapped with shrimp tempura, avocado, mango sauce and fried banana! The Kuta roll includes fresh salmon, crabmeat, mango and avocado wrapped with soy paper, topped with salmon and special house sauce.  
37-18 Ditmars Blvd. | 718-278-8808 kumoastoria.com 
 Pink Nori
Lastly, there is Pink Nori. This hot spot for sushi and Japanese dinning ala Astroia has been a local favorite for sometime now and is waiting for new costumers like you to discover their amazing menu. Some of Pink Nori's famous menu items include the Lady Tempura made with crispy chicken tender strips with jalapeno tempura and sweet dipping sauce. The Crab Poppers include kani and cream cheese wrapped in crispy wonton. The Peking Duck sliders, a fan favorite, features succulent roast duck, scallions, cucumbers, and hoisin sauce in a steamed bun. There are of course the standard sushi rolls but the speciality rolls are what makes Pink Nori famous. The Pink Nori roll features seared salmon, cooked shrimp, avocado & tempura flakes, caviar, wrapped in a pink soy bean paper serve with honey miso glaze. Try something with a little sex appeal like the Sexy Pink Lady roll which contains spicy salmon and cucumber with crunch on the inside, salmon and mango on outside, and is topped with spicy mayonnaise, sweet wasabi and eel sauce. And of course a trip to Pink Nori isn't complete without ordering the Bird Nest roll which features a delicious combo of fried salmon, scallion and cream cheese, topped with mani, tobiko, mayonnaise and panko crumbs, toasted and drizzled with sweet chili, eel sauce and wasabi mayo. 
36-06 30th Ave. | 718-685-2365 | pinknorinyc.com