Winter Blizzard Hits New York
By sonia Posted: January 26, 2015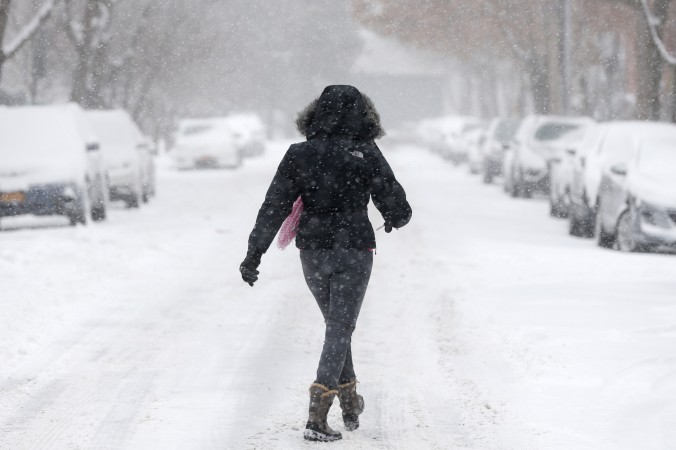 If you haven't been keeping up with the news – there's a huge blizzard coming our way.
The blizzard is putting the city on high alert, and sanitation crews are already in the midst of salting and plowing. (We're guessing they're still reeling from that one time New York came to a stand-still in 2011 after an unprecedented storm.
Mayor Bill de Blasio warned New Yorkers that the storm could be the worst in recorded history for New York City. According to the New York Times, "John Murray, a meteorologist for the National Weather Service, said that the current forecasts called for up to two feet of snow to fall by Tuesday morning in the city and winds to gust over 30 miles per hour."
Unless you have no choice: Stay inside.
You might think, "DUH!" but really – stay inside. Visibilty is going to decrease as the blizzard gets stronger, and temperatures are going to drop severely.
Also, start commuting early.
If you're reading this at work – try and leave early. Highways are going to be delayed, as well as trains. As of now (1:00 pm), the NQR are running as scheduled – but they will be no doubt facing delays. There are rumors of MTA shut down, but no finalized word from the MTA yet – we'll keep you updated on Astoria-centric trains, as well as overall MTA updates.
Here's some updates from Councilman Costa Constantinides' office:
Volunteer to Shovel Snow
Many of our elderly and vulnerable neighbors may need help to shovel the snow once it stops falling.  We are collecting an ongoing list of volunteers in the district who can assist in snow clearing.
Email [email protected] if you can help shovel on your block.  Make sure to include the block that you live on (i.e. 31 Street between 31 Avenue & Broadway).  Even a few minutes of your time will go a long way!
Other Updates
It is important to stay indoors and consider working from home or leaving work early if possible. Travel will be hazardous, especially during and after the evening rush hour. If you need to drive, be cautious on the roads. Public transit could be curtailed on a route-by-route basis, depending on conditions and snow-removal operations. Allow additional travel time and monitor mta.info as the storm progresses.
Alternate-side parking and garbage pick-up are suspended today and tomorrow but meters remain in effect.
After-school activities have been cancelled and schools likely will be closed Tuesday. An official announcement will follow.
​If you have issues with unplowed streets, downed tree limbs or generally unsafe conditions, report them first to 311 online or by phone so the request can get to the relevant city agency as soon as possible. My office will be in contact with City agencies throughout the storm.
​​​​​If you see any life-threatening conditions or need immediate emergency assistance please call 911.
Don't forget to keep monitoring nyc.gov/severeweather for up-to-the-minute info.
Stay warm, Astoria! Grab some soup, some Netflix, and a blanket. Tomorrow we'll wake up to a quiet New York City post-snow morning. You know what we mean – those mornings that you wake up to a blanket of snow covering the city, and an eerie quiet engulfing everything. And then comes the slush.
If you head out, send us your pictures! Or snap them from your window. We want to see our neighborhood dressed up in snow!