Meet Our Bartenders: A Few Of The People Who Make Astoria Great 
By Jenna Gaudino Posted: October 8, 2022
A neighborhood is only as great as its bartenders. We are all so lucky that we live in a neighborhood with such wonderful and warm bartenders. They make us our favorite drinks, put up with our antics and chat with us on some of our best, and worst days. It's easy to see that these people love their craft and their community – they express it through their smiles and kind words. We share with them our lives, our memories and our triumphs, but let us not forget that they have lives too – rich lives full of remarkable experiences. Here are their stories.
Pedro Alvarado / Kween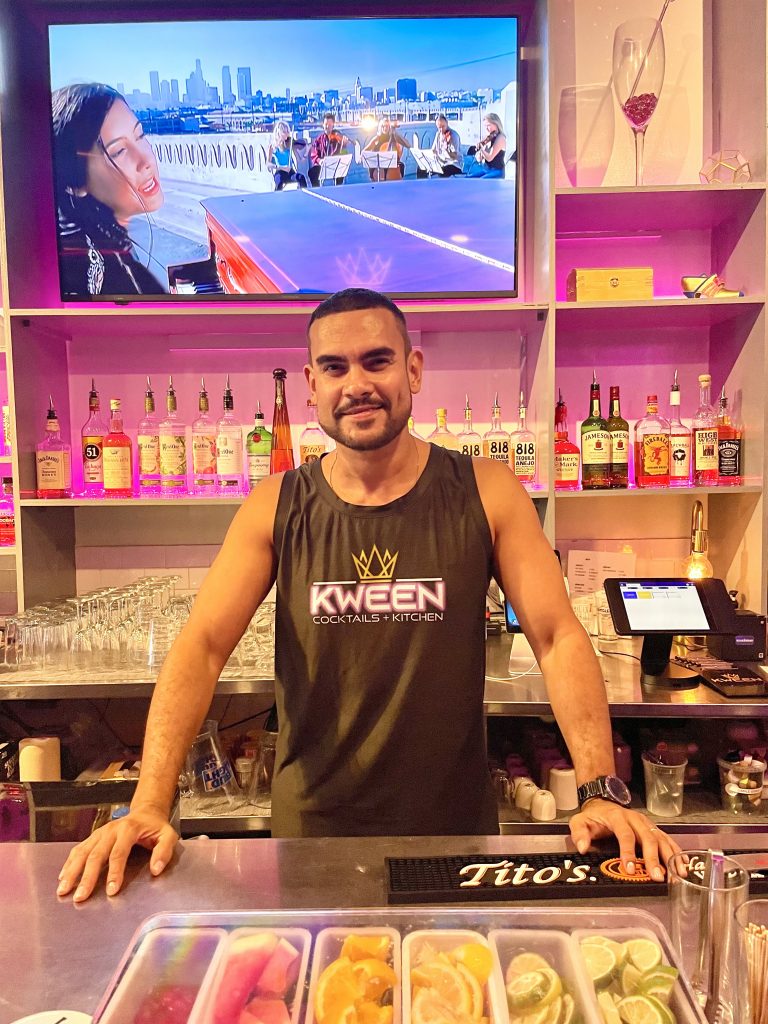 Pedro Alvarado left his home in Venezuela and moved to New York City in December 1998. He smiled, "It was the first time I saw snow. Love at first sight." He first lived in Brooklyn, then moved to Astoria where he's lived for eighteen years, in the same apartment building.
Alvarado has nearly 20 years of experience as a bartender. For 15 of those years, he worked at Barrage, a stylish gay bar formerly located in Hell's Kitchen. He worked there until Covid forced the city into lockdown. A few months later, Barrage closed its doors permanently. During those quiet months of lockdown, he started reevaluating his life – his goals and what he wanted out of life. He began to seriously consider opening his own bar. It was something he had always dreamt of.
He envisioned a safe place for people, especially artists, to have fun and express themselves. He imagined the colors, the music, the cocktails, the events, all the details that make a bar remarkable. "It was my American dream," he said.
One of the best things that happened to him while at Barrage was the night a customer asked him if he was an actor. He laughed, "I said to him, 'Sure!'" The man offered him a job as an extra on the movie Sex and the City 2. He talked to the people on set and asked them questions about what kinds of things they liked about their favorite bars. They talked about art, events, signature cocktails and a cozy, unpretentious environment, somewhere they could take a date, or a family member. Alvarado took note of those details, and the conversations he's had with people over the past 20 years, and eventually implemented their ideas at his bar.
While on set, he noticed Carrie Bradshaw's tiara; he thought it was beautiful and used her tiara as inspiration for the bar's logo. As for the bar's name, he noticed people calling each other Queen as a way to encourage and uplift each other. He said, "For me, saying Queen is encouraging. Like, 'Hey Queen!' or, 'You got the job! Yes Queen!'" This is what inspired the name of his bar: Kween Lounge.
In May, he heard that Viva Viva Taqueria, on 30th Avenue, was closing. Excitedly, he put in an offer to buy the space. Soon after, his offer was accepted; his American dream came true. Kween Lounge, with its tiara logo, was born.
"When we were remodeling, I was still talking to people and asking what they wanted. I can have an idea and I can make whatever I want here, but it's not about me. It's about the community. And this is what they wanted." It was important to him to incorporate art, and give drag kings and queens a place to express their creativity. For Alvarado, his bar is about bringing people together and adding warmth to the neighborhood. Kween Lounge puts on events like brunch with Drag Queens, karaoke and a cabaret where people can come to sing, play their music and read their poetry.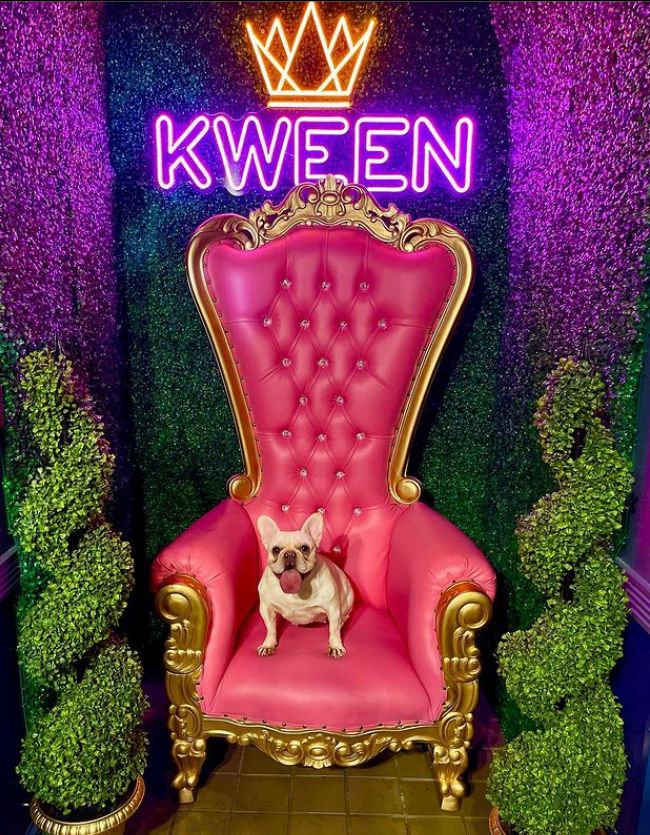 He said the best thing about opening his own bar is being able to be apart of people's lives. "There was a girl who just graduated college. She came to Kween right from the ceremony, with her robe on. She was with her mom and she asked her mom to take a picture of her on the throne. They started crying. And she was saying congratulations and 'Yes Queen!' So it's things like that. Being able to be a part of people's lives is the best part," said Alvarado.
Working as a bartender for almost two decades, he's learned that having patience, and believing in himself and others, is what led him to opening his own bar and achieving happiness.
---
Lisa McGurn / Mosaic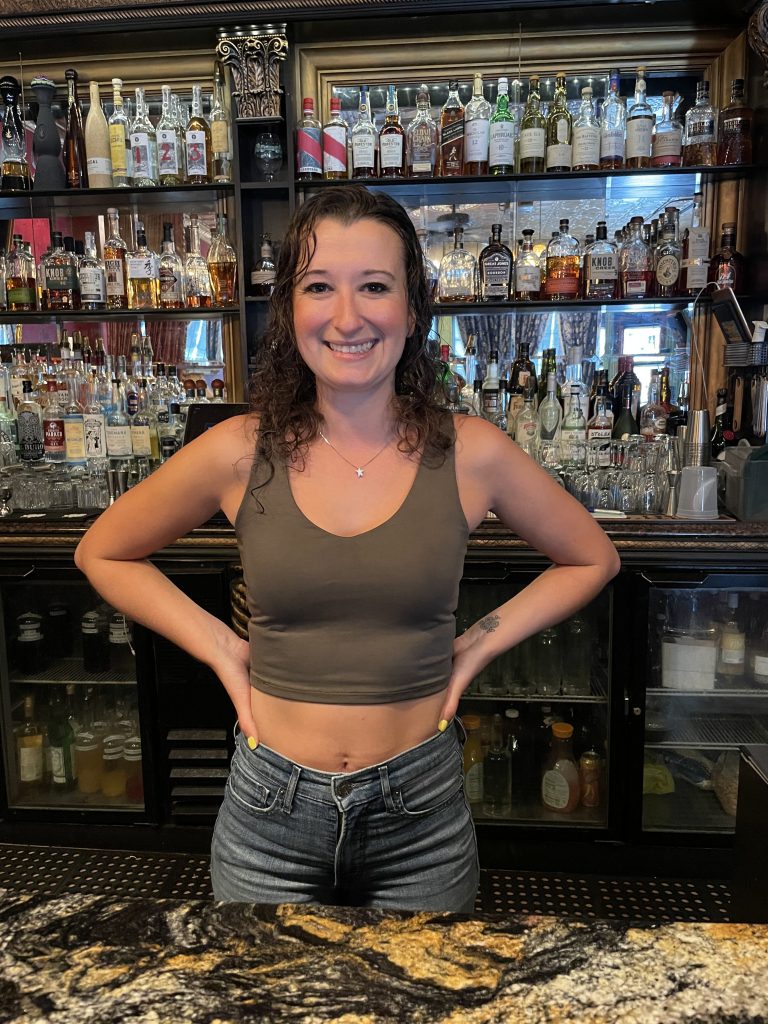 Lisa McGurn moved to New York City from just outside of Boston in 2009. She fell into bartending because she needed the flexibility of the job to pursue a career in acting. She's grateful that her career as an actor finally bounced back, as the situation with Covid is less severe now. She's always lived in Astoria and says it's the best neighborhood in the city.
She started coming to Mosaic as a regular and then joined the team in April 2019. She laughed and said, "There's a joke here that, if you start drinking here for too long you start working here."
At Mosaic, everyone is a family. They've supported each other through everything, especially throughout the pandemic. One of the most important things she's learned as a bartender is the importance of making connections with people and learning to work with different personalities. "I've learned different ways to build people up, and in a way, it's taught me how to build myself up," she said, adding, "You're not going to mesh with everyone, but that's part of the fun. The surprise of it all."
Every time she's behind the bar, she knows at least half of everyone who comes in, by name. She loves her team and the community. The Astoria community is important to her since she's lived in the neighborhood ever since she moved to the city. McGurn said, "Sometimes you meet people on their worst days and then they come back and you say to them, 'Ah ha! I see what happened here. You just needed the sunshine to come back out!'"
Bartending is, as she put it, "Not that serious." In general, people come to bars to have a good time, meet new people and connect with one another. The ability to roll with the punches is one of the most important things she's learned as a bartender. Whatever plan you have, it will probably, "go to crap" and you just have to deal with it. If there's a flood, something breaks, someone is rude, something totally random happens – you just have to deal with it as it comes.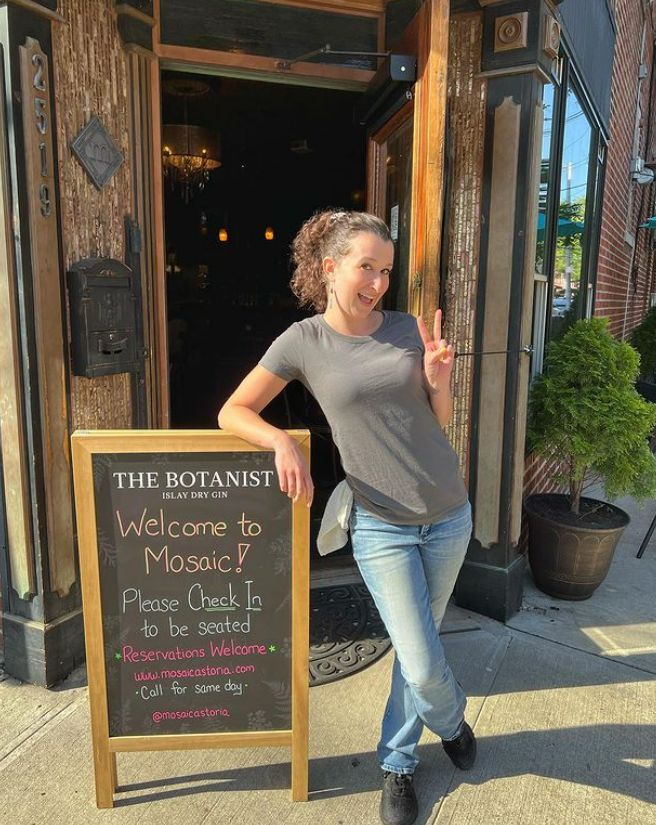 "Some of my favorite memories, I can't tell you because of confidentiality," she joked. One of her favorite memories she's made working at Mosaic happened not too long ago when she broke the slushy machine. It was a complete mess – she struggled to scoop up the cold, sticky liquid as it sprayed all over her face. She said, "It was funny because I was saying, 'Help! Help!' and only one table noticed because everyone was so engrossed in their conversations." It's the perfect example of how bartenders have to roll with the punches and learn to appreciate the surprises.
All the cocktails at Mosaic are created by the team. They come together for research and development sessions to brainstorm ideas, try out their recipes and figure out what works, and what doesn't. Each drink is a team effort and born out of their imagination.
---
Colin Earyes / Maggie Hall's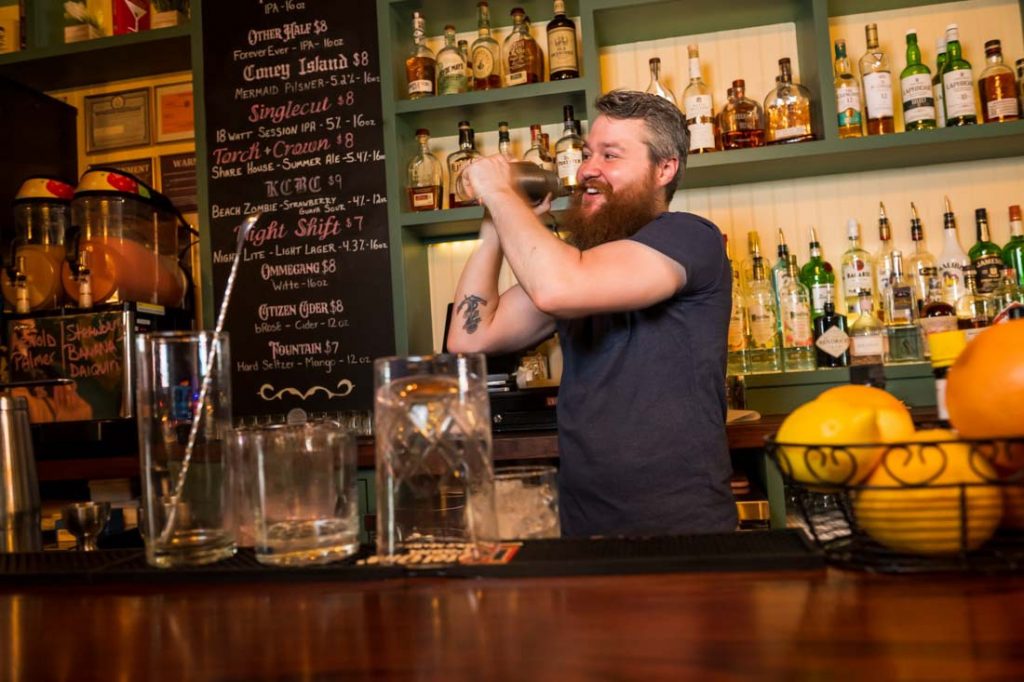 Colin Earyes has lived and worked in Astoria for over eight years. He's made a strong group of friends and a variety of other connections over the past several years, thanks to the tight knit community. Before moving to Astoria he lived in Manhattan, yet all of his friends lived in Astoria. Eventually, he decided it made more sense to move to Astoria because he got tired of paying for $30 Ubers to go home from Astoria every weekend.
He went to college for theater, but after a few years of bartending, he enjoyed the industry so much that he took a break from auditioning, and focused on refining his cocktail-making skills. He even went to workshops to learn more about liquor – specifically whiskey. He believes performing and bartending are similar worlds. As a bartender, he realized he could entertain people in a slightly different way. "You can still be goofy and joke around and entertain people in that way," he said.
When he first moved to the city, no one would hire him as a bartender, so he changed every serving job on his resume to a bartending job. From then on, he worked as a bartender. He said, "Fake it 'til you make it. I looked everything up online and studied my ass off."
Along the way, he took note of all the things he'd do differently if he owned a bar. He thought about the structure and the flow of every bar he's ever worked at. Over time, he started considering opening up his own bar.
His bar, Maggie Hall's, opened a day before New Years Eve in 2021. Earyes expressed feelings of gratitude that, out of all the bars to go to in the city, people choose to spend their time at his bar. Sometimes he's still amazed that people reserve the bar for birthdays and other major life moments. "It took about three months for the confusion to wear off. The confusion of actually having people here. There's so many places to go and people from all over were choosing to spend their time here. And that was very strange to me. In a good way," said Earyes.
The bar's aesthetic, with its green and purple colors, was inspired by Monica's apartment in the show Friend's. Walking around, it's easy to feel the cozy ambiance and appreciate the bar's clean look. "We wanted to create a bar that, sort of, gives you a hug," he said.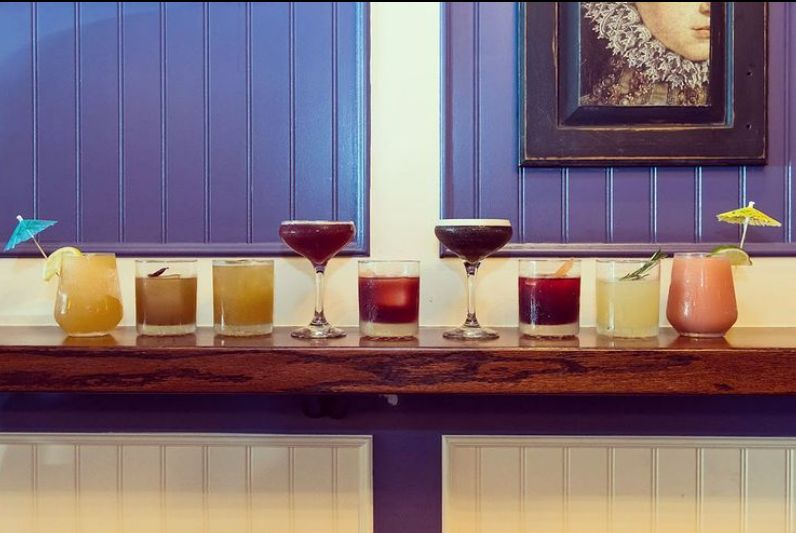 So many people in the city are transplants who live far from their families. That's why it's important to him that his bar feels welcoming and homey, in hopes that when people come to his bar, they won't feel lonely. "I wanted to create an environment where people can be themselves, somewhere you don't feel lost in a city of eight million people. The worst feeling in the world is feeling lost. If people feel safe, and want to come back, I nailed it. That's more important to me than any number that my system shows me," said Earyes.
In the industry, a bartender is not only a bartender, they're therapists too. Joseph has listened to people open up about their marriages, their divorces, births, deaths, hirings and firings. He wants people to know, he's there. He'll listen. "I don't mind. That's why I'll have my drinks at the end of a shift," said Earyes with a smile.
Knowing so many people in Astoria, he has a good grasp of how the neighborhood operates. He knows that charging $16 for a cocktail won't work in Astoria. He's made it a point to keep his cocktails at a price that's similar to all the bars in Astoria.
At Maggie Hall's you can come as you are. "You can come in a three piece suit or yesterday's mustard stained sweatpants and I will treat you the same way," said Earyes.