7 Craft Breweries For Your Summer Brewery Crawl 
By Jenna Gaudino Posted: July 8, 2022
The Crawl Is For All!
Over the past decade, there's been an explosion of craft breweries across Northern Queens, revitalizing the area and encouraging an appreciation for craft beer. In Northern Queens, you will find some of the best breweries in New York City, each possessing their own personalities and unique characteristics. Whether you're looking for someplace chill, industrial, beachy or edgy, there's a little something for everybody. Below, we've compiled a list of craft breweries to add to your summer brewery crawl.
---
1. Rockaway Brewing Company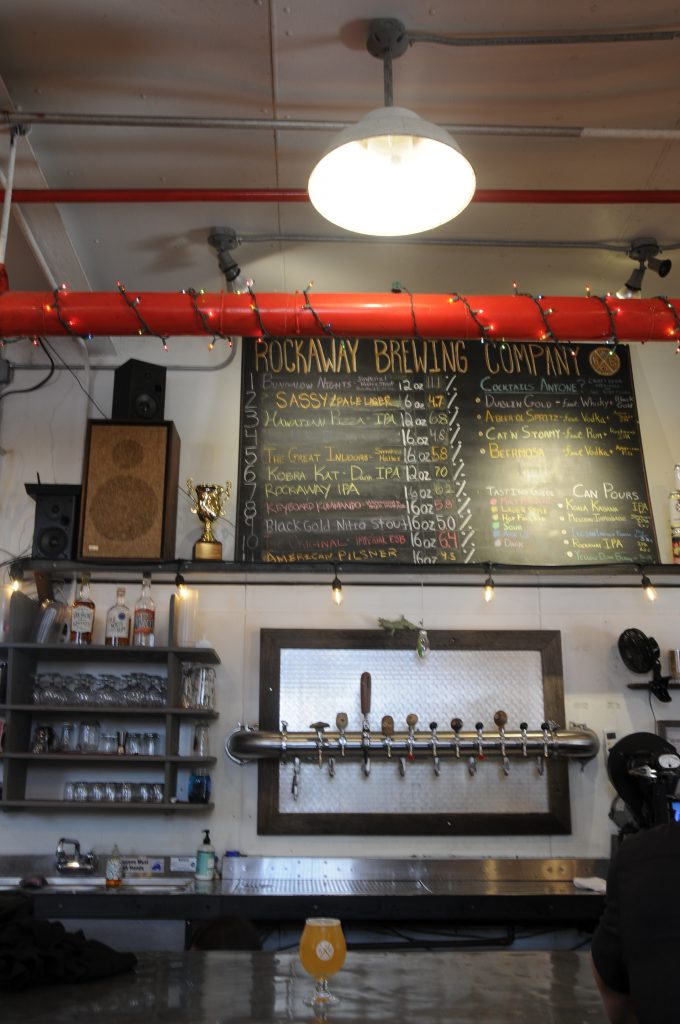 Rockaway Brewing Company has two locations, one in Long Island City and one in Arverne, on Rockaway Beach. The LIC taproom emits a beachy, eclectic vibe with colorful murals, plenty of plants, rainbow Christmas lights and orange terracotta floors. The taproom offers a wide variety of beers, ranging from pastry stouts and nitro stouts to pilsners, sours and IPAs. If you're into cocktails, Rockaway also has an excellent selection of beer cocktails like the Cat N' Stormy made with Due North Rum with notes of vanilla and molasses, mixed with the Rockaway IPA and a splash of ginger beer. One of the best things about the LIC taproom is that it's located directly across from Culture Lab, a nonprofit that provides event space for local artists and musicians. During the summer, you can sit outside and enjoy concerts from the taproom or grab a to-go beer and watch a concert up close. Although Rockaway has great beer, their true claim to fame is their mascot, an adorable orange cat named Brownie. Brownie is always roaming around and playing with customers. Rockaway is perfect for someone who is looking for an eclectic beachy ambiance.
46-01 5th St / 718.482.6528 / @rockawaybrewco
415 Beach 72nd St / 718.474.2339
---
2. Fifth Hammer Brewing Company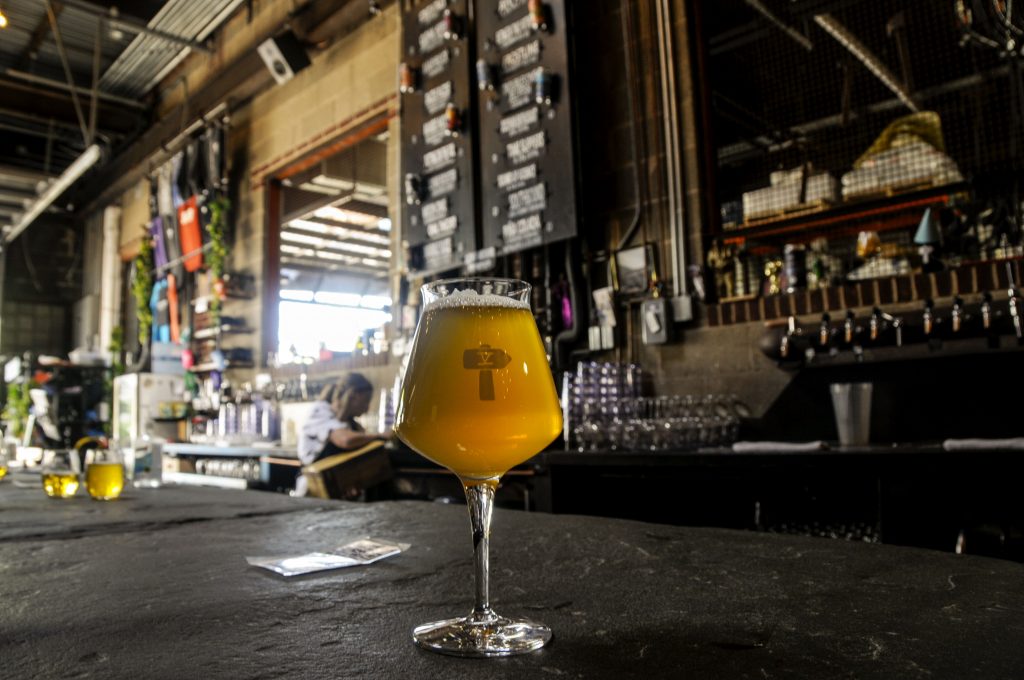 Fifth Hammer Brewing Company is located one block from Rockaway, creating the perfect little triangle between Rockaway, Culture Lab and Fifth Hammer. The feeling at Fifth Hammer is both rustic, with its wine barrel tables, twinkly lights and dark wood cafeteria style tables, and industrial, with its rough stone bar, tin roof and concrete walls. Fifth Hammer is the perfect brewery to visit in the summer due to its proximity to Rockaway, Culture Lab and other cool bars and restaurants in the area. Gantry Plaza State Park, located on the waterfront, is also within walking distance. They've got a classic selection of IPAs, pale ales, sours and an excellent pasty stout. During the summer, you will find people hanging out on the sidewalk, drinking and ordering food from taco trucks and other food vendors that park outside. If you're looking for a fun weeknight activity, Fifth Hammer has trivia night every Tuesday and live music every Monday, Wednesday and Sunday. Aside from the excellent selection of beer, Fifth Hammer is the perfect brewery to go to for events, live music, taco trucks and the beautiful location near the waterfront.
10-28 46th Ave / 718.663.2084 / @fifthhammerbeer
---
3. ICONYC Brewing Company
ICONYC Brewing Company has, without a doubt, the best outdoor space out of all the breweries in Northern Queens. They have lots of picnic tables outside, a tent for shade, and an enclosed pavilion a few feet from the entrance where people are allowed to drink, thanks to the license ICONYC acquired to make it legal for people to drink there. Another cool thing about ICONYC is its partnership with Sobremesa, a Mexican restaurant right next door, where people can grab a quick bite to eat. Although their outdoor space and partnership with Sobremesa is great, their beer selection is even better. On tap, they've got a Belgian Wit, a Kölsch, and a hard-to-find French style beer called Biere de Garde, a beer characterized by a toasted malt aroma and slight malt sweetness. ICONYC is a great place for special celebrations like birthday parties or if you're with a big group of friends. As for events, they hold trivia night every Wednesday at 7 P.M. with no fee.
43-63 11th St / @iconycbrewing
---
4. BIG aLICe BREWING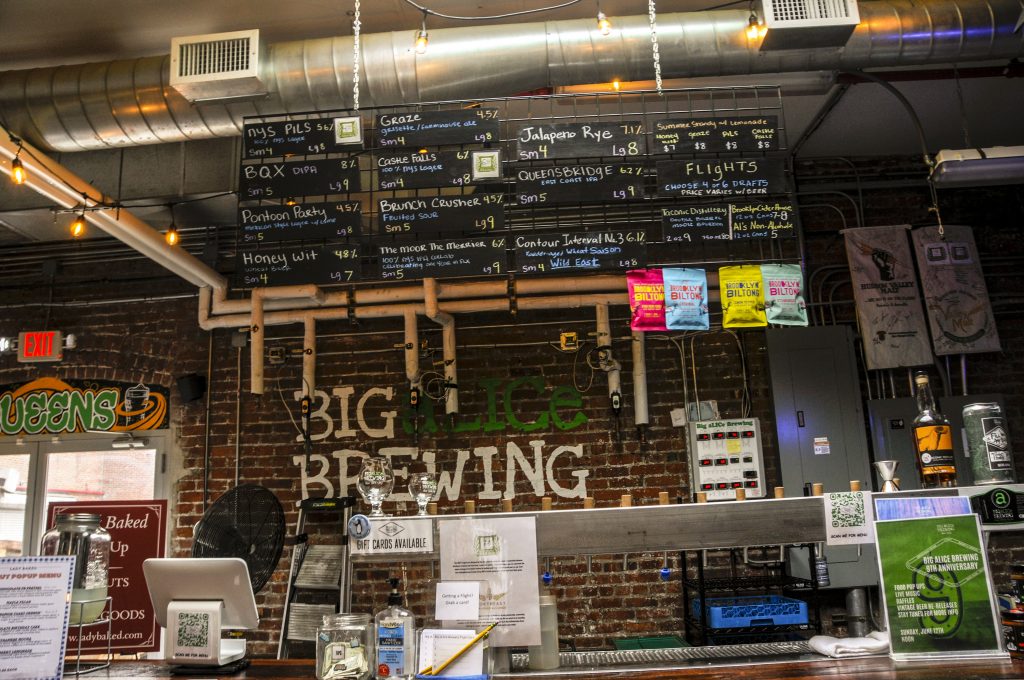 What makes BIG aLICe BREWING special is their license as a New York State Farm Brewery, meaning the ingredients they use are primarily grown at local farms. The brewers work with local hops farmers and Queens businesses to produce their award winning beers. If an ingredient is not grown locally, BIG aLICe sources ingredients from local businesses like a small Thai grocer in Queens to make their Lemongrass Kölsch and Native Coffee Roasters in LIC to make their stouts. Displayed near the entrance of the brewery are their many awards including the gold medal in the barrel-aged sour category at the New York State Craft Beer Competition in 2021, the bronze medal in the Queens farmhouse barrel-aged beer category at the National Honey Board Beer Competition in 2021 and small brewing company of the year in the Great American Beer Festival in 2020. Another cool thing about BIG aLICe is their taproom and brewery in Geneva, New York, in the Finger Lakes region of Upstate New York. The LIC location has plenty of seating outside decorated with beautiful flower boxes and wine barrel tables inside. BIG aLICe is the perfect brewery for the ultimate beer nerd.
8-08 43rd Rd / 347.688.2337 / @bigalicebrewing
4180 NY-14 / 315.325.4749
---
5. Long Island City Beer Project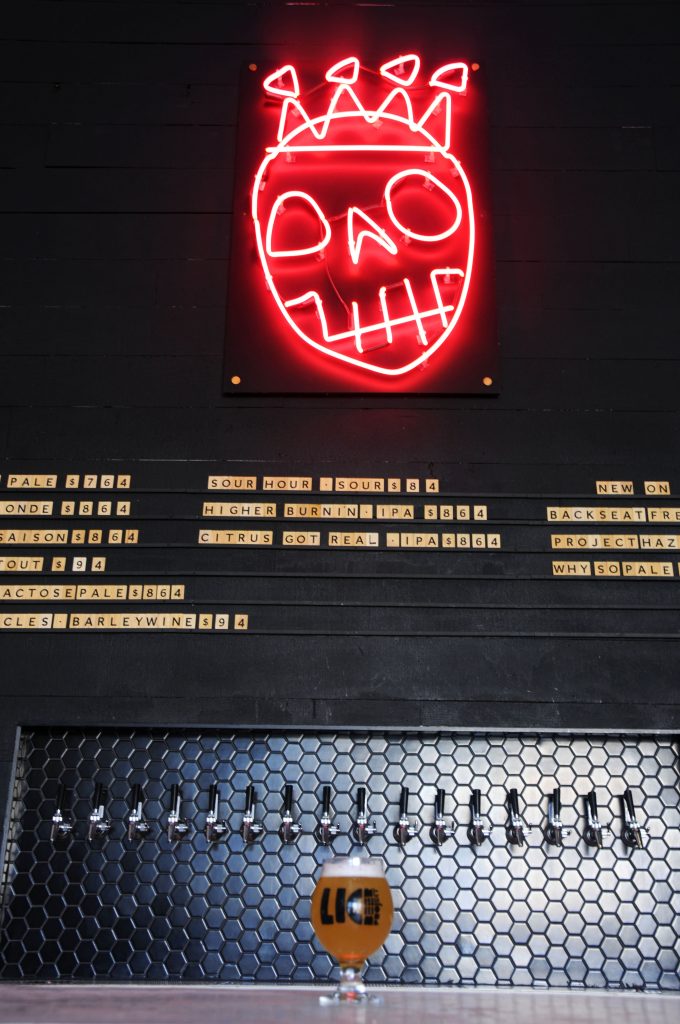 LIC Beer Project is a hidden gem with an edgy atmosphere, showcased by its hot pink neon skull sign, colorful dim lighting, disco ball and industrial feel. The taproom is spacious, with cafeteria style tables, perfect for parties and large groups. LIC Beer Project is most known for their stellar selection of creative and high quality beers. On tap, they've got their flagship beer, Coded Tiles, a pale ale brewed with pilsner malt, Higher Burnin', an IPA focusing on belma hops with flavors of melon and strawberry, Sour Hour, a Berliner Weiss Sour conditioned on passion fruit and guava, and the Summer Beats, a wheat ale brewed with coriander and orange peel. LIC Beer Project has a popular trivia night and stand-up comedy night on alternating Thursdays and Argentinian style pizza from La Candestina Pizza every Friday. This is the perfect brewery for someone searching for a unique and diverse selection of beer and a laid back environment.
39-28 23rd St / 917.832.6840 / @licbeerproject
---
SingleCut Beersmiths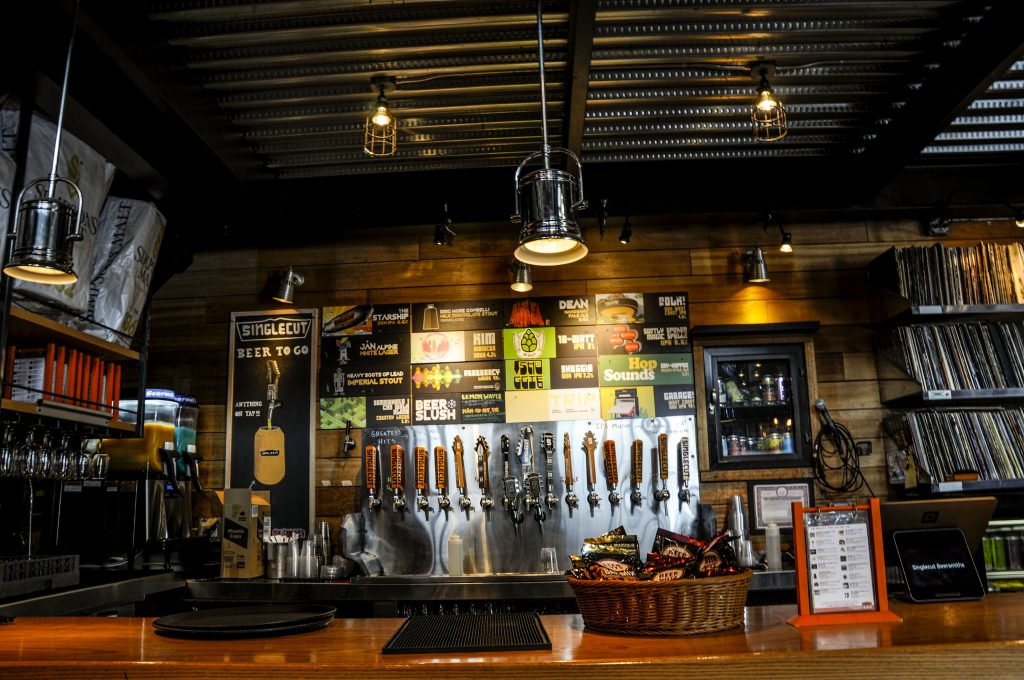 SingleCut Beersmiths in Astoria has a "neighborhoody" atmosphere, unlike Rockaway and Fifth Hammer, where it's busier and more commercial. The "neighborhoody" feel is perfect for someone looking for a chill vibe away from the noise. Aside from their great selection of beer, which includes IPAs, sours, lagers, pale ales and stouts, SingleCut is a great brewery for music lovers. They have an elevated stage for live music events, complete with colorful stage lights and big speakers. They also have a wide selection of vinyl records that play over the speakers. The live music and vinyl genres include hip hop, jazz, 80's, classic rock and just about every other genre of music you can think of. They also have yard games such as corn hole and a variety of food trucks and pop-ups that come regularly. Another noteworthy detail about SingleCut is that they offer seltzers for those who aren't very into beer as well as IPA slushies perfect for a hot summer day. SingleCut also has an Upstate location in Clifton Park, located in Saratoga County.
23-33 37th St / 718.606.0788 / @singlecutbeer
6 Fairchild Sq / 518.406.3262
---
7. Alewife Brewing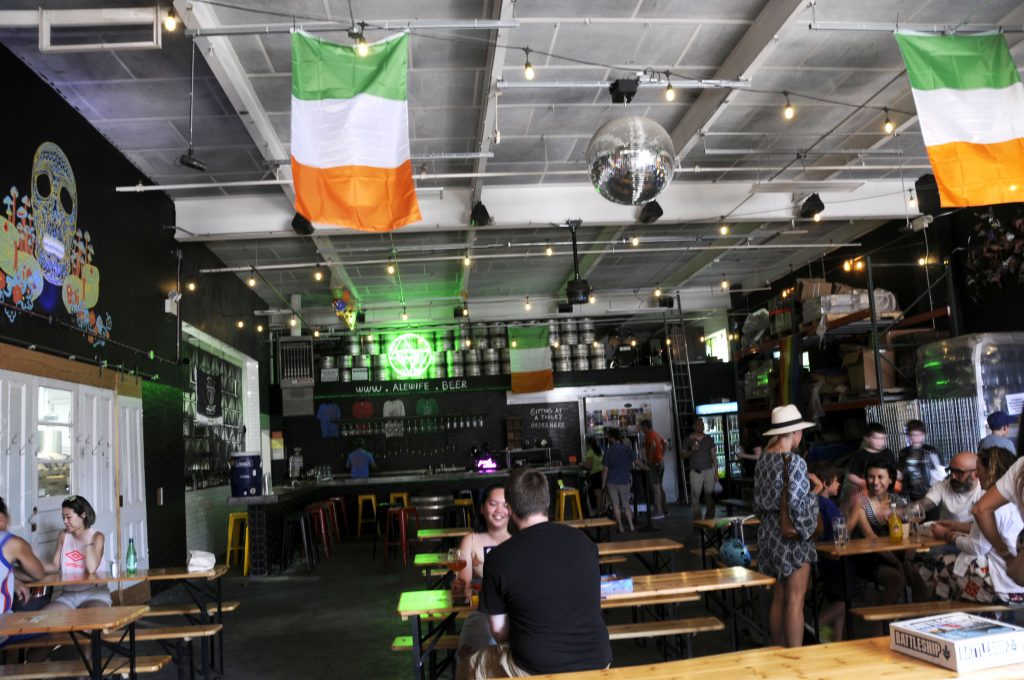 Alewife Brewing is the biggest brewery on the list. Located in Sunnyside, the building is 8,000 square feet, half of which is dedicated to the taproom and half for the brewery. Decorated with an origami art installation, murals, the Irish flag, a huge disco ball, twinkly lights and neon signs, Alewife is a very spacious and stylish brewery and the best brewery on this list to throw parties at. Their huge L-shaped stone bar, with colorful stools, is a great place to chat with the friendly bartenders and look over their huge selection of beer. Alewife has eighteen taps providing lots of IPAs and lagers, along with some saisons, sours and a Bière De Garde. The brewery has many cool events that occur regularly, such as sip and paint, comedy night, LGBTQ night and a teacher appreciation happy hour. Alewife Brewing is one of those places you could spend all day at and never get bored.
41-11 39th St / 347.808.0484 / @alewifebrewing