A Legacy of Ancient Greece In New York City
By Barry Ward Posted: June 10, 2022
Athens Square Park
It seems fitting that, in the heart of Old Astoria, home to so many people of Greek ancestry that it was once dubbed Little Athens, you can find a tribute to Greek history and culture. But no matter your heritage, it's worth the trip to Athens Square Park, just a block from the 30th Avenue subway stop, to take in some great art in a cool setting. Here, monuments to Athena, Socrates, Aristotle and Sophocles decorate a plaza modeled on the 4th Century B.C. Tholos of Athena Pronaia in Delphi.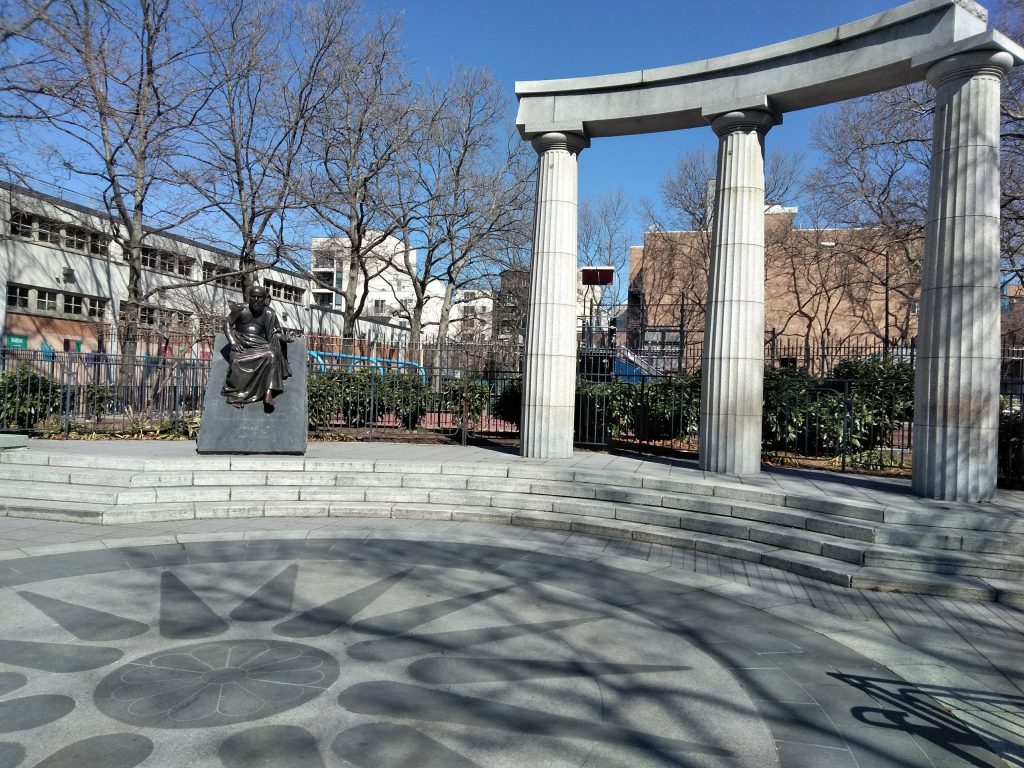 The construction of the park began in 1990 with the idea of creating "a little bit of Athens in Astoria" according to project architect Stamatios P. Lykos. After a $1 million restoration and landscaping of the site, the first statue was unveiled in 1993. Sculpted by Anthony Frudakis, the statue shows the philosopher Socrates (469-399 B.C.) seated and gesturing as if engaged in Socratic dialogue. A few years later, in 1996, the setting was enhanced with three Doric columns installed next to a small amphitheater.
In 1997, the Mayor of Athens gifted a statue of Athena, the goddess of wisdom and the arts and protectress of cities. Sculptors Stavros Georgopoulos and Spiro Goggakis based their work on an ancient model of Athena. Appropriately, she is given pride of place, majestically looking out on 30th Avenue in the front of the park.
It would take more than a decade for the next figure to join his compatriots in the park. Designed by George V. Tsaras and Chris Vivaldi in 2008, the bronze bust on a granite pedestal depicts Aristotle (384-322 B.C.), recognized as the father of scientific inquiry and founder of the Lyceum school of philosophy, who also tutored the young Alexander the Great. The statue was donated to the City of New York by the City of Chalkidiki in Macedonia, recognized as the birthplace of Aristotle.
The last monument was dedicated in 2015. Sculptor Chris Vivaldi portrays the playwright Sophocles (496-406 B.C.) in heroic scale, rising almost 10 feet on top of a base of Mountain Green granite that lists the titles of the seven surviving complete works attributed to him (out of a total of 120 total plays that he is given credit for.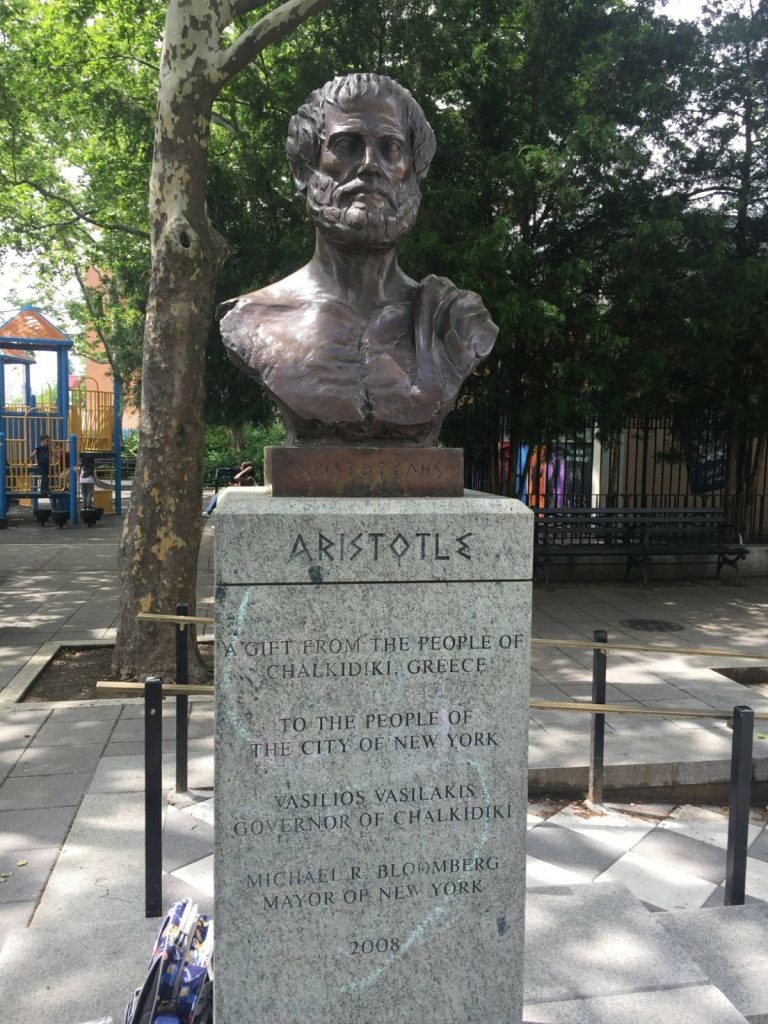 One last statue, of a wise old owl, can be found toward the back of the park. The owl held a special place in Ancient Greece, revered for its vigilance and associated with wisdom; it has therefore always been linked with Athena, and many coins with the goddess on one side and an owl on the reverse are found throughout antiquity.
And a welcome new tradition started in Athens Square Park in 2020 with a Christmas tree lighting ceremony. Local business owners raised the funds to make the event possible, and the 30-foot tree has been a spectacular addition to the park and surrounding area during the last few holiday seasons.
Address: 30th St & 30th Ave, Astoria, NY 11102