Meet Roosevelt Island's First Cocktail Bar
By Merissa Principe Posted: December 7, 2021
The Panorama Room
Situated in the middle of the East River lies Roosevelt Island. An island that was once the home to penitentiaries, insane asylums, and a small-pox hospital. These days, the ever-growing residential island is filled with green parks, shops, and restaurants. Upon the recent opening of the Graduate Hotel came a brand-new swanky rooftop aptly named the Panorama Room.
With breathtaking views of Manhattan and Queens, the Panorama Room boasts one of the best 360-degree views in the tri-borough area. The blend of futuristic, art deco, and plush velvet seating makes the ambiance of this rooftop bar fun, flirty, and perfect for your next gathering with friends or date night out. In addition to the views, the pink-hued marble bar is the main draw of the room with unique cocktails, picturesque high ceilings, and a neon chandelier á la Miami Vice.
With a decent selection of beer and wine, the cocktails are the real star of the show here. The cocktail menu features reimaged oft-maligned cocktails, like the L.I.C Iced Tea (named after Roosevelt's neighbor Long Island City), which features a unique combination of mezcal, tequila, rum, fernet, benedictine, and is finished off with clarified lime juice and house-made cola syrup. For something on the savory side, the tapas-style food menu pulls inspiration from the encompassing water views with coastal cuisine. Treat yourself to a scrumptious Tuna Crudo, Smoked Trout Tartine, or an impressive Seafood Tower adorned with East Coast Oysters, marinated shrimp, and an optional lobster (for an additional fee) that's perfect for sharing with friends.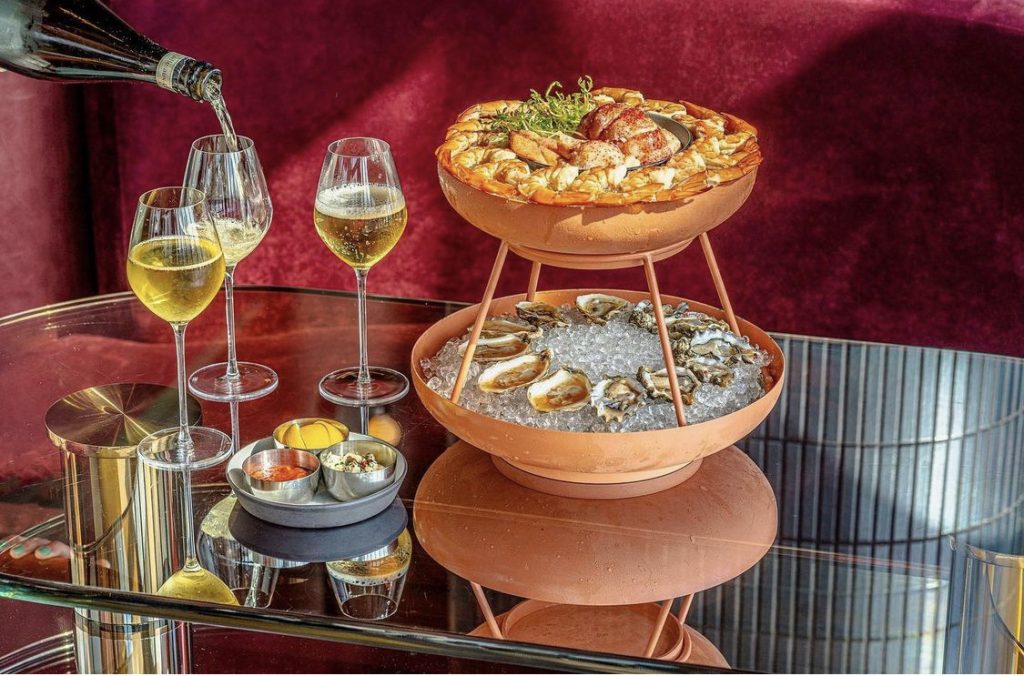 After being overlooked for years, it seems Roosevelt Island is finally getting the praise it so rightfully deserves—thanks to the Panorama Room. Roosevelt Island is easily accessible by the F train, tram, NYC Ferry, or by car. Be sure to grab a reservation on resy.com early in the week, as the weekends tend to book out far in advance, for the best views and booze in NYC. The Panorama Room is open Thursday to Sunday, from 5pm-12am on Thursday and 3pm-2am Friday-Sunday (kitchen closes at 9:30pm daily).
22 N Loop Rd | 929.447.4717 | @panoramaroomnyc