By Shirley Roberts Posted: September 29, 2021
The Best Cheesy Dishes in Astoria
When we use the word "cheesy," we often think of overdone rom-coms and corny romantic gestures, but what we really should be thinking of is actual cheese. Cheese can be added to pretty much anything, make it even tastier, and it's worth taking a minute to appreciate its greatness. We don't know for certain who created this delicious food, but there's hardly a dish to be found that doesn't include "formaggio," "Kaese," or "queso," just to give it a few additional love names in different languages. Being a cheese lover is universal and something to show pride in – so let's be cheesy, shall we?
Krave It Pizza & Sandwich Joint
They have the ultimate, must-try comfort food: a gooey, pesto grilled cheese pizza! It's a must for any cheat day, especially considering the fact that you probably won't even be hungry for at least two days afterwards. What really makes this pizza stand out? The salted pretzel crust. I know, right?
36-18 30th Ave. | 646.927.2999 | @krave_it
Palermo Restaurant and Bar
You can dine at Palermo for their fresh pasta and rustic pizzas, but their main seller would be the chicken parm soup. Topped off with a super thick layer of mozzarella, which you can string along bite by bite, it's the perfect twist on tomato soup you didn't know you needed.
23-92 21st St. | 718.267.0010 | @palermonyc
KX Burger
I think we can all agree that cheese can make or break a burger, and KX Burger delivers on that. Known for their Golden Burger, an 8oz burger covered in 24K gold leaves, they also have a double burger on the menu which is not only double the meat but, wait for it: double the cheese! Go try it yourself and let it melt in your mouth.
29-04 Ditmars Blvd. | 646.606.4835 | @kxburger
Sanfords Astoria
This classic neighborhood staple knows how to make a mean mac and cheese. It's certainly not your average one, offering either truffle or lobster mac to complete the dish. Both are creamy, cheesy in every way, and very filling. Best to have a light breakfast to enjoy this dish in all its glory!
30-13 Broadway | 718.932.9569 | @sanfordsastoria
Vesta Trattoria and Wine Bar
This is an Italian joint with great flair, and of course, they know how to heighten the stakes with its much-beloved baked Taleggio cheese, served with toasted bread and olives. It's the ideal appetizer to share and best paired with a glass of wine. We believe there's no better way to go into the weekend, so make your reservations now and start your Friday night right!
21-02 30th Ave. | 718.545.5550 | @vestavino
Astoria Pizza Factory
You probably think I'm going to talk about their pizza (albeit, delicious), but nope, that's not even the cheesiest item to be had here. Surprisingly, that title actually belongs to their garlic knots, topped with a massive amount of cheese and then baked to perfection until the cheese is melted and ready to be ravished! It makes for an awesome side dish or to complement any of their soups, salads, or pasta dishes. Give that pizza a break for once.
1946 37th St. | 718.726.9112 | @astoriapizzafactory
Vite Vinosteria
Another wonderful Italian restaurant, Vite offers a Bufalina pizza that is simply too good to share. A typical Bufalina is topped with buffalo milk mozzarella instead of the "regular" mozzarella we're all used to. It sounds like a minor difference, but if you're a cheese lover, you will surely recognize and appreciate it. I guess there's no need to figure out where to go on your next date night!
31-05 34th St. | 718.278.8483 | @vitevinosteria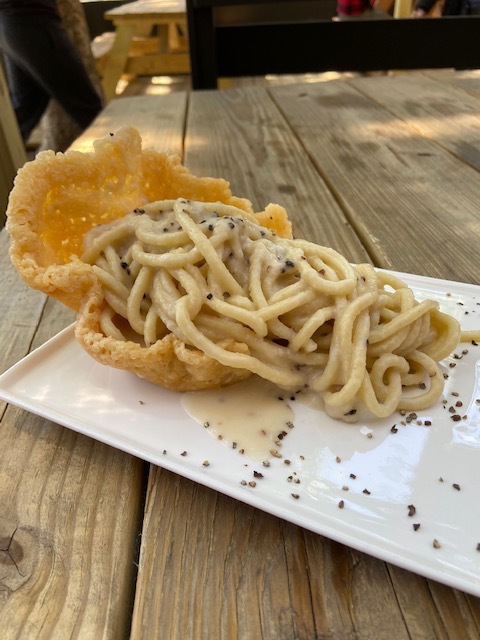 Macoletta
If you want to try a quintessential Italian dish that is marvelously simple and prepared with very few ingredients, then a Cacio E Pepe is what you're looking for. Macoletta has figured out not only how to make it one of the tastiest in all of NYC, but also how to present it like a piece of art: served in a seashell-shaped parmesan crust that you can nibble on while indulging in your pasta and made with black pepper and Pecorino Romano, sourced from Rome. This simply cannot be missed, and don't forget to take a picture of it and tag them on Instagram!
2815 24th Ave. | 718.777.4992 | @macolettany