The Astoria Film Festival Is Back
By Merissa Principe Posted: September 24, 2021
Ready for their close-up, the Astoria Film Festival (astoriafilmfestival.org) is back again this year with plenty of new films, workshops, and various events throughout the month of October. The festival will run from October 1 – 31st, 2021, and will host screenings and events in person and online. Events will be held at the Kaufman Astoria Studio's Zukor Theater and The Backlot, as well as at the Heart of Gold Bar in Astoria (which has a backyard theater), and will feature screenings and panels with both local and international filmmakers, as well as a few select film students. Attendees will also be able to participate in workshops for people of all ages, watch a special film created with AFF Film Fellows and Mt Sinai Queens Nurses, and watch the Festival 2021 Award show.
Highlights from this year's festival include a Master Class with Richard Gladstein, the Executive Director and producer of films like Pulp Fiction, Reservoir Dogs, The Cider House Rules, and Finding Neverland. Plus, Keynotes by Sev Ohanian, Producer of Oscar-award Winning Judas and the Black Messiah and Fruitvale Station, and Natalie Qasabian, Producer of Searching and Run, followed by a private Meet & Greet with all of the Producers at Heart of Gold Bar. Finally, the festival will wrap up with a special Halloween Horror Film Festival on Oct 31st.
At home, onlookers can also view the complete Online Festival with virtual events taking place throughout October. The website will feature over 90 selected films/web series/podcasts. Additionally, the festival's weekly YouTube show Astoria Film Festival Presents will feature festival events, panels, and filmmaker interviews throughout the year.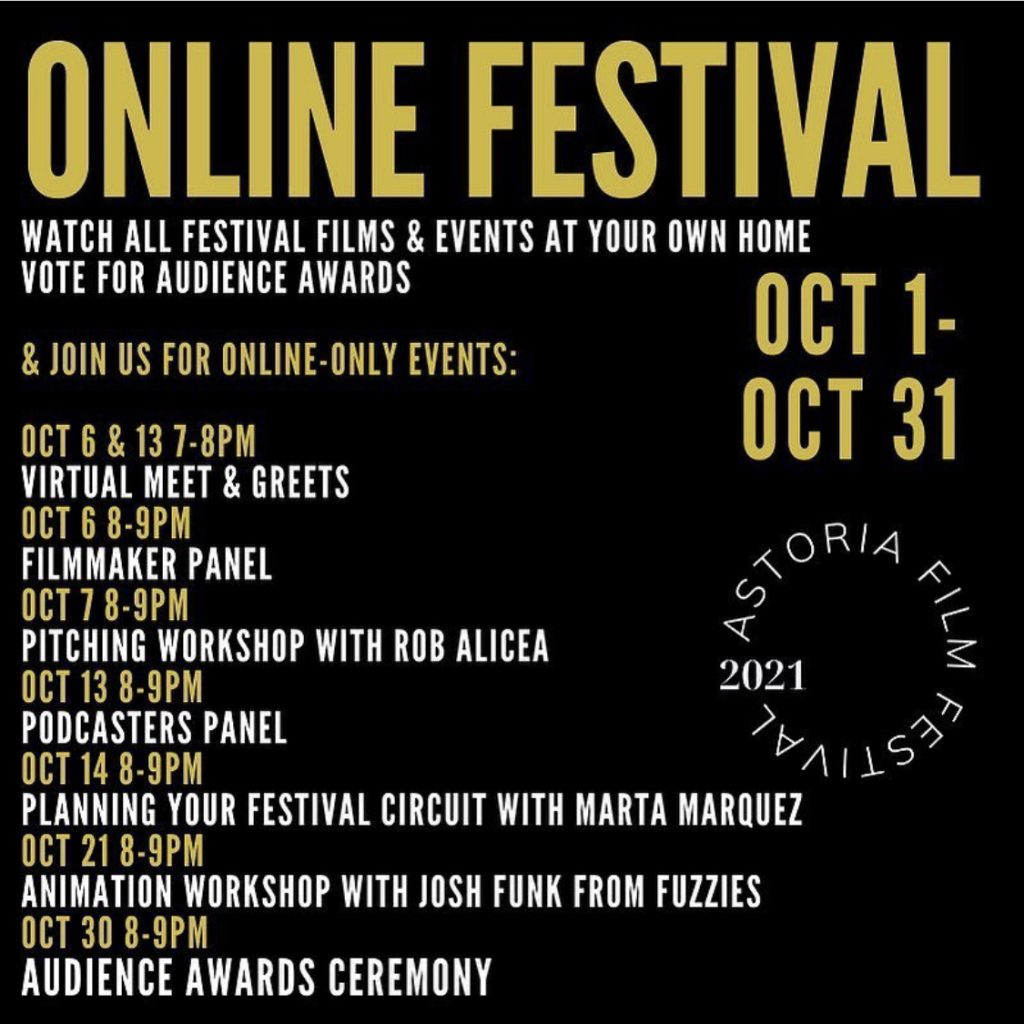 While we know there are many film festivals, the Astoria Film Festival's mission is to highlight under-represented work and artists who far too often get overlooked in a less than diverse industry. Many of the featured films were made by and about persons with disabilities, Indigenous people, women, LGBTQIA+, and POC. The festival is particularly proud to highlight their community of persons with disabilities who are breaking barriers by creating films about their underrepresented population. Listen, for example, was created by and about Nonspeaking Autistic people in response to Sia's misrepresentation of them in her film this past year. Women direct at least a third of the films in the festival, including a dance short by an indigenous dance troupe in Utah (who work to preserve traditional native dances called One Stands Ready or Ozhigaabwi).
The Astoria Film Festival will be in keeping with all local COVID regulations for the in-person events, including mandatory vaccine cards/NYC Passes for indoor events and mandatory masks at indoor and outdoor events. While things may look a bit different this year as we navigate through covid, Director Nina Fiore is excited to be back in person to showcase the ever-growing talent in the Astoria/Queens area. For more information, be sure to check out their website, astoriafilmfestival.org, and get ready to say, "Lights, camera, action!"