WAM Food Hall Is Opening Soon
By Merissa Principe Posted: September 23, 2021
THE WORLD ARTISAN MARKET
"Challenges traditional food hall norms with its collection of authentic mom-and-pop shops."
Things are heating up over at the World Artisan Market (WAM), as ten diverse culinary creators are slated to open their new food venture starting this fall, at the intersection of the Kaufman Astoria Arts District, Dutch Kills LIC, and the Sunnyside Yards. "Astoria in itself is a melting pot of so many different cultures and communities. Our goal in starting this new venture was to create a space that was a reflection of that. A space where everyone could come together over great food," explains Stephen Lysohir, President of Retail & Office Division. Each new venue has full creative control among their independent interior spaces, as well as full freedom to express their design, music, and cuisine—according to their customs and culture.
The market challenges traditional food hall norms with its collection of authentic mom-and-pop shops and seated full-service dining. The new building stands adjacent to the N & W line on 31 Street and 35 Avenue at the conjunction of Astoria and Long Island City. Over the next few weeks, WAM plans to kick things off with the opening of Sotto la Luna, an authentic Italian concept, shortly followed by Sala, a Spanish tapas bar. The eight other tenants will open their doors over the next few months, with plenty of unique and exciting concepts like Japanese crepes, Colombian arepas, and vegan pizza.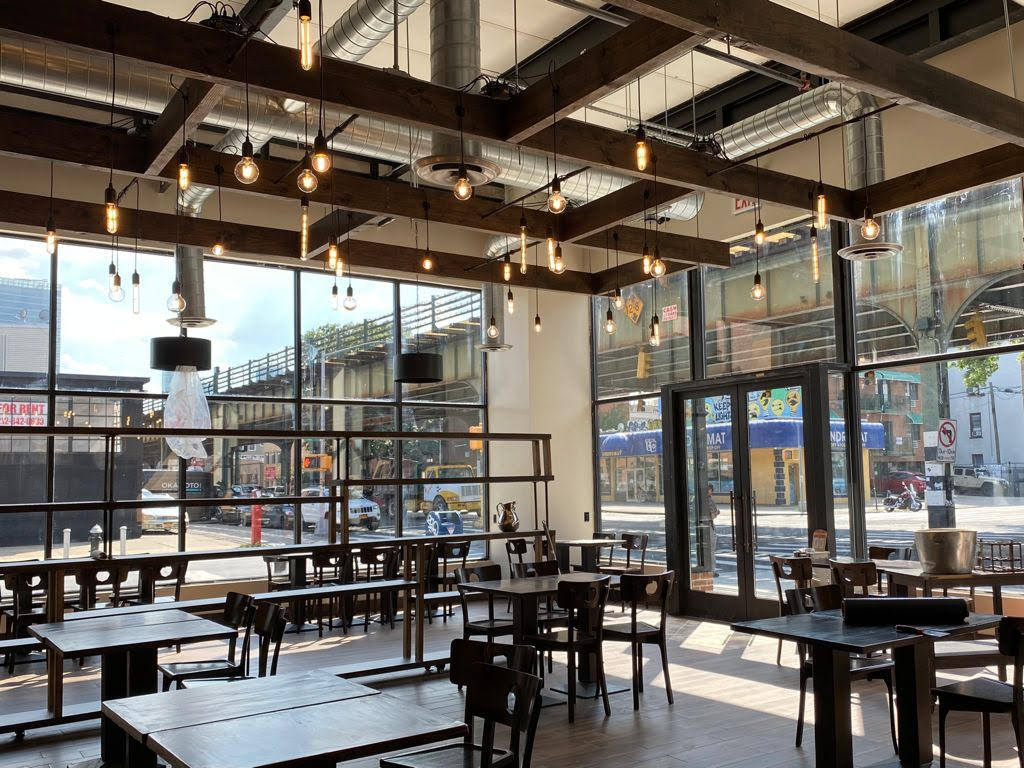 For the complete list of tenants making an appearance at the World Artisan Market, scroll down below:
Sotto la Luna – The group behind this concept was created by restauranteurs originally from Milan and Puglia, Italy. Sotto's new concept at WAM will include authentic Italian entrées, specialty pizza, a pasta bar, gelateria, and café⁠—offering an authentic culinary experience straight from Italy.
Sala Astoria – Sala Astoria will continue to tap into its authentic roots from Spain at WAM this fall. The core mission is to provide authentic Spanish-style tapas, touching on other popular dishes from different regions of the country. The space will not only feature a bar stocked with the finest Spanish wine but will also provide a stage with plenty of live music events and weekly flamenco.
The Yamato Noodle Company – The Yamato Noodle Company is a Japanese-based culinary school that manufactures and sells authentic Japanese noodle-making equipment. For decades, Yamato has been educating culinary experts on how to make the world's best Japanese noodles. with plans to bring this tradition to the US at WAM. Opening their first cooking school, Yamato plans to bring this tradition to the US at WAM, where guests can purchase the tools to make their own Japanese noodles, like Ramen, Udon, and Soba.
Maria Piedad Cano, The Arepa Lady – The Arepa Lady started her journey in the US from Medellin, Colombia, over 35 years ago, parking her arepa cart along Roosevelt Avenue in Jackson Heights, Queens. Her latest concept will open this year at WAM taking the tradition of serving authentic Arepas and Colombian cuisine to the next level in a great indoor and outdoor space/garden venue.
Potlux Kitchen – The concept was created by Eddie Lin, who draws on his Asian roots to create one epic culinary experience. Potlux Kitchen is a Pan Asian brand that uses authentic recipes from Japanese, Chinese, and Vietnamese cooking to create a stellar menu of Asian fusion in a fast-casual atmosphere.
Shun Lee – Sun Lee has been a Manhattan staple for its authentic yet trendy regional Chinese dishes. Visitors can expect to find some of their top-selling menu items from their Manhattan locations like high-quality dim sum, Bejing Duck, dry shredded crispy beef, and XO Prawns. Yum!
Hiro Ramen – This noodle concept focuses on Japanese Ramen noodles, snacks, Hibachi, and authentic Japanese beverages. While noodles may not seem very intricate, the chefs at Hiro Ramen spend the whole day perfecting the soup base, hand-made noodles, and secret sauces, which all play a key factor in making what is arguably the perfect bowl of Japanese ramen.
T Swirl Crepe – The story of T-swirl Crepe starts thousands of miles away on the shores of Japan. Using the western style of crepe making, the Japanese crepe takes traditional Japanese ingredients and a gluten-free rice flour batter to craft a varietal of sweet and savory crepes. Plus, a great selection of bubble teas too.
Urban Vegan Roots – Urban Vegan Roots is the second restaurant from the Urban Vegan Kitchen Collective, which was created to combat the false narrative that vegan food can't be flavorful. Furthering its mission to educate people on the benefits of vegan cuisine, Urban Vegan Roots will feature their first-ever vegan pizza. Plus, a few popular items from the original menu like chick-un and waffles, mac and cheese, Korean wings, tacos, and a homemade delicious vegan burger.
Elevenses – Georgia Koutsoupakis, a talented and creative baker born and raised in Astoria, created Elevenses, meaning a traditional short break for light refreshments and tea, as a token of her admiration for this European and Scandinavian tradition, which dates back to 1819. This eco-friendly concept will sell vegetarian baked goods, as well as a seasonal menu inspired by French, Greek, and Scandinavian cuisine.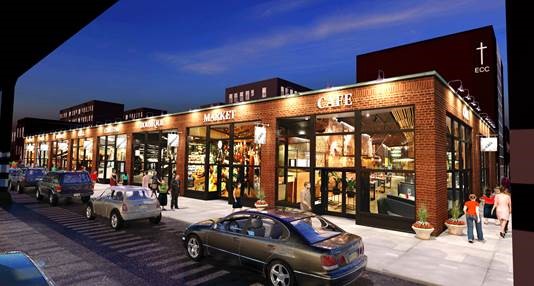 "We are excited to be a cultural hub for creative restauranteurs and entertainment venues to reinvent, reopen, and collaborate. Working together to create a destination, where after a rough pandemic, culinary entrepreneurs can re-emerge stronger than ever before," says Lysohir. As more and more tenants begin to launch their concepts, WAM will continue to provide authentic food and beverage options for the NYC communities. A community that proves, time and time again, to be the epicenter of creativity and growth.
Location: 34-39 31 Street (Kaufman Astoria Creative District/Dutch Kills LIC)