By Allison Kridle Posted: November 22, 2020
Gyms Remain Open to the Outside
This year has been full of ups and downs. One positive for our community is our ability to utilize local businesses that are closed or at minimal capacity. Specifically, fitness studios and gyms that have found ways to integrate outdoor classes into our new normal. However, are these classes here to stay once the weather reaches its own low?
Sage Fitness owner, Danny Suarez, decided to host outdoor classes in Astoria Park back in March, two weeks after a mandated close. Since then, his classes have spread to the Sage storefront and LIC waterfront.
As of right now, Sage Fitness continues to offer donation-based classes at these outdoor spaces and even hosts classes that are partial inside their facility (33% capacity) and half outside their storefront. Suarez plans to install space heaters at the storefront.
"Fitness outside is not a new thing. Runners run in winter and are totally fine. It depends on how motivated people are and their comfort levels with working out in the cold. Many people end up stripping off their layers during class, so it does heat up quickly," Suarez said.
Sage Fitness will also hold classes outside in the winter as long as the customers wish.
Yoga Agora also organizes donation-based classes at Astoria Park, as well as classes on Zoom. More recently, they are offering classes on the 31st Avenue Open Street from Monday through Saturday. Like many business owners, Nick Velkov is making decisions one week at a time.
"[We] cannot really plan more than two weeks ahead. Maybe after indoor dining and indoor pools have safely operated for a couple of weeks, the city may allow indoor fitness classes to resume. Or, if indoor dining and indoor pools are rescinded, then perhaps we will continue outdoor classes. But also, we have no idea how people will feel being outside in the cold," Velkov said.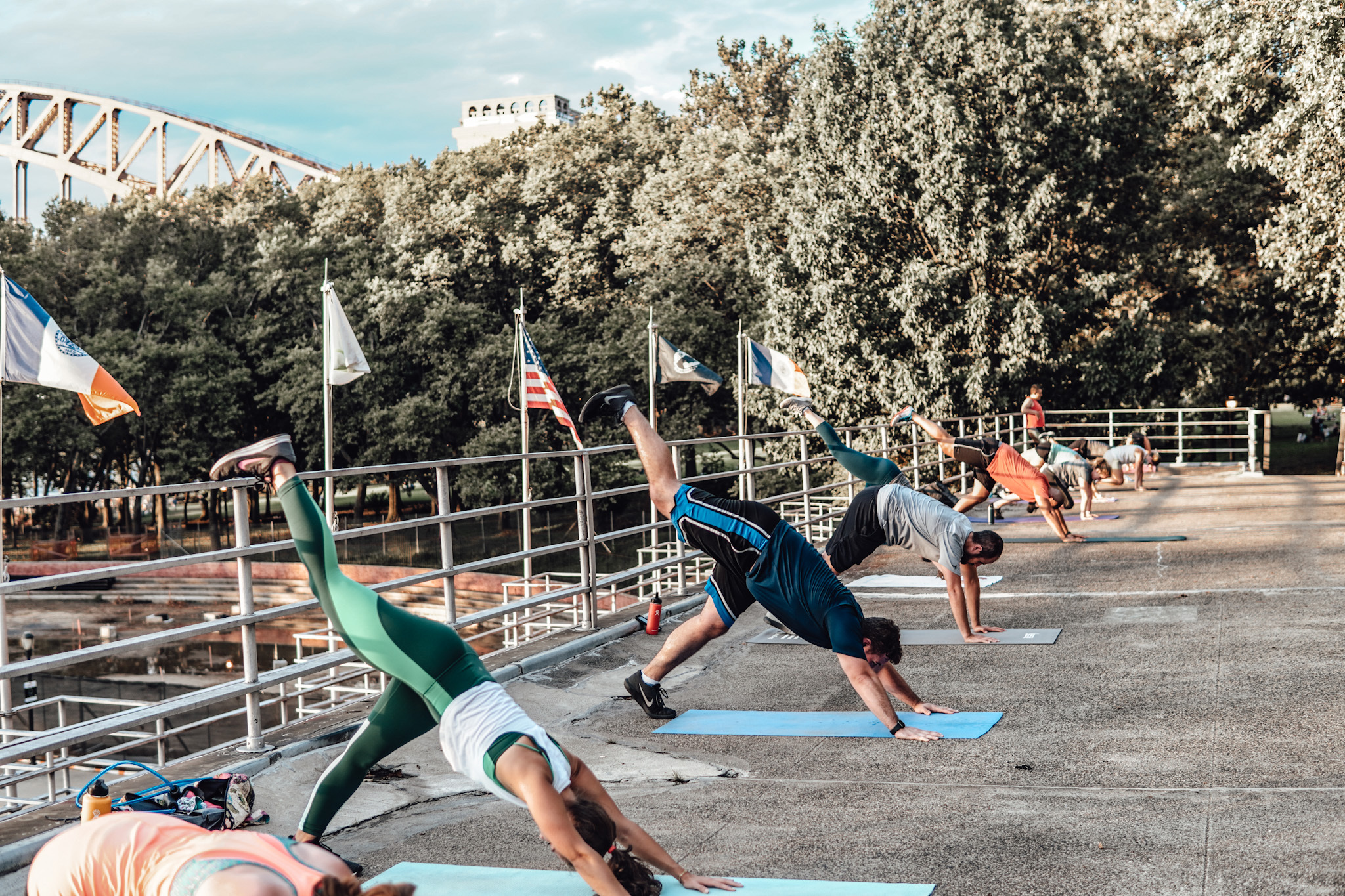 Another yoga studio, formerly out of LIC, Cosmic Fit Club, hosts acro-yoga classes for kids and adults on the Open Street at 31st Avenue, Hunter's Point Park waterfront, and on a rooftop in LIC in addition to virtual classes.
The owner, Joy Chen, plans to hold classes through winter as long as 31st Avenue remains closed to traffic and there is a demand and interest in the outdoor sessions.
"I am very thankful for all my students and for the good weather to continue to teach outdoors as long as possible," Chen said.