Nathaniel Felder: The Man Behind the Food
By sonia Posted: June 10, 2015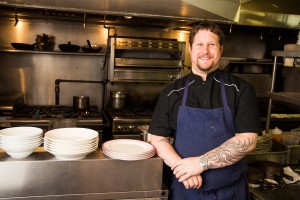 If you ever run into Nathaniel Felder, or Nate as most call him, it'll probably be in between putting the final touches on a dish, or running around managing the Astor Room.
He's a chef by trade, having grown up learning to cook from his mother, who learned from her Romanian-Italian mother-in-law, a woman who taught her the in's and out's of the kitchen, and how to perfectly craft a meal, something she passed on to Nate.
"I watched them cook, and I cooked with them, and I learned. It's something that's always been my passion."
At just 16, Nate began working in kitchens, quickly learning his way around and climbing the ladder.
"I've never been out of the restaurant industry. It's a part of me, and my complete world."
He grew up in North Carolina, but moved to New York City years ago. He lived in Brooklyn, working as a chef in some of the most amazing spots Manhattan has to offer, including Catch in the Meatpacking District, and then at the TAO group's Lavo, one of the top-grossing night clubs in Manhattan.
"We would do anywhere between 700 and 1,000 covers a night. It was constantly intense, constantly moving, constantly cooking."
But four years ago Nate found himself living in Astoria, and in love with the Astor Room.
"I was looking to buy it, and take it on as my own. It didn't work out, but then Hal [The President of Kaufman Astoria Studios who is now the owner of The Astor Room restaurant] bought it, and he called me and said, "Listen, we want you to be the chef, and we want you to manage it."
Somehow, things all fell into place, and July 1st of 2014 Nate took over the kitchen, completely transforming the Astor Room's menu to be updated and fresh, yet still as classic as the restaurant itself.
"I've been writing menus for ten years now. There's the perfect menu, and then there's the menu that works. As a chef, you always want to find the perfect balance.
Of course there's the basics: starters, salads, pastas. But then there's the things that have your own flair, the items that are unique. Each chef has something they've tried and loved, or something they know really works."
Nate studied books like "Culinary Artistry," which teaches you the best pairings and ingredients – like what protein goes with the right herbs.
"It's also a lot about being around the products, and knowing how things work and go together. You work with the resources you have, but you need to really know every single ingredient you have in your hand, or else you won't create the perfect dish."
His latest creation is the Astor Room's spring menu, which we had a chance to try out (LINK TO STORY).
"I did a lot of searching," Nate says, "and figuring out what is perfectly in season. You want something that matches – so for spring, I wanted ingredients that were really refreshing, and really flavorful."
One of his favorite items is the Farmer's Pasta, which uses pork sausage from a well-known industry wholesaler Pat LaFrieda, and homemade garganelli pasta, along with white wine, spinach, garlic and white beans. We agree – it's one of the best.
Hand-making pasta
Nate tells us the best part of being a chef is seeing the rewards – but not exactly the monetary ones.
"The reward you get from being a chef is that you can see people take a bite of your food, and you see it on their face how much they enjoy it. It's a huge reward: You're creating something that people love, and all your hard work pays off when they take that first bite."
Another awesome part of being a chef? Taking the reigns.
"As a cook, you're constantly doing things you're told. As a chef, you have full charge to do whatever you want. There's this freedom that comes along with it – you really get to grow and explore, and find out exactly what works. The end creation is something amazing."
Being a chef, though, isn't easy.
"Most people don't understand that being a chef can be really hard. The hardest part is the hours. I'm averaging around 80 hours a week in the kitchen. I do all the ordering, the prep work, cooking on the line, as well as acting as general manager.
Everything that goes with the restaurant, I'm doing. I'm opening and closing, taking care of it all. You get really familiar with the walls."
His passion has paid off – the Astor Room has a menu that is constantly evolving and improving, and is loved by everyone that visits the restaurant.
"If I could tell people one thing, it would be to just come by and enjoy it. They'll fall in love. Also – try the candied bacon at the bar. Just do it."
The Astor Room and Nate have a lot coming in the next few months, including lots of special events, including a possible wine tasting. Keep an eye out: you don't want to miss it.