By sonia Posted: March 31, 2015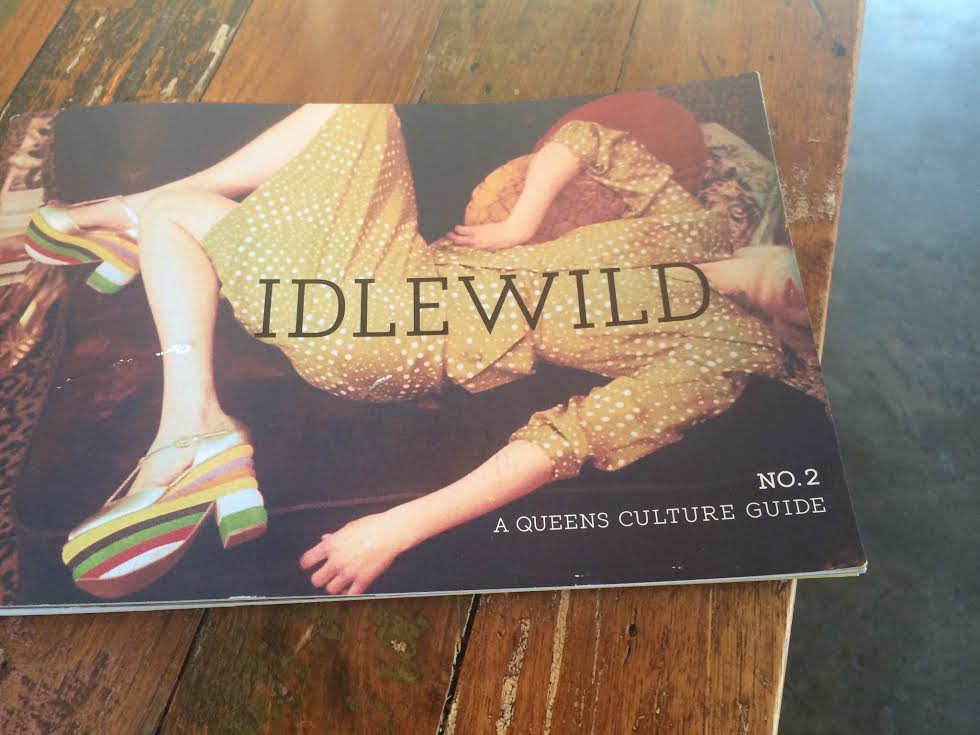 Local magazine Idlewild looks like a work of art in and of itself–its booklet format, matte finish, minimalist font, and full pages of photography and art render reading the publication an aesthetic, as well as literary, experience.
It's no wonder, then, that this "Queens Culture Guide" chose Front Toward Enemy as the destination for its second issue launch party. A bar with an aura of farmhouse-industrial-chic, Front Toward Enemy's exposed brick walls, reclaimed wood beams, and warm furnishings provided the perfect backdrop for Idlewild's sophomore celebration on Saturday night. Give Me Astoria served as one of the six sponsors of the event, and we were more than ready for this evening of "music, culture, art and cocktails".
Front Toward Enemy sanctioned off a great space for us beneath its charming loft, complete with a private cash bar and countless booths displaying sponsors' wares. Mingling in this relaxed space was co-sponsor Ashley Dean, the "Queen of Astoria" herself, as well as our own Sonja Mylonas, both of whom were featured in Idlewild's "Queens of Queens" article along with QNSMADE creator Amy Wu. The queens shared space with the work of local artists, not only within the magazine, but live in living color–paintings and photos by Kimberly Abbott, Caryn Cast and Adrienne Darnell rounded out Front Toward Enemy's gallery, surrounding guests with hometown talent in true Idlewild fashion.
The artistic Astorian display permeated to the front of the bar, where patrons stood shoulder-to-shoulder to enjoy a little live music. Two Seconds to Midnight warmed things up with a duo of acoustic violin and guitar. Before and between the sets, an epic 90s playlist brought us back to Backstreet Boys bliss, as any successful party should. Second in the line-up was The Mess Around, which kept the night electric with a driving garage rock. Whatever sound you wanted, Front Towards Enemy, Idlewild, and sponsors were happy to provide.
Ultimately glasses clinked to Idlewild's second progeny amidst the very sights, sounds, and people it serves to showcase. The publication's colored pages guide you thoroughly through this borough we call home–from a free beer coupon to Max Bratwurst Und Bier, to a spread on "Astoria's Creative Couples', to a "Guide to Ridgewood". Readers old and new had the opportunity to thumb through takeaways from all of the evening's sponsors, and so the growth of Queens love and knowledge spirals on. Be sure to grab your copy of Idlewild at Astoria bars and restaurants later this week. Here's to a venue, artists, creatives, and supporters of equal caliber for launch party three.
Story by contributing writer Maggie Gallagher