Mommy and Me: Working Out with Your Baby in Astoria!
By sonia Posted: November 2, 2014
Before having her first child, Brooke Taylor was determined to get in the 
best 
shape of her life. Having an extensive background in prenatal fitness she knew that staying active before, during and after pregnancy was the key to a healthy pregnancy/recovery. The more conditioned you are prior to pregnancy, the lower your heart rate is, the stronger your muscles are, which aids in childbirth and recovery.  This allows you to move more, and have more mobility around your joints, keeping your lower back supported while maintaining a strong connection to your core/abdominals.
Brooke met Cindy, and quickly realized that they both shared the same passion; working with kids and moms.  Being Mom's themselves they both realized the same thing: Moms want to work out, during pregnancy, and after pregnancy, and so the Mommy and Me program at Life Health and Fitness gym was born. (Get it? Born?)
These classes are designed to give the mother and baby a nurturing experience by exposing them to physical activity and movement early on.  By creating a welcoming atmosphere for both the mother and child we are enabling health at an early age.  This program is specifically designed to not only bring education and awareness to the children's bodies while developing a support system for all new moms.
After pregnancy, moms are still healing-and the baby is still fresh out the womb! With the class, we focus on exposing them to other moms, and giving them a support movement, while still allowing them to move and get exercise."
A struggle that moms often face is finding a baby-sitter, or being able to make time for themselves. The mommy and me classes are designed for moms to be able to focus on themselves, without taking their baby out of the picture.
"What you'll see with a lot of moms is that they stop focusing on themselves. I will admit it is not easy making time, but I do feel as though it is a necessity.  My rule of thumb is that you need take care of yourself first and foremost because you are no good to anyone else if you are not healthy yourself.
"With myself, I was determined post-baby to get my body back. For nine months, you've been growing this little baby inside of yourself and as a result your body is no longer your own.  Your center of gravity shifts, your bones spread and your muscles stretch – and it can seem difficult to rebuild what you had before.  I honestly feel like I got in the best shape of my life post-pregnancy. It was the motivation, determination, and most importantly time management that got me to that point."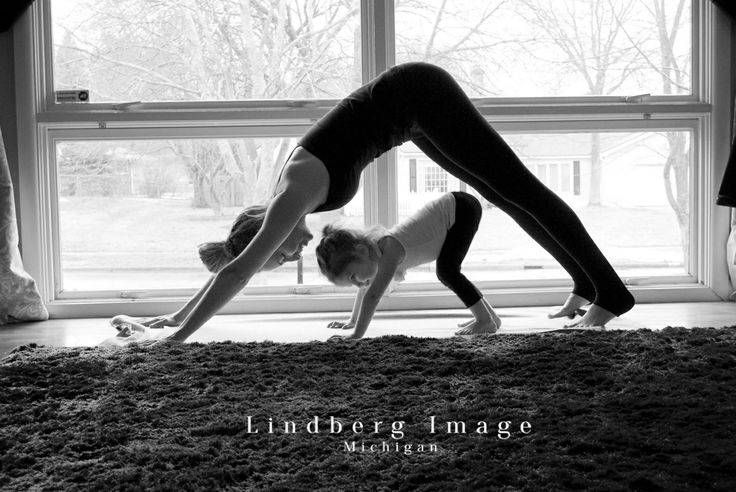 The program offers different levels. There's classes for 6 week olds that are extremely gentle, and there are more advanced classes for toddlers. All classes equally involve mom and baby  – something Brooke was adamant on. "I had been to classes that were more mom focused, and classes that were more baby focused, and I wanted something that really balanced the two."
Brooke is pregnant with her second child, and she tells us it's allowing her to really experience the program and rework it. There will be lots more to come. "We're focusing on really making the gym a great place for moms. We're adding more programs, and expanding on the programs we're creating now! We want to be a place that moms can be reminded of what a wonderful thing their body has done, and how they can continue to nurture and train it."
There's two classes offered in the Mommy and Me program:
Roots 'n Wings Kids Yoga
Roots 'n Wings Mommy and Baby Yoga (6 weeks to crawling) This class uses baby yoga exercises and infant massage techniques to strengthen growing muscles, encourage better sleeping patterns, improve digestion, and support your little yogi at every stage of development. We will explore gentle yoga poses for mommies as well, to strengthen and lengthen, and get back in touch with their bodies in a safe and supportive environment. With yoga as a foundation, you will get to bond with your baby in a playful, focused, and meaningful way.
This 45 minute class is intended for new moms and their babies 6-weeks old to crawling. No prior experience is necessary. Bring a blanket for your baby.
Roots 'n Wings Mom and Tot Yoga (walkers to 24 months with caregiver)
This fun and imaginative class will tap into the playful and explorative nature of toddlers. Class will utilize a unique blend of basic yoga poses, interactive games, developmental movement exercises, playful songs and books. Young tots will develop fine and gross motor skills while learning breath and relaxation exercises.
Using individual and partner poses, grownups will get a chance to stretch and strengthen while playing with their toddlers. We will focus on parts of the body that new parents overuse, such as wrists, shoulders, arms, neck and lower back.
While crawlers are welcome, this 45 minute class is intended for walkers to 24 months and their caregiver. No prior experience is necessary.
Classes are sold as an eight week series from November 1st to December 20th
Classes will be held:
SATURDAY NOV 1st @ 10:30-11:15 am – MOM & TOT SATURDAY NOV 1st @ 11:30-12:15pm – MOMMY N BABY
If you want to register, you can visit Taylored Fitness, or Life Health and Fitness.