Snowdonia: The Restaurant for Astorians, from Astorians, Funded by Astorians
By sonia Posted: April 26, 2014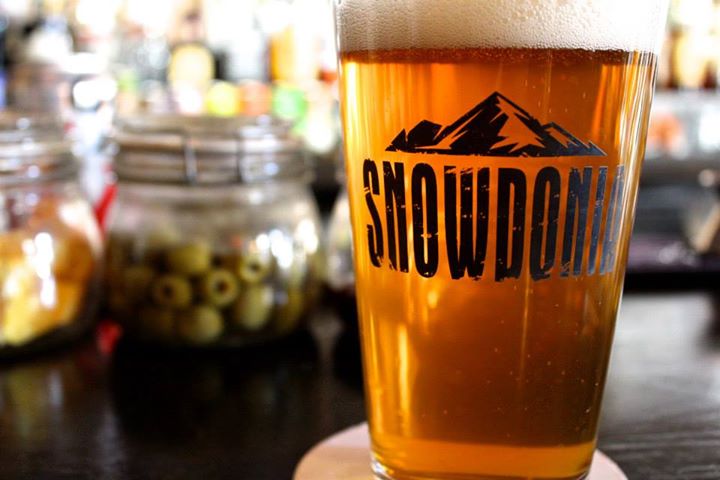 Located on a quiet corner of Astoria, hidden away behind a sign with no name, is one of the most amazing new restaurants in Astoria. Opened just 7 months ago, Snowdonia has made taken Astoria by storm, quickly solidfying their name as one of the best Gastropub's in the neighborhood.
Now, besides the awesome food, which we'll get to shortly, here's why we think Snowdonia is awesome: it's a restaurant opened for Astorians, by Astorians, funded by Astorians. (If you say Astoria enough times in a row it stops sounding like a real word). Here's what happened. Tom Davies and his wife Carrie Spiller, and Carlos Beltran and his wife Jen Waite, decided that they were sick of coming home from work in the city and being faced with only dive bars to relax at…so they decided to change that. But what do you do  when you don't have a nice cushion of money lying around? You start a Kickstarter.
For those of you that haven't heard of it, Kickstarter is a crowd-funding platform, where you can put forth a project and have people help you fund it. The two couples put  down 20% and sent the request out into the cyberworld…and the people of Astoria came through. The Kickstarter stated exactly where the money would go: right back into the wages of the staff, all of who are – you guessed it – local residents.
We sat down with co-owner Tom and Snowdonia's Director of Marketing, Matt Callahan, and if there's one thing we really got from our interview, it's that they really love their food. They told us that they all regularly eat at Snowdonia (which is easy since they live right across the street!), and that they truly stand behind the fact that they have some of the best food in Astoria.
SO. FOOD. All the menu items at Snowdonia were created by executive chef Will Lubold, and Tom and Matt weren't kidding when they said it's amazing. The best way to put it is that all the food is accessible. It's familiar, but all the dishes have a hint of something that takes them from classic to really unbelievable.
We had the fish and chips, which is a best seller, and the fish was perfectly crisp and tender, with the "chips," or fries, being warm and tasty. Tom, who is Welsh, tells us he wanted an authentic Fish and Chips meal; one that would convince even the most British of visitors.
The mussels we had were equally awe-inspiring, and we easily downed them all. The thing about Snowdonia is that they're menu is short and precise – so every single item is perfectly tried and tested, and there's no one dish that is insanely better than the rest; they're all equally mouth watering. Nothing on the menu is over $20 either, keeping prices low without sacrificing quality.
Snowdonia is big on drinks! The last Tuesday of each month to they a beer pairing dinner. They also have a constantly changing range of beers from different breweries, always aiming to keeping locals brews in the mix. Right now they've got some great beer from the Ithaca Brewing Company, and they have Singlecut Brewery coming up. They're also one of the only restaurants in Astoria that does craft beer delivery, but only if you order from Delivery.com. You can get a 64 ounch draft growler of any beer, for $24 or $29, depending on the beer. That's FOUR pints of beer. Plus, if you bring the bottle back to the bar, or hand it off next time you get delivery, you get your $5 bottle deposit back.
AND THEY GO ON FIELD TRIPS! On May 10, Snowdonia is taking a trip up to Elmsford new York, with brunch at the bar included. (You can find tickets at the bar, or online here). They've also got events that are ridiculously awesome, like trivia and Game of Thrones on Sunday (WHO DOESN'T LOVE GAME OF THRONES), industry brunch on Mondays from 11 to 4 for the artists and other Astorians that miss out on weekend brunches.
Snowdonia is easily our pick for late night dinners in Astoria, or lunch with friends. It's intimate and friendly, and makes you feel like you're hanging out in a restaurant filled with nothing but friends. The food is nothing short of extraordinary, and the fact that everyone there is just as obsessed with Astoria as we are makes it even better.
You can find out more about Snowdonia by visiting them here or stopping by the restaurant at 34-55 32 St.