The Taminent Regular Democratic Club: The Club That Does It All
By sonia Posted: April 17, 2014
The Taminent Regular Democratic Club of Astoria is one of the oldest and most powerful clubs in New York City, started in 1933. Can you imagine how different Astoria was nearly 81 years ago!? The club is one of the only clubs in New York City that has Congress Members, Assembly Member,  NYS Senators and Council Member at most meetings (or their reps).
So, what exactly is the Taminent Club…and more importantly, why do we think they're special? Because they're all about Astoria. They're community based, and tackle nearly every community problem you can think of. Transportation issues? They address it. Sanitation problems? They'll discussed it. Anything that affects the community of Astoria is on the table for discussion, no matter how big or small– and you can bet that your problems are heard here with all the right people there to listen–and if the right person isn't there we'll find them.
The Taminent Club plays a huge part in local elections, backing politicians that they feel represent the community's best interests– and they've got a pretty good track record at choosing winners.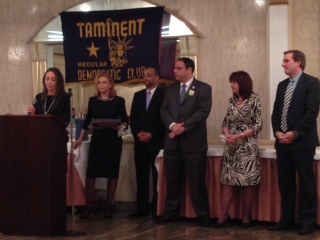 There's two parts to the Taminent Club, the women's club and men's club. The women's club president is Kimberly Mullarkey, who was kind enough to come by the Give Me Astoria offices and tell us all about the club, and the men's club president is Ed Babor. The club also has two District Leaders– NY State Senator Michael Gianaris and Carolyn Scarano (who's father was the founding member and District Leader Ralph DeMarco).
The Women's club has a cool event coming up on May 7th so if you're interested in having a great time, check it out! It's a Card Party at Riccardo's by the Bridge at 7:00 pm with loads of great raffles and prizes. There's usually about 300 people, so grab a ticket soon– it's only 5 dollars! The funds will go to political events, charities, and Astoria based projects currently in the works.
If you're interested in being a vital part of the Astoria community, have an interest in politics, or just want to meet your fellow Astorians and have a great time, membership is open to everyone over the age of 18 and of course a Democratic. There's a small membership fee of $8 for women and $10 for men a year. You get to take part in making a change, attend events like the annual dinner dance, and feel like a real part of something important.
For more information on The Taminent Regular Democratic Club, you can find them on Facebook here.