Exploring Astoria's Flat Iron Building
By Jason D Antos Posted: March 23, 2023
Located on one of New York City's oldest roads stands a beautifully preserved specimen of what affordable housing looked like more than 100 years ago. Newtown Road, named for the township in which Astoria is located, runs aslant to the overall grid and is laid out over an ancient Indian trail that later became the main road which led to the farm of early Astoria settler William Hallett in the mid-17th century.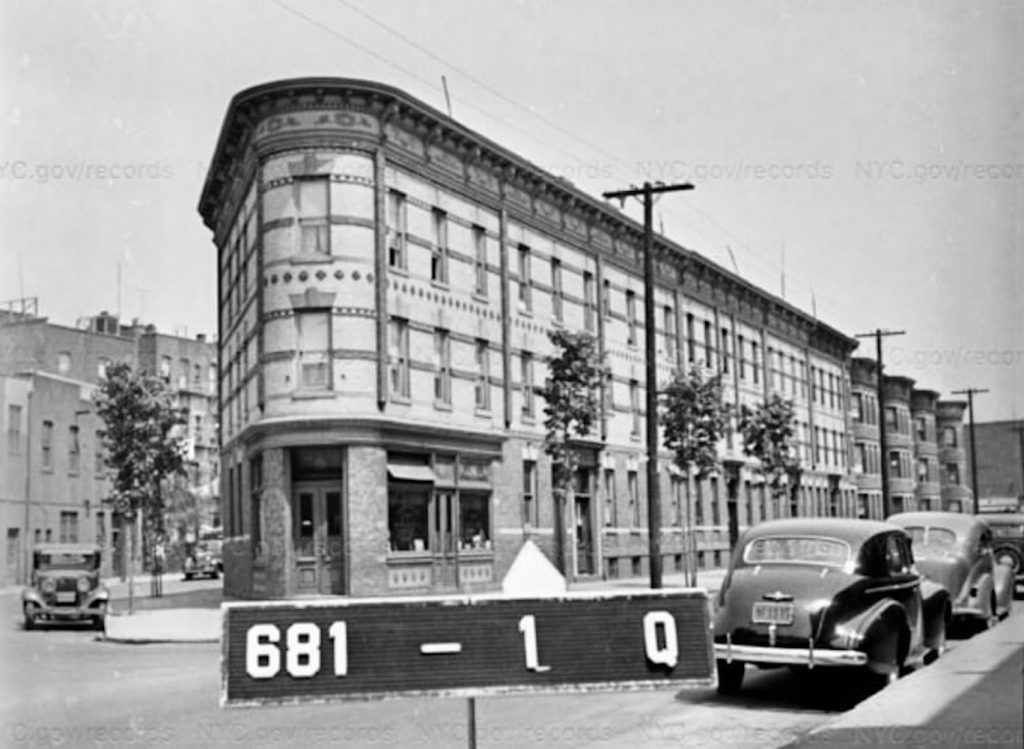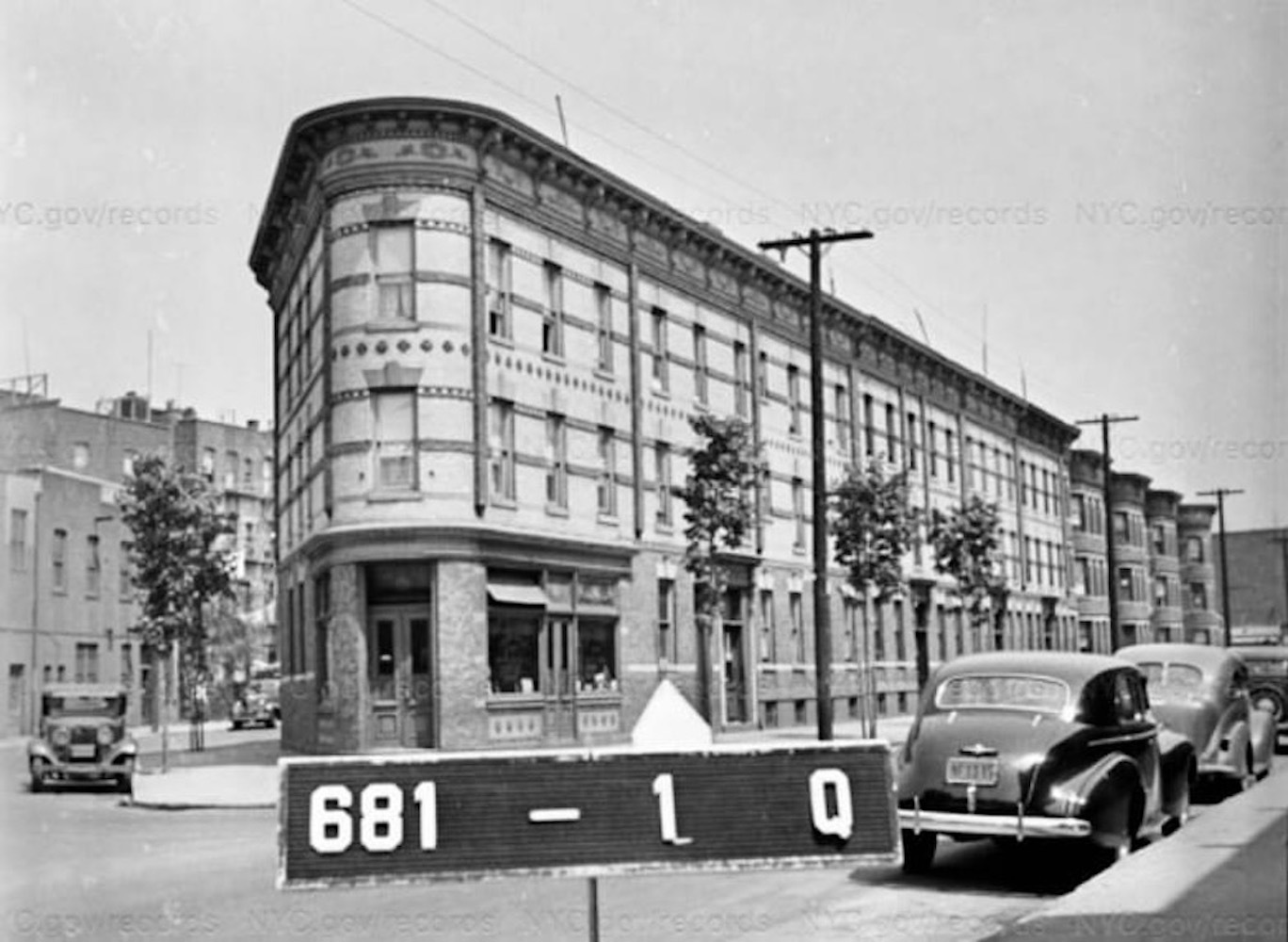 At Newtown Road and 46th Street we find a cluster of buildings built in the row house style which are more than 110 years old. A little known fact; these structures are located in an area of Astoria originally known as Middletown. The name likely originates from the fact that the area lay between old Astoria and central Newtown now known as Elmhurst. In 1771, one of Queens Borough's first schools was located here at the confluence of Newtown and Old Ridge Roads (now 46th Street). British and Hessian troops marched by the school during the American Revolution. A century later, some schoolboys found a cache of gold coins worth $840 in its walls, likely hidden during the Revolution.
So what exactly is the story behind this super structure of row houses which looks like a local version of Manhattan's Flat Iron Building? Known as Mathews Model Flats, these buildings were built by developer Gustave Xavier Mathews in the 1910s, using orange and yellow bricks and terra cotta fired in the kilns of Balthazar Kreischer on the southwest shore of Staten Island.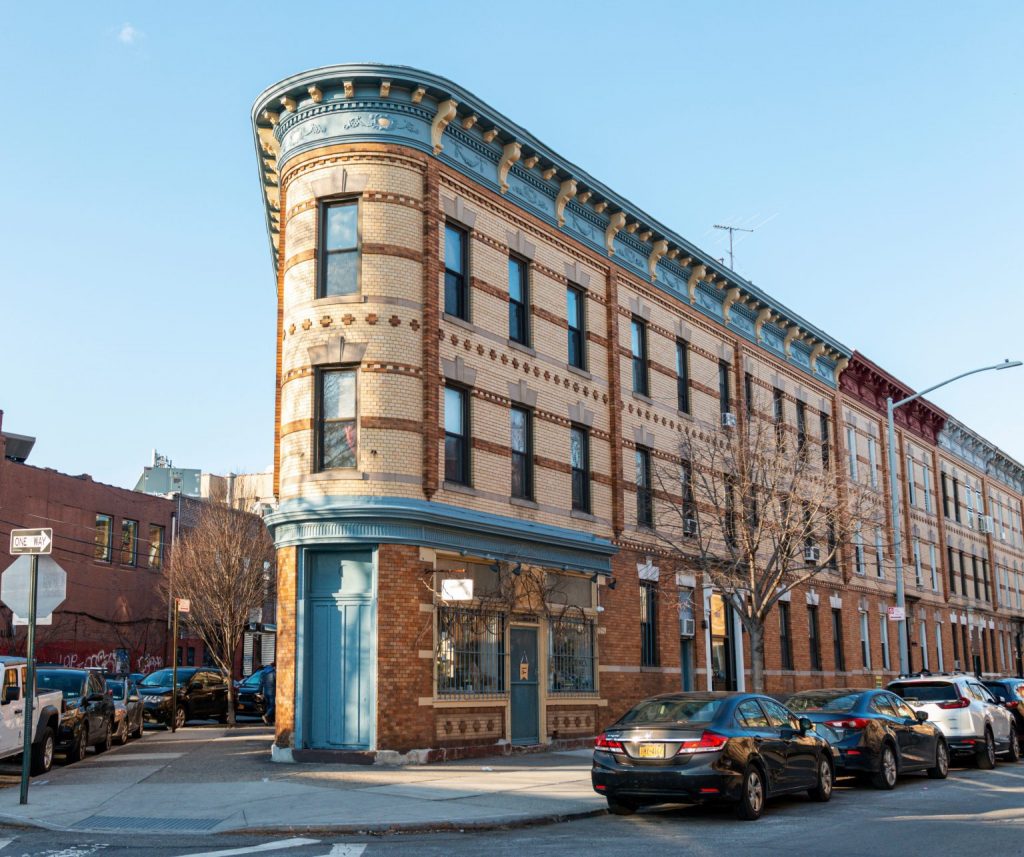 Originally born in Bavaria, Mathews continued to build such buildings until the early 1940s, with the last batch built on Grand Avenue in Elmhurst. The architects included Louis Berger and Louis Allmendinger.
Matthew Model Flats are an example of early apartment building development in New York City after tenements were outlawed in the early 1900s. Known as "new law" tenements, Matthews' apartments had larger rooms and more adequate sanitary facilities. Built in long rows of repeated designs that create a sense of place, the facades retain a high degree of integrity and are distinguished by their amber-colored brick facades, cast-stone details, ornate pressed figures. In the 1910s, 1920s and 30s, the golden age of multi-unit architecture, the Matthew Model Flats featured a variety of architecture with fine detailing in the Romanesque- and Renaissance-Revival styles. Handsome details include Classically-inspired carved-stone entablatures, pressed metal cornices and original ironwork at the stoop and areaway as seen in the flat iron style model flat at Newtown Road and 46th Street which was built in 1915.
Although they are well known around the world to the architectural and engineering community, Mathews built his Matthews Model Flats primarily in Queens. By the start of World War I, Mathews buildings went up in Astoria (on 30th to 31st Avenues between 41st and 47th Streets and 41st to 43rd Streets between 34th and 35th Avenues); Long Island City (48th Street, between Broadway and Northern Boulevard); Sunnyside (48th Street again, though including 49th Street, both streets between Skillman and 43rd Avenues); and Woodside (Skillman Avenue between 52nd and 55th Streets and 52nd to 54th Streets, between Skillman and Roosevelt Avenues). Mathews and his brothers had their offices on 53-05 Roosevelt Avenue.
Mathews began building in Ridgewood in the first decade of the 20th century. Using wider lots, large air shafts, private bathrooms, and limiting occupancy to two families per floor, Mathews' "cold-water" flats were a radical improvement to the overcrowded tenements of Williamsburg and the Lower East Side. By creating improved living quarters and controlling costs so that the apartments could be affordable to families of modest income. As a testament to their improved design, the Mathews Model Flats were exhibited by the New York City Tenement House Department at the Panama-Pacific Fair in San Francisco in 1915. The New York Landmarks Preservation Commission declared the Ridgewood North and Ridgewood South districts containing the Mathews houses historic districts.