Costumes and Pumpkins and Pub Crawls Oh My!
By Alissa Salvatore Posted: October 5, 2022
It's that time of year, when pumpkin spice fills our cups, leaves crunch under our feet and there's nothing more relaxing than curling up with your favorite blanket after a long day. But let's face it, the best part about fall, especially in Astoria is the way we know and love to celebrate Halloween. From the spookiest neighborhood decorations to the parties, there's no shortage of fun things to do for kids, adults and pets alike!
---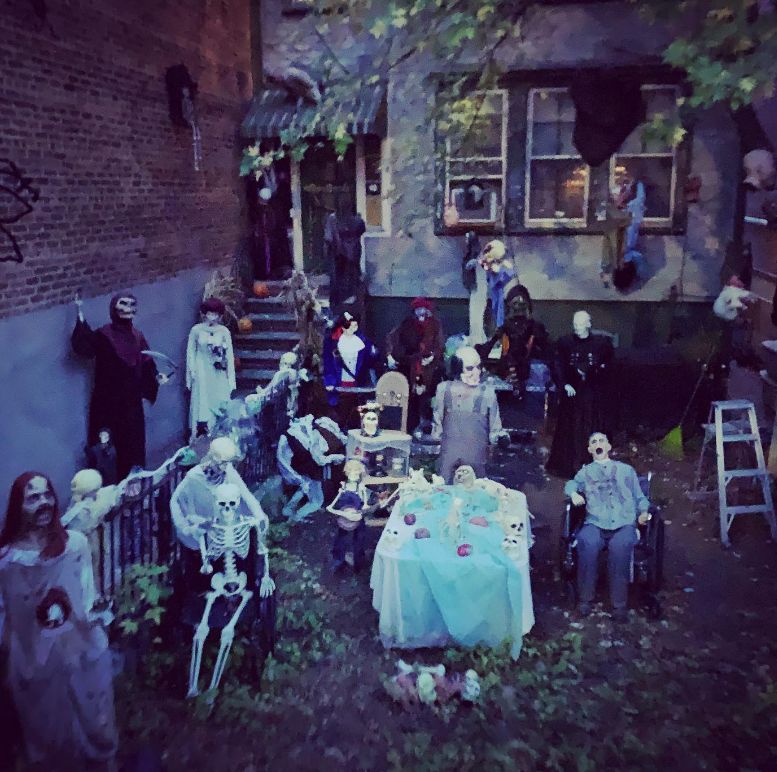 Queens County Farm Museum
We've got the quintessential fall activity right in our backyards. Starting Oct 1-Oct 29, head on over to the farm for some pumpkin picking! For kids ages 4-11 they've got Maize Maze, solving puzzles and finding your way through the corn field, and on Oct 30th, they will have a Dj dance party, hayrides, trick or treating with farm animals and more. Don't forget to wear your costumes! queensfarm.org
---
Socrates Park
Get your gourds ready for the Halloween Harvest Festival! October 29th is a full day of pumpkin carving contests, face painting, a dog costume contest hosted by Chateau Le Woof and Friends with Four Paws, and lot's of other activities including a pumpkin catapult! socratessculpturepark.org
---
The Wolfhound
Saturday October 29th 3-9pm – Halloween Costume Crawl. We've teamed up with six neighborhood bars for a massive Halloween Costume Party, a Bar Crawl with Specials + 50 Costume Prizes, and Hundreds of Bar-Hopping Astorians! Get your tickets HERE!
Astoria Film Makers Club
Support your local film makers and head on over to their fundraising charity event at Jack Jones on October 29th. Grab your friends for trivia, a bar crawl, a costume contest and more! MORE INFO
---
Albatross
Dress in your Halloween best and dance the night away! The evening will be complete with an epic costume contest and a possible appearance from the one and only Sherry Poppins! Sunday, October 30th MORE INFO
---
Katch
One of your favorite neighborhood sports bars is hooking you up with a load of Halloween fun!
Starting October 24-30th they have Halloween themed board game speed dating, Halloween cocktails, pub crawls, Singles Night with a DJ, Las Reinas Latin Night, the Queens Craft Brigade and Hocus Pocus trivia! Check their Instagram for updates!
---
QED
QED The purrfect Halloween event for the cat-loving com-mew-nity. Catbaret!
Meowloween Thursday October 27th at 9pm. Hosted by local cat lady, Gemma Smith, join us for an evening of cat-themed comedy, music, magic and burlesque. Plus, an Audience Costume Contest with purrfectly spooky purrizes. Come in your most cat-tastic costume for a chance to win! And, as always, free cat ears for all. Meow!
Tickets are $15 and can be purchased on their website. qedastoria.com.
---
Art Strong NYC
Join the art party on Sunday October 18th at 10am-12:30pm Welcoming ages 2 and up. Tickets are $40 and can be purchased on their website. artstrongnyc.com.
---
Tantra
On October 29th, Join this Annual Halloween party! throw on your costume and Dress to impress! Best dressed costume contest, bottle service, music all night and more! On October 30th starting at 12pm, Sunday Rendezvous presents, Nightmare on Halloween Eve Brunch & day party! Join us for all day festivities!
No cover charge, just bring your costume and dance shoes. Text or call 718.937.4574 to RSVP @tantra_astoria
---
Mom's Kitchen
Winnie, Sarah & Mary's quest for immortality at Hocus Pocus, Tipsy Trivia Night Wednesday, October 5th, cocktails & prizes! Be sure to dress for the occasion!
Tickets purchased at hocus.eventbrite.com
---
Ovelia Psistaria
Hollow's Eve Ball Saturday 10pm Check @oveliapsistaria Instagram for more details.
---
Halloweekend on the 31st Avenue Open Street Saturday
October 29th and Sunday, October 30th 1pm-6pm Now in its third year, the 31st Avenue Open Street Collective will host Halloween activities for families and adults alike, including Spooky Storytime with The Rolling Library, performances, music, arts and crafts activities, tarot readings and a haunted photo booth with candy and hot cider. As always, everything on the Open Street is free for the community. Don't forget to come in costume!
There will be an all-ages costume contest hosted by beloved Astoria drag queens on both days at 2pm! Follow @31stAveOpenStreet on Instagram for updates and more activities as they are added.
---
The Thirsty Koala
Halloween Monster Bash October 28th at 7pm @thethirstykoala
---
Maggie Hall's
Saturday October 29 at 8pm. Drink specials and $100 gift certificate for best costume. @maggiehallsastoria
---
Kween Astoria
Halloween Drag Brunch Sunday Oct 2nd Shows at 1pm and 3:30pm Reservations: KweenAstoria.com
---
Keep an eye on our Instagram as more Halloween events roll in!