Where To Find The Best Fresh Produce Markets In Astoria
By Jenna Gaudino Posted: September 5, 2022
A Relaxing Activity For a Sunday Afternoon
There are few better ways to spend a quiet Sunday afternoon than strolling around Astoria, perusing the fresh fruits and vegetables from the produce markets below. Oftentimes, produce markets provide a larger selection of produce that's fresher and cheaper than the produce you will find at a regular grocery store. And if you're someone who likes to support small businesses, shopping at these markets is a wonderful way to contribute to your local economy and show that you care about your community. Below, we've compiled a list of the best fresh produce markets in Astoria.
---
1. United Brothers Fruit Markets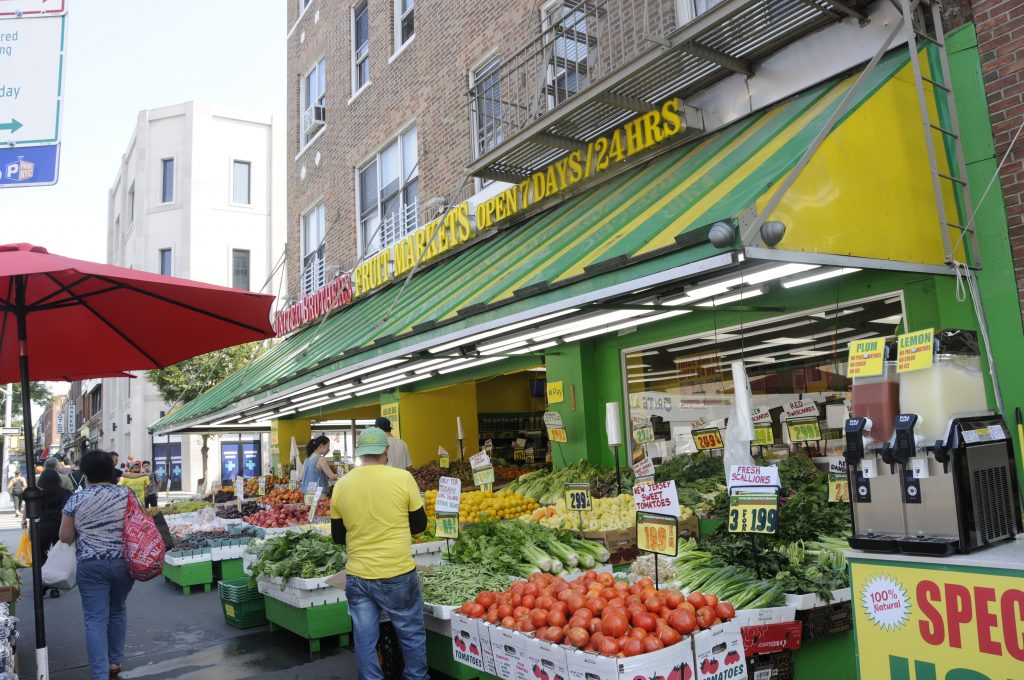 United Brothers is the most well-known produce market in Astoria. The New York Times dubbed it a "parthenon of produce" in 2014. (A framed copy of the article can be seen behind the cash registers.) The store is unmistakable with its bright yellow and green striped awning and fluorescent lights. At United Brothers, you are sure to run into some familiar faces – maybe your landlord, or an old roommate.
The Greek-owned market is open 24 hours a day, 7 days a week. You can find strawberries for two for $4.99, Romano beans for 99 cents a pound and Upstate New York sweet cherries for $3.99 a pound. In addition to its excellent selection of produce, United Brothers has a juice bar next door, where you can order fresh juices and smoothies made to order.
Outside of the juice bar, you will notice people pouring themselves homemade granitas from over eight machines, with signs that read, 'No preservatives. No Color. No ice.' You can choose from watermelon, lemon, strawberry, plum, apple, peach, mango, pear and pineapple. The market also provides free samples of their homemade apple and cinnamon tea. United Brothers isn't your ordinary produce market – it's an experience.
32-24 30th Ave / 718.932.9876 / 4/5 Yelp stars
---
2. Lee's Family Farm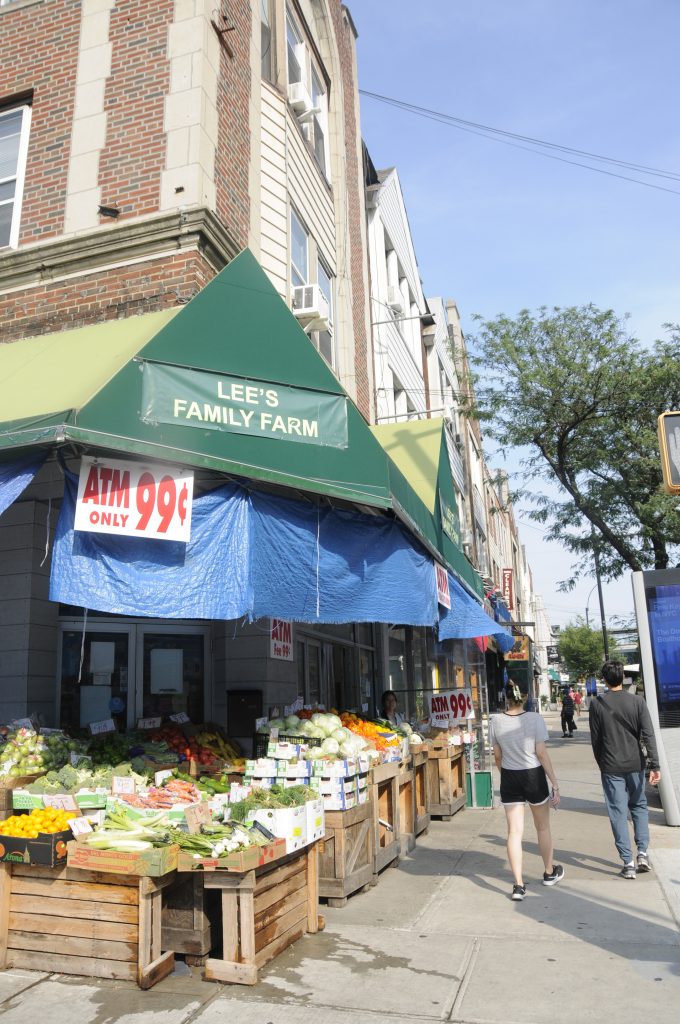 Lee's Family Farm is an Asian-owned produce market located on the corner of Broadway and 29th Street – one of the coolest blocks on Broadway. The market shares the block with Tamashii Ramen, Kondo and Aliada. Just a few steps away, there's also Angela's Wine and Spirits, Sanford's and Parisi Bakery.
Given its vibrant location, you can grab lunch with a friend nearby and then pick up some fresh produce on your way back home. At Lee's, you'll find the best deals on this list: three for $1 orange peppers, three for $1 cucumbers, two for $1 yellow squash and two for $3 strawberries. Inside the tiny store, there's more produce, including potatoes and herbs, and a wide variety of Asian products: spring roll wrappers, Korean barbeque marinade, Thai red curry paste, sesame oil, buckwheat soba noodles and rice cooking wine.
The market also carries a reasonable selection of alcoholic beverages such as hard seltzer, Guinness and a Bavarian style pilsner from Munich. There's plenty of non-alcoholic beverages as well, like a hard-to-find Canadian craft soda called Jones Soda, which is known for its cream soda and fortune bottle caps. If you're looking for the best produce deals in town, and a wide selection of Asian products, you've got to check out Lee's Family Farm.
29-01 Broadway / 3/5 Yelp stars
---
Elliniki Agora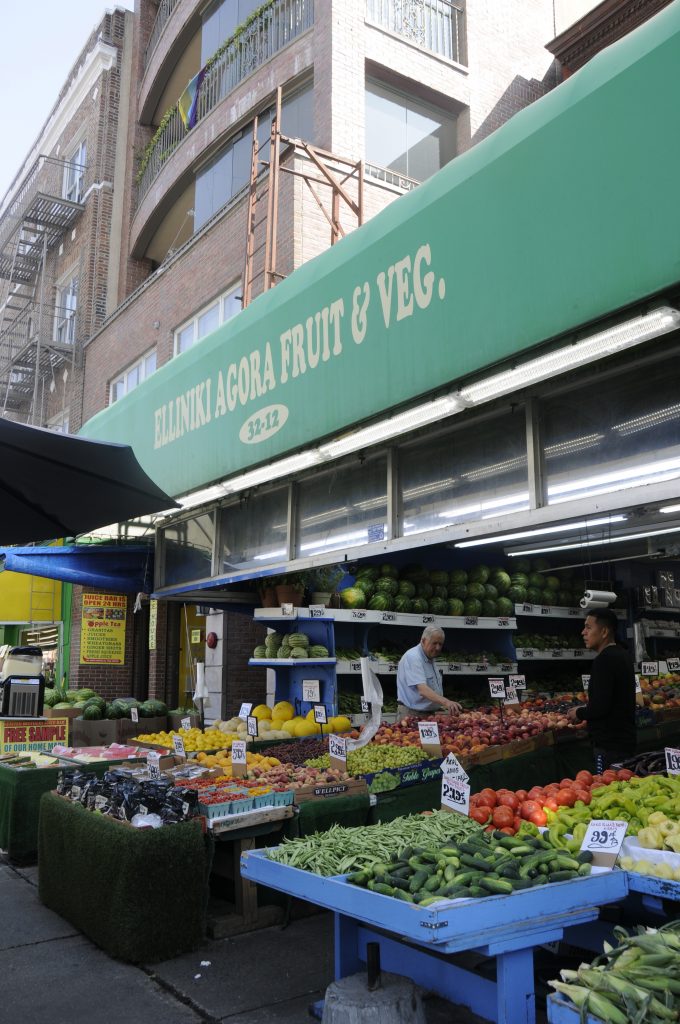 Elliniki Agora is another Greek-owned produce market, located right next door to United Brothers. Although United Brothers is the biggest and most well-known market in town, it is often crowded and can be overwhelming; Elliniki Agora is smaller and much less overwhelming. It's as if United Brothers is the big brother, and Elliniki Agora is the little brother.
This market is a better choice if you're running short on time and need to make a quick trip. It's apparent that the market is Greek-owned because many of the products, like olive oil, honey and jarred fruit in syrup, that are imported from Greece. A Greek woman, who was examining plum tomatoes during a recent visit, said she chooses to shop at Elliniki Agora because she's been doing so for over 10 years.
The market is a charming depiction of what makes Astoria so special – a small, tight knit community, rich with Greek history. Here, you will find prices similar to United Brothers': lemons for five for $2, seedless green grapes for $1.99 a pound, kirby cucumbers for 99 cents a pound, green cubanelle peppers for $1.99 a pound and white donut peaches for $2.99 a pound. And best of all, they sell zucchini flowers.
32-12 30th Ave / 718.728.0751 / 4/5 Yelp stars
---
4. Green Bay Organic Marketplace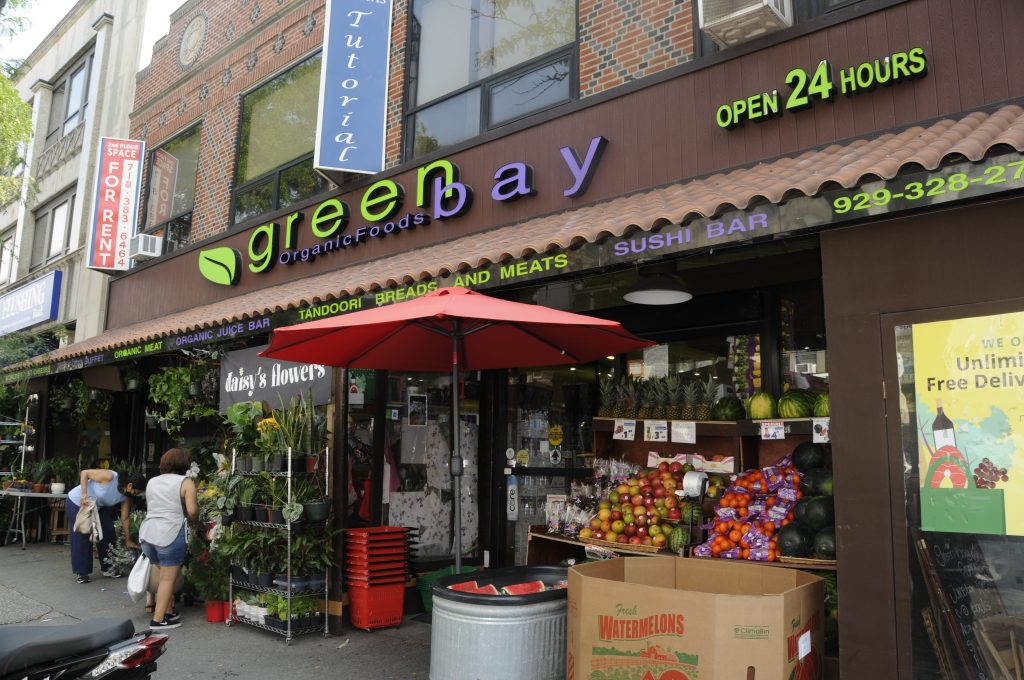 Green Bay Organic Marketplace is a produce market and grocery store teeming with organic produce, food and other products. The market (open 24 hours a day, 7 days a week) offers organic produce such as: pineapples for $3.99 each, mangos for $1.99 each, sugar baby watermelon for 79 cents a pound, beef tomatoes for $1.99 a pound and red seedless grapes for $1.49 a pound.
Adjacent to the produce, there's a flower stand called Daisy's Flowers, where you can buy fresh roses, sunflowers and orchids, along with eucalyptus and herbs. Inside, there are boundless food and drink options. You can get pretty much anything you can think of. There's a buffet of hot and cold foods, smoothies, a coffee bar, fresh squeezed juices, and other pre-made, packaged meals. There's even a deli where you can order some of your favorite cold cuts.
The buffet offers dishes like Mediterranean salad, cheese ravioli with pesto and basil, halal lemon chicken, steamed Brussels sprouts, and stuffed vine leaves with rice and herbs. If you're craving something lighter, there's sushi or big smoothie bowls like the supergreens açaí bowl or the coconut bowl.
Green Bay also provides an impressive selection of protein powders and superfood smoothie mixes. At this market, you can also pick up toilet paper, paper towels and tissues. Green Bay is a great place to go if you're looking for organic produce or if you need to grab a meal, coffee, or a smoothie before work.
31-10 30th Ave / 929.328.2729 / 2.5/5 Yelp stars