By Lauren Boudreau Posted: March 15, 2022
The Hottest New Hookah Lounge
Steinway street has never seen a hookah lounge such as this. Sands of Persia, which opened in December 2021, mixes modern luxury and elegance with desserts so decadent, you'll forget you came for the shisha.
Sands of Persia was co-founded by Abhi Malhotra, entrepreneur and founder of King Luxe Club, a luxury car club, and Salil Mehta, restaurateur, chef, and founder of Wau, Laut and Singapura restaurants in Manhattan. With a creative team like this, it's no wonder Sands of Persia exudes extravagance. Inside the lounge, you'll find plush sofas with back-lit displays of ornate shisha instruments. If you prefer to lounge outside, the establishment also has a large, heated outdoor space that can accommodate up to 44 people.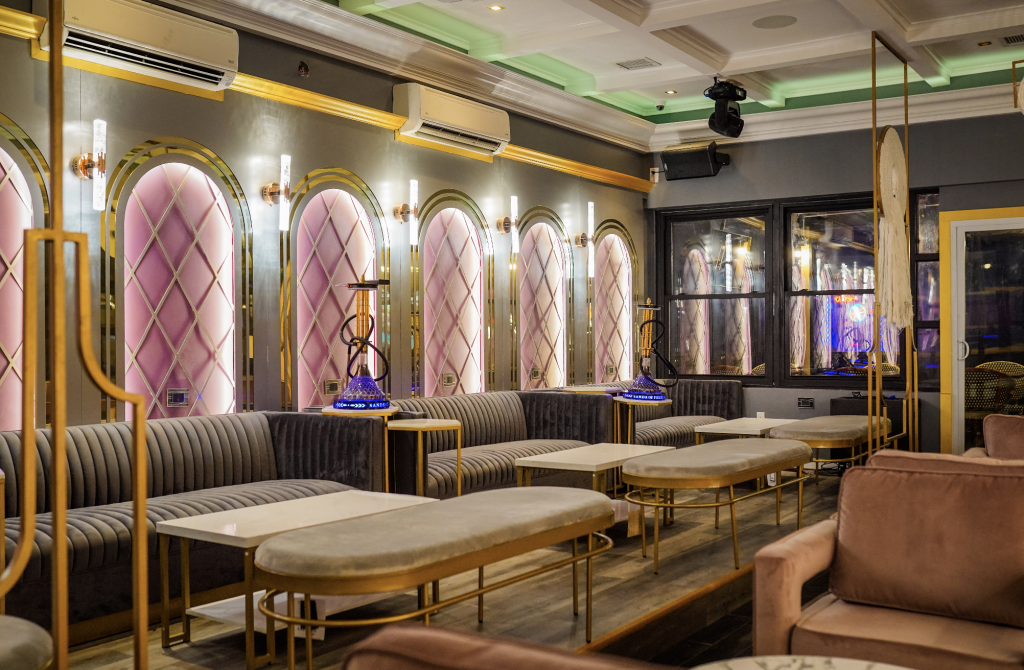 Sands of Persia is perfect for non-drinkers or if you plan to have an alcohol-free night. They offer an extensive list of non-alcoholic drinks, such as mocktails, coffee, tea, several death-by-chocolate milkshakes, as well as many delectable desserts, such as their Fingerlime Chiffon Meringue (fingerlime yuzu cake, meringue, rosemary, orange mousse, lime gel), Baklava (baklava cone with pistachio and soft serve), and For a Sheikh (Turkish sand coffee affogato with gold leaf garnish).
We have to talk about their Turkish sand coffee. Traditionally, Turkish coffee is brewed in a pan with sand over and open flame. The coffee grinds and water are added to a special pot called a "cezce," usually made of brass, copper, or even gold, but in more recent times, can be made of aluminum or ceramics. Then, it is mixed and placed in hot sand, which creates an even heat. Because Turkish sand coffee isn't filtered, it's much thicker and stronger than traditional coffee.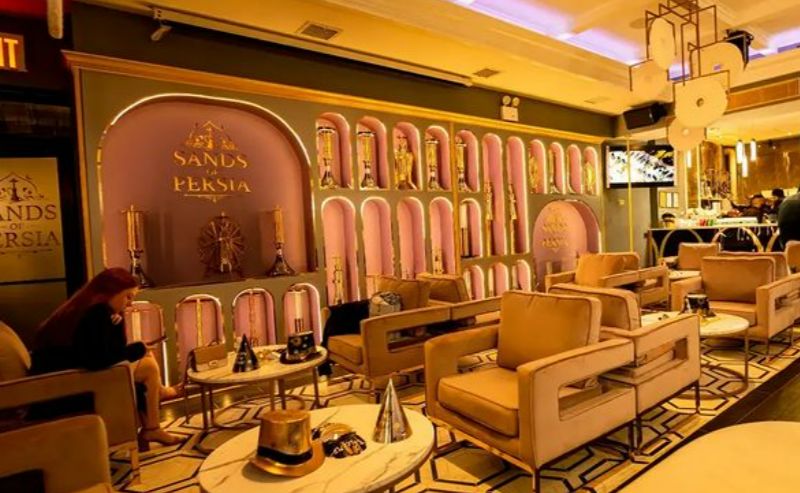 We also cannot gloss over the fact that the lounge offers over 30 different flavors of shisha in custom-made, premium shisha instruments. Upon arrival, guests can check out their many lavish shisha instruments on display while choosing their preferred shisha flavor.
If that wasn't enough, the venue also features live entertainment, including DJ performances each evening featuring Arabic and contemporary music. So, what are you waiting for?
2501 Steinway St / 718.540.6767 / @sandsofpersia