Stir Up the Batter: The Duchess of Cookies Whips Up a $1000 Gem of A Cookie
By Athena Efter Posted: October 15, 2021
Ready for her grand entrance, the Duchess of Cookies is making her Astoria debut. She arrives on scene atop a baccarat catchall dish with a ruby chocolate shoe, a string of freshwater pearls, and the star of the show – a ruby chocolate ganache-filled cookie encased in 23-karat gold leaves. Ok, she's not really a duchess, but she is the grand dame of cookies. Sofia Demetriou, founder of Duchess Cookies, is behind this magnificent creation that comes with a whole package of glitz and glamour that make this cookie worth a whopping $1000. Don't worry – you don't have to buy that particular cookie, unless you have some dough to blow on your friend's wedding shower or bachelorette party. There is a more affordable option, coming soon to Astoria, where you can try Sofia's unique line of Duchess cookies, made with a variety of fillings and gooey centers, at $5.50 a pop. We bring you GMA's interview with Sophia and the inspiration behind her cookie craft.
GMA: How did you get into baking? Was it something you always wanted to do?
SD: My family was in the bakery business for a long time. My grandfather and great-grandfather owned bakeries in Greece and Egypt and even one in Astoria. However, even though my mother didn't carry on the legacy, she always baked and it was such a huge part of our lives. Even though I studied interior design and graduated with a degree from FIT, I only practiced for a few years. I was a stay-at-home mom for a long time and it was during that time that I explored my passion for baking and began a small, little baking company from home. Soon enough, that blossomed into a tiny store in East Meadow where I made custom cakes and dessert tables and catered events. It was [also] during this time that I came up with my giant, stuffed cookie idea. I began wholesaling to other companies but soon realized that opening up Duchess Cookies stores would be a better idea as my cookies were gaining popularity under other brands, so why not take advantage of something good that we have and open up our own stores?
As far as it being something that I wanted to do, I would say it was the farthest thing from my mind growing up. It's definitely a business that I stumbled into or rather I feel like this is something that I was always meant to do and my entire life path just led me here.
GMA: Duchess Cookies is your brand and vision. What makes these cookies unique?
SD: The concept of our business is "every dessert baked into a cookie," and while this might not be a novel idea, we also take a different approach to it. When most cookie companies these days are taking desserts and squashing them into cookies and calling them what they are, we use the dessert as an inspiration and try to mimic the flavors as closely to the dessert as possible, whether it is through texture, flavor, or a combination of both. We usually get it pretty spot on.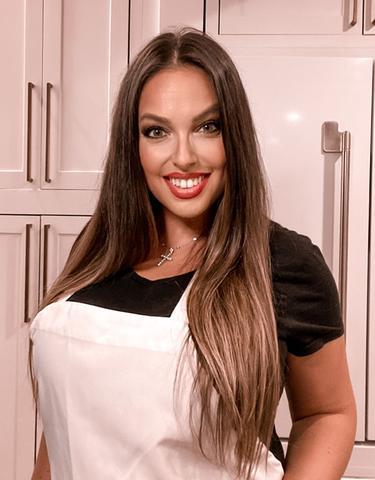 GMA: Tell us more about the $1000 cookie.
SD: The $1000 cookie was my idea because I wanted to do something exciting with a
cookie. I was used to making these large, intricate cakes that would take me days to finish and I would painstakingly fuss over the tiny details of these elaborate monster desserts. And when it was a cookie, there's just none of that. I wanted in essence to create a showpiece that would add tremendous value to something as simple as a cookie. While most foods/desserts with these high price tags typically don't come with anything but bragging rights, ours is definitely worth the bucks you'll spend as you get a crystal baccarat catchall and a 36-inch pearl necklace to wear as a trophy. It also gets hand-delivered anywhere in the country to ensure the proper experience.
GMA: What is the official name of the cookie?
SD: We've always just referred to it as the $1000 cookie, but the official name/flavor of the cookie is a Ruby Red Velvet.
GMA: I read that your cookies are available at several locations throughout the New York City area, Long Island, and even Connecticut. Any plans for future expansion?
SD: We definitely have a large expansion planned out over the coming months. We will have new locations popping up all over the East Coast and we are so excited to spread the love…and the cookies!
3609 Ditmars Boulevard | @dutchesscookiesnyc