With This Heat, It's Time To Sit Outside; Here's Our Top Outdoor Places
By sonia Posted: May 27, 2016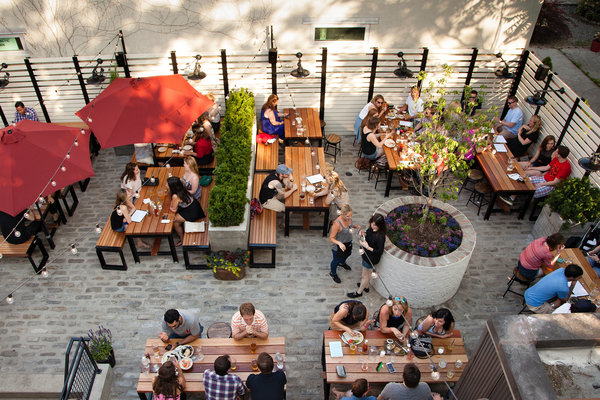 Well, it's safe to say that the weather's improved these last couple of days. The mercury is rising, and so is our thirst. Astoria is jam packed full of places to sit and chill with a nice cold one and some company, so we've compiled a little list of some of those places.
So if you feel the need to enjoy some fun in the sun with a cocktail as you people watch, then check out some of these:
Bohemian Hall and Beer Garden
Always on top of anyone's list, this Astoria staple offers a massive outdoor seating square. With events held most weekends, it's a must for anyone looking to enjoy some better weather.
Where: 2919 24th Ave., New York, New York 11102
Phone: 718.274.4925
Mojave
Now here's one you definitely don't wanna miss. Nothing says summer quite like the cool sip of Sangria as the sun slowly basks a Mexican style outdoor courtyard. Mojave is one of those places you truly get lost in. Big groups more than welcome as the drinks are getting poured and the food is filling up the tables. Have a dance and enjoy every minute.
Where: 22-36 31st St, Astoria, NY 11105
Phone: (718) 545-4100
Astoria Bier & Cheese
It may not have the biggest patio, but it sure has the quaint character we all look for when searching for that perfect little getaway. Astoria Bier & Cheese has the food to match as you take in the atmosphere. Certainly worth it.
Where: 34-14 Broadway, Astoria, NY 11106
Phone: (718) 545-5588
Sekand Sun
Another Broadway must, Sekan Sun is one of those place you can just sit around and lose track of time in. Always welcoming, with some great cocktails and things to nibble on, the back has a huge red neon Queens sign which lends a nice ambiance to the benched seating patio.
Where: 32-11 Broadway, Astoria, NY 11106
Phone: (917) 832-6414
The Bonnie
Ahh The Bonnie. Memories of awesome bands, soothing whiskey, smiling staff and fun times had by all. This place has something for everyone. Be it some delicious food, thirst quenching drinks, or the very comfortable and sweet backyard. Sit back and relax as the time passes from sunlight to moon, and the lights of The Bonnie come alive with their twinkling ways.
Where: 29-12 23rd Ave, Astoria, NY 11105
Phone: (718) 274-2105
Of course there's much more than just these, don't get us wrong. In fact, you could probably go for a quick walk around any corner in Astoria and bump into some fantastic places to sit in the sun and have a beer. So, get out there Astoria, and enjoy!
*Featured Image Via nytimes.com