T-swirl crepe Wraps Up An Explosion Of Freshness In A Perfect Cone
By sonia Posted: March 14, 2016
This Astoria sensation just took crepes to a new level of goodness. Made with 100% rice flour, naturally gluten free, and wrapped in a paper cone for easy eating, these Japanese style crepes are the perfect mixture of crispy and chewy, thin layered and filled with decadent condiments.
The crepes made at T-swirl crepe aren't just your stock standards, they're art. Each masterfully put together by staff who know their stuff. Whether you're in the mood for savory or sweet, they have the freshness on hand and the expertise to go with it.
The mixture of colors and textures is perfectly balanced, all the while the hand held cone is a simple and efficient way to dig in. All you do is bite, and tear off the paper as you go.
There's also shakes! Yes delicious thirst quenching shakes that are a perfect partner to the crepe.
When it comes to the decor, it's nothing crazy, yet stylish in its minimalist feel. Stools adorn the front window where patrons can sit and people watch, there's a wooden table to the left of the entrance, with benches to the side, and a few stand alone tables at the back. Not particularly made for eat ins, but also not too difficult to find a place to relax and enjoy.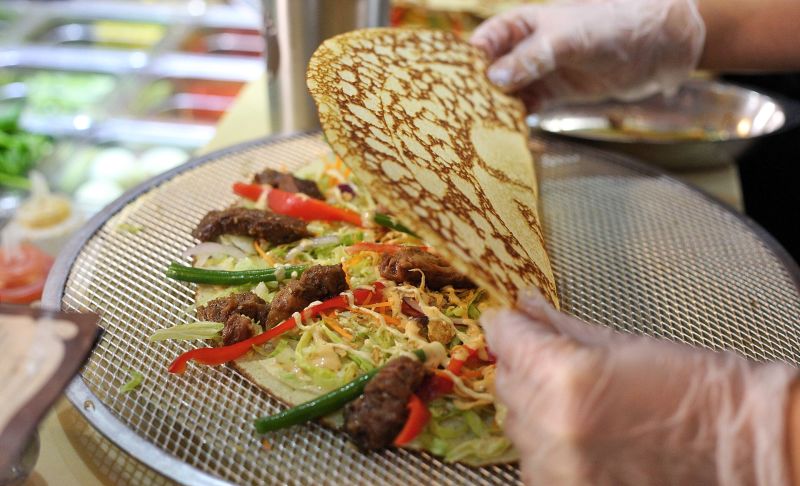 The staff are friendly, service is always on point and handled with a smile, and watching the batter getting poured out and effortlessly spread out into a perfect circle is pretty entertaining.
Even the way the ingredients are placed inside the crepe is a thing to watch. The sauces are poured out in distinct semicircles, and the fruits or vegetables are placed in particular orders so that the finished product has not only a delicious taste, but an equally wonderful presentation.
The effort is shown, and the product is delivered to a T.
A word of advice, order the Wild Berries: Sliced Strawberries, Blueberries, Raspberries, Custard Cream, Whipped Yogurt, Chocolate Pearls, and Granola. The crunch, the sweetness, the custard – my my my.
Definitely a place for any crepe lover to visit. With the weather getting better, order to go and stroll as you enjoy.
Bon Appetite Astoria!
Where: 36-16 30th Avenue
Phone:(917) 832-6815
*Featured Image Credit: Andy L/Yelp