By sonia Posted: July 14, 2015
Winegasm Eatery was an enormously intoxicating treat.
Walking in on a busy night, I was immediately hit with a wave of enthusiastically endless conversations by cheery Astorians, all sitting and mingling about with hands full of wine and cocktail glasses. The golden glow of the lights, the wooden bar and the brick backdrop, along with the open to street feel gave a relaxed aroma to Winegasm, making one quite content with the night ahead.
However, as relaxed as I was feeling, I was also there for business. And so, me and the group got straight to it. We pulled up some chairs among the crowds, and ordered an array of Mediterranean tapas to share. Of course, the tapas although delicious, were merely there to enhance, if not couple, the vast wine tasting we were soon to embark on.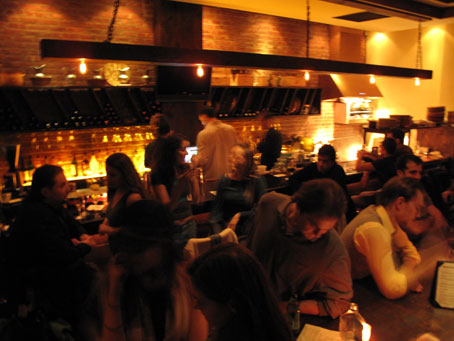 Reds are my one true weakness, so we ordered a barrage of carafe (not quite a bottle, not quite a glass) and a few whites to even up the score.
The reds: 
Pinot Noir "Stringtown" was quite juicy and fresh, an acidic aftertaste which revitalized the senses, a nice wine for any occasion.
Primitivo di Manduria Sangaetano, "Cantina Due Palme" is one that I would most definitely prefer on its own, the bitterness of the grape and strong taste is something that could very easily off put another wine.
And the whites:
we only went for one, Chardonnay "Peiranno Estate" which fills the mouth with a tropical goodness, a little nutty on the nose but the vanilla wooden tone takes it home if you're a Chardonnay lover.
If you don't care for wine however, then you have an absolute array of Beer and Cider to choose from. American Crafts to Imports.
Not for beer? Cocktails it is! FistiCuff? Fluffy Margarita? Or The Big Pink?
Either way, whatever your poison, Winegasm Eatery is sure to provide.
The staff are friendly and fun, the atmosphere is warm and relaxed, and the menu has a little for everyone that's in the mood for talking, nibbling, and tasting!
Bon Appetite Astoria!
31-86 37 Street, Astoria, New York, 11103
Phone: 718-932-3331
Images Via Winegasm.com