Angela Calisti: Making Astoria Beautiful
By sonia Posted: April 23, 2015
For the past fifteen years, Angela Calisti has learned nearly everything there is to know about hair.
From the very first day she started studying hair styling in high school, she fell in love.
"Growing up, my sisters and her friends went to cosmetology school," she remembers fondly, "And they'd come home and practice on me. It started this lifelong love of doing hair."
She excelled in the hair salon world – training and working for three years at Fifth Avenue's John Barret Salon, and Oscar Blandi on Madison Avenue. It was clear from the beginning Angela had talent, and that New York City was the place for her talent to thrive.
Angela was introduced to the editorial world through a makeup artist named Tanya Dejesus, who worked with "Break Management".
"Tanya showed me the ropes of the set life," Angela says.
She soon began to focus solely on freelancing, bringing her skills to women all over the tri-state area. She began to work on sets, focusing on bridal hair and makeup – until she got a call that changed her life.
"My big break was when the makeup artists who worked for the Jonas Brothers, Sonia Rodriguez, called me up. She asked me to do the hair for the E! series "Married to Jonas."
From there her career took off, and she became a name amongst both stars and women who loved to look amazing – and knew that Angela understood their vision.
"After "Married to Jonas" all these doors started opening! Shortly after, I met my agent at Dew Beauty , which lead me to work personally with celebrities such as Sophia Richie, Fifth Harmony, Bella Thorne, Willow Shields (from The Hunger Games), James Franco and Kate Pierson (of the B52's), to name a few."
I met a lot of interesting people in the industry, and I learned SO much. I was able to be a part of photo shoots and major campaigns, and I really got a feel for different styles, different techniques, and different women!"
Eventually, her clientele became too large (which is the best problem you can have!) and Angela opened the much anticipated Angela Calisti Salon, at 24-20 Ditmars Boulevard.
"A lot of my clients are in Queens, and a lot in Manhattan. I wanted a location that was really central to all my clientele, and Astoria was the perfect place. It's accessible, and it's convenient."
Angela knew exactly what she wanted in a salon, and she wouldn't settle for less.
"I really love what I do, and I know that hair is something that needs to be done right. I used to teach basic hair styling to make up artists in the beauty industry. One of my students Lexi, who was my assistant for three years, is now a stylist at my salon."
While Angela's salon hasn't been around for a long time, local ladies are quickly filling up seats as regulars. She accommodates ladies with hectic schedules by having extra long hours on Thursdays, when she's open from three to midnight, and has appointment only spots on Sunday for those that need to book in advance.
"With each client I have, I help them find a style that works for their everyday life. It's all about finding the hair cut that works for you, or the color that reflects you perfectly. I really focus on individual experiences and people."
In her salon, Angela uses products that she has lots of experience with – like Kevin Murphy products, which were a mainstay during her time working on sets.
"One of the newest things we introduced at the salon is Olaplex. It's a product that's mixed into color, and used as a treatment for fully repairing hair. It makes blondes blonder, and is amazing for damaged hair. We also use Keratin from RG Cosmetics, which is like Botox for your hair! We also specialize in Wella and L'Oreal hair color."
If that sounds enticing – Angela is running a special $100 Keratin package until June to fix up your summer frizz before it even begins. Even better – she's doing her unique braided hair styles for just $15. Pick any braid, and Angela will perfectly craft it for you – for less than the price of lunch!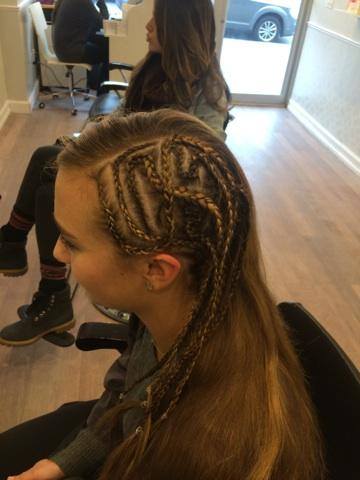 Angela also does bridal hair and makeup, some of which has been featured in NY Magazine. She has an entire bridal freelance team put together to pamper any lady on her special day.
We're really excited for this new salon – because what lady wouldn't be!? If there's anyone we'll trust with our hair, it's someone with as much experience as Angela. Plus, she's worked on celebrities…so that sort of makes us celebrities by proxy, right?
Angela Calisti Salon
24-20 Ditmars Blvd
(718) 440-3370