Tony Christodoulou: Fighting to the Top
By sonia Posted: January 19, 2015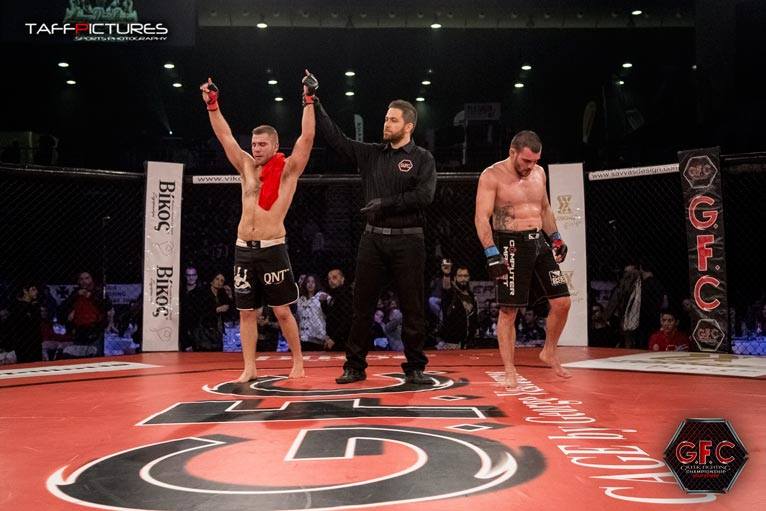 Anthony-Christodoulou, or Tony, has been in the martial arts world for nearly ten years – getting his start at just 17. At 19, he had his first fight, and has been creating his legacy ever since.
Recently, Tony hit it big (no pun intended). He made his UFC debut – a debut that's been two years in the making.
"In 2012," he tells us, "I started with a good win streak. I won seven straight fights, and around the fifth one I started hearing rumors that the UFC was watching, so kept giving it my all. Then, I had a fight in Macau that I won – and then two months later came the call."
That call turned out to be life changing – it was from the UFC, officially welcoming Tony into their organization.
If you've never heard of the UFC, they're to MMA what the NBA is to basketball – the UFC is where you want to be when you're a fighter. They're the dream – a dream that Tony managed to make a reality.
Tony, originally from Greece, spent time training at Renzo Gracie in Brooklyn – and spent some time living right here in our neighborhood, Astoria. He's also trained in places like Thailand and Europe.
"The culture is different in each country," he tells us. "In Thailand, there's a traditional Muy Thai background of fighting. In Europe and America, the culture has evolved from boxing." He tells us about the intricacies and traditions behind each country, and it's clear that Tony has done more than just study the moves and positions – he's studied what it truly means to be a fighter.
When he lived in Astoria, Tony loved the Greek culture here – something he's very proud of. As the only UFC fighter to ever come out of Greece, he says that he is humbled to be able to bring MMA to a larger audience in Greece.
"For the past four or five years, the audience there has been growing, the passion has been growing  – I recently had one of the biggest audiences ever to come out to fight in Greece – it was amazing."
Tony says he hopes to make his home country proud – and his fellow fighters. He tells us that the fighters he's trained with in Greece are more than supportive.
"They push me, they say I'll put Greece on the map for MMA. It's like a brotherhood, we all want each other to make it, and when I made it into the UFC, they supported me so much."
We asked Tony what goes through his mind when he's fighting – thinking it would be a focus on what he's practiced, and what move should come next – but it's completely different.
"When I'm fighting, I'm on auto-pilot. You go on instinct. It's all muscle memory. You have a strategy, and you just go for it."
If you want to see Tony fight – you don't have to wait long. He has an official UFC fight on January 24th, against Mairbek Taisumov, in Stockholm, Sweden. Tony is coming in to the fight with 12 wins and 4 losses, with Mairbek at 22 wins and 5 losses. We'll definitely be rooting for Tony – who's representing Greece and Astoria!