Robbery at Gunpoint in Astoria
By sonia Posted: January 16, 2015
There was recently a robbery in Astoria on January 7th, and the 114th precinct has just released pictures of the suspect.
The robbery occurred outside PS 2, located at 75-10 21st Avenue. Police are currently investigating the robbery.  The images below were captured from security footage of the event. (Yes, we know they're not very clear).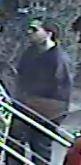 Police are asking anyone with any information to call Crime Stoppers at 1-800-577-Tips (8477).