Notable for Jamaican food: The neighborhood's newest spot
By James Delgenio Posted: November 2, 2022
One of the newest spots in Astoria is Notable, a convenient spot located just across the street from Mount Sinai. It's a great place to grab breakfast, coffee, lunch, and dinner on the go. Along with all of that, the rotating menu of Jamaican food they serve is an enticing bonus to visit Notable more than once a week. But what's maybe most impressive is the inspiring story behind this welcoming little deli. It's the story of two men who saw an opportunity, their friendship, and their belief in each other.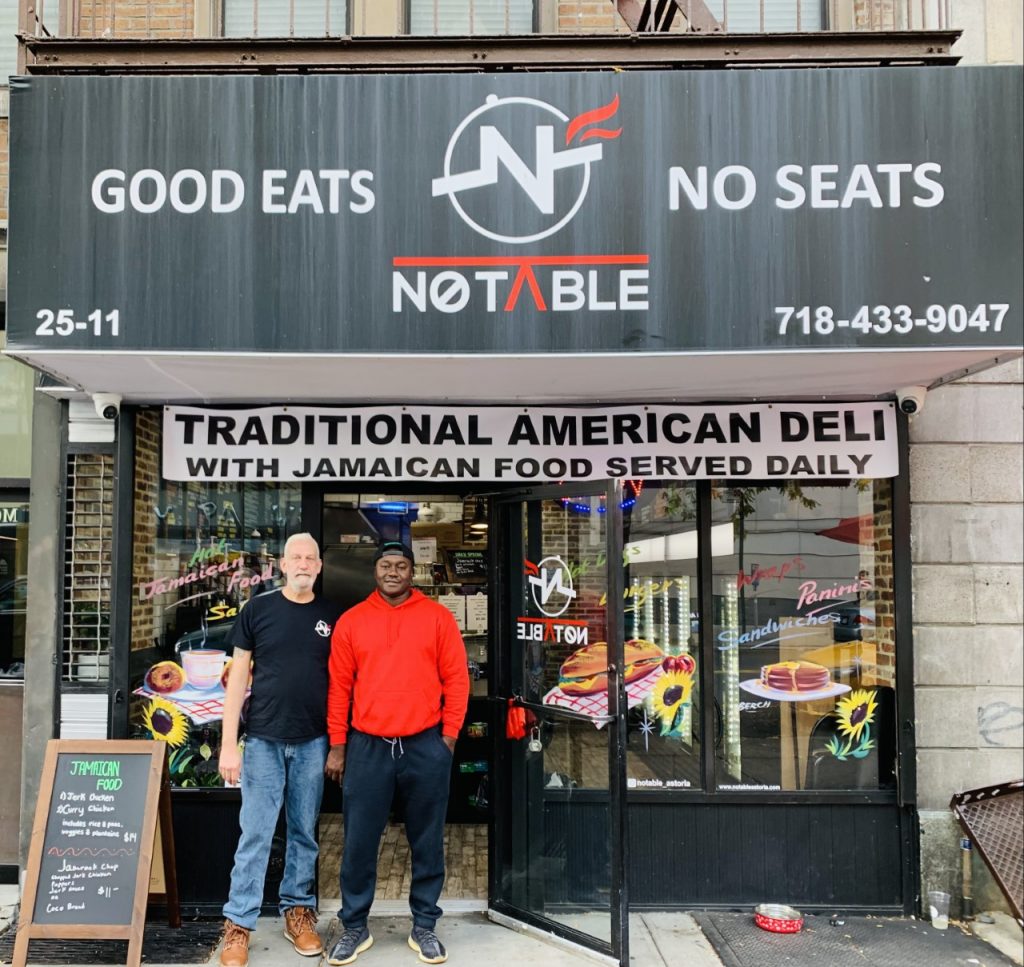 Owners Jeff Michaels and Nicolas Green are a bit of an unlikely pair. Two ambitious workers in separate fields, the future owners would see each other almost every day at the deli that would eventually become Notable. Eventually, Michaels became friends with Green, who worked in the registrar's office at the hospital. "I've owned a security company for 35 years. I would come here every day for coffee," Michaels told me. "Both of us were friendly with the previous owner. When he said he wanted to walk away, we just kind of looked at each other." Green quit his job at the hospital, joined up with Michaels, and Notable was born.
It's easy to see that owning the establishment they frequented for years is a great source of pride for both Michaels and Green. Even as we spoke, Michaels socialized and made jokes with some of his regular customers, and I could tell he felt right at home. "I was born in Astoria," he told me. "I'm a third generation Astorian and a third-generation small business owner. Astoria's really all I know. I've been here my whole life – before it was popular. My father and his father before him owned the candy store down by the train." When they discovered the deli was up for sale, Michaels and Green didn't hesitate, "We didn't want somebody else to get such a good location."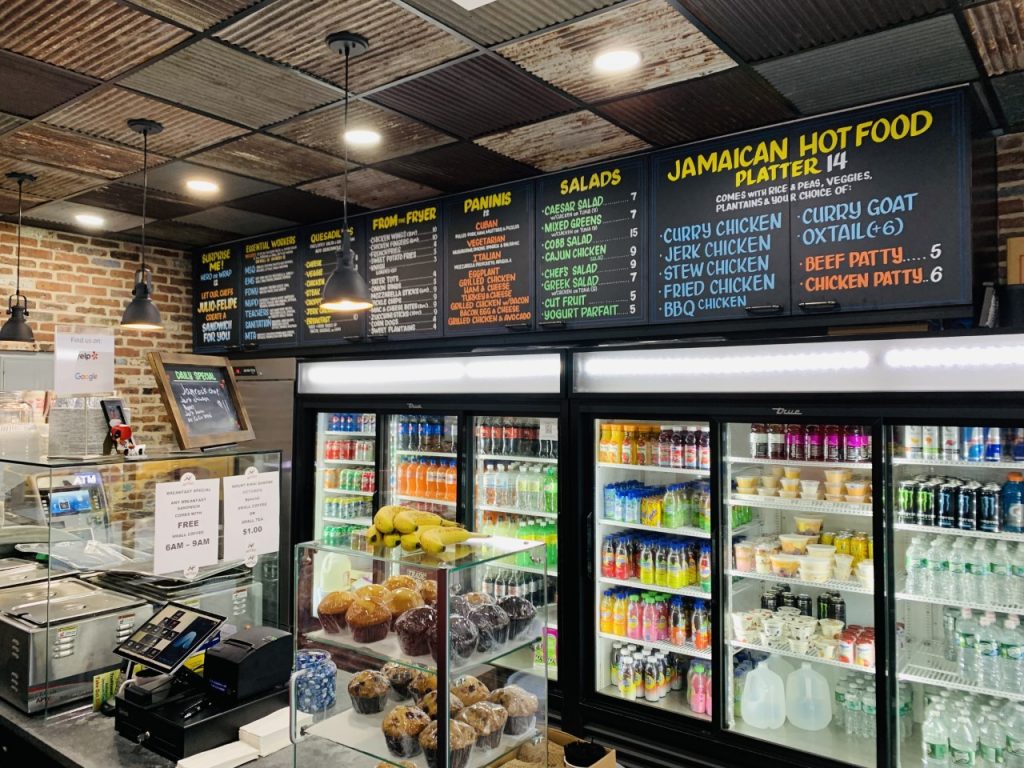 And a good location it is, directly across from Mount Sinai and a few blocks from the subway. In fact, Green decided to honor his former colleagues by naming some fantastic sandwiches after first responders. For example, you can order an FDNY, which features turkey, American cheese, pickled red onions, lettuce, tomato, and honey mustard. Or try a teacher's sandwich, with hot roast beef, melted mozzarella, oil, and vinegar on a toasted garlic roll. Green spoke about his work at the hospital with reverence, "I understand the meaning of 'essential worker.' I don't just throw that around."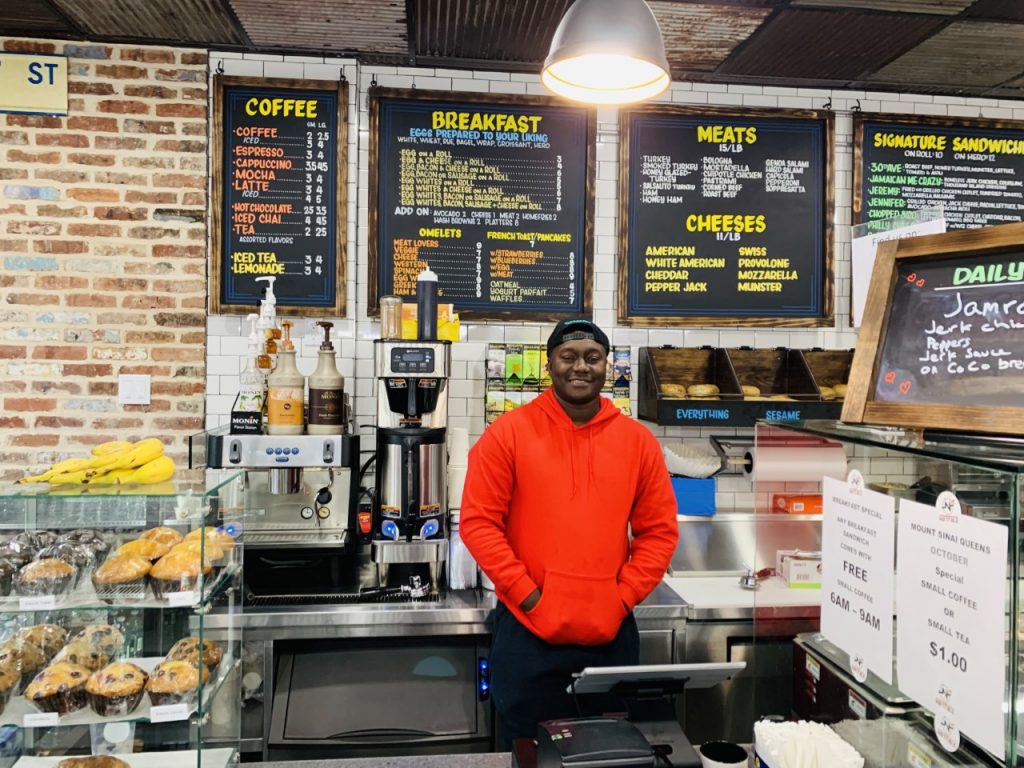 As for the menu, Michaels gives credit to Green for the Jamaican inspired dishes. The restaurant serves most of its food regularly, but the highlight of the deli is the rotating menu of Jamaican food that goes by the day of the week. Depending on the day, you can order curry chicken, ox tail, goat, and several other classic Jamaican dishes. The jerk chicken is served every day and comes on a bed of rice, peas, vegetables, and plantains. The chicken has a delightful sweet and spicy flavor, and it was still nice and hot when I brought it home. If you get a chance, drop by on a Thursday, and try the ox tail. "People go crazy for the ox tail," Michaels said. The rest of the menu has a surprising number of choices, including burgers, paninis, hot and cold sandwiches, wings, fries, soups, and salads.
Green also gets credit for the name. Notable is a play on "no table" – there's no tables or chairs to speak of in the deli. It's a great place to grab a hot or cold sandwich, a drink from the refrigerator, and go. And if you happen to be visiting someone who's sick and has had their fair share of hospital food, this is a great alternative. Stop by Notable today and give their rotating menu at try.
25-11 30th Avenue / notableastoria.com / 718.443.9047 / Yelp: 4.5