Sotto La Luna: The new Italian bistro is a strong addition to the neighborhood
By James Delgenio Posted: July 14, 2022
After two years of delay due to the pandemic, the hotly anticipated World Artisan Market has opened at the corner of 35th Avenue and 31st Street. It was worth the wait. The first restaurant to arrive was Sotto la Luna, an upscale Italian bistro that stands in contrast to the gritty subway tracks roaring just a few dozen feet above it. I caught up with one of the five partners, Agostino Cangiano, as he hustled pizzas in and out of the oven.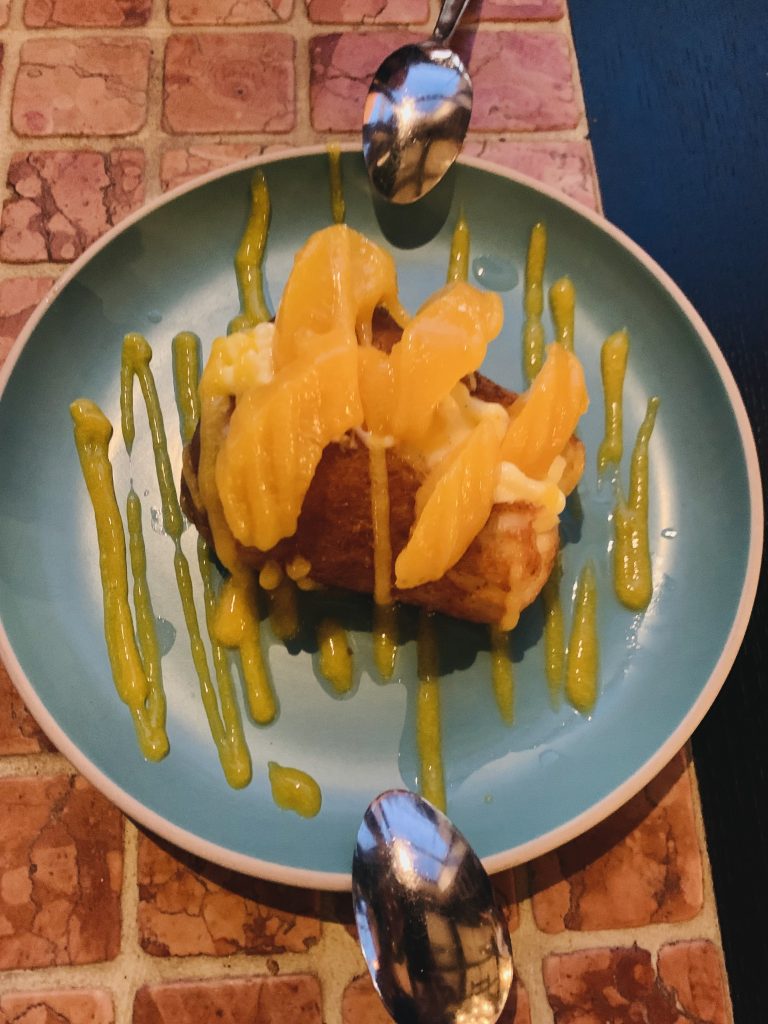 He smiled as he recalled his past, "I'm from Naples. I've been making pizzas since I was 13." Cangiano noted that while there are many great restaurants in Astoria, he felt there was something missing. He emphasized that the Neapolitan pizzas he makes are very different from New York style pizzas. "The dough is very light. It's cooked for 90 seconds at 900 degrees Fahrenheit." When I asked which pizza he likes best, his eyes got wide. "Definitely the Margherita. I make it with fresh mozzarella, basil, tomato, and salt. No garlic or dry cheese." The result is a light and fluffy pizza with an ultra-thin crust that evokes a real taste of Italy. He even suggested pairing it with a Falanghina, a white wine that balances the flavor of the pizza perfectly.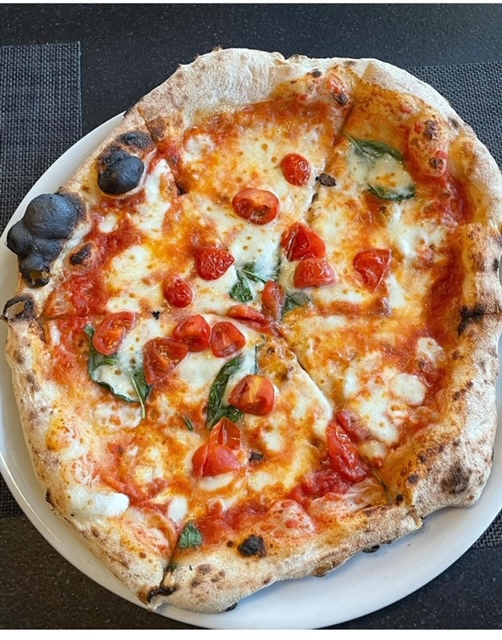 The design of the restaurant feels inspired, inviting, and spacious. The best feature: an open kitchen where you can see your food being prepared from anywhere in the restaurant. If you want to get up close and personal with the chef, Marco Coccia, also one of the five partners, you can grab one of the chairs that encircles the cooking area. This is a great place to impress a date or just to share one of Cangiano's pizzas with some friends. Francesca Mastrovito, the floor manager and another partner, effortlessly glides in between tables, bringing appetizers like carpaccio di filetto, made with thinly sliced and smoked filet mignon, or fried rice balls, crispy panko treats filled with melted mozzarella and whatever else the chef feels like putting in them that day (when I went, it was zucchini). With at least three partners on the floor at a time, this restaurant is an obvious labor of love for the staff.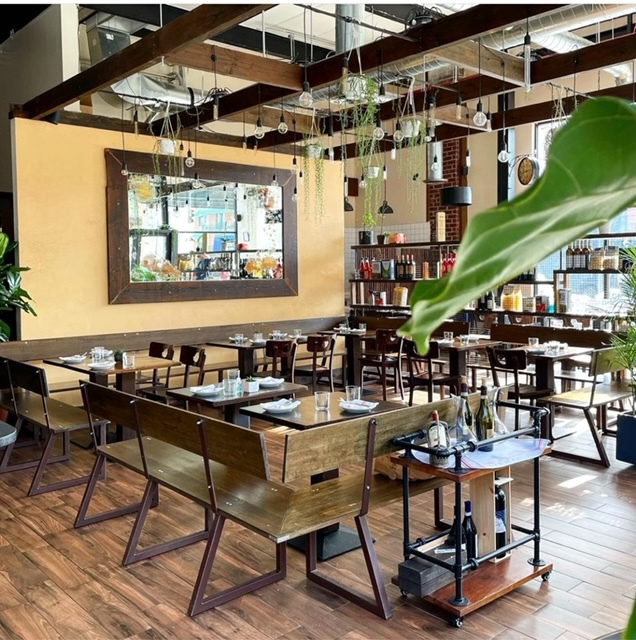 If you're not in the mood for pizza, there are plenty of outstanding homemade pasta dishes to choose from. For a taste of Rome, order the cacio e pepe, which literally means "cheese and pepper." It's prepared inside a giant pecorino cheese wheel and brought right to the table so you can watch your server scoop the creamy pasta directly onto your plate. If you leave room for dessert, try the tiramisu, Nutella calzone, or have a Moscato, a sweet bubbly dessert wine with a light peach flavor. I chose the special: Sotto la Luna's take on the baba, a traditional Italian pastry drizzled with rum, served with Chantilly cream, and topped with peach puree. It made the perfect ending to an impressive meal.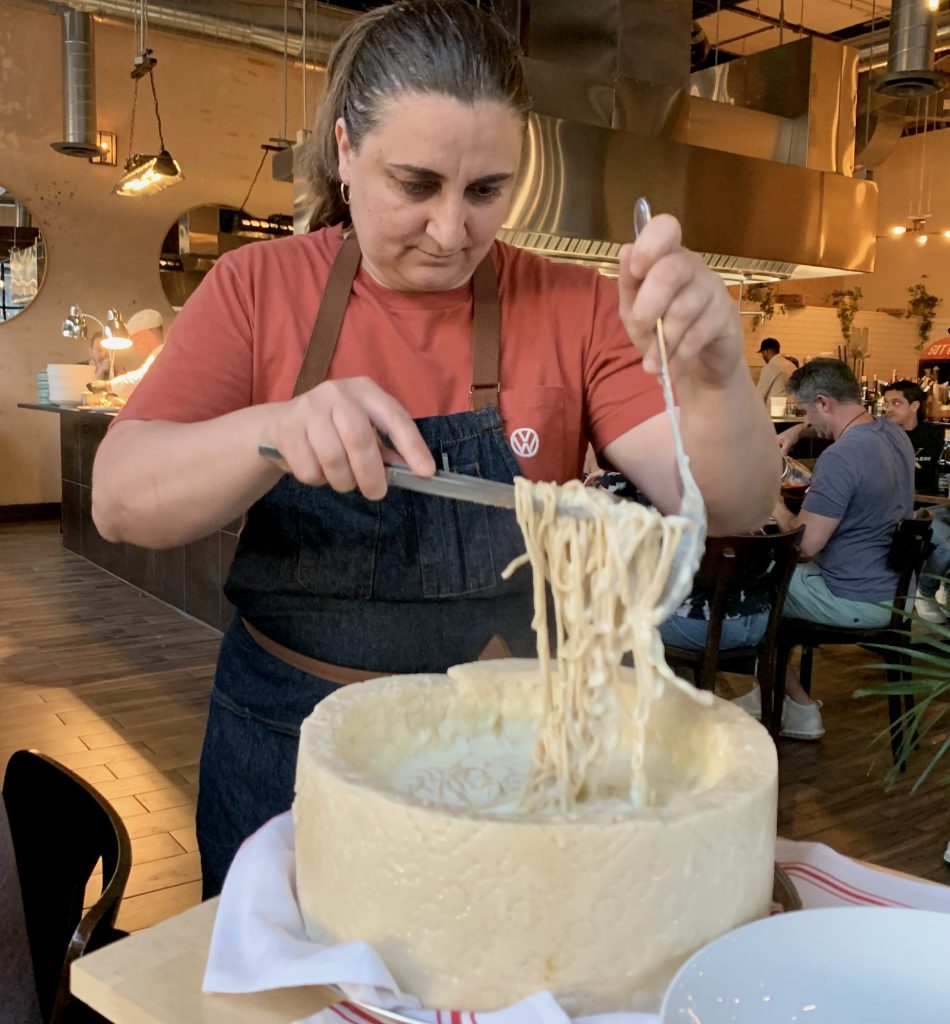 Even though Sotto La Luna opened in the middle of a pandemic, it's a safe bet to say that this establishment is going to be around for a while. The other two partners, Valero Marchi and Gina Mastrovito (Francesca's sister) are experienced restauranteurs who own Sotto Le Stelle and SoleLuna, both also located in Queens. When I asked about why they picked Astoria for their next business venture, Cangiano smiled again, "Astoria is beautiful. And it's grown a lot." These five partners believe in the neighborhood, their food, and each other. Addressing the long delay in opening the restaurant, Cangiano sees the glass half-full, "Covid was hard, but I used that time to experiment." By the taste of the food, that work has paid off. The result is an Italian restaurant that stands out because of its ambience, cuisine, and personal touch. Get over to the World Artisan Market and give this spot a try as soon as you can.
34-39 31st St. / Phone: 631.380.3569 / sottolalunanyc.com