Celebrate The History Of Pride
By Jason D Antos Posted: June 1, 2022
As the city of New York celebrates Pride Month with parades and festivities let us take a moment to explore the extraordinary legacy and impact of the LGBTQ community in Queens.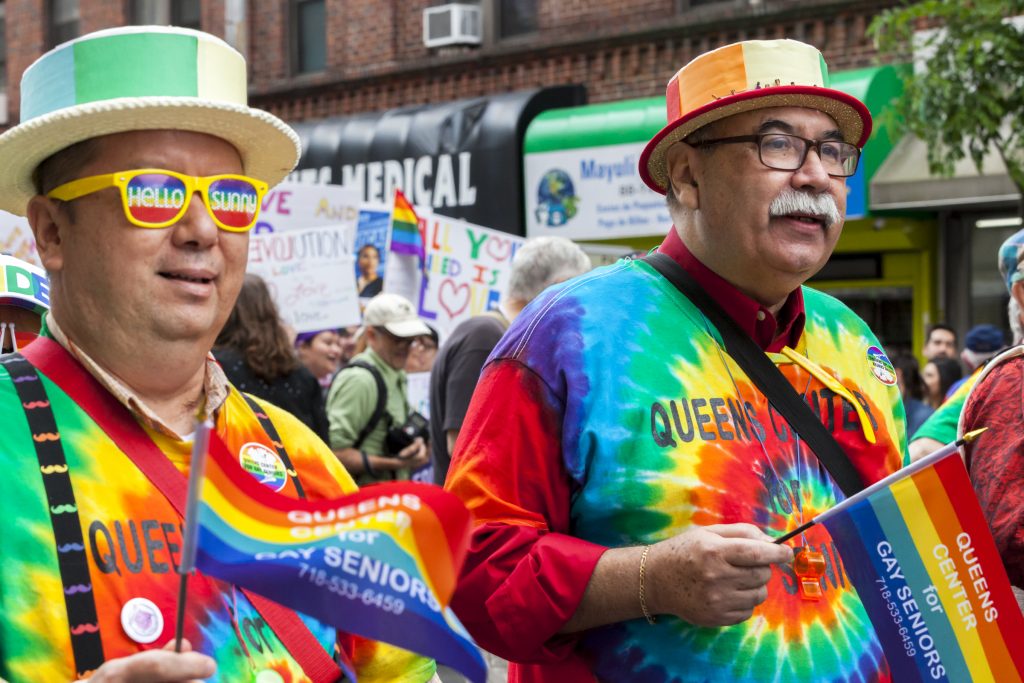 ---
Queens is currently the most diverse area on Earth and the LGBTQ community is one of many elements which contribute to the county's motto, "The World's Borough!"
Since 2015, the NYC LGBTQ Historic Sites Project has provided historical, scholarly and educational resources based on more than 25 years of research. One of the key elements of the site is the interactive map which documents more than 270 historic landmarks, including 16 in Queens, highlighting the pivotal role these locations played in the ongoing movement for LGBTQ rights.
---
"New York City has such an incredible array of historic places connected to the LGBTQ community and the goal of our project is to make this history visible, especially to LGBTQ people around the world who may feel isolated or who deserve to know about the positive impact their community has had and continues to have in fields like activism, the arts, literature, and so much more," said Project Manager Amanda Davis.
"It's also important to understand that LGBTQ history exists in all five boroughs of the city and not just in the more famous places like Greenwich Village or the Broadway stage. The two dozen sites we feature in Queens (and we are actively researching more) show that LGBTQ life there stretches back at least a century, with community organizing and activism picking up in the 1980s and really becoming visible in the early 1990s in response to the gay-and racially-biased murder of Julio Rivera and the anti-gay rhetoric surrounding the Children of the Rainbow public school curriculum."
---
Several Queens sites featured on the interactive map (https://www.nyclgbtsites.org/site/) include the following; The intersection of 78th Street and 37th Avenue in Jackson Heights features a street co-name sign designating the corner as Julio Rivera Corner to honor the 29-year-old gay bartender who was brutally murdered by three men near the location in 1990.
The New York State Pavilion of the 1964-65 World's Fair is included in the project because of its association with Architect Philip Johnson and artists Robert Indiana, Ellsworth Kelly, Robert Rauschenberg and Andy Warhol, all of whom identified as gay or bisexual. Other locations include St. Andrew's Episcopal Church in Astoria, which served as the mid-90s meeting place for the Queens chapter of SAGE, an organization for older LGBTQ adults.
---
Here is GMSa list of LGBTQ owned establishments in and around Astoria which proudly serve the community.
Friend's Tavern, (78-11 Roosevelt Avenue, Jackson Heights, 4.4 Stars on Yelp), has been owned since 1989 by partners Eddie Valentin and Casimiro Villa. Known as the oldest active gay bar in Queens, it has been a particularly important nightlife space for gay and bisexual Latino men. They are open Mon – Fri: 5 p.m. until 4 a.m. and Saturday and Sunday from 3 p.m. until 4 a.m. For more information, visit: https://www.facebook.com/friendstavern/
Icon Bar (31-81, 33rd Street, Astoria, 4.5 Stars on Yelp, 917-832-6364, iconastoria.com Instagram @iconastoria). Astoria's famous flashy and festive bar featuring DJs, go-go dancers & drag shows, plus movie & game nights. Icon is open seven days a week from 5 p.m. until 4 a.m.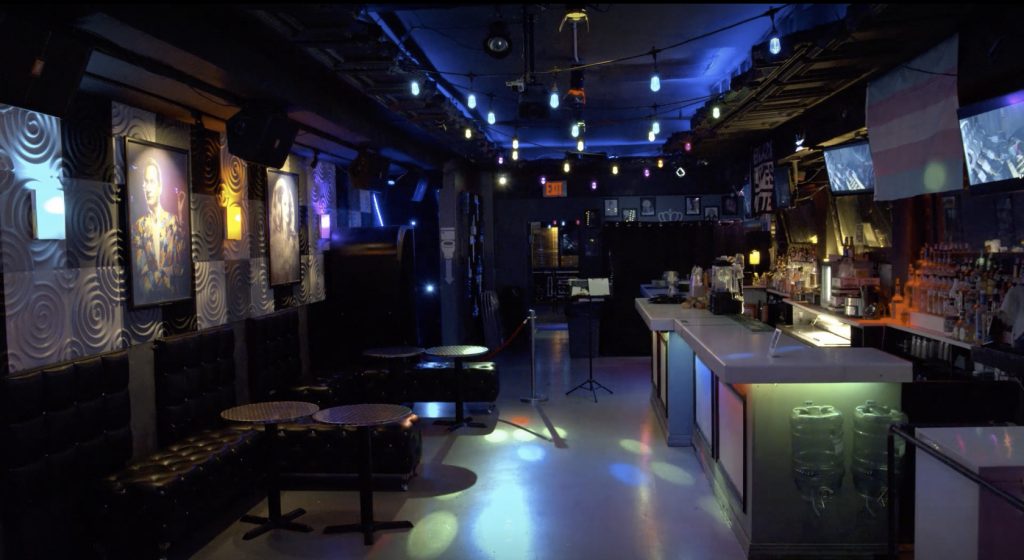 Albatross Bar (36-19 24th Avenue, Astoria, 718-204-9707, 4.7 Stars on Yelp, Mon – Fri 5 p.m. until 4 a.m. Saturday 3 p.m. until 4 a.m. and Sunday 1 p.m. until 4 a.m. albatrossastoria.com, Instagram @albatrossastoria) Upbeat place with an equally upbeat menu which features cocktails with names like Show me Your Tito's (contains Tito's Vodka), Tequiling Me Softly and the Albatrashed!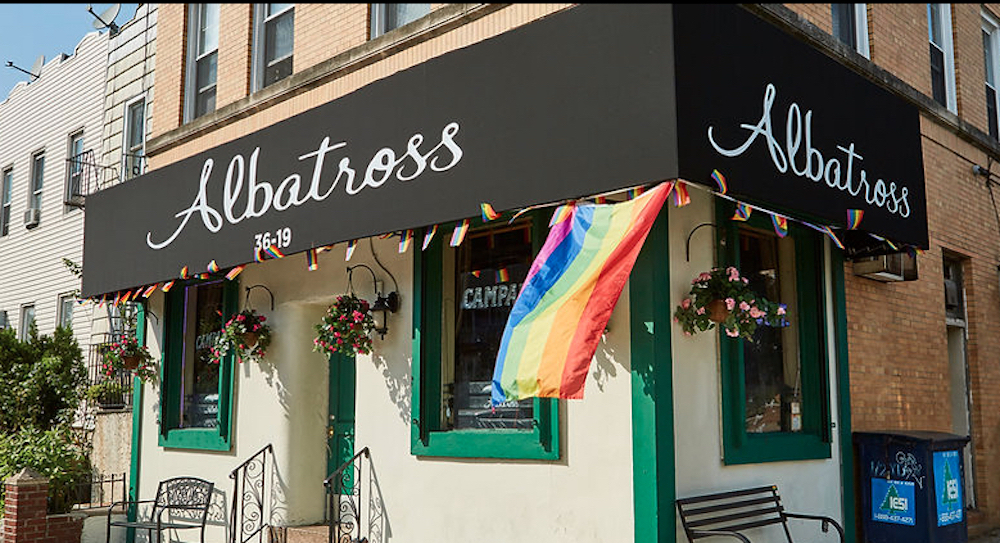 Fresco's Cantina,
For five years now, Fresco's Cantina, nestled deep in Long Island, has been a favorite for not just the LGBTQ+ community but for the whole community.
Known for it's amazing Mexican cuisine and delicious cocktails, Fresco's Cantina, is famous for its Sunday Drag Brunch and the memorable "Draglivery". During the middle of the COVID pandemic the cantina provided this service complete with a drag queen delivery person. Owed by couple Brian Martinez and Adrian Suero, Fresca's Cantina offers some of the very best in Mexican food.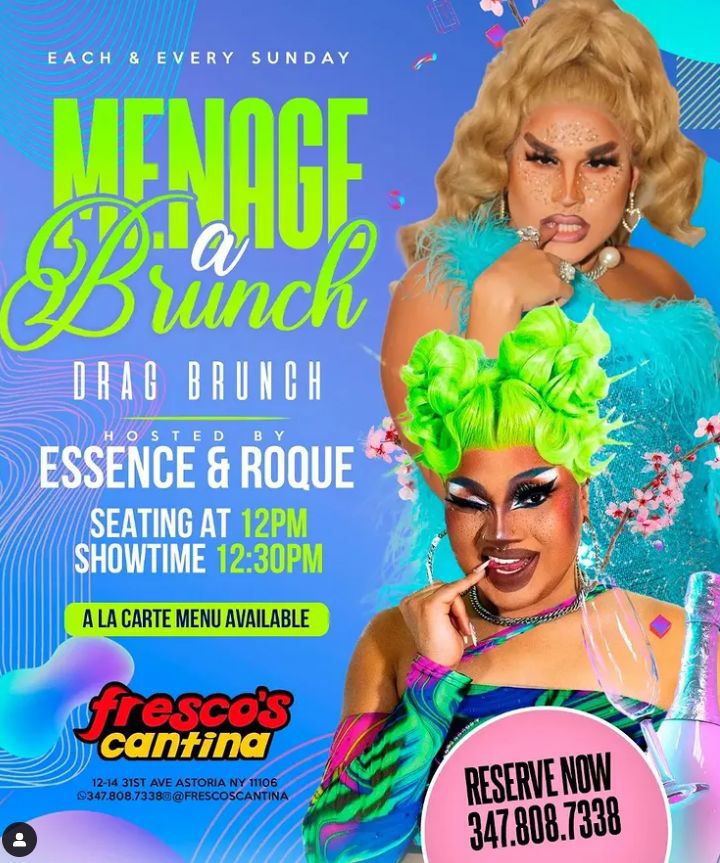 Popular dishes include Flautas Taquitos, crispy deep fried rolled chicken tacos topped with melted cheese, shredded lettuce, diced tomatoes, sour cream and cotija cheese. Or enjoy the perfect skewed trifecta of chicken, steak, and shrimp with the dish Tres Amigos. And the Cantina Nachos make for the perfect snack with a hearty helping of black beans, nacho cheese, sour cream, guacamole and cilantro.
For brunch enjoy the Hang-Over Quesadilla a 12-inch flour tortilla filled with our three cheese blend and roasted pork, grilled chicken and steak. Make sure you stop by for the incredibly popular Menage a Brunch hosted by Essence (@essence.nyc) and Roque (@roqueroqueroque).

Doors open Sunday at noon and showtime begins 12:30 pm. / Mon-Wed Closed; Thur-Sat. 3pm until 11pm, Sun Noon until 7pm. 12-14 31st Avenue, 347-808-7338, @frescoscantina