Community Over Competition
By Maria Napolitano Posted: March 20, 2022
QNS Collaborative's First Year
For the past six months, a bright and airy storefront at the corner of Astoria Boulevard and Crescent Street has housed a new face on the arts & culture scene in Astoria: the first iteration of QNS Collaborative, a cooperatively run group of Queens-based artists, activists, and more.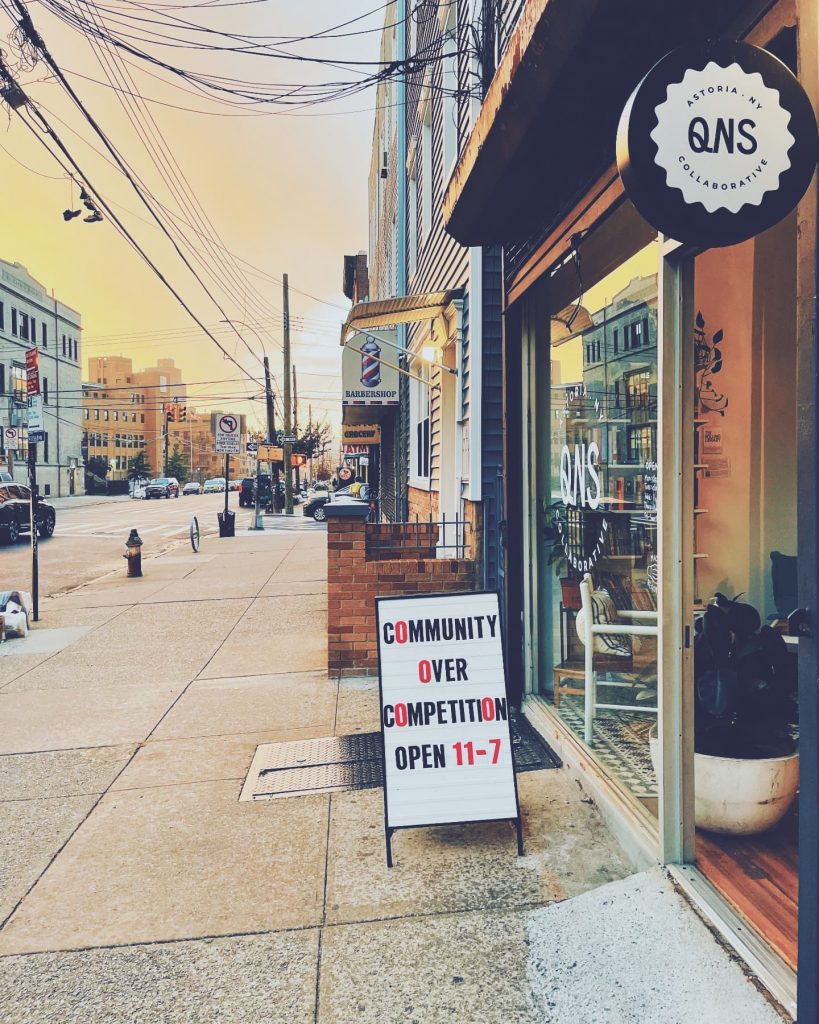 Since opening its doors in October, the QNS Collaborative storefront has largely served as a shared retail space, with local artists and makers rotating monthly, and other vendors appearing for one-day pop-ups. The group has also welcomed community groups like "mobile book fair" The Rolling Library, and local arts collectives Diverse Streets Initiative, Queens Liberation Project, and Kaleidospace, and has partnered with aid organizations like the Astoria Food Pantry. In addition to retail, QNSC has hosted events that range from a poetry workshop to a casual knitting group and an Aquarius-themed weekend of events that featured a gallery wall, opening reception party, vision board workshop, and mini-market of makers who share the zodiac sign.
Fostering community among members and locals is central part of the QNSC mission, and especially welcome after months of pandemic isolation. "Covid has given us the chance to be extremely thoughtful about what physical interactions are, and how meaningful they can be," reflects Gabe Radley, a member of the Organizing Team and vendor in the space. "When I talk to other vendors here in QNS Collab, one of the things that keeps coming up is how much people didn't even realize they needed this. How until they came in here and they saw their stuff on the shelf, and saw these other artists in the community…They thought they were on this island of "I'm creating, I'm working towards this thing," and instead, now it's "we are creating, we are building this together, and a rising tide is going to raise all of our ships.'"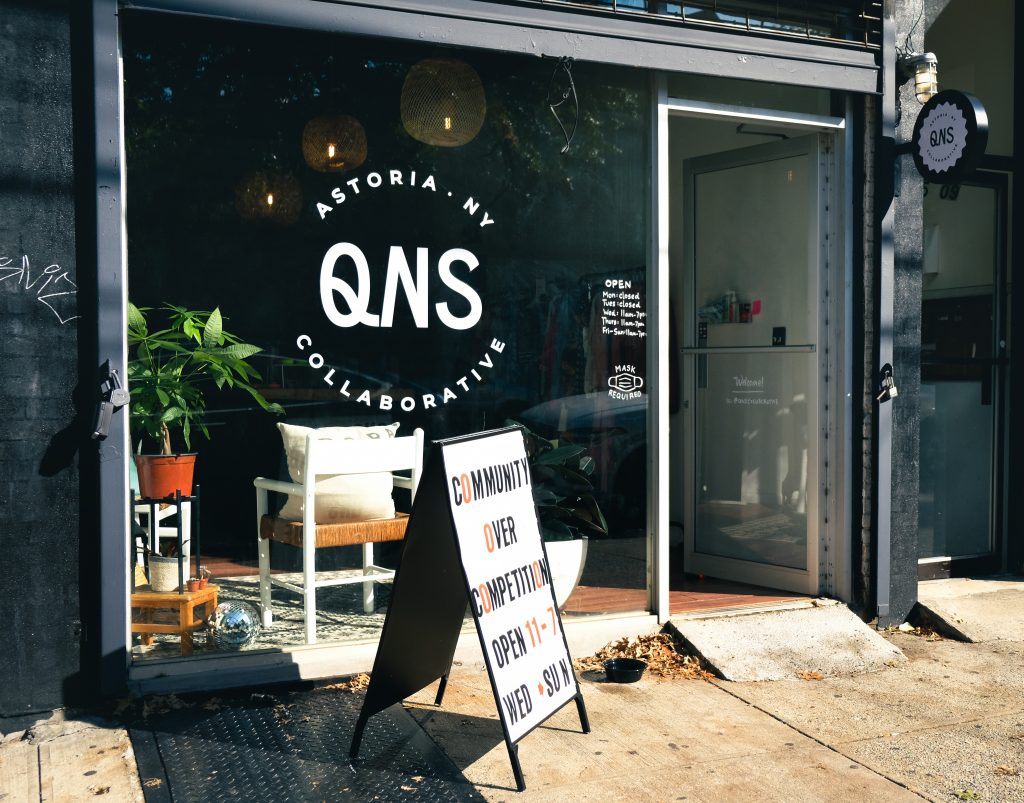 QNS Collaborative is operated by this community of vendor-members, who volunteer behind the front desk, prepare marketing materials, run social media, and organize events. On any given day, a ceramics artist, jeweler, candle maker, or photographer might be the one opening up the shop, while others check in over Slack or stop by to work in the back room—a home-away-from home that combines co-working desks with a ship and packing station, art-supply swap table, and overflow stock for the storefront. "No one person is the boss, we're all working together," explains Maryam Mudrick, another member of the eight-person Organizing Team that keeps the collective running smoothly.
Despite all this activity, QNS Collaborative is just reaching its first birthday. The co-op kicked off in March 2021 with an info-gathering outreach survey of local makers and artists, and ramped up quickly after a series of community forums. A few vendors banded together to attend the Greenpoint Terminal Market under the QNSC banner last summer, and by early autumn the business plan had come together and applications for vendor-members to join the Astoria Boulevard space were open. The storefront opened just in time for the holiday shopping rush, and the new year has brought a focus on programming and events as the hectic retail season came to a close.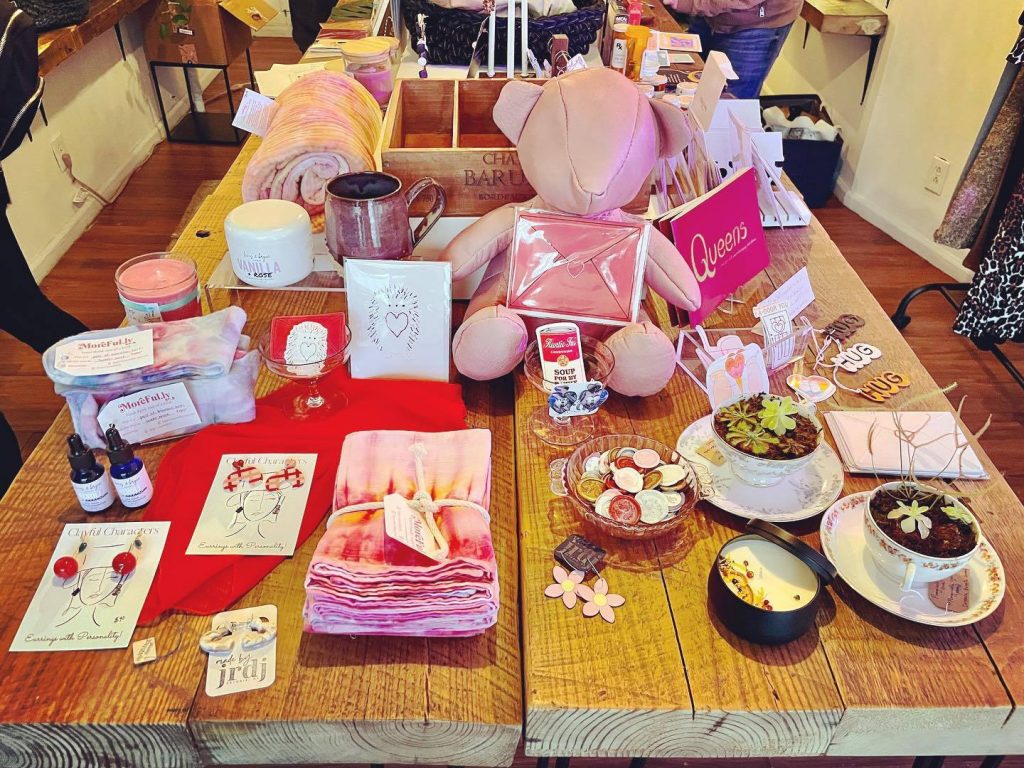 With one year under their belt, the five-year plan is starting to come into view. At the end of March, QNS Collaborative will move out of the Astoria Boulevard space and prepare to upgrade to a longer-term home: one that continues to build towards their grander vision of a multi-use community hub.
Kayli Kunkel, a member of the Organizing Team and the founder of local zero-waste store Earth & Me, dreams of finding "a very large space in Queens, which would have room for a complete market, the retail store, spaces for artist studios, a darkroom for photography…" Other goals include additional room to host events, workshops, and co-working sessions, a gallery-style space for art displays, and building a library of shared tools and resources. Future perks and projects like a community garden and bike repair station have been suggested too — there's no dream too big for this community. The QNSC mission to bring a new kind of space to Queens means setting goals as big as the city's largest, most diverse borough, and working together to make them a reality.
QNS Collaborative: 25-09 Astoria Blvd. / @qnscollaborative