Dawa's A Himalayan Hearth in Queens
By Athena Efter Posted: January 25, 2022
Born in Katmandu, Nepal, and raised in India, Chef Dawa Bhuti, pays homage to her family's roots by dishing up authentic nomadic tribal fare right here in Queens. Working alongside her father Ngodup, Dawa's Himalayan inspired cuisine transcends the high altitudes of the Himalayan village of Dzonga, Tibet, and nestles into an American hearth along the slopes and hills of a Woodside Street. The dining room, with its mismatched wooden chairs, marble table tops, and copper-plated cutlery, weaves itself through a warmly lit space of rustic Zen simplicity and understated elegance. The overhanging canopy in panels of soft white, navy and sky blues, terra cotta red, and muted chartreuse green, add a nomadic charm, creating a beautiful harmony of colors and fabric where the earth meets the sky.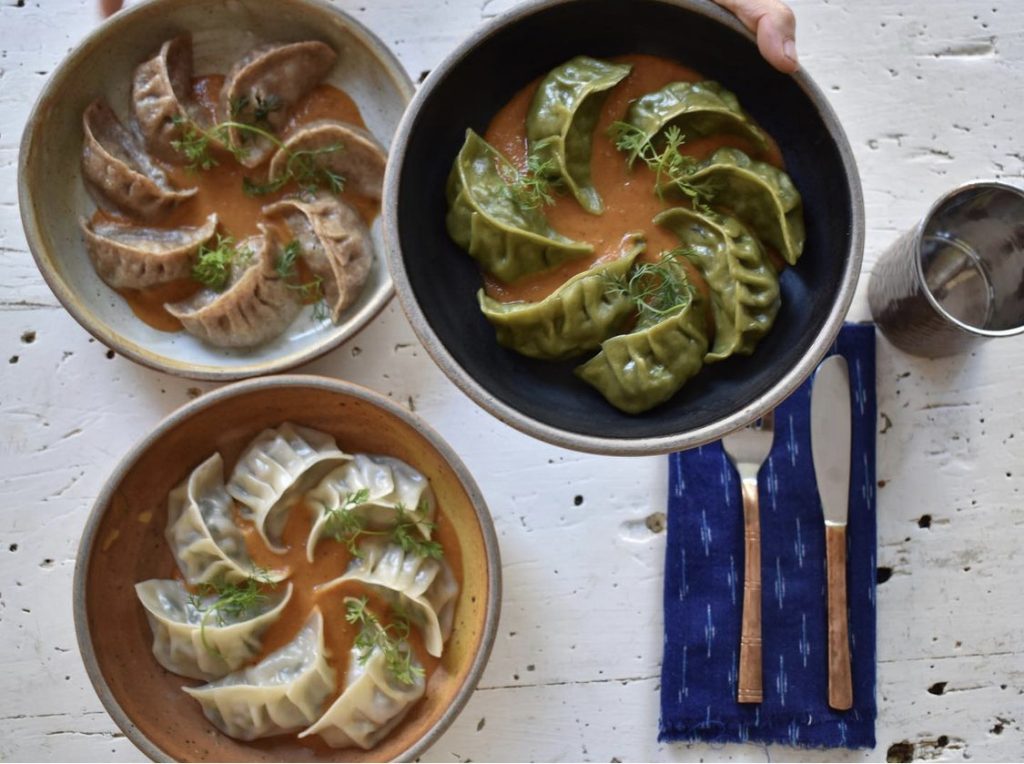 Ah but the food – the food is why they come. Their seasonal menu changes often, with locally sourced ingredients and produce from farms in the Catskills, Finger Lakes, and Connecticut. Look for menu items made from scratch, like MOMO, Tibetan dumplings served in fillings of beef, chicken or vegetable in a tomato fenugreek sauce, or chili battered fried cauliflower sautéed in spicy peppers, served with a colorful side of purple rice. If you like soup or noodle style dishes, try the Thenthuk with Tibetan pulled noodle, beef, and daikon in bone marrow broth or stir-fried noodles with carrot, cabbage, spices, and eggs. Dawa's versatile menu satisfies both carnivores and herbivores. Shabaley, Tibetan beef patties come dressed in a spicy garlic chili sauce, and Tsel-Baley, optional vegetable patties, are filled with garlic chives, yu-choy greens, and potatoes. Of course, a visit to the Himalayas would not be complete without a traditional potato flatbread, Riki Kur, fit for a Sherpa. Dawa serves this homemade starch goodness with scallion and green chili cheese spread and butter. Have it as your main course, an appetizer, or part of a medley of Himalayan tapas to share. You will want to try a little bit of everything on this uniquely traditional menu, and at an average price of $15 per dish, there is plenty to go around. You may want to wash it down with a cocktail, beer, or wine. We recommend the orange wine with its deep orange color – an earthy, aromatic, dry white that makes the perfect pairing for some of the spicier dishes.
Though we really want to rave about Dawa's Himalayan collection, and we do, Dawa's American menu, featuring grass fed burgers, baked eggs, pancakes, and kale salad, is worthy of mention. While it may seem anticlimactic to go for a buttermilk chicken sandwich at a Himalayan restaurant, if that's what you are craving, go for it. Dawa Bhuti is a chef, first and foremost, and bringing delicious food to your table is a chef's priority. With that in mind, yes, fresh baked bread from scratch is also available! You can have their signature house-made sourdough bread from Friday through Sunday, but with a limited count, so make sure to place your pre-order. A variety of other essential goods, like house-made red chili hot sauce, momo hot sauce, and tomatillo Sichuan hot sauce are available for purchase or for ordering online. For a full menu, visit their website at dawasnyc.com.
51-18 Skillman Ave., Woodside | 718-899-8629 | @dawasnyc