5 New Year's Resolutions Worth Sticking To
By Allison Kridle Posted: January 2, 2021
The new year could not have come sooner. As we bring in 2021 with high hopes, a lot of us are writing lists of resolutions, determined to have a healthier, happier year than the last. If you're falling behind on what you want to accomplish, here are five New Year's resolutions that will not only help you better yourself, but your community as well.
GET FIT AND FEEL GOOD

It wouldn't be the start of a new year without the desire to feel your best, right? Incorporating a fitness regimen and healthy lifestyle choices may seem daunting, but with motivation and an updated, welcoming gym to help you reach your goals, you can't go wrong. "Fitness can be found anywhere. It doesn't have to be perfect, it doesn't have to be an hour of strength training, it doesn't have to be a three-mile run. If five minutes is the best you can do, do it. Fitness is everywhere. It's just about doing what you can," says ROCK Fitness CEO and Partner, Joe Riggio.
Located off 31st Street and Ditmars, ROCK is the place to sweat out your problems and be a part of a community with people from every walk of life. Monthly membership packages start at $59.99 and many include private or semi-private sessions with personal trainers. The facility is also stacked with state-of-the-art equipment like Matrix and Arsenal.
"Fitness is very individualized. There is something for everybody and it's about finding what works for you," Riggio said.
TASTE THE PLANT-BASED LIFE

Eating plant-based for even a few days out of the week can not only help the planet but energize your body and mind. If cooking all veggies or plant-based protein isn't your forte, the check out the local and family-owner business, Sai Organics.
Not only does this plant-based nirvana carry organic produce and grocery items, the store also sells pre-packaged meals like kale salad, black bean and avocado salad and "Chicken" wraps. Indulge in vegan desserts at Sai with their variety of pastries like fudge brownies, blueberry muffins, chocolate and vanilla cupcakes and oatmeal cookies.
Imagine eating just a little out of your comfort zone and supporting local shops, all while decreasing your ecological footprint.
STEP UP YOUR SELF-CARE REGIMEN

Let's be real – sheet masks are not enough sometimes. Another long year is ahead and your skin and body could use a little TLC. Luckily, Astoria has skincare services and salons that will have you walking through town feeling brand new.
If you're looking for something a little spicier than just a facial or manicure, try Lash Bar on 34th Avenue. This female-owner-and-operated salon specializes in eyelash extensions, but also offers skincare facials and LED light treatments which are done in a private and spotless facility.
Aside from these exceptional services, remember to drink water and breathe throughout the day. Self-care is about refreshing and sometimes pampering, but most of all, loving yourself.
SEE THE WORLD THROUGH READING

In a world where travel is at a bit of a standstill, engrossing yourself in a book is the next best thing. To help broaden your mind and satisfy your craving for adventure, you can count on Astoria Bookshop.
"[I'm] glad Astoria Bookshop, even before the pandemic, has given Astorians a way to browse and shop for new reads and old favorites without having to travel far, or instead of going through Amazon. It's become my go-to place for buying my 800-page space operas," says one of the store's regulars, Austin Manchester.
Astoria Bookshop makes this resolution even more doable by providing an extensive online store. Their website contains all the books you'd see on their shelves, including bestsellers, fiction, young adult, and more. They even offer a "Bookseller's Choice" where a bookseller will send options for customers who don't necessarily know what they want to read next. While you read your way through the year, you'll be happy you supported an independent, friendly neighborhood shop.
VOLUNTEER AND MAKE A DIFFERENCE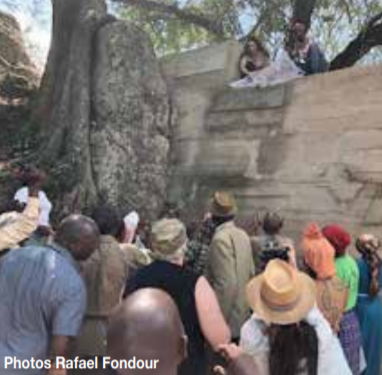 For the past couple of months, there has been a surge of goodwill in communities, especially in Astoria. If you're feeling the desire to make an impact, try volunteering. There are a handful of local organization to get involved in, one of them being 9hugs. 9hugs is a grassroots non-profit that also does philanthropic work globally in places like Kenya, where they implemented a water system for a community of 2,000 people.
They've also helped supply books to libraries being built throughout all of Africa. Their local work includes COVID-19 relief, where they hand out groceries and hot meals to families waiting in line at food banks and deliver meals to elderly people. This past holiday season, they set up a winter wonderland in Flushing Meadows Park and had a toy drive so every child could leave with a gift.
"I think one of the biggest lessons from 202 is karmic balance. We've either been exposed to the fear of having nothing or have in fact experience it. When you see someone struggling, you are empathetic, and if you carry that empathy throughout , then you will something good. It's inevitable," 9hugs Co-founder, Maria Mendorou, said.