Rocco and Lizzie: Astoria's Newest Musical Duo
By sonia Posted: March 23, 2015
Two years ago Megan DiBello found herself enjoying a night in the city with some friends – wearing a bright blue silk jacket, which happened to catch the eye of Colin Clough.
Colin, a Virginia native, found himself instantly enamored – with both Megan and her infamous jacket. He approached her, and what followed was a whirlwind romance – that started with the pair writing a story over e-mails, losing touch, and then somehow finding each other once again in the city where it all started.
Eventually, Colin found himself setting down roots in Astoria – with Megan. They found they both had a passion for writing, and for music. Megan has always been a singer, as well as the founder of Poetry Teachers NYC. Colin got his start by being in a bad when he was much younger, and continued on the path effortlessly.
Before long, Colin and Megan realized they worked together musically just as well as they did romantically.
"There's just this great synergy between us," Megan tells us, "We started writing lyrics together in 2013 – Colin came to New York with his guitar, and we hung out and wrote for three days."
The lyrics were then put to music, backed by Colin's guitar. As Megan puts it, "Colin is an absolute musical genius!" Colin, in response, smiles – and reminds us that Megan is a lyrical genius. Clearly, they know each other well.
By combining their talents, Megan and Colin created Rocco and Lizzie – a musical duo that emerged from their desire to create a type of music that no one has heard before.
"Megan came up with the name Rocco and Lizzie. At first I wasn't sure about it, but it grew on me," Colin tells us.
The two began to work on their EP – titled #SomethingforEveryone.
"Our bedroom wall is covered in song lyrics, all in different stages of the process. We wrote the five songs for the EP from January to July, but we have another 14 songs that are ready to be compiled into an album."
The title perfectly describes the music – it's essentially a conglomeration of different musical and lyrical styles, with each song being a little different from the last, but all perfectly coherent in their own way. Each song, though, has a clear and concise purpose. Colin tells us he considers himself a composer, and this EP is just pieces of the puzzle pulled out of his mind.
"I see everything before it comes to life. In my mind, I know exactly what the song is going to be. It's just about creating it from there."
The process of writing the EP was focused and intense. Megan and Colin tell us they listened to no other music while writing the songs.
"We wanted it to just be genuinely us," Megan says, "Something that is completely original and new. We both write in a similar way, where we just hunker down and focus, and create something."
The music they created isn't something easily definable. It has influences from punk rock, as well as opera, and lyrics that range from stories inspired by Colin's grandfather, to astrology, to rebirth in New York City.
To celebrate their first EP, Megan and Colin are having a release party at COFFEED on April 1st  – a place where they have found themselves consistently since it began hosting The Inspired Word.
"Coffeed, and even Astoria in general, has been a great hub for us. Mike Geffner, the founding of Inspired Word, has always been supportive of us and our music, and really helped us along the way. We perform regularly at Coffeed, and from there we met so many artists – like Shako Khiski, who plays lead guitar on the album.
We're really inspired by our environment, and inspired by a neighborhood that is so supportive of the arts."
The EP was also recorded in the neighborhood – at Continental Recording Studios in LIC. Phil Duke, who owns the studio, has been a supporter of Rocco and Lizzie since he first heard their music.
If you want to support this local duo, come on out to their release party! No matter what kind of music you like, you'll find a song that fits your style – after all, that's the purpose of #SomethingforEveryone.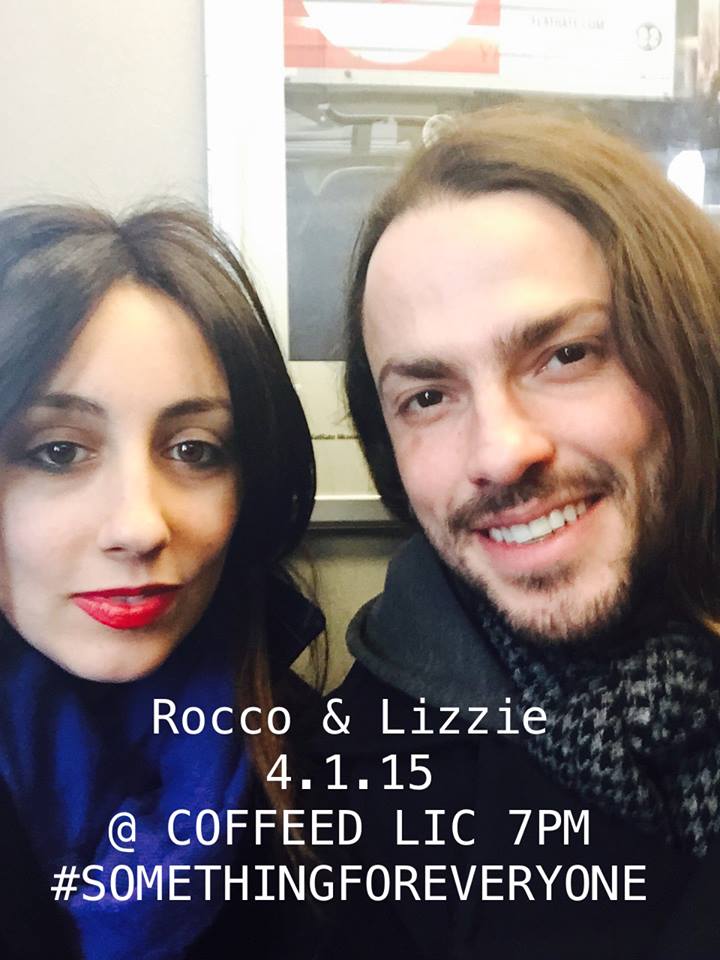 Cover photo credit: Amanda Kaye Photography