Passion 2 Profession: Quarantine Hobbies Turned Local, Women Owned Businesses
By Betsy Morales Posted: March 7, 2021
Perhaps one of, if not the only good thing to come out of this pandemic was the increased opportunities for leisure. Quarantine paved the way for bakers, mixologists, plant-lovers, artists and more, all of whom may have never tapped into that skill set if not given the time to do so. While many of us have returned to our regularly scheduled programming, some have taken those newfound hobbies to the next level, instead becoming their very own boss, giving "working from home" a whole new meaning.
One such endeavor is Pink Cove Treasures: a handmade jewelry business run by Pamela Banitez, a woman of color originally from Paraguay who now resides in Queens. Pamela's work first began as a form of self-love. She explains, "When quarantine started, I was really struggling to make space and time for myself. I started making art which led to making my own fun statement earrings to adorn myself with."
Pamela's inventory quickly expanded as her Mamá joined her in making beautiful bracelets and other pieces of jewelry using real flowers. Pamela encourages her patrons and all people to take care of themselves during these trying times through forms of self-expression: "Even on my lowest days, putting on a pair of earrings just brightens up my mood, and I wanted to share that act of joy and self-love with others."
Be sure to give our friend a follow on Instagram at @pink.cove and check out her Etsy shop at etsy.com/shop/PinkCoveTreasures.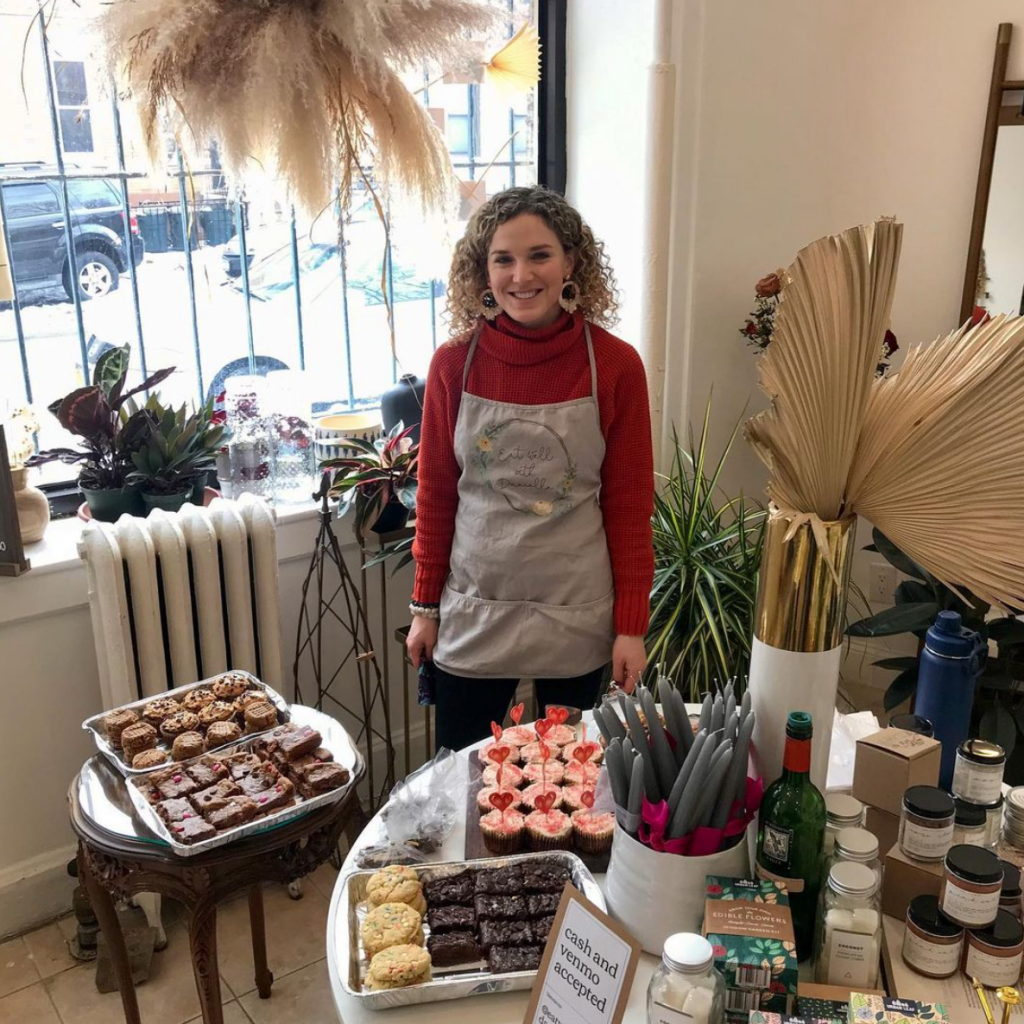 Perhaps all that jewelry shopping made you work up an appetite; next stop: Eat Well with Danielle. Another female quarantine pioneer is Danielle Schnapp, who prides herself on her healthy, tasty treats which are natural, gluten-free and dairy-free: "I'm passionate about creating healthier recipes, especially sweets and treats. Dessert on the daily is a non-negotiable for me, so I started making recipes that fit my lifestyle, make me feel good and still taste great." Danielle is very passionate about her business and wants her customers to know that she "[appreciates] your love and your support and [for] fueling [her] fire for what's to come."
Treat your taste buds guilt-free by placing your orders via Instagram at @eatwellwithdanielle and be sure to check out her website for recipes and more at eatwellwithdanielle.com.
Our next entrepreneur's hobby-turned-business came at just the right time. Founded by a queer woman of color in Harlem, Masks by Kait Yo is here for all of your mask-wearing needs. Made from beautiful, colorful patterned fabrics, Kait Felton's masks are made of a two-layer, breathable, tight-woven cotton fabric, which the CDC actually recommends.
Kait's always had a passion for fashion and "had this dream of having [her] own line." Similar to our other friends featured here, she never intended to make this a business: "When the pandemic first started, I didn't even know where to buy a mask around me because they weren't available everywhere like they are now. So, I looked up tutorials online and made myself one out of scrap fabric I had at home. My girlfriend asked me to make her a mask, too, and slowly some of my friends started asking if I can make them one, and it grew from there." Go get yourself and your friends these beautiful masks over at Kait's website: masksbykaityo.com.
I hope that after discovering some new, small businesses, you feel just as inspired as these artists did. It's never too late to pursue your dreams and do what you love. As the saying goes, "do what you love, and you'll never work another day in your life."