Fall: The Perfect Workout Weather
By Ilija Sekulovski Posted: September 29, 2014
Fall can be the perfect time to ramp up an exercise routine; the transitional season offers relief from the workout-sabotaging heat of Summer and the upcoming chilling weather of Winter. Even though we've had a few days of hot weather, Astoria is getting chillier – and that means we're getting our exercise in from the outdoors. Here's some Fall weather workout tips!
Sign up for a boot camp
A weeks-long boot camp is the perfect plan to get total-body ready for any revealing Halloween outfits or your best holiday photos yet. If you don't want to sign up for a boot camp, you can use these bootcamp strategies during any outdoor exercise routine. Tip: If you've got a smart phone, set it up in front of you and play the video!
Buddy up
Time goes by fast when you work out with a friend, and making plans for an exercise meetup can bring structure to an outdoor routine. Luckily, there's no end to the kinds of outdoor workouts you can do with a friend; from cycling to rock climbing, or just simply jogging. We love taking regular walks through Astoria Park to burn some extra calories, and when you're with a friend you make it through the whole park without even realizing!
Small spaces
Let's fact it: Most Astoria apartments aren't exactly gigantic. We definitely don't have enough space to get a proper workout in (cardio – body weight fitness shouldn't be too hard with limited space), and the best way we've found to combat that is to get outside and work out. Like we mentioned, you can definitely go the route of Astoria Park, but we find going for a jog through the actual neighborhood can be extra fun – we've discovered lots of new places to visit on one of our morning jogs.
Dress for the Weather
When weather gets cooler, it can deter people from going outside to work out. This problem can be mediated by wearing wind-shielding clothing and dressing in layers. Proper attire and accessories (hats, gloves, etc.) that cut down on bulk but still allow for warmth make outdoor fitness more enjoyable as the chill of fall approaches
Drink Water
Stay hydrated even when the temperatures cool down. People often feel less thirsty when it is not hot outside, but staying hydrated is just as important in the fall as it is when the sun is blazing. When fall rolls around, remember to stay on top of your fluid intake to help with both exercise recovery and appetite control.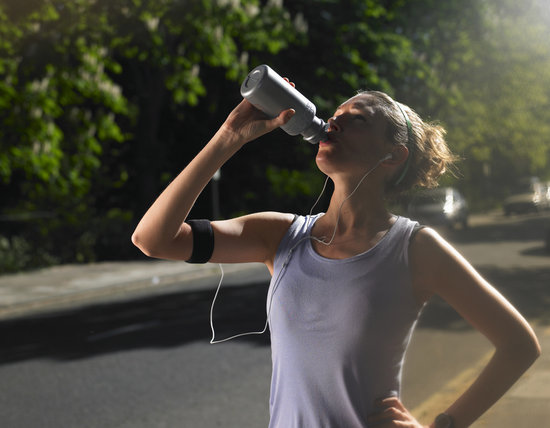 Drink Tea
Drink more tea to warm up for the cooler temperatures. Green tea and black tea contain antioxidants that help ward off diseases during flu season so you can remain healthy and active as the season shifts.
Exercise Early in the Day
Try to work out in the morning or during the day. With the time changing and the sun setting earlier, it can feel as though it's later in the day than it really is. This can make people more tired than usual. Getting into a routine of working out early will guarantee the workout gets done and still allow time in the afternoons and evenings to relax.
Vary Activities
As the weather cools down and summer ends, it can become difficult to stay motivated. Trying a variety of different activities and varying workouts will help keep a fresh spin on exercise and allow for confidence to build within a wide range of activities.