By Jason D Antos Posted: March 30, 2022
Astoria is a neighborhood full of places to explore and enjoy. A town so big and old as Astoria has, without a doubt, many secrets. Let's explore some of these gems which are hiding in plain sight!
John Jacob Astor-Astoria's Namesake
Originally known as Newtown, our neighborhood was named after America's richest individual, John Jacob Astor. A master investor and entrepreneur who owned the American Fur Company, Astor was approached by the town's elders who needed money to create the new neighborhood. In 1839, Astor, who was then the wealthiest man in the United States with a net worth of more than $40 million, only invested $500.
The town was still named in his honor. Although he could see the creation of the new neighborhood that now bares his name across the East River from his mansion in Manhattan, he never actually set foot in Astoria. Interestingly enough, Astoria, Oregon is also named for Astor whose American Fur Company founded Fort Astoria as the main facility for the company's operations.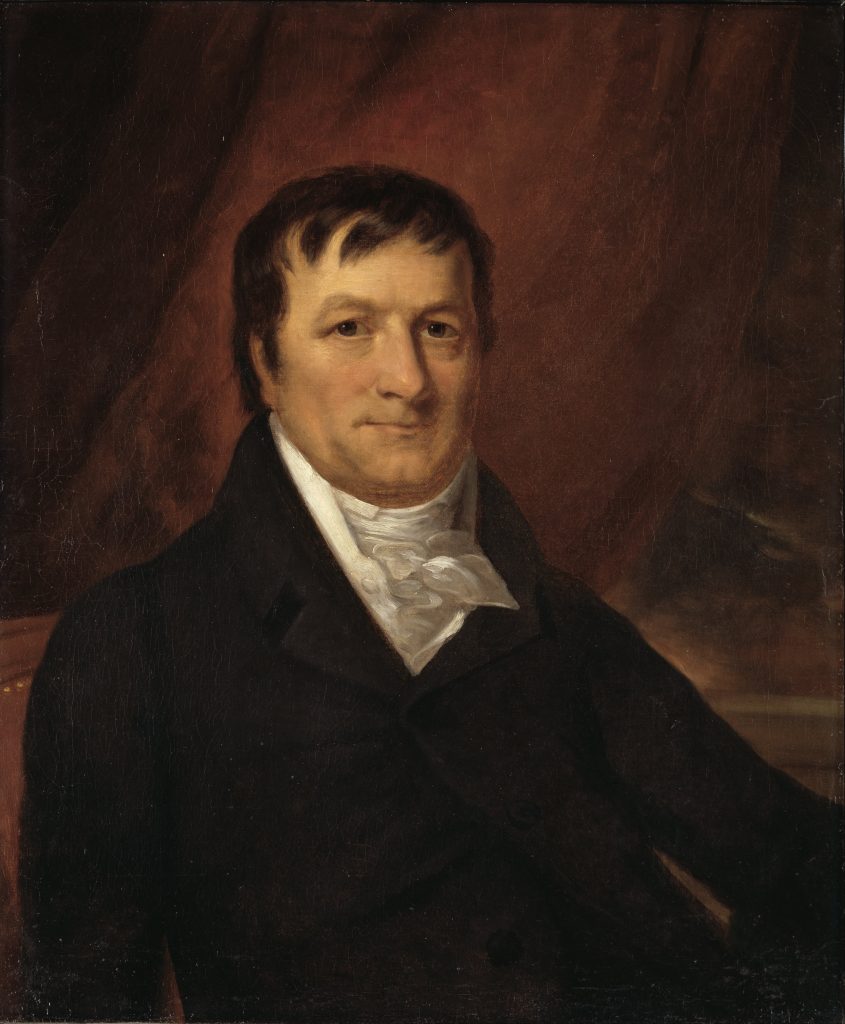 John Jacob Astor, the namesake of Astoria. He is shown here in a portrait from 1825 by artist John Wesley Jarvis.
---
Come To Astoria, And See The World
Astoria is home to more than 100 nationalities. People from all over the world have come to Astoria ever since the colonial period. The first settlement in Astoria was known as Hallet's Cove which was settled by William Hallet and his wife Elizabeth Forbes in 1664. Both came from England and lived the rest of their lives in the Dutch controlled colony. Astoria was also first settled by the Dutch and Germans.
The Irish came to Astoria in the late 1800s followed by Italians and settled in the Ditmars Boulevard area. In the 1920s, the town saw an influx of Jewish people from Europe. The next major wave of immigration came in the 1950s with the arrival of a sizable Greek population.
At its hight, there were almost 25,000 Greeks who lived in Astoria. There are also Maltese people in Astoria as well, numbering several thousand. The Muslim population along Steinway Street began in the early 1980s with increased immigration from Lebanon, Egypt, Syria, Yemen, Tunisia, Morocco and Algeria. The Muslim corridor along Steinway Street is now known as "Little Egypt". There has been in recent years an increase in Spanish-speaking nationalities and even people from Bangladesh!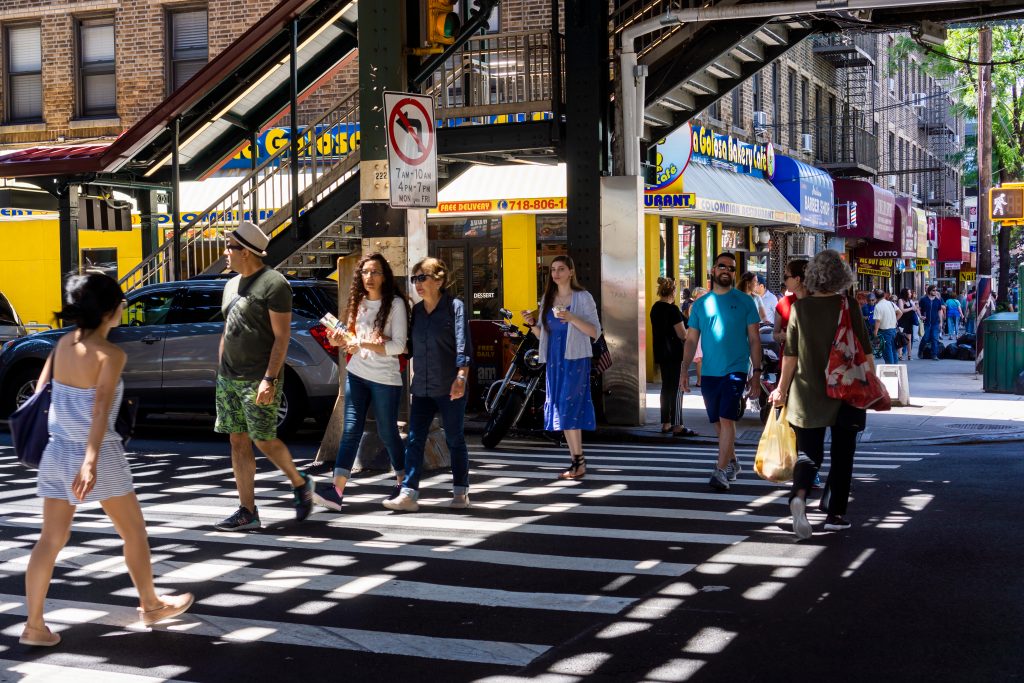 ---
The Xerox – Astoria's Greatest Invention
On October 22, 1938, in small rented apartment at 32-05 37th Street, Chester Carlson, after being plagued by years of false starts and failure, created the world's first xerox copy. Carlson's early experiments, conducted in his apartment kitchen, were smoky, smelly, and occasionally explosive. In one set of experiments to achieve a xerox copy, he was melting pure crystalline sulfur (a photoconductor) onto a plate of zinc by moving it just so over the flame of his kitchen stove.
This often resulted in a sulfur fire, filling the building with smoke. In another experiment, the chemicals Carlson was working with caught fire, and he and his wife tried to extinguish the flames before calling the fire department so the whole building would not burn down. Along with his assistant, an out-of-work Austrian physicist named Otto Kornei, the duo went to work on that fateful day to make their dreams of making the first chemically duplicated document come true.
According the Carlson's documents about the process, he wrote, "10-22-38 ASTORIA" in India ink on a glass slide. Then, Kornei prepared a zinc plate with sulfur coating, darkened the room, rubbed the sulfur surface with a cotton handkerchief to apply an electrostatic charge and then laid the slide on the plate, exposing it to a bright light.
They removed the slide, sprinkled lycopodium powder to the sulfur surface, softly blew the excess away, and transferred the image to a sheet of wax paper. Carlson then heated the paper, softening the wax so the lycopodium would adhere to it, and presto the world's xerographic copy was created. Carlson celebrated by taking Kornei out for a modest meal.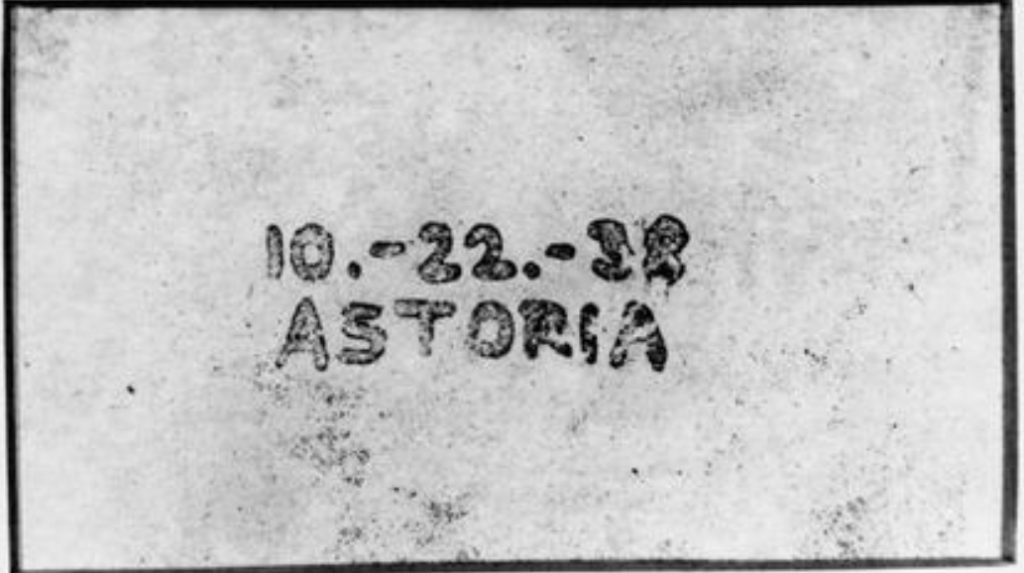 The world's first Xerox document.
---
Socrates Sculpture Park, 32-01 Vernon Blvd., Long Island City, Tel. 718-956-1819
Sculptor Mark di Suvero founded Socrates Sculpture Park in 1986 as a community-engaged and accessible arts space dedicated to supporting artists in the production and presentation of public artworks. Socrates was designated as an NYC public park in 1998. Socrates is firmly established as cultural center in Western Queens, producing topical exhibitions of contemporary public art and offering robust programming turn this five-acre waterfront landscape into a modern art centerpiece.
The park receives more than 200,000 visitors each year and has hosted noted artists Socrates Sculpture Park is open from daily from 9 a.m. until sundown and it's free! Visitors can take self-guided tours of the park any time during open hours. A guide to exhibition materials can be found in the information box attached to the park's main gate at the intersection of Vernon Boulevard and Broadway. Self guided tours usually last about 35 minutes. And for you fellow artists out there, Socrates currently has an open call for submissions.
Fellowship recipients will receive a $8,000 production grant to support their project, a $2,000 honorarium, and three-months of seven-days-a-week access to the resources and fabrication facilities of the Park's outdoor artist studio. Artist Fellows are responsible for the fabrication, transportation (if necessary), and installation of their works. Socrates provides limited technical and installation assistance during a three-week installation period. You can also explore the Park virtually, from anywhere, with our digital guide available on the free app via Bloomberg Connects.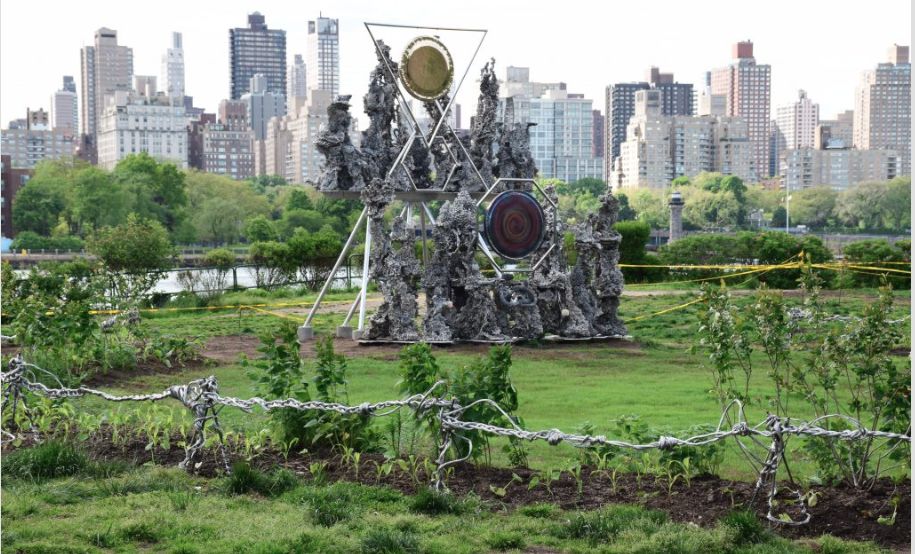 The 'Planeta Abuelx' exhibition by artist Guadalupe Maravilla at Socrates Sculpture Park.
---
Long Island World War I Memorial, Astoria Park, Astoria
Built by the architectural firm of Ruehl and Warren, this classical war memorial in Astoria Park, is made of granite quarried in Concord, Massachusetts. The 20-foot wide and 10-foot high base of granite features an inscription to those Long Island residents who gave their lives in defense of their country in World War I. During the war (1914-1918) an estimated 8.5 million were killed, seven million were permanently injured or maimed, and an additional 12.5 million suffered recoverable injuries.
Because of its late entry into the war the United States suffered among the fewest losses, at approximately 116,000. Memorial ceremonies in honor of the war dead were held throughout the participating countries on the first anniversary of the war's end, November 11, 1919. President Wilson proclaimed this day as Armistice Day. On June 1, 1954, President Dwight D. Eisenhower signed a bill renaming Armistice Day as Veterans Day.
Local citizens from the Long Island City Committee commissioned the piece, which was erected and dedicated in 1926. On top of the granite pedestal is carved a female victory figure. She holds in her right hand a sword and in her left a laurel, the symbols of war and peace. Sculptor Gaetano Cecere carved this figure.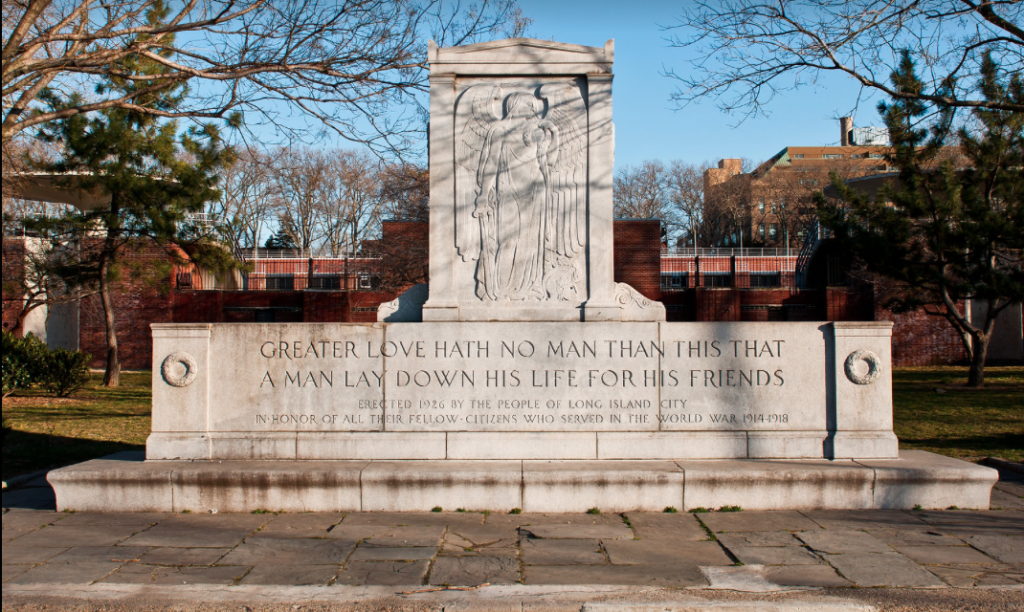 The Long Island World War I Memorial in Astoria Park.
---
Charybdis Playground at Astoria Park
Come have fun in one of NYC's oldest playgrounds which was once a campground for the Canarsee Native American tribe. In the mid-1600s, the Dutch parceled out the land which would become Astoria Park to various owners. In the 19th century, wealthy families built country houses along the shore.
Charybdis Playground is part of Astoria Park, which was acquired by the City of New York in 1913 in response to calls for public access to the East River in the face of growing coastal industrialization. Before it was officially named Astoria Park in 1913, it was known as East River Park. Charybdis Playground, situated on the western edge of the park, was built in conjunction with the 1936 construction of Astoria Pool, by Commissioner Robert Moses.
The playground was renovated in 1998, and a redesign in 2021 incorporated new play equipment and chess game tables. The comfort station on its south end was renovated most recently in 2021. With its striking views of both the Triborough and Hell Gate Bridges, this playground is one of the best in Astoria. The playground's Charybdis, a Greek mythological figure who was the daughter of Poseidon, the god of the sea.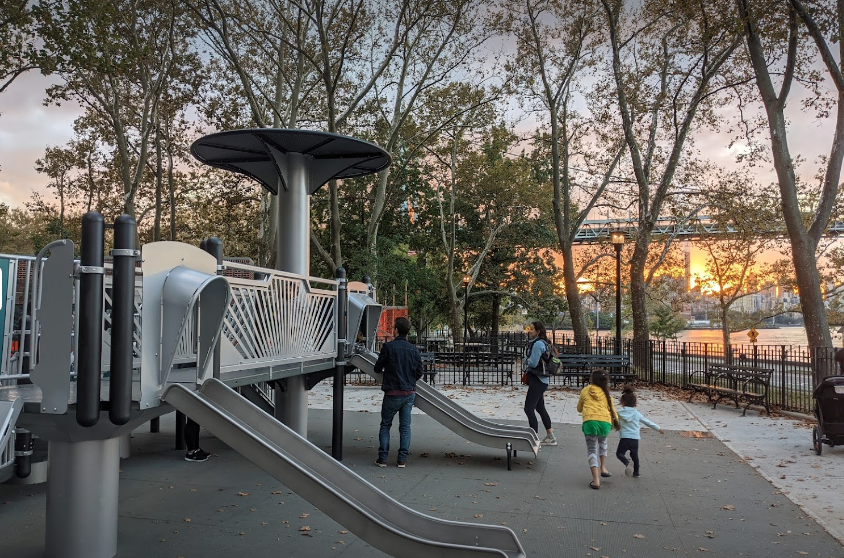 ---
General Slocum Memorial Plaque at Astoria Park
On the morning of June 15, 1904, the steamboat General Slocum caught fire in the East River with approximately 1,300 people on board, including many children. In the course of 20 minutes an estimated 1,021 people died.
The burning of the General Slocum had the highest death toll of any disaster in New York City history until September 11, 2001. The ship was full of primarily German immigrants, who chartered the ship for their 17th annual excursion to the Locust Grove Picnic Ground on Eaton's Neck, Long Island. Wearing their Sunday best, the passengers boarded the General Slocum at its Third Street dock in Manhattan, and at about 9:40 a.m. the ship headed up the East River.
As the band played, people danced on the deck and passersby waved from the shore. A fire started in the ship's kitchen and passengers jumped from the boat while it passed through Hell Gate or East River, taking their chances in New York's most turbulent channel rather than remain onboard. Unfortunately, the majority of the ship's lifejackets proved worthless because the material then used for buoyancy, cork, had turned to dust over time.
The life preservers instead absorbed water, and the passengers who wore them were pulled underwater. Hundreds of bodies floated on the East River and washed up on Astoria's shoreline. In 15 minutes the General Slocum had burned to the waterline leaving hundreds of men, women and children dead.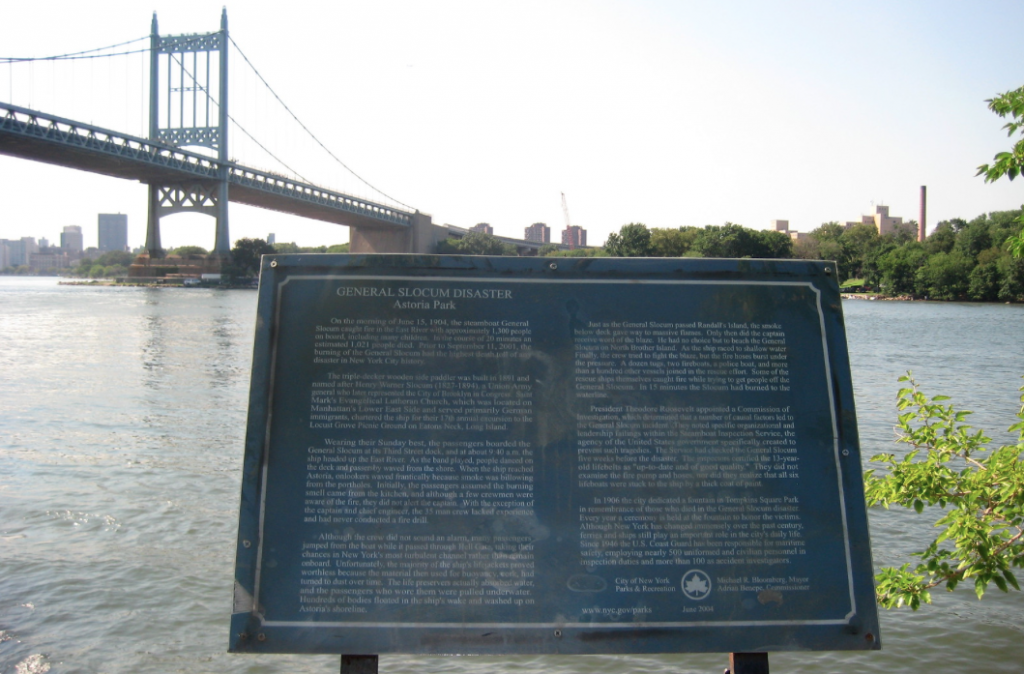 The General Slocum Memorial Plaque at Astoria Park along Shore Road.
---
Old Street Signs along 31st Street
One rule of thumb for people who love local history is to always look up! Along 31st Street near Broadway there is a remaining 2nd Avenue sign the old designation for 31st Street. Astoria and Long Island City's streets were once named, not numbered, except for 30th through 50th Streets, which were originally known as 1st through 20th Avenues.
And before that all streets had names before they later became numbered avenues with 2nd Avenue originally known as Debevoise Avenue. The original names were changed to numbers around 1900, and then to a different set of numbers yet again in the 1920s as the city conformed to the Philadelphia Numbering System.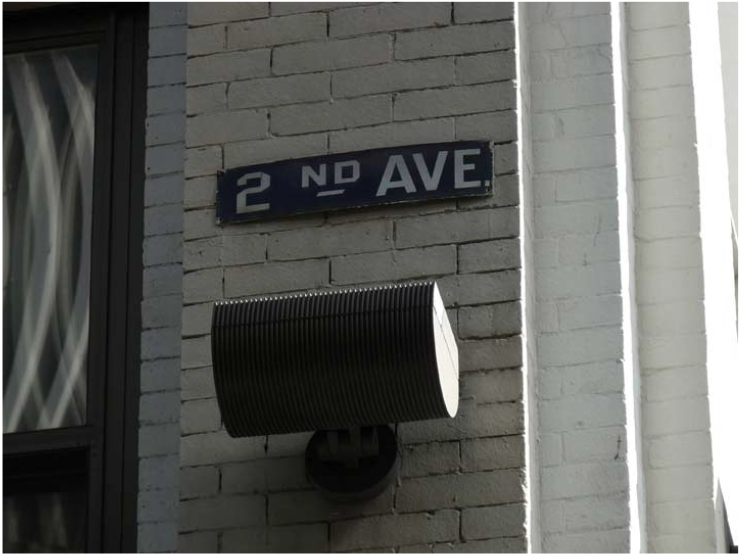 Along 31st Street near Broadway there is a remaining 2nd Avenue sign the old designation for 31st Street. The blue and white sign is made of porcelain.
---
Astoria Seafood
Is it a fish market or restaurant? It's both! Astoria Seafood is family-owned, counter-serve seafood market with create-your-own seafood platters serving up the freshest in seafood. This restaurant provides eat in as well as wholesale services. Astoria Seafood caters to restaurants with a worldwide selection of fish and shellfish.
For those interested, you can email them at [email protected]. And for those not interested in starting their own seafood establishment you can eat in and enjoy a wide selection of perhaps the freshest seafood in NYC. But that's not all. You get to pick out what you want as in a real life market. Here there is no menu.
You pick the type of seafood and then tell the talented cooks behind the counter if you want it stewed, grilled, sautéed, fried, deep-fried, broiled, baked, roasted, with or without sauce, stuffed or breaded. Everything is prepared to your liking! Astoria seafood has a selection of side dishes (garlic bread, rice, potatoes, salads, and cooked vegetables) and drinks you can choose from to enjoy with your seafood, whether you choose to take it out or eat it in.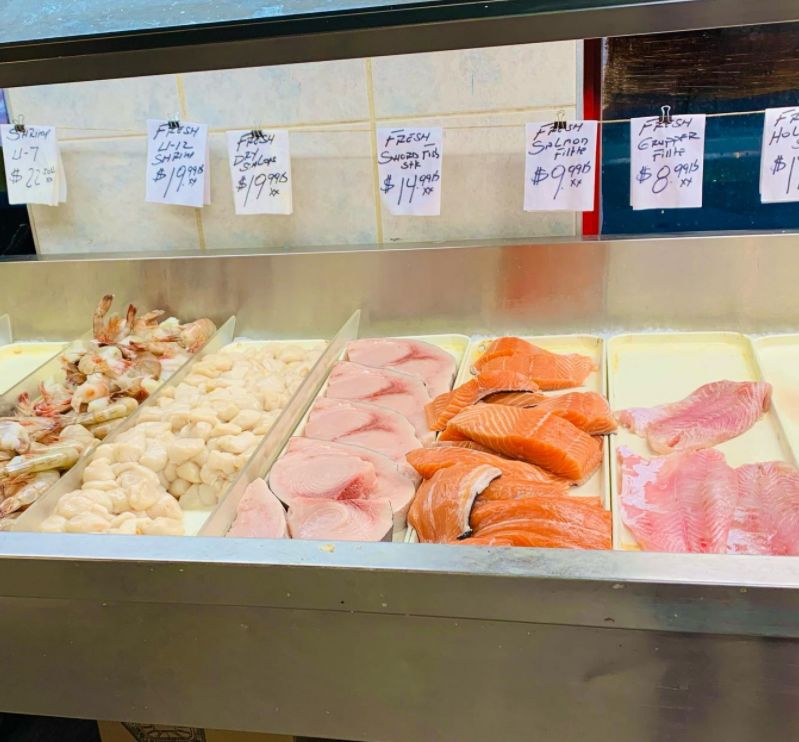 A packed grilled of the freshest seafood in NYC at Astoria Seafood.
Hours Tuesday through Saturday 12 noon until 9 p.m., Closed Sunday and Monday
Astoria Seafood, 37-10 33rd Street, Astoria. Tel. 718-392-2680
---
Taverna Kos at the Pancoan Society Hippocrates
Located in a long-time private Greek-American social club, Taverna Kos is a hidden gem amongst the Greek restaurants of Astoria. A couple years ago it opened its doors to the public.
The interior is split into two parts, an interior bare bones room, and a covered (and temperature controlled) patio where most people choose to eat and drink. The Greek flag and the color blue are everywhere and so is the smell of amazing seafood features grilled whole porgies on the bone for $20 and their famous grilled octopus plate for $15.
Taverna Kos also features traditional Greek salads, imported feta and lemon potatoes and a delicious house wine.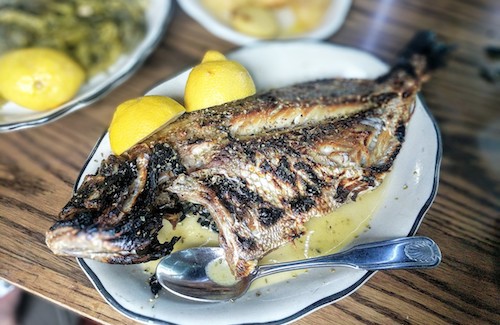 Grilled whole porgies at Taverna Kos.
Hours: Monday through Thursday and Sunday 11 am until 9 pm, Friday and Saturday 10 pm
41-19 23rd Avenue, Astoria